Home

/

Universal Fitment - Stealth LED Run-Brake-Turn Lights
UNIVERSAL FITMENT
RUN-BRAKE-TURN LED LIGHT


DK Custom Products

FEATURES & SPECS:
Universal Fitment- Will work on any 12 Volt system Motorcycle
Measures 6.9" end to end, perfect for the rear fender
Can be Flexed in an Arc to Match Fender Shape
LED Strip is 1/4" square w/ smoked tubing
Stealth fitment on underside of the rear fender
Lights point BACK, not down toward the ground

Optional

R-B-T Module

if you do not already have RBT capability
No Load Equalizer needed
..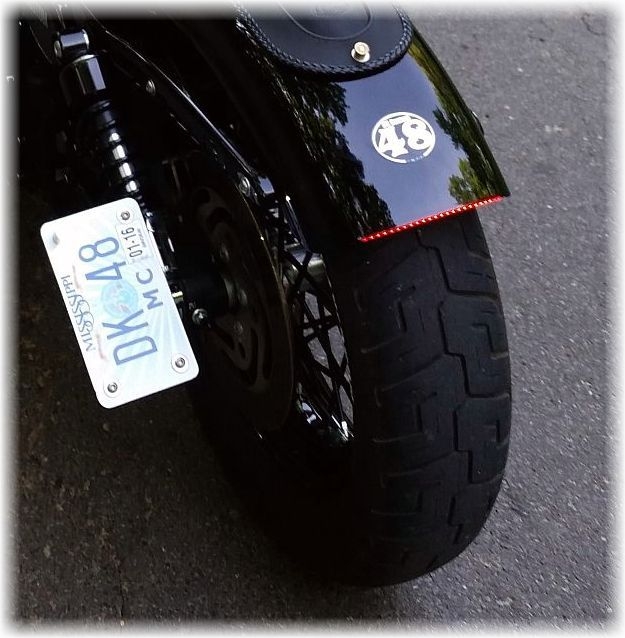 DK's Universal Stealth LED R-B-T Light will work with any Motorcycle that has a 12 volt electrical system. The LED's have a 70* viewing angle for better daytime visibility!
The LED Strip has smoked tubing, housing 16 Dual Intensity LED's. It is 6.9" wide, & can be curved to fit your fender It is affixed to the underside of the fender and the lights point Back, toward traffic, instead of down toward the ground
Even if your bike is lowered, all you need is 1/4" clearance of the tire
If you currently have a factory, or aftermarket Run-Brake-Turn module, this Universal Stealth LED will operate All Three Lighting Functions. This include Domestic & International Models!
If you do not have a RBT Module, there is an Option above to add one to this order. You can see Full Details (including the Brake Strobe Feature) on the Run-Brake-Turn Module

HERE

.
If you do not have a RBT Module, and don't want to get one, the Universal Stealth RBT LED comes with everything needed to perform any One of the following combinations:
Running & Brake Lights
Running & Turn Signal Lights
Brake & Turn Signal Lights
Comes with all needed hardware & easy step-by-step instructions. Included Posi-Lock connectors mean NO cutting, splicing, or soldering of wires. It's never been easier to get Bright LED Rear Lighting!

If you have a 2014 or later, you do NOT need a load equalizer.
If you have a 2013 or earlier, & are running the stock front turn signals, you do Not need a load equalizer.

If you have a 2013 or earlier, & you're running LED front turn signals, but keep the rear lights on fender struts, you do NOT need a load equalizer.

The Only time you need a load equalizer is if you have a 2013 or earlier, And have LED turn signals up front, And you remove the stock lights from the rear fender struts, then you will need a load equalizer, which you can see HERE.
Also available, for select Harley Models, Plug-n-Play version HERE.
Check out All the pictures above.
"DK Does it again! Thank you! I love how my bike looks with the Stealth Placement, and then when the key is on, it Really Lights UP!" -Derek
Customer Reviews
Bad Ass

Review by

JimmyZ


I have a 2012 softail slim and I had to do some splicing but didn't need a power converter/ equalizer or whatever it is called. I love it and it is invisible until powered on. It is bright and was exactly what I was looking for. (Posted on 2/10/2022)

Simple application- equality product

Review by

Garrett


Boys over at devils head choppers made an easy application even easier by posting a video on how to install this light. The instructions given with the product make this a really nice light that's sooo easy to install and for anyone new to the bike scene after you've made this mod you'll know your bike a lot better! Ride safe! (Posted on 10/4/2021)

Amazing Product

Review by

d3


Installed on my 2015 FXDB (Street Bob) very easily after removing my rear fender. happy to get rid of the stock rear turn signals. goes great with the high and tight plate relocation bracket from DK. (Posted on 12/9/2020)

Excellent

Review by

Dennis


Installed on my 2012 883 Iron. Looks fantastic. There are some on the market for less money but remember that you get what you pay for. The kits is complete and thus far it works and looks great. Very bright and you can't see its on there until its on. Awesome product. (Posted on 8/5/2020)
Product Tags
Use spaces to separate tags. Use single quotes (') for phrases.