Home

/

ViED Fuel Enrichment for Harley EFI Plug-n-Play..More Details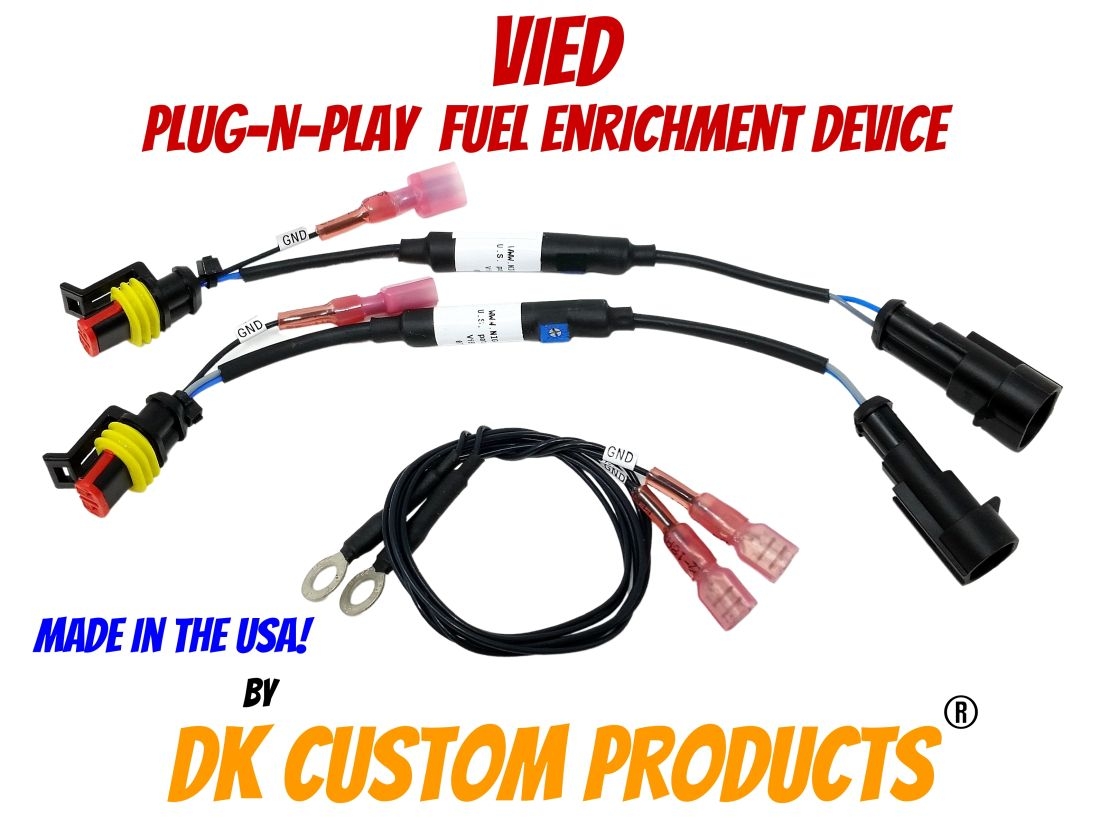 Dynamic Tuning For Harley-Davidson Motorcycles
Variable Inline Enrichment Device
(ViED)
A Cost Effective Alternative to an Aftermarket Tuner & Dyno Runs.
This Patented Device Dynamically Adjusts to Changes Made to Your Bike!
ViED's will Cool Your Bike Down & Make it Run Better!
The Plug-n-Play ViED richens the Air Fuel Ratio from14.6:1 to a range of 14.3-13.9:1 in closed loop mode.
This Variable Fuel management upgrade allows you to fine-tune the air fuel mixture with a small screwdriver.
Immediate Benefits:
Lower Engine Temperature

Lower Exhaust Temperature

Improved Throttle Response

Reduced Surging

Reduced Pinging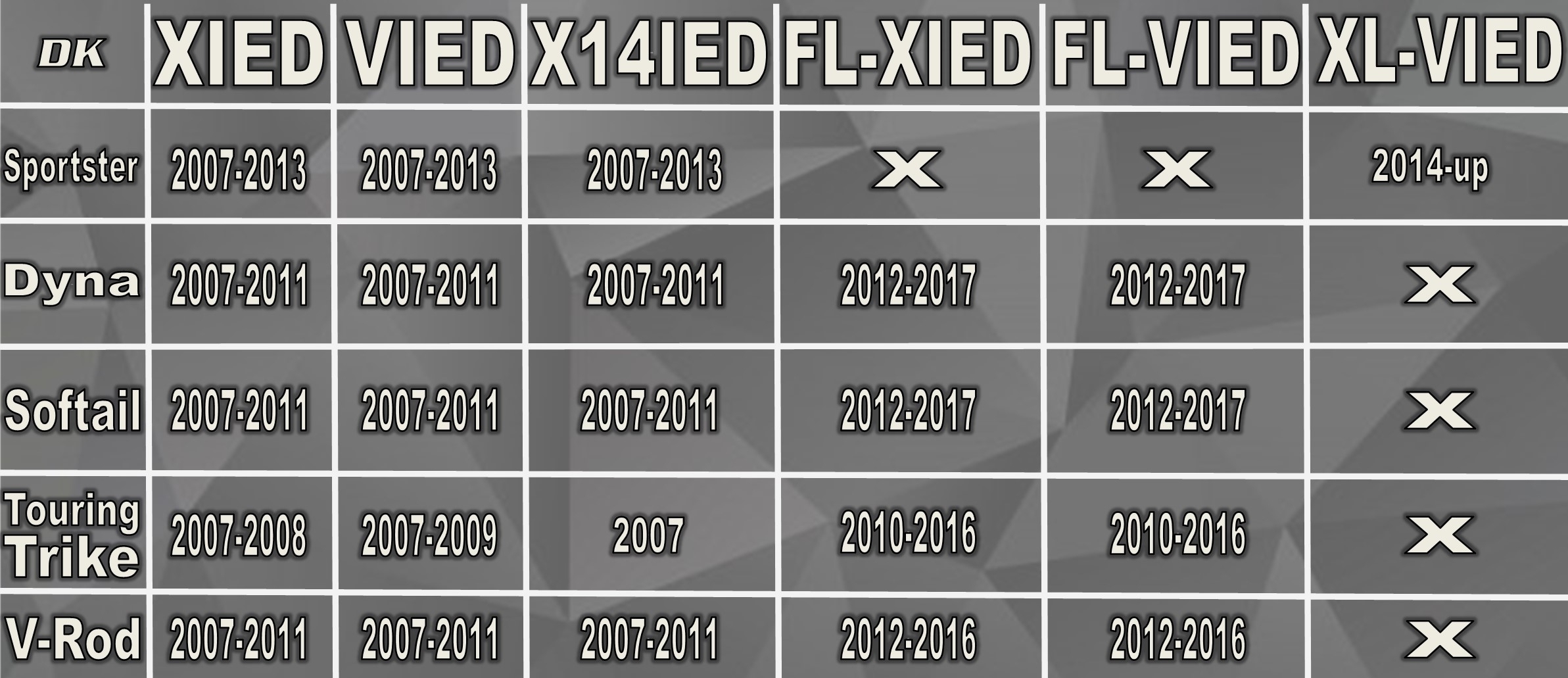 Fitment:
Touring 2007-2009
Softail 2007-2011
Dyna 2006-2011
Sportster 2007-2013
V-Rod 2007-2011
Recommended for: Stock Bikes, & Stage I Bikes (High Flow Intake & Exhaust) Will NOT Work with Stage II, III, or IV.
Simple install-comes with instructions. No tools required, installs in a few minutes.
They work inline with the stock H-D narrow band 02 sensors and Delphi ECM to richen the fuel mixtures, adding up to 6% more fuel to the engine in closed loop mode.
There is an indirect richening of the open loop fuel mixtures through the learning mode, or adaptive fuel value action built into your ECM. This ensures the richer 13.8-12.5:1 AFR's are ALSO adjusted in heavy/full throttle operation.
LINK to All Dynamic Tuners
Finally my bike is running right. Surging is gone, heat is way down. -Jason

"409" ignition wires provide continuous heat protection up to 600-degrees Fahrenheit
Customer Reviews
perfect for stage 1

Review by

chad


did not want a tuner for stage 1, felt it would be a waste of money, but had to address the lean condition (more lean than factory i should say) that adding an air cleaner and free flowing exhaust create. VIED's are perfect on my '07 FXDL (running 50%), bike runs strong and haven't had any issues. super easy install, nice alternative to the more expensive tuners. (Posted on 12/16/2021)

VIED Easy install slight adjustment works well

Review by

SMILEY


Installed a few of the VIED products on mostly
FLH models.Everyone up here in Northern Canada that has one installed is very happy with the new found performance.
Thanks to the crew at DK Customs. (Posted on 12/6/2021)

It actually does everything they claim it does

Review by

Best $140 I ever spent!


Installed them using the recommended setting (50%) on my 2008 XL Nightster 1200 after a Stage 1 upgrade that left the factory ECM settings out of balance causing poor (slow/weak) throttle response as well as sputtering, missing, surging conditions at cruising throttle in any gear. With just the VIED installation the bike came roaring back to life. Throttle response is immediate, power is restored in every gear, and cruising at part throttle is smooth and pleasant. Can't say enough good about this fine product. Get some, you'll see. (Posted on 10/12/2021)

It Works

Review by

Gene


Easy installation following the enclosed directions. Installed external breather system and 606 breather kit at the same time. The bike has come to life now. (Posted on 10/5/2021)

very pleased

Review by

Hangman


I'm very pleased with the product and the service I received. I have and will continue to recommend this product (Posted on 8/8/2021)

10 stars

Review by

Old fat bob man


I love the products I have purchased from these dudes. My wires that I nicknamed liar wires are working as advertised. The catch can is beautiful and works awesome. My external breather system has made a difference in my bike as well. I recommend these cats for your performance upgrades for sure. Keep rocking the cool stuff DK customs. (Posted on 7/7/2021)

Gr8 stuff,Gr8 peeps

Review by

Rawg


I have dealt with DK custom for many years. I have a lot of their products on my bike.
It is refreshing to deal with a company that knows what they're doing and why.
Also top-notch customer service.
Keep up the good work (Posted on 6/28/2021)

Awesome product

Review by

Dave


Not looking for a high HP speed machine. Pipes, air cleaner, and stage one time on a 07 Fxstc. Bike was not smooth for low speed/rpm cruising. I was even thinking of gearing it down. Put the vied on and the change was instant. No more low speed chugging and had a good amount of low end pull that it never had. It is like a whole new bike! So just ordered a second one for another bike! Awesome product without spending a ton of money. Also the bike runs 50 to 60 degrees cooler on the head temps. Added bonus. (Posted on 6/9/2021)

More responsive

Review by

TALLELF


No dyno done.. but i can tell with these and my 828 air filter the lag and flatspot on the low end is gone.
It's at the recommended 50% for a sportster with stock exhaust. May tone it back a notch since it's not free flowing but feels better and more responsive (Posted on 3/22/2021)

Great

Review by

Festus


I can tell from response on 50% setting a vast improvement. On my second tank of fuel and ready to try next setting. No problems with codes (Posted on 8/8/2019)

Works great

Review by

Kbetts


I was concerned about engine heat and running 87 Octane in my 2008 Sportster 1200C when premium wasn't available (happened last month). I had a stumble at neutral throttle positions as well. I don't want to tune my bike, I just want it to run well (and cool). The ViED are simple to install and they are effective at getting rid of stumble, decell pop, and lowering engine temperature. I'm sure they aren't a cure for the EPA mandated factory lean condition, but they help a lot and are affordable. DK Customs provided fast service and good prices. Thanks, guys. Safe riding. (Posted on 5/30/2019)

fantastic

Review by

wayne


great product and even better service ...we installed this on a 2008 FLHTC and customer is VERY happy ...cheers from AREA 51 customs in Canada
(Posted on 5/23/2019)

Nice product

Review by

Jim


I installed a set of these on an 09 dyna with open intake and exhaust. Product performs as advertised. It richened the fuel/air mix and my bike runs cooler and stronger with overall better performance. I feel certain a real tuner could do better but not for the price. Most inexpensive, legitimate way get more fuel when running an open intake and exhaust! (Posted on 8/17/2018)
Product Tags
Use spaces to separate tags. Use single quotes (') for phrases.