Home

/

Black Diamond HiFlow 587 Air Cleaner Sys. HD Milwaukee-Eight
Outlaw HiFlow 587
Air Cleaner System
For

Harley-Davidson
Milwaukee-Eight
~Complete High Performance System~
~Optional Rain Sock~

MADE in The USA!
DK Custom Products

FEATURES & SPECS:
HiFlow 5 7/8" Genuine K&N Air Filter
Low Profile - best leg clearance

Designed Specifically for the M8 Engine
Black Powdercoated Diamond Face Plate
Your Choice of External Breathers (NO dirty air in engine)
All Hardware needed, including Stainless AND Brass Acorn

E-Z Step-by-Instructions Included

Made in The USA!
The Outlaw HiFlow 587 System will give your M8 the Air it needs to Produce Maximum Power. CLEAN AIR - No dirty air routed back in!
This system is TURN-KEY. It comes with everything needed to replace the restrictive stock air cleaner.
E-Z Installation with Step-by-Step Instructions.
Genuine K&N Filter with Million Mile Warranty.
Filter is re-usable. Simply wash, let dry, & apply oil.
Fits Milwaukee-Eight Models.
This is a must for at Stage 1 Upgrade.
Included: Your Choice of Brass, Black or Polished Aluminum Breathers. Or you can choose one of the Hose & filter Breather Systems for venting - The Traditional, the Discrete, or the Premium Discrete. To see full details on All these choices Click HERE.
When choosing between the Breather systems, it is helpful to know-
1. All three Breather Bolt function the same, it is just a matter of which color you prefer.
2. All the Hose and Filter Breathers function the same with the Outlaw Air Cleaners, it is a matter of which system you like the looks of the best.

The Transformer™ is the Ultimate External Breather System, that Doubles as a Support Bracket and can be Transformed into an EPA (Emissions) Compliant System. It fits all Outlaw Air Cleaners.
This System comes with a Black Powdercoated Diamond Plate Face Plate Cover.
We also have Systems with your Choice of Mirrored or Black Powder Designs.
You can upgrade to the Outlaw HiFlow 587 Air Cleaner System without doing any dyno work or adding tuners IF you leave the stock exhaust in place. To see Why the M8 Does Not Need a Tune when Running Free Flowing Intake & Exhaust CLICK HERE.
This kit comes with both a Stainless and a Brass Acorn Fastener for the Cover.
There are Optional A/C Cover Fasteners that you can add to your order above.
44 Magnum, The Gripper, Tri-Speed, Speed, Tri-Shield and Mini-Tri-Shield. Any of these will add to Your Bikes Unique Look.
Fitment:
This Air Cleaner fits OEM Milwaukee-Eight Throttle Body
NOTE: With This Air Cleaner the OEM support bracket must be used. It is pictured below. If you don't have one, the HD Part # is 16400049 (it has a retail price of $17.09)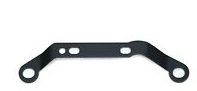 Harley has routed dirty, oily crankcase air back into the air cleaner compromising the performance of your engine. The Outlaw Breathers vents it without compromising the performance or longevity of your motor.
Caution: Motorcycles modified with this DK Custom Products High-Performance part may not be legal for public highway use in some areas. The user shall determine suitability of this product for his or her use.

Go HERE to See a Step By Step Installation Video
Product Tags
Use spaces to separate tags. Use single quotes (') for phrases.