Overview of Stage I Upgrades
Overview of a Stage I
Stage 1 Kits are comprised of 3 components:
Free Flowing Air Cleaner
Free Flowing Exhaust
Re-Map of the ECU for EFI and Re-Jetting for Carb
With each of these 3 components there are sometimes a confusing number of choices.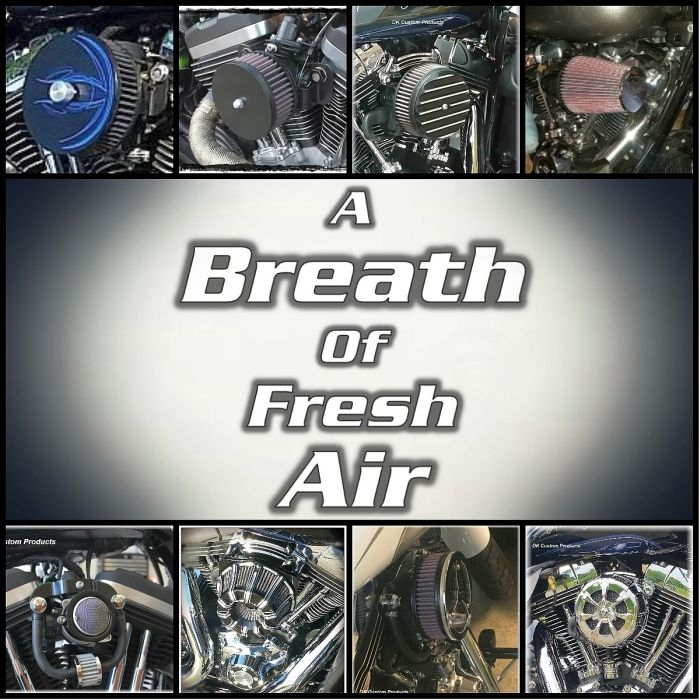 1. With Air Cleaners there are two basic performance choices, and an endless number of "Looks" to choose from.
The difference between most air cleaners and the DK Custom Outlaw A/C Systems is the Quality of the Air.
Performance Choice #1 - Unfortunately the OEM Air Cleaners & All SE Air Cleaners from Harley-Davidson, and almost every aftermarket air cleaner company, are pushing the blow-by into the air cleaner. What comes out of the breathers is primarily exhaust gases and oil, it is also hot. This is counter-productive to performance & engine longevity. Harley engines perform better with cool dry air & gasoline, not hot, oily air and gas. Additionally, the exhaust gas has a lower oxygen content, displacing oxygen on each combustion stroke.
This type of air cleaner is a poor performance choice.
Performance Choice #2 - The Best Performance Choice is an Air Cleaner System that allows only clean dry air into the intake.
DK Custom Products Line of Outlaw Air Cleaner Systems are Air Cleaner Systems that utilize external breathers, allowing only Dry, Clean Oxygen rich Air into your intake.
The DK Outlaw Line of Air Cleaner Systems has Many Looks to choose from. You can see them all at this LINK.
Photo of the inside of an engine with a stock air cleaner or a typical "Stage I" air cleaner.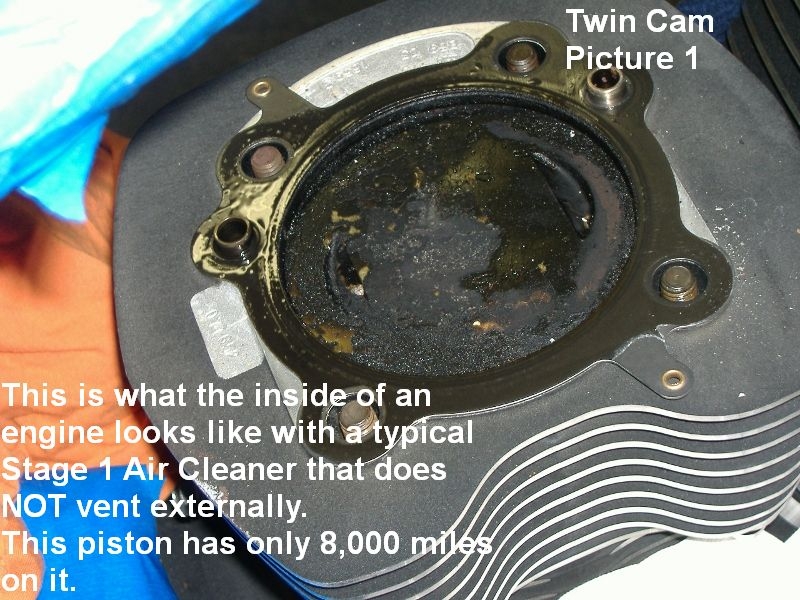 Photo of the inside of an engine that allows only clean dry air into the intake.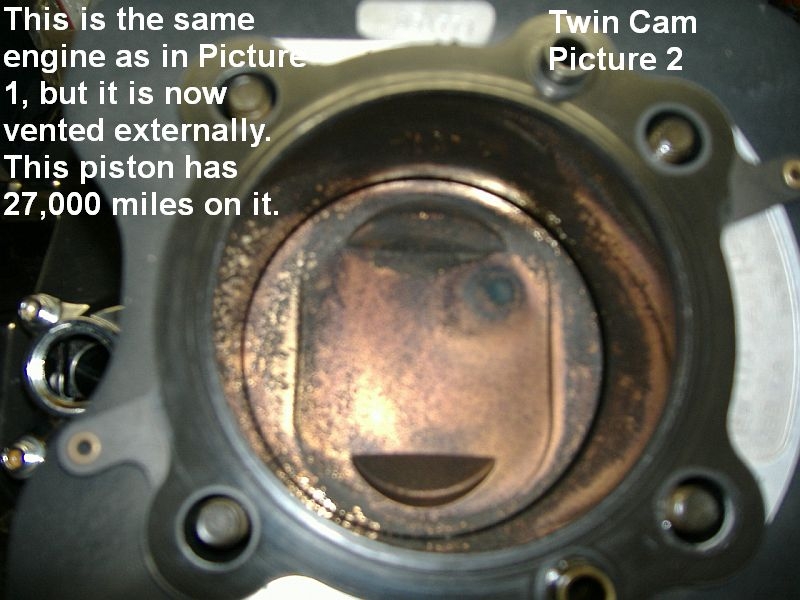 2. There are 3 main factors that are considered in upgrading exhaust:
Looks
Sound
Performance
You can see a LARGE Selection of Top Quality Slip-ons and Full Exhaust Systems HERE.
Whether you are keeping your current exhaust, adding Slip-ons or a Full Exhaust System, they all will be enhanced with the addition of some TTI's.
The Thunder Torque Inserts™ (TTI's) will slightly deepen the tone, and, more importantly, will increase the low and mid range power by 5%-20%, by reducing engine pumping loss, & increasing exhaust gas velocity. The Patented TTI's are literally the most power increase per $ spent of any mod that can be done to a Harley-Davidson motor!
Example of Some Different Exhausts with Thunder Torque Inserts Installed
The "Best" Exhaust is what YOU like the Looks and Sound of
The TTI's will Optimize Performance
If you would like to keep your current exhaust system, we strongly recommend that you supplement them with some Thunder Torque Inserts for a bump in low and mid range power.
3. In the Tuning (re-mapping the ECU) arena for EFI Harley's, there are dozens of choices. Ranging from doing nothing to spending as much as $800, or more, for a tuner and dyno tuning.
While it is possible for Sportster or Twin Cam Harley to run a free flowing air cleaner and free flowing exhaust without doing anything in the tuning/fuel managment arena, our experience has shown that it will run hotter than is good in the long term, AND, will not run nearly as well as it could.
From 20017-2016 (Sportsters & Twin Cams) HD has gotten leaner and leaner with the Air Fuel Ratio, causing more & more heat. While the ECM will adjust for changes to a certain degree, they will never adjust past the "too lean" factory (EPA mandated) settings without the help of a Fuel Management Device.
NOTE: M8's are NOT too lean from the factory. See Report on that HERE.
Our experience with thousands of bikes has shown that the best economical choice is one of the XiED Products. These are Plug-n-Play fuel enrichment devices that will give you 80% - 90% of the benefit of a Full Blown Tune for about 20% the cost.
We have Thousands of Customers that are very happy with their cooler running, stronger accelerating Harley's as a result of using an XiED device.
In our experience, the next step up in tuning is an FP3/4. It is an excellent flash tuner for late model Harleys. While not as powerful as the Power Vision (see below), it works very well with stock Harleys, and Stage I (free flowing air cleaner & exhaust) bikes to deliver a tune that is MUCH stronger and cooler running that the stock tune.
It also comes with an Auto Tune feature that allows you to ride and get the tune dialed in for your specific set-up, riding style and environment.
The FP3/4 is also a ton of fun to use. It interfaces and displays via your smartphone (iPhone or Android) making it super easy to use and display useful information.
The Fuel Pak FP3/4 is a very solid choice for Stage I Upgrades.
This same experience has shown that the Power Vision Flash Tuner can be used to achieve the best possible tune for performance, reliability and economy....
...All without having to spend any money on Dyno tuning. With the Power Vision you can choose to Dyno tune if you wish, but, since the Power Vision comes with a Customized Tune from us, plus an Auto-Tune Feature, the vast majority do not find it necessary.
The Power Vision has the added benefit of several other features-
Touch Screen Control - No computer needed
Doubles as a Gauge Cluster, displaying your choice of info, up to 6 different read-outs in one screen

And many other features (and extras from us) that you can see

HERE
The Target Tune is the Ultimate in Tuning for EFI Harleys.
It works in conjunction with your Power Vision, putting the entire MAP in Closed Loop.
Net result is that 99% of the time you will end up with a Better Tune than if you spent $1000 on a Dyno Tune...and it is Dynamic, you will Always have a dialed in tune, because it is constantly adjusting, As You Ride!
Stage I Kits are NOT Created Equal!
DK Custom Specializes in making Stage I Upgrades that produce Significant, Noticeable Improvements in Performance, Power & Engine Longevity.
Our Stage I Upgrades are
Street Developed, Street Tested & Dyno Proven!
***One Final Note: To get the best out of any Stage I, including ours, it is important that your Engine is running at the optimum temperatures.
If it is not, it can make a 10%-15% difference in power output. Please Click HERE to see information on achieving optimum running temperatures for your Motorcycle.
Live Free - Ride Free!