Do It Right the First Time
This is a long report (we have a lot to say), but it is broken up into sections. So, if you don't want to read the whole thing, you can skip around to the sections that interest you.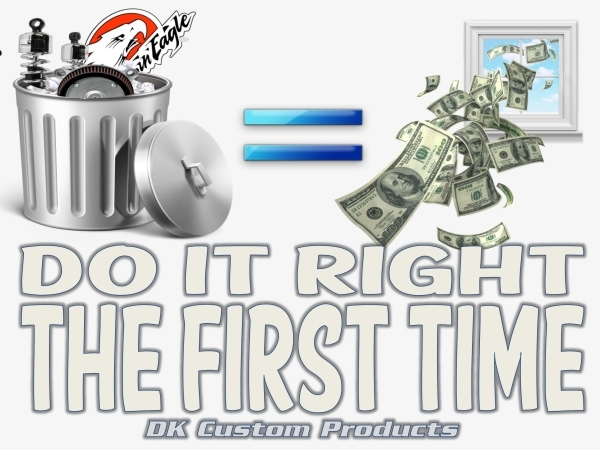 From day one our #1 goal has been to Enhance both ours, as well as Your, Riding Experience, to ensure Every Ride is the Best Ride Possible. This means having a combination of all of the following:
Strong Running, Reliable Engine

Comfortable Seating, Footing, & Hand Position

Lots Of Low End Torque w/ a Deep Traditional Harley Sound

Safe & Comfortable Suspension, keeping the tires in contact with the ground at all times(except for when you want to wheelie)

Seeing & Being Seen by Attention Deficit Cagers
What typically happens when a person gets a new Harley...They want to "Make it their Own". It could be just to put their personal stamp on it, but mostly it is to make it more comfortable, or sound better, or run stronger, or be "safer", etc.
When the mods begin, is when "Doing It Right The First Time" becomes important.
So many folks end up buying & trying 2, 3 or more exhausts, handlebars, air cleaners, etc. looking for that perfect set-up.
Doing It Right The First Time Will Save You-


Time

Money

Frustration

Disappointment

Doing it right the first time means only having to Buy Once & Cry Once. Plus, you get to spend More Time Riding and Less Time Installing New/Replacement parts!

To that end we have tested thousands of parts, always looking for the best for our own bikes and to help you get the best for yours too!
This is why you see so many Reports on our website.
Many times we test and find the part does not live up to the advertised hype.
Sometimes we test and it is a great part and that is why you see some parts on our website from other companies.
Many times we cannot find a part that does the job we want, that is when we make our own parts...to get a needed job done.
It is a little more work up front. It involves a bit of delayed gratification. But taking time to research what will really accomplish what you want, will end up saving you time, money, frustration and disappointment.

Your Comfort Triangle
Have Peace of Mind knowing you'll be comfortable by setting up your bike for Your Comfort and Security. It is important that your feet, hands, and butt are all in the right place, in relationship to each other. It is super important to have a stable, comfortable platform for your feet. This is why we have so many choices in our Pegs and Floorboards; different styles, sizes, and adjustability options. Read this REPORT on Setting up Your Bike for You.
Suspension
Having Great Suspension gives peace of mind by knowing your tires are staying planted to the ground at all times; in corners, poor road conditions, and emergency braking. Having the right suspension will also make your tires last longer. Read our Reports On Front Suspension and Rear Suspension Testing and Results. See Video Report HERE.
Stage I Upgrades (The Good, the Bad & the Ugly)
We've seen it countless times; a customer does a Stage I Upgrade and sees little to no performance increase. This is because Stage I Kits are not all created equally. Read this REPORT on Stage I Upgrades where the differences are outline.
The Stage I Upgrade is one of the most important areas to Do It Right The First Time. If you ever go to do a Stage II, III or IV, it will be built on the foundation of your Stage I. Having a mediocre Stage I will compromise potential benefits of all future improvements.
Air Cleaners & External Breather Systems(EBS)
An Air Cleaner that actually functions as an Air CLEANER starts with venting your crankcase gasses externally. Engines run better when they have cool, clean, oxygen rich air to breathe. Having an External Breather System(EBS) in conjunction with your air cleaner with help you to get optimal results in power, and will increase engine longevity.
Read these reports on External Breather Systems and Air Cleaners and have peace of mind knowing you're getting the most out of your Air Cleaner System. Check out this FAQ Video on External Breather Systems. Also, take a look at our newest report on EBS Flow Testing & Results with test results chart and video.
Exhaust - Myths & Facts
One of the main things riders look for in a Harley is that nice, deep, traditional Harley sound and tone, with performance to match. Everyone wants their Harley to Sound like a Harley while getting the best performance and most torque. There are lots of myths about exhaust floating around out there. Read this REPORT and understand the Myths and Facts when talking Harley Exhaust. Check out this FAQ Video on exhaust & Thunder Torque Inserts™.
Tuners
Do you Need a Tuner? Which one is best for your budget And your objectives? Does your bike run hot, not accelerate well, have hesitation in low speed situations. Read this REPORT and be informed of your options before you purchase a tuner. This way you'll get the right one, to meet your needs, desires, and budget, the first time!
Cooling Down Your Ride
Cooling down the engine on your bike will increase longevity, give it more power(enough to feel the difference twisting the throttle), increase gas mileage, and be more comfortable while riding. This REPORT will help you understand why they run so hot and what can be done to cool them down. Check out this Heat Testing Video Report.
Sleeper Performance Mods
There are little known and long-time ignored mods that can be done to get you typical Stage 2 results while only spending money on a Stage I Upgrade/components. We call these Sleeper Mods. Read this REPORT on how to get significant increases in power and performance with a few simple mods!
See & Be Seen - LED Lighting
One of the Most Important aspects of Motorcycle Riding is to See and Be Seen. You want to always have Peace of Mind knowing that no matter the time of day while riding, you can see what's in front of you, and More Importantly, improving the odds of the attention deficit cagers seeing you!
Having good LED Lighting will help to ensure just that. Go HERE to see many different options for Front, Rear, and Additional Safety LED Lighting.

Conclusion-
This is a "Live" Report. As we continue to test and publish reports, we will add to this Report.
Avoid buying knock-offs that violate IP, or use substandard materials & design. Better to get a quality product that is backed by a Lifetime Warranty.
Take your time, do your research. In the long run Doing It Right The First Time will save you Money & Time.