Home

/

Black Powder Face Plate Cover for DK Custom Outlaw Air Cleaner
SANO BLACK POWDER
FACE PLATE COVER
For

Outlaw HiFlow 587 Air Cleaners

~Fits Many Other Air Cleaners Also~
~Pefect for Your Paint or Decal~
~Pefect for A DK Custom Emblem~
MADE in The USA!
DK Custom Products

FEATURES & SPECS:
American Steel

Durable Black Powder Coat Finish

Size: 6" Diameter

Center Hole Size: 5/16"

Made in The USA!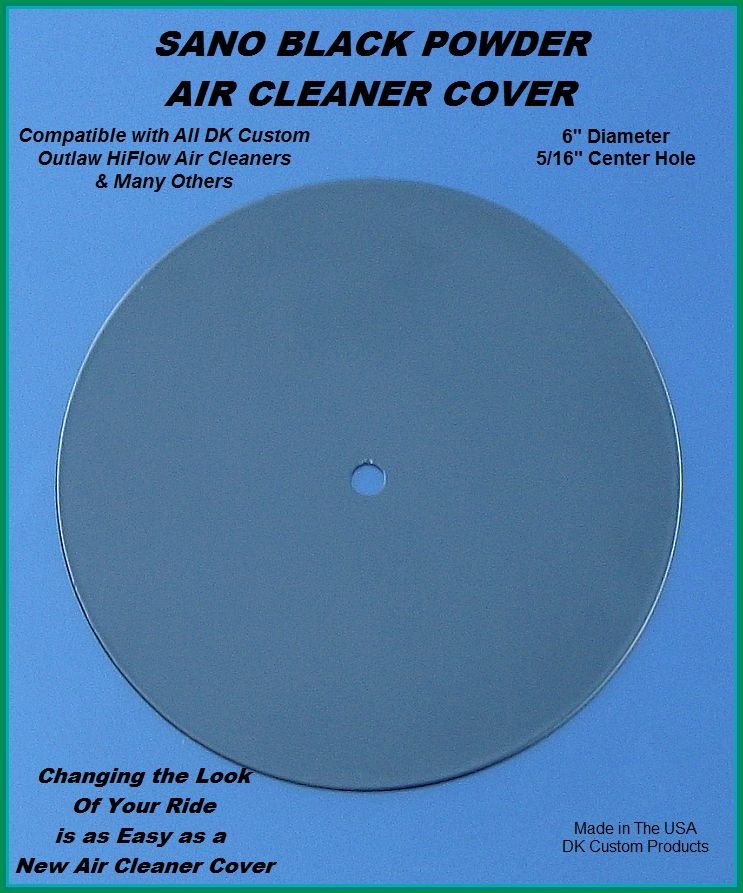 The Outlaw HiFlow 587 Air Cleaner is designed for INTERCHANGEABLE Face Plate Covers AND Emblems.
This way you can Change the Look of Your Ride as Easily as Changing the Air Cleaner Emblem and/or Face Plate Cover.
The Sano Black Cover is a perfect canvas for your artwork, paint, decal, or a DK Custom Emblem, and it is reversible!
Check out Barts' personalize paint on his Sano Black Cover above!
The Outlaw HiFlow 587 Air Cleaners are:
High Performance Stage 1 Air Cleaners
Reasonably Priced
Interchangeable w/ Emblems & Face Plate Covers
"I dig your air cleaners cause it's such a great platform to personalize your bike. And you can do something different on either side and just flip from one side to the other for a different look." -Bart

Customer Reviews
Bang for buck

Review by

Chargehammer


This is my summer go to for my breather on my 2017 FXDLS. Looks clean and goes well with the aesthetic of the bike itself. Also not crazy priced either is a plus. (Posted on 7/18/2022)

Great cover

Review by

King Cabra


Fits great , nice gloss black finish (Posted on 6/25/2021)
Product Tags
Use spaces to separate tags. Use single quotes (') for phrases.