Home

/

Chrome Streamliner Bullet Rear Turn Signal Marker Lights
CHROME STREAMLINER BULLET
REAR TURN SIGNALS ~ LOW PROFILE RUNNING LIGHTS/BRAKE LIGHTS
DK Custom Products
FEATURES & SPECS:
Chrome Metal Housing
Low Profile - Short Stem w/ Rubber Dampening Washer

Measures 1 1/8" in Diameter & 2 7/8" front to back 3/8" Mounting Stud

Red Lense for Rear Fitment


Includes 12 volt automotive

Dual Filament bulbs
8/21 Watts - Running/Brake/Turn Signal Lights
Comes with installation instructions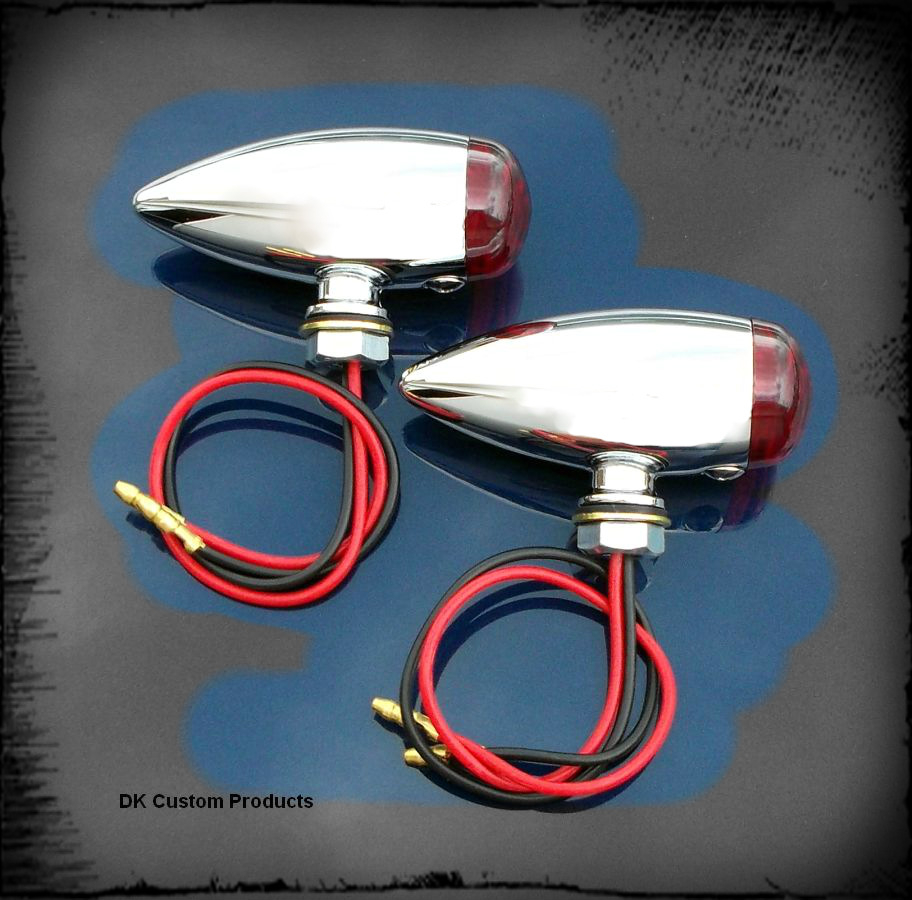 Perfect Low Profile Lights for Your Bike


Universal Fit - There are many options for fitment, or you can get this Pair of Lights with our Relocaton brackets for easy bolt-on. Click

HERE

to see the Relo Kit.
Comes with automotive 12v dual filament bulbs, no messing with resistors or load equalizers.
This pair of rear turn signals also doubles as running lights or brake lights-Your choice.



Housed in Chromed metal with a short stem, you can get these nice and tucked in.
These are also available in Sano Black Powder. Click

HERE

to see them.
Matching Front signals available also.

Fitment Note: On all 14-Up Models, HD is now using a CanBus Body Control Module. With the CanBus system multiple signals can be sent over the wires at the same time, making the electrical system very sensitive to any changes. We have had quite a few Customer install our non-LED tail-lights, brake-lights and turn-signals with no issues, however, we cannot guarantee they will work, nor can we support their installation on a CanBus bike.
Our Batteries, Tuners, Coil Relocation, ignition relocation, horns, and headlights can be installed on the CanBus bikes with no issues.
"They are bright, but not sticking out like ears. Really digging them!" -Finn

Product Tags
Use spaces to separate tags. Use single quotes (') for phrases.