Home

/

Deluxe Option Harley-Davidson Touring & Softail Models ...More
DELUXE OPTION
For

PREMIUM TANK LIFT KITS
FITS HARLEY-DAVIDSON
TOURING 1999-UP & SOFTAIL MODELS 1999-2017

MADE IN THE USA!
By
DK Custom Products
FEATURES & SPECS:
Made from American Cold Rolled Steel
All Stainless Steel Hardware
Durable Black Powder Coat Finish
E-Z BOLT-ON INSTALL - DOES NOT REQUIRE REMOVAL OF TANK
Instruction Sheet Included
This is meant to be used with one of the Premium Tank Lift Kits for your Touring or Softail motorcycle.
This Deluxe Option lifts the rear of the tank AND, on the Touring Models, allows you to move the tank back up to 1/2".
Benefits:

Even MORE Air-Flow = Cooler Engine

Rocker Covers are MORE Visible

Additional Handlebar Clearance

Easier to Clean

Levels out Tank
The DELUXE Option is ESPECIALLY useful for 2008+ batwing bikes because moving the tank back & lifting the rear of it gives more inner fairing clearance.

This is an EASY install - 5-10 minutes!

Fits 1999-Up Touring & Softail Models 1999-2017!
Here is a picture of a stock RG with both rockers partial hidden and all kinds of heat getting trapped.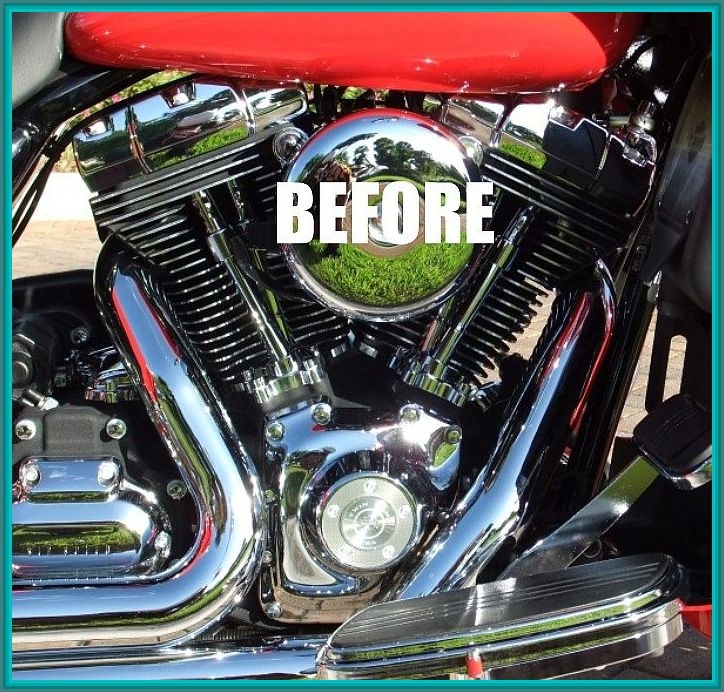 Here is the same bike with a Premium Tank Lift Kit AND a Deluxe Option. Notice the tank is OFF the top of the engine!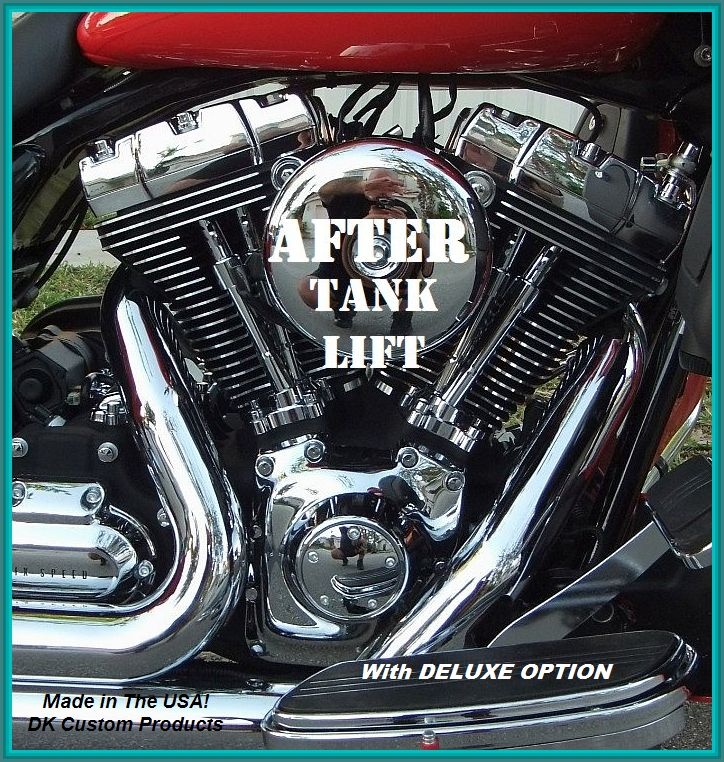 "I've been running a DK Tank Lift for several years, and it was great. Recently I added the Deluxe option and now it is even better! Both rockers are now completely visible. Thanks!" -Jason

Click on the link below for an article on everything you need to know about Lifting your Tank.
-Will if fit?
-Will I lose fuel capacity?
-What is the purpose of a Tank Lift?
-Does it reduce Wind Buffeting?
Customer Reviews
Don't delay, cool it down this way!

Review by

Turtle


Installed this along with 1.5" Tank Lift Kit and oh man does it make my '18 SGS Anv. bike look great! I love being able to see the heads more and cleaning them even better. Most of all I know these guys have tested and proved these things add to a cooler running and feeling ride! Check out the vids. Thanks guys! (Posted on 10/5/2022)

Shiver me timbers

Review by

Pirate


I bought the Tank Lift Kit with deluxe option and enjoyed fitting it to my Freewheeler.
It looks great and has definitely reduced wind buffeting. I think the 1 1/2 " was the perfect size for the trike. Thanks DK Customs for the great service. (Posted on 10/5/2022)

I can see all of my rockers now!

Review by

wrench


Used this in conjunction with the 2-inch lift kit. More of the engine is visible now. (Posted on 10/4/2022)

Very pleased, built the way they use to.

Review by

Pappy


This product was well built and built to last. Love the way it finishes the tank lift kit. Very easy install. (Posted on 9/7/2022)

Great addition

Review by

Harry


Easy install, good quality, fast shipping, love it. (Posted on 8/26/2022)

Easy!

Review by

Bob


Easy install good directions and even better with you tube video. (Posted on 8/24/2022)

Easy install

Review by

Guzz


Easy to install, leaves quite a bit of space above the rocker boxes for cleaning. (Posted on 7/18/2022)

Excellent product

Review by

Dan


Added this for the increased air flow over the engine. An extra for adding this kit was looks, it is nice to be able to see the top of the heads. (Posted on 7/12/2022)

Great product

Review by

DJ


Made a pretty big difference in the bike. Didn't use the rear tank lift portion. Personally thought it added too much high center of gravity and the bike felt too too heavy for me. Great product still though. (Posted on 6/3/2022)

Awesome

Review by

Deluxe tank lift


Glad I added this. Made it that much nicer of an install. More flexibility to what you want. Quality machining on the parts, finish is mint.
Nice F'n job guys! (Posted on 5/21/2022)

Great products

Review by

Pipes paintwoks on youtube


This is the 3rd or 5th tank lift I have bought.they make the bikes look cool and they cool down the harleys (Posted on 5/17/2022)

Deluxe Fuel Tank Lift Option

Review by

Chaplain J J


This is my 3rd time ordered tank lifts from DK. The quality is outstanding, the rear lift helps and makes it look cleaner. These things really do help getting the heat out. I just gots new to me trike and this was on list right away to get done. Great service from DK every time. (Posted on 5/12/2022)

Tank lift, rear.

Review by

Miked


Looks great and it's needed for leveling tank after front lift. (Posted on 5/4/2022)

Much needed cooling effect

Review by

Las Vegas


Top Quality parts and a perfect fitment. The raising of the gas tank is so simple, and it adds a huge effect for airflow and cooling over the top of the engine. (Posted on 1/26/2022)

Great Kit

Review by

Faceracer


I have done tank lifts on 3 of my Harley's now and this kit is by far the best looking kit hands down. easy to install and good instructions.
(Posted on 1/21/2022)

Top of the line kit !

Review by

Carson


Second bike I installed this kit on. Easy install, reduced cooling, cleaner look, works great. (Posted on 11/8/2021)

Kit works great

Review by

Jimmer


Lift makes the bike look better (Posted on 11/5/2021)

Love it.

Review by

Aaron


Really easy to install, love the fact of being able to clean under the tank now, and more air flow. The only thing I don't like is the fact that my after market 14" bars actually hit the tank, so I'm going to have live with that, if I go back to stock, it'll be fine, but I think so. (Posted on 10/29/2021)

ANOTHER top quality product!

Review by

HarrisBikeNut


Bought in conjunction with other items for my 2018 Tri Glide here in the UK. As before, this was a top quality item, sent quickly and with fantastic communication to boot!
3 stars for value only because it costs a lot to get items sent to the UK. Not DK's problem. (Posted on 10/19/2021)

Awesome Deluxe lift kit

Review by

Roadglider


Installed the deluxe lift kit along with the 1.5" front lift kit. It makes for a great look and gives that extra space for air flow over the top of the motor. It also gives you that extra room for cleaning that chrome. (Posted on 10/11/2021)

Great product

Review by

Gene


Bought this with the tank lift kit and installed both at the same time. Very fast delivery and easy install. This evens the rear of the tank and helps get more air to the cylinders. Bonus, makes cleaning easier. (Posted on 9/22/2021)

DK products

Review by

Rangerider


I started using DK products with a suspension lift after that came the tank lift and floorboard extensions. Every thing I have ordered from DK has been shipped in a timely manner and is high quality. Best buy for the bucks was the thunder torque inserts they woke up my 103 tri glide, difference between night and day. (Posted on 9/3/2021)

2009 Road Glide

Review by

Scott


This is the second bike I've put the deluxe tank lift on. Very easy to install with the '09 not having a fuel crossover. The new design blends in and can hardly be seen. (Posted on 8/20/2021)

Quality and fast shipping

Review by

Ananth


No doubts about quality. DK is customer centric and shipped immediately, unlike some others eg R***a who are over commercialized, slow and for some reason, the way their shipping is setup pay alot more tax. Arrivedin good time despite needing to travel halfway round the globe to get to Malaysia (Posted on 8/6/2021)

Quality and fast shipping

Review by

Ananth


DK is customer centric, quick shipping con (Posted on 8/6/2021)

Great product

Review by

Jr


Shipping was fast!! I received my deluxe tank lift kit in just a few days. The product was made of very good materials. They even included a fuel cross over hose that I did not need for my bike. Who does that now days? Usually I get a product and start installing it only to find out I need another part you had to add to the order if you needed it. Not DK....they made sure I was ready when my product came in. I got this to help lower engine Temps (I have a 120R motor with a Trask turbo system) I did see about 5 to 7 degrees in temp drop but it also reduced a ton of buffering. That was an added bonus. I am going to order another one of these for my other street glide. (Posted on 8/6/2021)

Quality, practical accessary

Review by

Gary Daniel


Quality built piece, easy install and works well. More air for the engine & less buffeting on me. (Posted on 8/4/2021)

Great product,top notch quality

Review by

othrme


good directions, very detailed
get the "deluxe option" ,makes reinstallation of the seat easy and i have an aftermarket seat
(Posted on 7/14/2021)

Wish I had installed sooner

Review by

Jim


Quality parts with excellent finish, easy install. Very happy with lifted tank look. (Posted on 7/9/2021)

15 SGS

Review by

Turtle


I should have bought this sooner. Easy to install. (Posted on 6/8/2021)

great aesthetics

Review by

BWK9


love the tank lift, better airflow, better view of motor, easier to clean! WINNING (Posted on 6/8/2021)

Tank2Amber

Review by

Switch


Got here ,product,as advertizz
Amber best packaging!,,,EVER
Like vidéo,nice 2see someone who care about client.
Excuse my englis. im from québec so i speak franchement,, (Posted on 5/6/2021)

Great Addition to Trike

Review by

Dave C


Purchased 1 1/2" tank lift kit and rear tank lift plus deflector wings for my 2017 Tri-Glide. I am impressed with the products and together they appear to work as advertised. My trike seems to be running cooler and it has greatly reduced wind buffeting. (Posted on 5/5/2021)

Awesome Mod

Review by

Brian


Installed 1 1/2" lift on a 2016 Tri Glide. It runs much cooler and a lot less wind hitting me which is good since I ride year-round. Install took less than 30 mins and I was taking my time. Don't wait, get this mod today. You won't regret it. (Posted on 3/19/2021)

Deluxe rear tank lift

Review by

Trikemaster


Installed on 2020 Tri glide Ultra with 1-1/2" tank lift kit. Levels tank out and exposes more of the rear cylinder as described. Ease install. Looks great! Thanks for another product as described! (Posted on 3/16/2021)

Great product

Review by

Eli


Easy instal, and puts a lot more air to the motor (Posted on 1/18/2021)

Eazy peazy

Review by

Jim


This takes only a matter of minutes.
I installed this while doing the tank lift kit. (Posted on 1/18/2021)

Another quality product from DK Custom

Review by

Windsurfed


A must to have when installing the regular tank a lift kit. Quality machine product. (Posted on 1/8/2021)

Great product!!

Review by

Joe c


Another DK custom hit. Lifts the front and back of the tank to allow for better access underneath. Everything is included for an easy install . Looks great too. (Posted on 12/8/2020)

Great product

Review by

Scott


Easy to install everything straight forward as suspected! Quick delivery now can clean rocker boxes!! (Posted on 11/30/2020)

1.5 with Deluxe option

Review by

Jeremiah


Installed 1.5-inch lift with Deluxe option on 2018 Road Glide Ultra with OEM handlebars. Looks great and nice having more room between the tanks and the heads. There was plenty of fork clearance and the back tank bolt holes give you about and an inch or. so of play forward or backward. No need to "custom" modify your back tank bolt holes to adjust for clearance. Also modified the stock rubber bolt covers and reinstalled them on the opposite side backward to protect cabling. (Posted on 11/23/2020)

great product

Review by

3 wheel biker


with additon to tank lift levels out tank thumb's up (Posted on 11/12/2020)

delux tank lift

Review by

dan


easy to install . looks best added with the 2 inch lift kit because it levels out the tank (Posted on 10/18/2020)

To go with tank lift

Review by

Erlyirn


Fit and finish is great, got this to go with tank lift help level tank out. (Posted on 10/13/2020)

Tank lift front & rear

Review by

Biker John


These worked great. Form fit and function is excellent. Ordering information relayed on was quick as was the order itself. Quality Stuff, great communication and fast shipping! (Posted on 10/2/2020)

excellent idea and product

Review by

Zoltan


installation was quick on my 2018 Road King Special; it lifts the back of the tank and also moves it back by 1/2" giving more clearance in the front. I can now feel a lot more air movement to the rear cylinder. (Posted on 9/9/2020)

Fantastic upgrade

Review by

Oz Walds


Its more balanced looking and does what dkcustoms claim....allows more air to the rear cylinder.
A smart bit of kit.
They send to Australia.
Fast postage great customer service. (Posted on 9/7/2020)

Nice add on to the lift kit

Review by

Pegasus


"Finishes" the lift kit. Like the more level look and valve cover reveal. (Posted on 9/2/2020)

good value

Review by

Ron


easy installation, can get to top of cylinders now, worth the money (Posted on 8/31/2020)

Excellent product

Review by

Rick


Installed 11/2" tank lift with deluxe option. Very easy 10 minute installation. Well worth the money. (Posted on 8/9/2020)

Cooling upgrade on FLHTK

Review by

Jon from Ohio


Installed the 1 inch tank lift, deluxe option, and cooling wings. Rode Route 66 from Chicago to Santa Monica. Bike ran much cooler especially in 100+ degree heat in the south west USA. I was already running an UltraCool unit and it definitely cycled less than I expected. I think this is a great combo, the DK Custom equipment keeping you cooled down on the road and the UltraCool helping in slow traffic or stop and go driving. Very happy with delivery and fit, finish of the DK equipment. I must also add that I had the best results with the lower fairings on the bike (Posted on 8/9/2020)

DK tank lift kit

Review by

HD FAN


I put the 1inch lift front and back and I really like the look and the air flow the engine gets. They really made a difference. I also installed the DK customs air wings at the same time. I rode with shorts on after I installed everything and it was a significant difference. A lot less heat. Great products and well made (Posted on 8/5/2020)

Effective

Review by

Jeff in Tucson


I ride in temperatures well over 100 degrees in the Arizona desert with my 2012 Road Glide. The custom motor is quite the beast at 113 ci and 130 hp / 127 tq. Things get cooking fast down here! With the tank riser kit, plus the rear deluxe lift kit, and the cooling wings, I'm easily seeing 10 degrees less, sometimes more, on really hot days. Even during questionable speeds on the highway in the heat, passing grandmothers, Corvettes, Mustangs and Kawasakis, the oil temp has never gone over 230. At regular cruising, it's more like 190. Ah, life is good. (Posted on 8/5/2020)

Great!

Review by

Rustyr


I bought this kit to go with the 1.5" front lift.
Together, they brought the tank up enough to improve the airflow, and expose those chrome tops!
Good reduction in oil temps
Good stuff (Posted on 7/23/2020)

Adds balance to the tank

Review by

Nice add-on to the listed tank


Really bring the lifted tank to it's full potential (Posted on 6/17/2020)

A must

Review by

Another great upgrade by DK


If you are putting on a tank lift then this is a no brainer. Gets the back of the tank raised up like the front giving your bike an even look and exposes the top of your rockers. (Posted on 6/17/2020)

Great Upgrade

Review by

West MI


Did this along with the 1.5" tank lift. Easy upgrade. Shows more chrome along with cooling help! (Posted on 6/5/2020)

Quality Product

Review by

Butch


Order was received promptly, good quality USA made install this on my 2018 Tri Glide with a 2 inch tank lift. Instructions were easy to follow. (Posted on 6/5/2020)

Easy

Review by

Pux


It was easy to install, when coupled with the deluxe option, it did not appear to have any effect on tank level/readings. Always shipped promptly. Thanks, (Posted on 5/13/2020)

Tank lift

Review by

Lowrider


Parts came quick....they dont look cheap and fit my split tank great. Buy it.....its a no brainer (Posted on 5/12/2020)

Great product

Review by

RicoEsq


Fast shipping, great customer service to answer my questions. Excellent and much needed product. I have put these on all of my touring and softail bikes. It works and looks great! (Posted on 5/4/2020)

Looks good but...

Review by

Ghoulardo


Purchased this for my 2014 FLHTK. Loved the look, but I have an aftermarket Corbin seat. The spacers raise the seat slightly above the frame and create a squeak. Perhaps with a stock seat it does not do that. (Posted on 4/15/2020)

Looks Great and Motor Runs Cooler

Review by

Mike


Super easy to install. Take your time and don't rush. I was able to adjust the front height of my tank to accommodate my after market bars. Get some blue loctite for the threads. Very fast shipping and well packaged. Love the way it looks and my engine runs cooler with the added airflow over the top. Definitely recommend. (Posted on 1/27/2020)

Tank lift.

Review by

George


Quality material and design. Very easy to install. (Posted on 11/20/2019)

Easily a must

Review by

Zach K


Definitely one of the best accessories that I've put on my '10 Road King. The space created between the tank and the headers allows a significant reduction in buffeting and heat. Also, in my opinion, this cleans the lines of the bike and makes things not seem so crammed together. My one complaint would be that the delux option spacers both came with burrs where they were cut out in the manufacturing process. The lifts were perfect, though. Overall, a minor issue. I have been and will continue to brag about, plus recommend, this to others. (Posted on 9/15/2019)

OK, but had to supplement!

Review by

RDinGA


I added these to raise the rear of my tank enough to get my thighs a little closer together. I was used to a Sportster with the peanut tank and the new Tri Glide forces my legs uncomfortably apart. The supplied lift did not accomplish this, so I added an additional 3/4 in lift using large brass nuts. Worked a little better with the added lift. (Posted on 8/29/2019)

First three quality

Review by

Stubby


First three quality Item from DK custom. I bought the lift kits before, but none of the quality of this one! (Posted on 8/12/2019)

Excellent

Review by

FJM JR


Good quality, good instructions fast delivery. (Posted on 7/30/2019)

Tank lift

Review by

Cyberpunk


Installed the 2" tank lift with the deluxe option, very pleased with the shipping time, ease of use and all in general. good airflow, looks good and ease of install.
can't recommend this enough!

thanks
Eddi Cyberpunk (Posted on 7/26/2019)

Tank Lift Kit

Review by

mark7352156


This tank lift kit with deluxe option I installed on my 2016 H-D Tri-Glide Ultra. Appearance and cooling are greatly improved. I highly recommend this for any H-D Trike. (Posted on 7/1/2019)

super

Review by

Mac


these are easy to install on a 2019 triglide level the tank out with 1.5 lift kit (Posted on 6/30/2019)

Great Product

Review by

Foundryratjim


Easy to install and works as advertised on my 2015 Freewheeler (Posted on 5/28/2019)

Very satisfied

Review by

Mike


Fast delivery. Very good quality. Easy install. No way of determining if the tank lift adds more air to the heads and helps cool the engine but I like the looks after the lift. (Posted on 5/8/2019)

Good

Review by

Bubba


Haven't installed kit yet. Everything looks great and extremely satisfied with shipping. I've just been to busy times install kit (Posted on 12/13/2018)

Installed w/Tank Lift Kit

Review by

Wes


For a much cleaner look, I installed both the Deluxe Lift Kit Option and 1.5" Tank Lift Kits together. Lifting both front and rear of tank gives a more seemless look to the tanks profile, plus increases air flow across both big twins. The instructions were great and I was able to easily complete both front and back kit installs quickly by myself. (Posted on 10/9/2018)

Great product

Review by

Red


Excellent quality, both fit and finish. Easy to install, a helper can be good but you can do it yourself with patience and care. Instructions clear and to the point. Definitely helps with access to the engine for cleaning, and also with airflow. Looks sharper too in my opinion with the tank off the heads. (Posted on 7/25/2017)
Product Tags
Use spaces to separate tags. Use single quotes (') for phrases.