Home

/

DK's Slip Stream SKID PLATE for 2004-Up Harley Sportster Models
Slip Stream
SKID PLATE
MADE in The USA!
DK Custom Products

FEATURES & SPECS:
Laser Cut 1/8" Aluminum Single Piece for Strength
Black Powder Coat or Raw Aluminum Finish
Includes Stainless Fasteners
Includes 6 foam spacers
Everything needed for a 15 minute install
Step-by-Step Instructions Included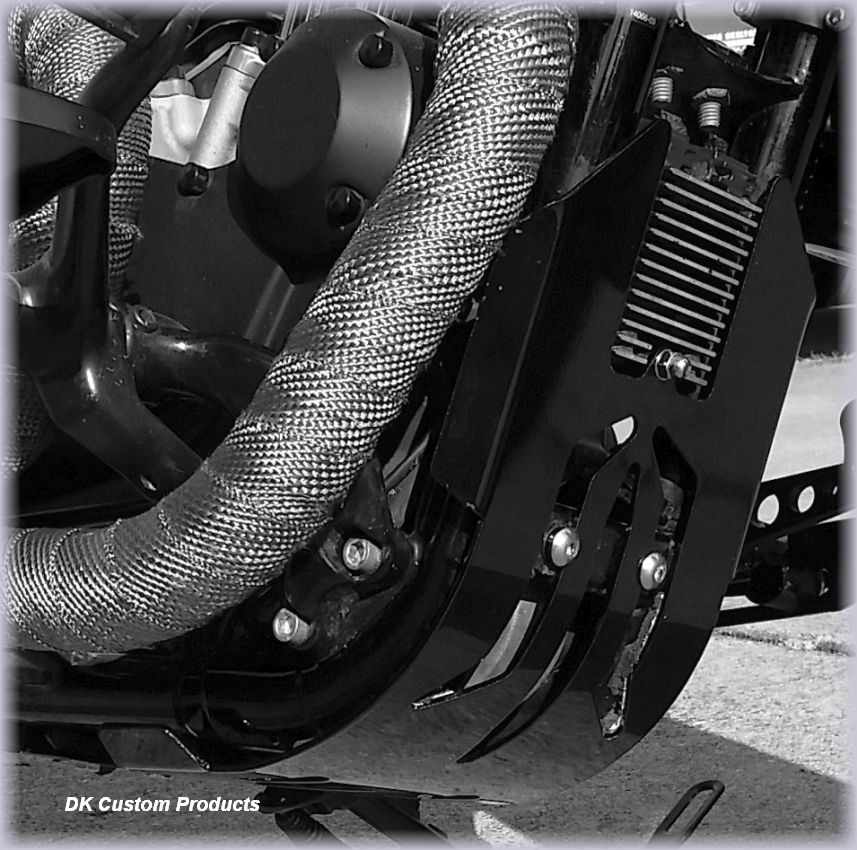 The sturdy single piece 1/8" thick Aluminum

Skid Plate

Protects the underside and front of your frame.
Rocks & road debris are blocked from hitting your frame, engine cases, and wiring.
Protects frame from damage from lift & trailer ramps, curbs, potholes, etc.
Slip Stream design and drain holes let air thru and let water drain.
The "wings" (two on either side) protect wiring bundles from anything that may come at the bike at a bit of an angle.
Choose from raw aluminum* (see photo on how it can be polished to a mirror finish)

or Powder Coated Black.
These come with step-by-step installation instructions and all needed hardware.
Bolts Directly to frame in FIVE spots for added strength/protection. Installation time is about 15 minutes.
The raw aluminum* choice not only saves you $10, but gives the option of painting it whatever color you want.
Fitment:
2004-Up Sportster Models
Does not fit XR1200
Because the purpose of the SS Skid Plate (taking a hit to protect the bike), the DK Custom Lifetime Warranty does not apply to this product.
*On the raw aluminum finish, it is raw, and will have scratches and marks on it. You will want to clean it up a bit with a chrome polish or equivalent, even if you are not going for a mirror finish. It will only need a little clean up if you are going to paint it.
Look at the photo showing the mirror finish that can be had with a little polishing.
"I Like the protection given by this skid plate, and it Looks Good too!" -Jimmy
Customer Reviews
Great skid plate kind of a pain to install

Review by

Wiley


Quality is top notch but lining all the holes up takes a little bit of effort. Things pretty sturdy so not a lot of flex but definitely doable with a little bit elbow grease. (Posted on 11/1/2020)
Product Tags
Use spaces to separate tags. Use single quotes (') for phrases.