Home

/

Fender Mounted Low Profile Laydown Curved License Plate Kit - Harley Sportster Dyna Softail Including M8 Softail
LOW PROFILE LAYDOWN
CURVED LICENSE PLATE KIT
Fender Mount
FITS
SPORTSTER~DYNA~SOFTAIL MODELS
~Including M8 Softails~

MADE IN THE USA!
By
DK Custom Products

FEATURES & SPECS:
Made from American Cold Rolled Steel
Mounts to Fender via the HD standard 3 bolt pattern
Durable Black POWDER COAT Finish
E-Z BOLT-ON INSTALL
Optional Plate Bolt Light
Low Profile - A True Laydown Plate Mount
Includes Hardware & Durable Isolator Pad
Step-By-Step Instructions Included
Lifetime Warranty
You can change the look of your bike big time with this Super Low Profile Laydown Mount!
This easy-to-install kit, lays your plate down, in a curve, to the fender of your bike!



The strongest on the market, backed by our Lifetime Warranty.
It is made from USA Cold Rolled Steel, Not stamped material
The distance between the mount and the fender is 5/8"
You may want to get our optional plate bolt light. However, it should not be needed, the light from your tailight should be sufficient
A heavy duty neoprene isolation pad fits between the mount and your fender.
All USA made hardware is included with the kit. No need to reuse cheap zinc hardware
Fits all 1984 - up Harley OEM fenders that have a three-hole bolt pattern (including many of the Milwaukee-Eight Softail Models)
Can easily work with Custom fenders by drilling 3 holes.
Can be run with or without a standard motorcycle plate frame. No plate frame is included in this kit.
FITMENT:
Most Sportster, Dyna, Softail Models (including some M8 Softail Models)
Fits 1984-Up Harley models with the license plate mounted to the fender above the taillight using 3 bolts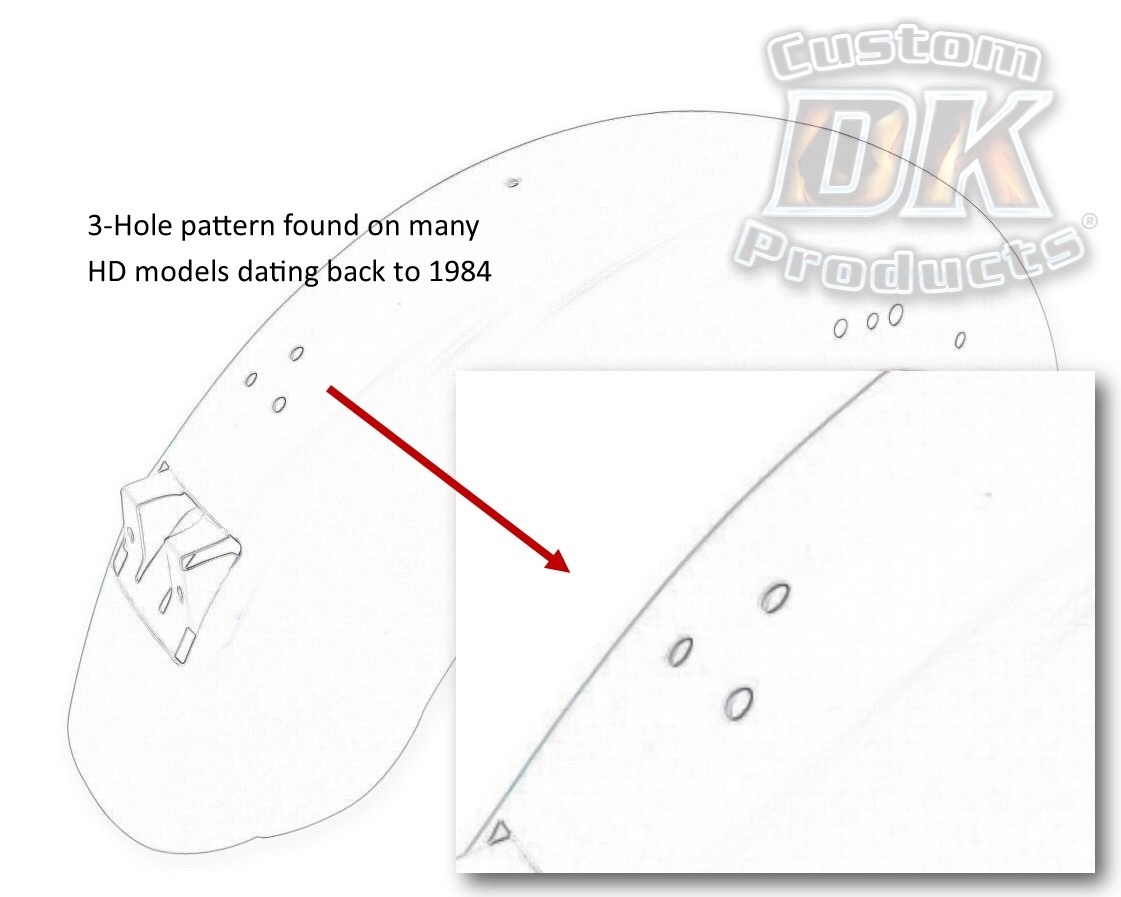 Designed for 7" x 4" plates (USA size).
This is a CURVED Mount Bracket
We also have Vertical & Horizontal FLAT & other Curved Mount Brackets available
See the Full Selection of Plate Relo Kits HERE
"This is a real laydown bracket, not a compromise, that only sort of lays down. I like that it is USA made too!" -Lance

Customer Reviews
Perfect

Review by

Rocky S


Just as advertised ! Easy to install and Way better than stock, high quality and fast shipping as well!! (Posted on 8/28/2023)

Lay down License Plate holder

Review by

PC


The customer service was everything you'd expect and appreciate....the plate holder is a quality piece , looks great and installation is straight forward and simple . DK Customs is a great resource for information and products ...two thumbs up !!! (Posted on 10/18/2022)

Good choice!

Review by

Eric


Box showed up, items packaged appreciatively well. Hardware count was spot-on. Bracket is well made; its qualityband fit the dimensions of my 4x7 plate percectly. Finish is beefy. Fit in the fender holes without chiping the paint. Rubber isolator was red-orange instead of black, but its quality amd will last. After install I took back off and used a black paint pen on the sides/edges; now its invisible if you look close. The bolts were JUST long enough to do the job; as in the tightened the bolt was flush with the nut. Good calcs by the designer! For the price after shipping though, seems like it could include a $9 black (or chrome) frame (dennis kirk) with it. The factory plate light in the stock brake light sgines probably 20% of what it did before. Just enough light to argue with a cop; if anything it's a weak excuse to pull over. FYI (Posted on 7/9/2022)

Really cleans up the tail

Review by

Jon


Thanks DK. It bothered me to have spent a bunch of money making the bike look like I wanted to only hang some bad version of a homemade trailer tag frame on the back. DK's lo-pro, curved mount, classes the tag right up, and actually makes it look like a part of the bike, instead of a bad afterthought. Highly recommended.

Construction is perfect, fit and finish is perfect, and theres just enough room to get a nylon locking bolt in there without being fearful of scratching the paint. (Posted on 7/3/2021)

Awesome Touch For My Softail

Review by

Lee


I really dig this new license plate mount. It looks cool and my bike cover lays down nicer too. I ride a 2006 CVO Fat Boy with a Screamin' Eagle 103 engine. (Posted on 12/2/2020)

Quality part at a good price.

Review by

Cliff


License plate bracket is a simple product that installs easily and was exactly what I was looking for. DK kept me informed of the status and shipping. I would recommend this for a clean and simple look for a license plate. (Posted on 8/29/2020)

Night and Day difference!

Review by

Dan


Transformed the rear fender on my FLDE with a much cleaner profile. It follows the fender perfectly and its a solidly built piece. (Posted on 6/9/2020)

Easy Install worth the effort Nice piece

Review by

Craig


Nice piece went on well. Layed down plate just like I wanted. Just need to find a Made in USA license plate frame. Trying my best to keep all parts I buy made in USA to get rid of all the other countries on this Harley. (Posted on 5/27/2020)

Well made product

Review by

Jason


I installed this low profile laydown curved license plate kit on a 2019 Heritage Special. Installation was fairly easy, and the result is a great look. Well made and sturdy. (Posted on 9/24/2019)

Perfect fit 2019 FLHCS

Review by

MoBillyAla


High quality components, with perfect fit on my 2019 Heritage. Exactly as advertised. Can't go wrong with this product. (Posted on 4/8/2019)
Product Tags
Use spaces to separate tags. Use single quotes (') for phrases.