Home

/

Give Them What They Want - A Gift Card They Can Use
"Give Them What They Want"
And They'll Thank You - Everytime They Get on Their Bike

Always the Right Choice
An Actual Card, on Quality Cream Stock in a Textured Envelope

A Place for a Note from You

Giving Them What They Want - The First Time
The Card can be used online, or by Phone or Email
This is an actual Gift Card, not just a piece of plastic.
We will mail The Card to you, you can put a personal note in it, and give it to them.
OR, we can mail The Card directly to them, with a note that You give us to put in it.
OR, if it is last minute, we can email you a PDF of The Card so that you can print it out, or email it to them.
Whatever the case, we can take care of helping you -
Give The Perfect Gift!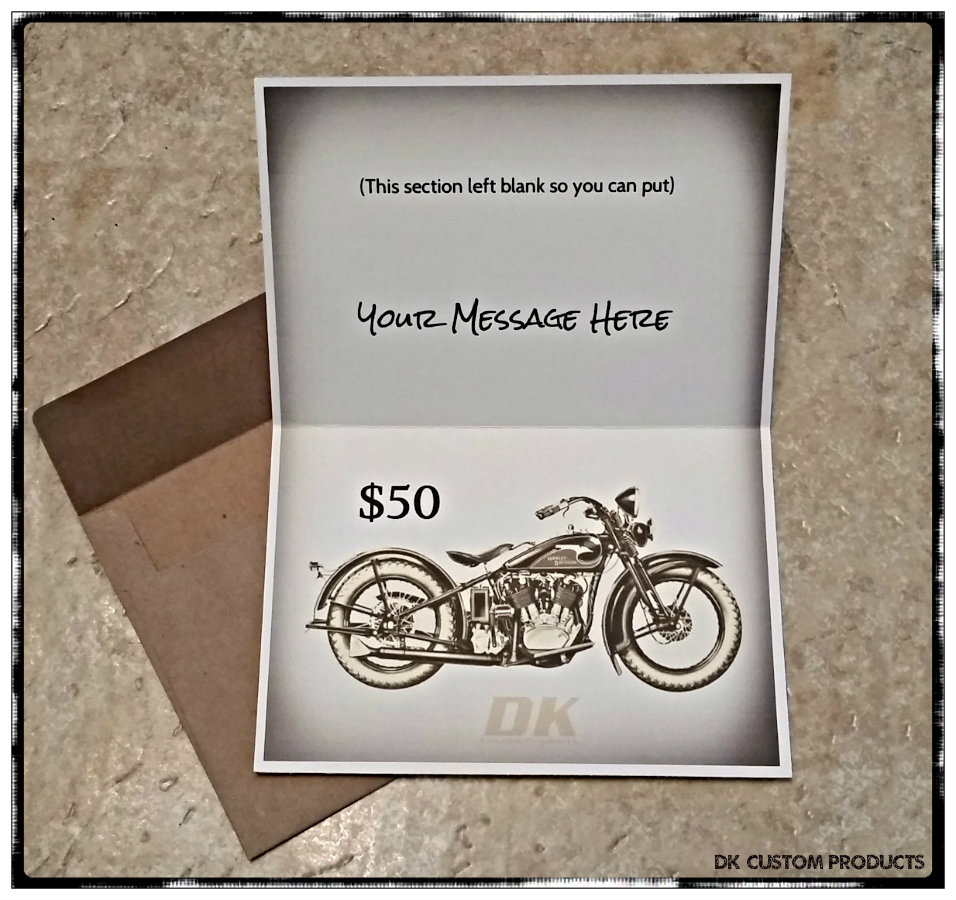 Choices:
Gift Cards available in $25, $50, $75, $100, $250, $500 & $1,000 amounts. Choose Above.
If you want us to mail The Card directly to the receipient, check the box below and put the note and the address you want it mailed to in the "Special Instructions" in the shopping cart.
If you want us to email you a PDF of The Card, check the box above.
Customer Reviews
Outstanding service!

Review by

Kc


DK always delivers! Prompt service and response, I'm very pleased with this company and their products! Got my gift card quickly and can't wait to apply it towards some awesome bike parts. (Posted on 4/3/2019)

Great!

Review by

RJ


Thanks for the gift card! Def got some parts I'll be ordering with the 100$ from the 5th annual Internet Bike Contest (Posted on 2/28/2019)

Perfect gift

Review by

Herb


I gave it to my brother. Perfect gift if you're not sure what they want. (Posted on 2/27/2019)
Product Tags
Use spaces to separate tags. Use single quotes (') for phrases.