Home

/

Ignition Relocation Sportster Nightster 48 Iron..More Details
NEW FLEX-SIX POSITION IGNITION KEY RELOCATION KIT

FITS SPORTSTERS 1995-UP

MADE IN THE USA!
By
DK Custom Products

FEATURES & SPECS:
Made from American Cold Rolled Steel
HIGH TEMP RUBBER SEAT FOR IGNITION
Durable Black Powder Coat Finish

Two Add-On Options below

SIX POSITION IGNITION KEY FOR EASY ACCESS

E-Z BOLT-ON INSTALL
Instruction Sheet Included
An Easy mod that cleans up the top of your front rocker, gives easier access to your ignition key, and just plain looks cool!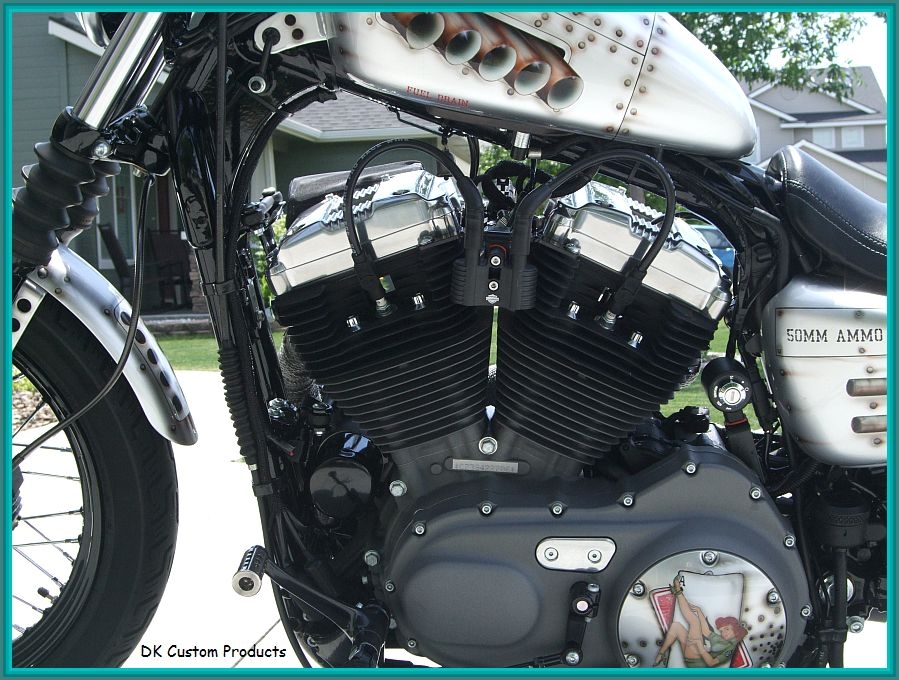 Pictured above is the Flex-Six Ignition Relocation, behind the rear jug. Also pictured is the Coil Relocation Kit, PRO RACE Plug Wires and 2" Tank Lift Kit.
The Flex-Six Kit, relocates your ignition to the left side of your engine, opening up the space above your engine!
Includes High Temperature Silicone Rubber Seats to reduce vibration and insulate your ignition from heat.

Look at all the pictures..you will see that there are 6 different positions you can put your ignition in with this one kit!
Forward, Center and Back in the Standard Out position
Forward, Center and Back in the Tucked In Position
On most 2003 & earlier models the F6 is best located off the battery box. See the last picture below.

Helps clean up the jumbled mess sitting right above the engine.
Easier access to your key.
Two Add-On Options
1. Push-Button LED Ignition Switch. See video below, and see full details at this LINK.
2. Key Tag...choose the one you like best! See pics below, and full details at this LINK.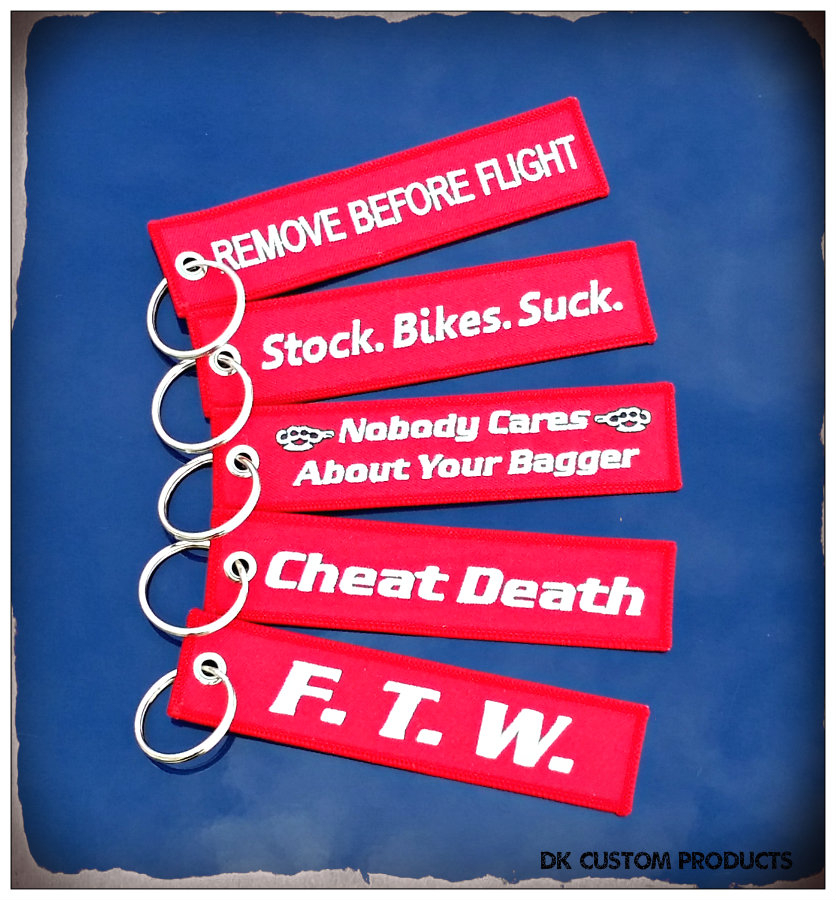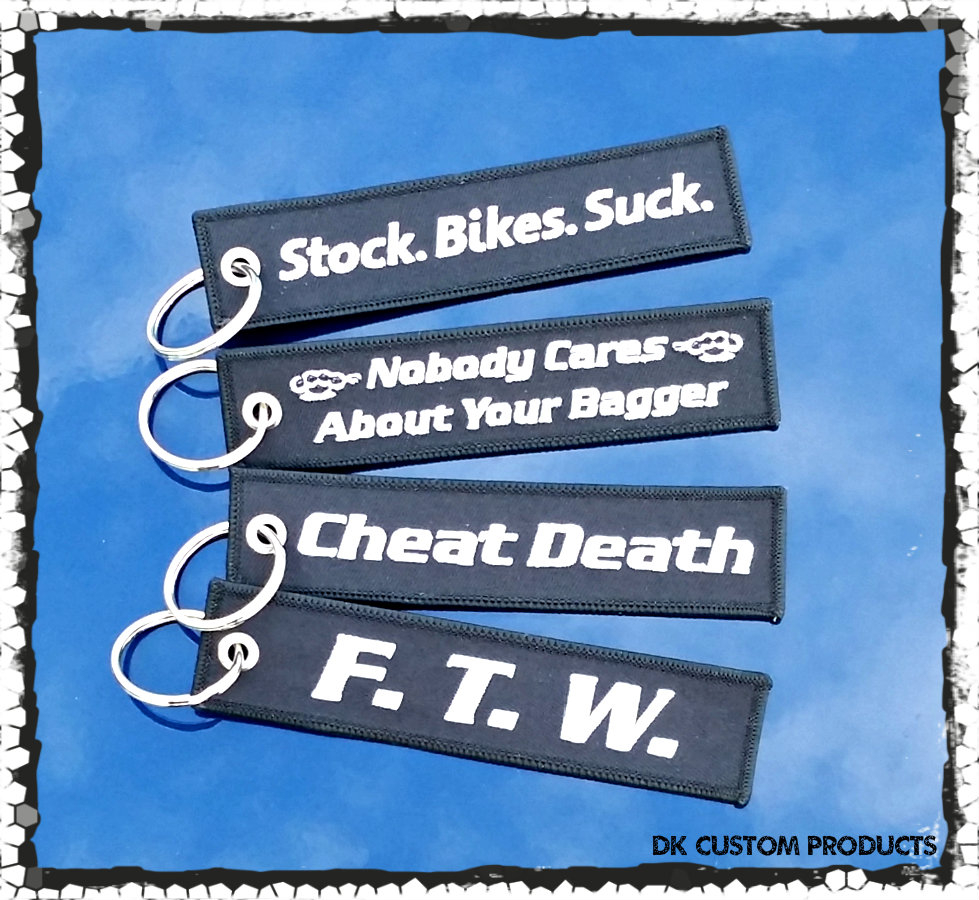 BETTER LOOK ~ EASIER ACCESS

This is an EASY install - 20-30 minutes!

Fits 1995-UP Sportster Models (except XR1200)

The perfect compliment to a Coil Relocation Kit!

"I love the ignition tucked down near the primary. I've been running it up above my relocated coil between the jugs. Moving it really gave a much cleaner look! Thanks!" -Jimmy

Customer Reviews
Awesome product

Review by

Hades


Bought this as I was relocating the coils and like the low tucked look of this mount. Its a little tight on my 2011 Sportster forty-eight but works perfectly. (Posted on 4/13/2023)

VERY HAPPY RIDER

Review by

Sparky


Everything just as DK said. VERY HAPPY with all 3mods coil-ignition relo and plug wires. I will be ordering again. 2 thumbs up (Posted on 3/28/2023)

What a difference

Review by

theshedvtwin


Did a DK three inch tank lift which is the best mod I've made to my 09 Nightster. But I liked the ignition up front and didn't opt for the relocation. Big mistake. My nice clean look up front was interrupted by that ugly bracket along with the ignition switch and key just hanging in space. If you lift, you're gonna wanna relocate. (Posted on 3/10/2023)

Nice upgrade

Review by

Kevin P


Relocation kit offers different options on where you can mount it. New push button is a perfect fit. Very easy install. Works great. Arrived ahead of schedule even with the Christmas rush. Very pleased (Posted on 1/6/2023)

21 iron 883

Review by

Oscar


Quick and easy. Kind of weird at first but pretty obvious when you sit by your bike. I had an ignition coil relocation set up but I was having my keys sawed off. This seems to be fixing that issue so it works for what I wanted it for. Also looks great. (Posted on 9/20/2022)

Very pleased

Review by

Catfish


I installed this along with a 2 1/2 inch tank lift on my 2009 nightster along with the ignition relocation very pleased with the product good quality cleaned up the bike nice would highly recommend (Posted on 8/15/2022)

Nice

Review by

Relo ignition on a 92 sporty by Joe


Installed the relo action bracket behind the primary , low down with the key facing up. Tucked up and out of the way. It cleaned up the area between the jugs. Easy install and super fast shipping. (Posted on 2/8/2022)

f-6 doesnt fit with cover installed

Review by

Kenny


didnt fit my 18 iron 1200 with wiring/connector cover installed behind cylinder, sat to high and didnt like position, easy to make new bracket if position you want is not desired but used behind coil relocation bracket after drilling holes and using nut on the top coil bolt (Posted on 7/18/2021)

Good product

Review by

Pablo


Awesome product it's an easy install would definitely recommend this (Posted on 4/24/2021)

coil relocation

Review by

bilge


what can I say but excellent product! very nicely made and looks and works perfect with the flex six key relocation it changed the look of my 48 completely for the better, thanks DK ! (Posted on 8/27/2020)

Great Price, Well Built

Review by

Steve


Easy install, much more sturdy than the aftermarket relocation mount I replaced. (Posted on 7/28/2020)

P e r f e c t

Review by

Paul


Gets the ignition out of the craphole Harley made over the engine, and experienced riders get to search for it when they hop in the saddle. (Posted on 7/3/2020)

One of the slickest aesthetics!

Review by

GurtSquirt


The ignition is one more thing I wanted to relocate away from the cluster of crap Harley threw together and placed over the engine. Get that crap out of there, and donut right with DK Custom's kit. (Posted on 7/3/2020)

Easy to Relocate

Review by

Simple


I was actually able to move it to where it's not going to be behind me. It's now actually right under me and you really can't see it which is good for outsiders. (Posted on 7/1/2020)

2003 883C ignition relocation

Review by

Steve S.


Good product! Needed to drill a mounting hole in the battery box to mount it though. The instructions included were not for my specific model but Dwayne in customer service responded to email immediately and helped me out. (Posted on 6/16/2020)

Good product. Glad I didn't have to make it from scratch.

Review by

Richard


Honestly, this thing was dumb easy to install on my '16 883n.
Yes, you could make it all yourself, but this is right and tested and install ready, looks nice and works. I don't know about you, but I have a lot of stuff I need to make by hand. Glad I could just buy and bolt. (Posted on 6/4/2020)

Great Equipment, Great Value

Review by

Coach G


If you're looking to open up your bike with an ignition relocation, I think the flex-6 option is amazing. Sure its a little lower, but it keeps the mechanism off your motor, and limits vibration. The installation is a tad tricky and takes some patience but is pretty simple. Word of advice is to check which way you want the mount facing, at first I wanted it tucked in but it refused to fit with the cover. The second I flipped the mount to tucked out, everything just fell in to place effortlessly, all I had to do then was loctite and tighten. (Posted on 3/19/2020)

Check your bike first and cross reference instructions

Review by

David


I have an '03 XL883 sportster

The metal product is great and if you can use it, it is a great buy. Although some creative individuals would argue, the price is not worth it for a bracket someone can make on their own or weld.

CHECK YOUR BIKE! My bike does not have a ground behind my primary making this bracket for me completely useless. I tried to use the bracket and attach it to my battery box somehow but it was starting to be a big pain to even incorporate it. So needless to say, I did not use it and I just drilled a hole on my battery bracket and placed the ignition above my primary between the batter and rear cylinder.

I wish I could send the bracket back and ask for my money but hopefully this review will help someone avoid buying something that truly may not need.

So check your bike and what you have first and use the instructions on the site to find out if you may run into the same issue as me and then make the appropriate decision from there.

*******

Good point to check your bike and the instructions-

Excerpt from instructions (full instructions with photos can be seen at this link- http://www.dkcustomproducts.com/media/wysiwyg/coilkeyrelo/sportster/f6/REV.41016Flex-SixKeyrelocationInstructions.pdf )

If you have a 2002 or earlier sportster, you will not have the grounding stud
mentioned in step #5. If this is the case, you have a few options.
○ 1. You can get a longer bolt that comes out of the back of the primary
and use it the same way.
○ 2. You can mount the flex- six where the rear tank bolt is, which puts
the ignition right above the rear rocker cover and in front of the seat
for easy access.
○ You can mount it to the battery tray like in the picture below. Some
model sportsters already have a hole to accommodate this, others
might need to drill a hole.
○ The flex-six can be mounted just about anywhere there is a bolt.
This is a chance for you to get creative.

DK Support Team (Posted on 1/14/2020)

Quality product excellent service

Review by

Dan


Very happy with this product. Well made, fits perfectly, clear and easy to follow instructions. Service and communication were excellent. Wouldn't hesitate to buy again from D.K. Customs! (Posted on 7/17/2019)

great customer service

Review by

scott


This bomb-proof part will last a lifetime. Install was easy and straight forward. Check out you tube if you have any doubts. Really cleaned up under my tank without a lift. Customer service is top-notch too! (Posted on 6/8/2019)

Perfect!

Review by

Coffey


The kits from DK are flawless. Instructions are easy to understand, the fit and finish are perfect. My sportster XL1200NS looks so much better now. Did the wire tuck, tank lift, coil relocation, and ignition switch relocation. All supplies from DK and now people compliment the bike everywhere I go. Honestly I can't recommend this company enough. Seriously easy install, great instructions, absolutely superior quality. (Posted on 6/4/2019)

Well made parts at a good price

Review by

Kevin


Parts are well made and the instructions are written very well. (Posted on 5/23/2019)

Thumbs up all around!

Review by

Justin


First off, the day after I placed my order I emailed the guys at DK to ask if I could edit my order. They were very helpful and offered zero hassles.

High quality products, easy install, and cleans up the look of the bike drastically! Highly recommend! (Posted on 5/1/2019)

Coil +ignition relocation and 1.5 inch tank lift kit

Review by

Dennis P


Quality products!!..DK Customs provide more than enough info on how to install, and they get the product to your door quick...as I get more ideas for my 2017 48...these guys will be my go to (Posted on 4/29/2019)

Ignition relo

Review by

Chris S


Easy install really cleans up the front of the bike Alot more practical spot for ignition (Posted on 1/11/2019)

Looks sweet easy to install

Review by

Wilbur


Easy clean up for your bike (Posted on 12/26/2018)
Product Tags
Use spaces to separate tags. Use single quotes (') for phrases.