Home

/

Polished Aluminum Breather Bolts Harley-Davidson TWIN CAM
POLISHED ALUMINUM
BREATHER BOLTS
For

Harley-Davidson
TWIN CAM & MILWAUKEE-EIGHT's

MADE in The USA!
DK Custom Products/Meadows Moto

FEATURES & SPECS:
Machined From Aircraft Aluminum Stock

Dual Screens with Filter

Set of Two
FITS TWIN CAM Motor

No More Hoses

Made in The USA!
Mfg. Exclusively for DK Custom Products by Meadows Moto & Machine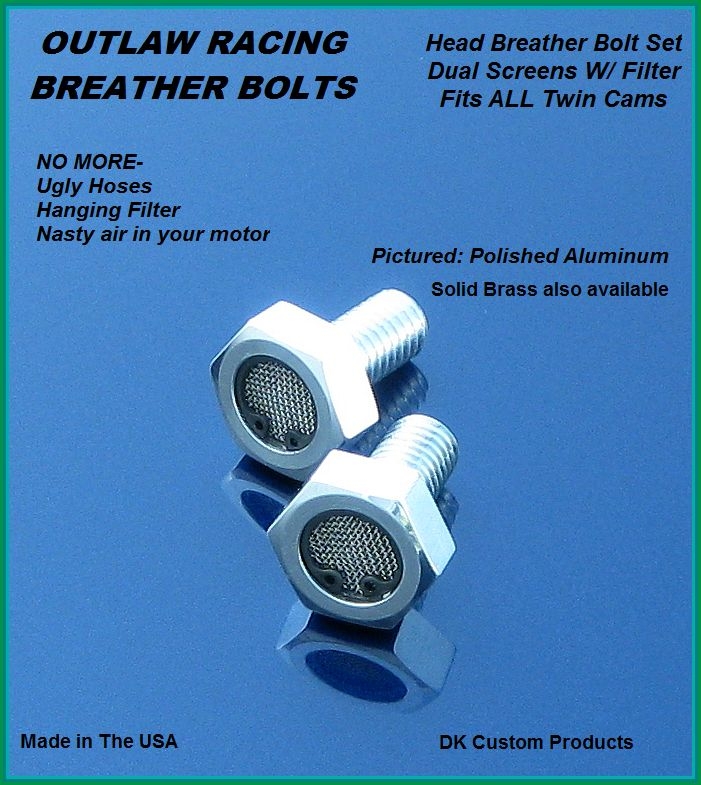 This pair of Polished Aluminum Breather Bolts will really clean up your ride! No more hoses or filter. The filter is built into the bolt.
The EPA has required Harley to route hot, dirty, oily crankcase air back into the air cleaner compromising the performance of your engine. This vents it without compromising the performance or longevity of your motor.
Caution: Motorcycles modified with this DK Custom Products High-Performance part may not be legal for public highway use in some areas. The user shall determine suitability of this product for his or her use.

With the Outlaw Racing Breather Bolts you will experience a slight performance increase. This is because engines like Cold Dry air!

Also available in Solid Brass and Anodized Black. These are a must-have when doing your Stage 1 upgrade.
E-Z Install
Fits All Twin Cam & Milwaukee-Eight Motors (1999-Up)
Fitment Notes:
These are made to work in conjunction with a standard after-market support bracket which is about 1/8" thick. The thread length on the OUTLAW Breather Bolts is 3/4".
"Cleans up the look big time. Very little mist, and only when I'm hammering it." -Stevo

Customer Reviews
Clean look

Review by

Jd


Installed these with the 606 hi-flow air cleaner on my 2021 tri-glide. Very clean look. (Posted on 9/6/2023)

Clean look

Review by

Jd


Gives you more view of the engine and simple install. Nice! (Posted on 6/28/2023)

Piece of mind on my M8

Review by

NK Bobcat


I installed these on my 2019 Tri Glide. I used a few layers of Teflon plumbers' tape, and they fix my M8 114 well. I have a full stage 1 setup and so far not a single drop of oil has emitted from them. I know it shows in the description and in their videos that they work fine on the M8 as well as the Twin Cam, but they should change the title to reflect that. (Posted on 4/30/2023)

Polished Aluminum breather bolts, WOW

Review by

Grey_Bush


So what can one say they are functional and pretty to look at. What more can one ask for. Running this on my 2016 HD Triglide with a 103ci. I did add the spare sponge just to be safe. Besides if its in the breather I cant loose it. (Posted on 4/24/2023)

GREAT PRODUCT

Review by

USMC1310Ret


What a difference in appearance and will check function when we get a break in the weather. (Posted on 2/14/2023)

Fantastic

Review by

jimijoe


I opted for this style of crank vent because I don't have any carryover issues and didn't want any unsightly hoses hanging off of the engine, so yours fit the bill exactly and are a GREAT product! (Posted on 11/10/2022)

Works as advertised. Better options available.

Review by

Joe Z


These were easy to install. They do as advertised, but you will get oil on your bike. (Posted on 4/25/2022)

Awesome!

Review by

Shane


Great product and can't ask for better customer service. (Posted on 8/5/2021)

Looks good and works great!

Review by

Gary


This is a quality made part and an inexpensive alternative to hoses and collection containers some crankcase engine breathers use. I've had no issues of excess oil on the engine. Oil vapor seems to be drawn away as air circulates around engine & actually seems cleaner than oil collecting in the intake breather/throttle body or a collection container. This may not be the case for all, but works great for me. Easy to install, looks good and work well. Very happy! (Posted on 8/4/2021)

Look good, work very well

Review by

Jim


Breather bolts look good and work very well. Ordered on Saturday and received on Tuesday. I will definitely be ordering products from DK customs in the future. (Posted on 7/18/2021)

They Look Great!

Review by

Lee


I dig the polished aluminum look. Very clean looking on the motor. They keep all the nasty stuff out of your intake! (Posted on 4/21/2021)

Work as expected!

Review by

RDinGA


Great product and now the blowby doesn't gum up my throttle body! (Posted on 8/29/2019)
Product Tags
Use spaces to separate tags. Use single quotes (') for phrases.