Home

/

Premium Chrome ISO Handlebar Grips w/ Throttle Boss For Harley
PREMIUM CHROME ISO GRIPS
w/ THROTTLE BOSS
Cushioned Grip ~ Dampens Vibration

Fits All Harley Models 1982-Up
FEATURES & SPECS:
Classic Styling - Ultimate in Comfort

Durable Chrome Finish w/ Cushioned Pads

Dampens Handlebar Vibration & Provides a Sure Grip

Includes Throttle Boss

Removeable End Caps for air reservoir type handlebars


Matches ISO Style Foot Pegs

E-Z INSTALL- Comes w/ Step-by-Step instructions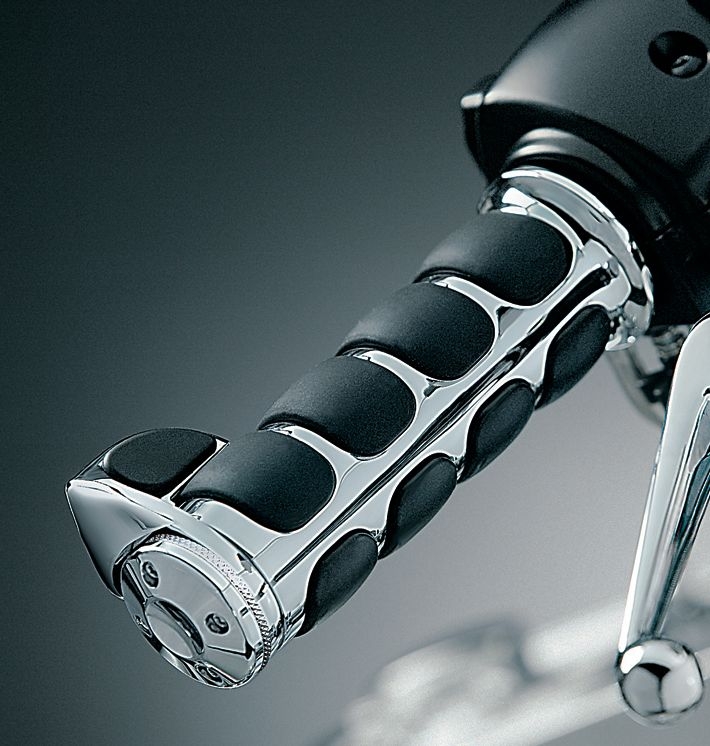 For the Rider who wants the Ultimate in Comfort & Style, these ISO Grips dampen handlebar vibration while providing a sure cushioned feel for long haul comfort.
These Premium Grips include a Throttle Boss, giving even more comfort on extended rides.
The Throttle Boss is a small adjustable "paddle" that sits under the palm of the right hand, allowing you to relax your grip on the throttle, but still maintain throttle control.
Helps reduce/eliminate tingling or numb hands or fingers.
Also available without Throttle Boss, click HERE to see them.
FITMENT:
1982-UP Sportsters (w/ dual cable operated throttle)
1982-UP Softail (w/ dual cable operated throttle)
1982-UP Dyna (w/ dual cable operated throttle)
1982-2007 Touring (w/ dual cable operated throttle)
2008-UP Touring (Throttle by Wire TBW)
When ordering, choose Cable Operated or Throttle by Wire
*Does not fit water cooled Street 500 & 750 Models
Make your ride Different AND more comfortable!!!
"I have been using these ISO Grips for well over a decade, can't beat the comfort, and they look good too!" -Kevin
Customer Reviews
No Tight grip needed

Review by

Mike I


I installed these grips on my 2023 Tri Glide Ultra i like the ease of using my palm to maintain speed on long trips (Posted on 5/20/2023)

Look Great

Review by

Coyote


$30 cheaper than at local HD dealer. Used hairspray on left grip, worked well. (Posted on 4/20/2022)

Works as advertised

Review by

Les


I really like these, being able to use my palm to maintain speed helps with my fingers getting numb without having to use the cruise control in traffic. (Posted on 2/11/2022)

ISO Grips

Review by

John


These are the third set that I have had on three different bikes,Iike the way they feel and are easy to install!!!!! (Posted on 6/23/2020)
Product Tags
Use spaces to separate tags. Use single quotes (') for phrases.