Home

/

Stage 3 Anodized Black Breather Bolts Harley-Davidson TWIN CAM
STAGE 3 ANODIZED BLACK
BREATHER BOLTS

For

Harley-Davidson

TWIN CAM & MILWAUKEE-EIGHT's

MADE in The USA!
DK Custom Products/Meadows Moto

FEATURES & SPECS:
Military Stage 3 Hard Coat Anodization - 80 Rockwell Hardness rating

Machined aircraft aluminum

Dual Screens with Filter PLUS 2 more Screens and extra filters included

Set of Two
No More Hoses

Made in The USA!
Better power perfomance, see Dyno Chart at top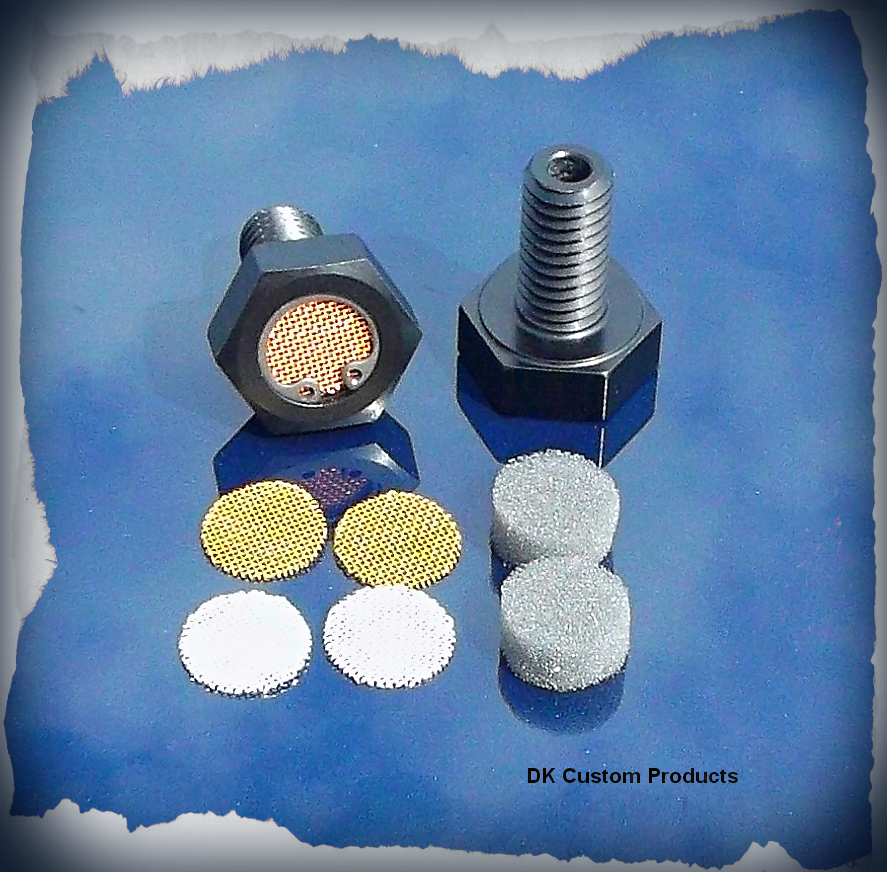 This pair of Outlaw Breather Bolts will really clean up your ride! No more hoses or filter. The filter is built into the bolt.
The EPA has required Harley to route dirty, oily crankcase air back into the air cleaner compromising the performance of your engine. This vents it without compromising the performance or longevity of your motor.
Caution: Motorcycles modified with this DK Custom Products High-Performance part may not be legal for public highway use in some areas. The user shall determine suitability of this product for his or her use.

With the Outlaw Racing Breather Bolts you will experience a slight performance increase. This is because engines like Cold Dry air!

Also available in Brass & Polished Aluminum. These are a must-have when doing your Stage 1 upgrade.
E-Z Install
Fits All Twin Cam & Milwaukee-Eight Motors (1999-Up)
Fitment Notes:
These will work with The Outlaw type Air Cleaners from DK Custom and any other air cleaner that uses a 1/8" thick support bracket.

These Breathers come in 1 size- 3/4" thread length
These Military Grade Stage 3 Black Anodized Breather Bolts have a rating of 80 Rockwell hardness to the black anodization. They have a high resistance to chipping or discoloring.
They also come with THREE different color screens. Brass, Copper and Steel. Also included are 2 extra filters.

"Kick-Ass Breathers! I can see & Feel the difference. Thank you!" -Lam

Customer Reviews
Exactly what the reviews say.

Review by

Rodgy


Great addition to my bike and they look great. The quality perfect and you can definitely notice the difference on the bike. (Posted on 4/12/2023)

Breath of Fresh Air

Review by

Yelnwarb


Dude! These breathers are sick. Great look, cost effective and add that bit spunk to the ride. If your not buying these, your missing out. (Posted on 11/29/2021)

Huge upgrade for little money

Review by

Whitestone


I installed these on my TC88, which I had top end overhaul and upped to 95, S&S cams, 11:1 comp. Custom heads. I learn about these and the problem associated with hot oily air 3 months after having the work done. Installed them with a 636v air cleaner and wow! Really woke up my rebuild. (Posted on 10/25/2021)

Looks Great

Review by

Korky


These filters installed easily with some Teflon tape on the threads. Ordered the Black set and they matched beautifully on my Twin Cam 96. (Posted on 8/5/2021)

Great product

Review by

Farmer


These were my second purchase for my second bike my 2008 Road King 103 stroker motor. No more Hot dirty oil vapor going into my intake. I will install the on every bike I own great product (Posted on 5/5/2021)

Just buy them

Review by

Brian


Venting your M8 should be the first thing you do when you get your bike home. These breather bolts along with an oil filler cap vent and you're all set. (Posted on 2/8/2021)

Trying this style

Review by

BigUn


Have catch can system on tri-glide trying these on street glide. Received but not installed yet. Quality of product is great. Ease of installation looks good. Will update after install. (Posted on 1/13/2021)

Mandatory

Review by

Kyle


These should be mandatory for your M8 or Big Twin. Put them on my 2020 Lowrider S coupled with the Hi Flow DK Custom air cleaner and it is simply amazing how much my bike rides. Horsepower and torque gains, but the most noticeable was how much better the bike runs due to not ingesting hot, oily, air. These were put on my bike after removing the stock air cleaner and noticing all the oil build up on the intake manifold...and that was only with 1300 miles on the bike. (Posted on 12/11/2020)

clean and effective

Review by

jim


I installed these on my 2019 Softail Slim. I prefer these to the hose and filter or catch can option as it looks much neater. If I were to have an oil blow by mess then I can always change to the hose and filter set up. So far not one drop from this motor. (Posted on 7/17/2019)

Sweet

Review by

dahomes


Easy to install and have not had any oil blow back. (Posted on 5/16/2019)

Cheap, and effective

Review by

Rob


Install is a breeze, and they look great!
Only downside for me is that some oil blows through the filter, and onto the intake manifold and battery cover on longer rides. (Posted on 10/26/2017)
Product Tags
Use spaces to separate tags. Use single quotes (') for phrases.