Home

/

Stock. Bikes. Suck. ~ DK Custom Products Dry Blend Shirt Limited Production Run
DK CUSTOM PRODUCTS
LIMITED PRODUCTION RUN
S.B.S. SHIRT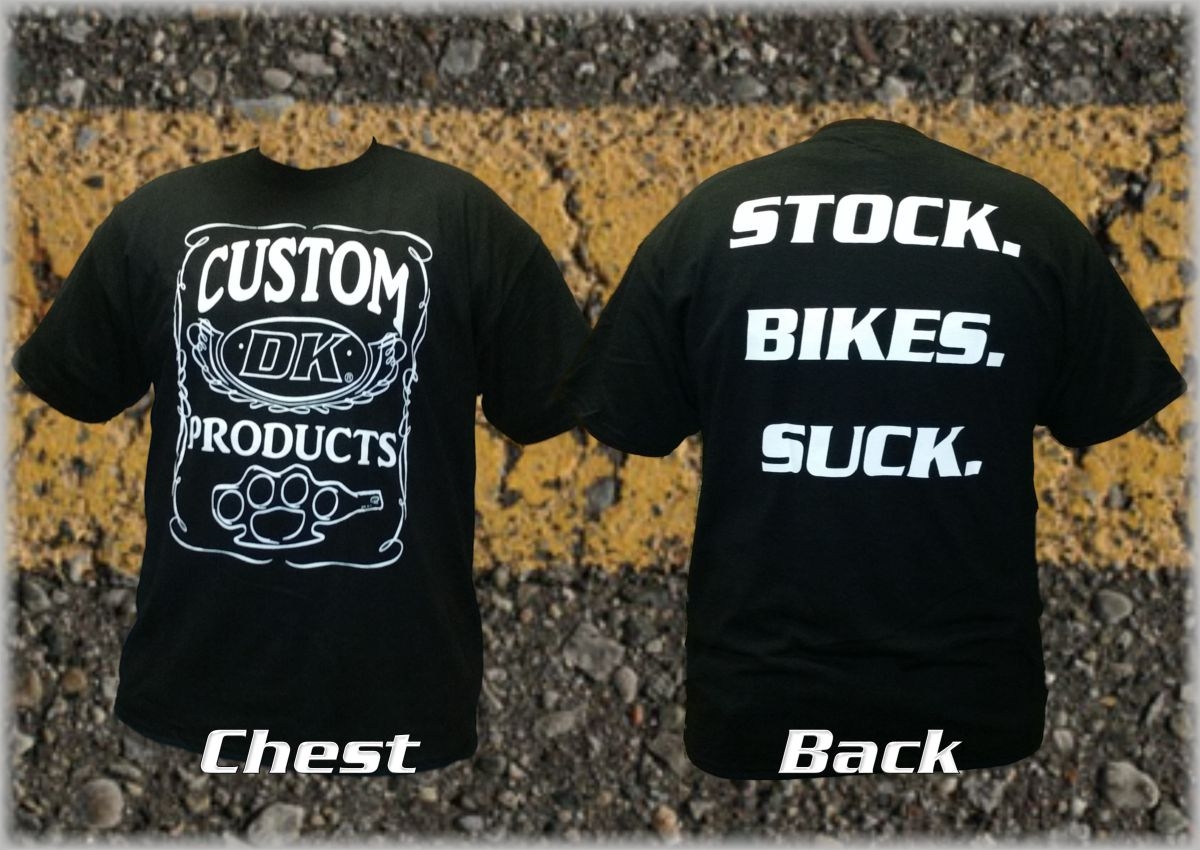 We have changed our approach regarding apparel. Going forward, all runs will be limited to one small production run.
When a size sells out it is gone - we do not restock. Due to the limited nature of our apparel,
If You Would Like This Shirt, Order it Now.
Top Quality

No-shrink

50/50 DryBlend

Sizes: Small, Medium, Large, XL, XXL, XXXL
Warmer when it's cold, & Cooler when it's hot.

The Perfect Gift!
Save
Customer Reviews
Excellent!

Review by

Kevin Z in Arabi


Nice comfortable fabric, true to size, with the perfect message on the back! I've gotten several compliments on it ! Can't go wrong at DK! (Posted on 5/20/2022)

Great shirt design and service

Review by

Joe P.


A shirt design that says what every HD owner is thinking. Thanks to DK Customs! (Posted on 3/25/2022)

love the shirt! Perfect design

Review by

SoMdRob


Couldn't ask for a better shirt, perfect fit, lettering and quality ! Dk custom has great products (Posted on 10/26/2021)

T Shirt

Review by

Ryan G


Quality shirt, true to size. I bought for the bold Print on the back. (Posted on 6/3/2021)

T shirt

Review by

Roman B.


Great design and quality along with AWESOME customer service can't be beat THANKS DK CUSTOMS! (Posted on 5/18/2020)

Shirt #2

Review by

Kg4nai


They were backordered on this one. Customer rep contacted me to let me know. We substituted so my entire order could get shipped. 2 shirts and a Tank lift. Was some confusion on getting shipped called a few days later to see what was up, they explained and apologized, upgraded my shipping free of charge, had my order next day.
I call that great customer service and both shirts and tank lift great quality.
I will always be a customer going forward, and looking out for more product line.
Excellent job peeps at DK Customs. (Posted on 4/29/2019)

Pure Quality

Review by

Andy B


Quality shirt, design and service.
The design says it all !
Go on treat yourself you know you want to and deserve to ! (Posted on 3/25/2019)
Product Tags
Use spaces to separate tags. Use single quotes (') for phrases.