Home

/

Tri-Glide Mud Flaps w/ Run-Brake-Turn LED Lights Built-In
TRI-GLIDE
RUN-BRAKE-TURN LED
MUD FLAPS
Fits All Tri-Glide & FLHXXX Models
DK Custom Products
SEE & BE SEEN!
FEATURES & SPECS:
Pair of Run-Brake-Turn LED Mud Flaps

26" of LED Lighting

180 Dual Intensity LED's

Smoked Tubing

Increased Safety thru Increased Visibility

Waterproof & Durable Construction

Chrome Plated Steel w/ Durable Rubber Flaps

Reduce Road Spray from Rear Tires

Secure Bolt-on Design

E-Z INSTALL- Comes w/ Step-by-Step Instructions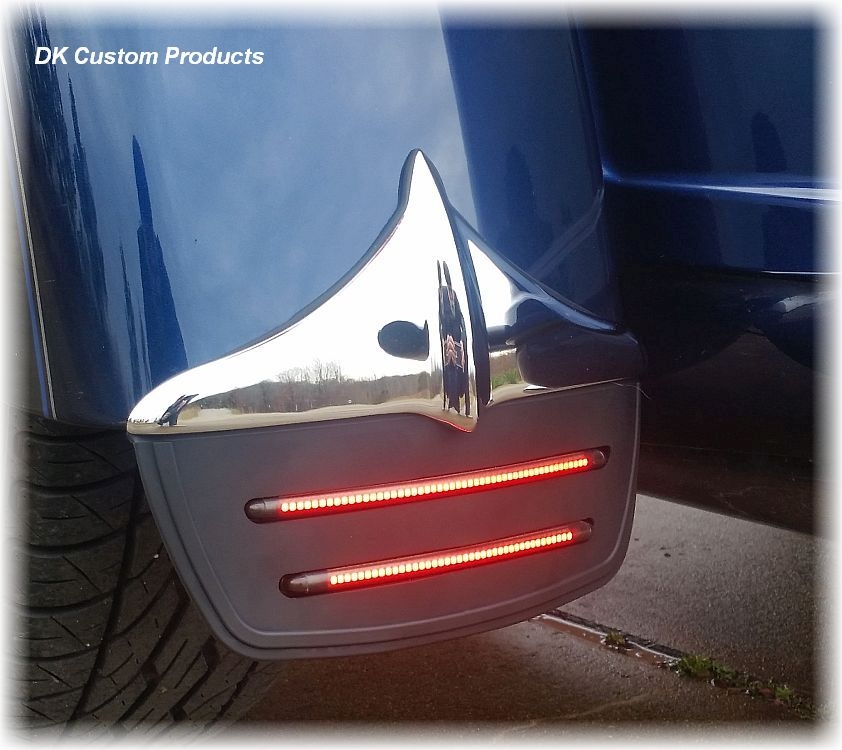 Reduce road spray from the rear tires and add style to your trike with these great-looking mud flaps. Made from durable, yet flexible rubber, contrasting with chrome trim to match the lines of the rear fenders. Secure, bolt-on design.
If you have the Harley Brand Mud Flaps, the holes used for them can be re-used for these mud flaps.
These Mud Flaps have had two chrome strips removed. In their place is a curved steel back plate with 90 Dual Intensity LED's, on Each Mud Flap. 180 LED's total is a Huge Safety Feature, Greatly Increasing Your Visibility to others on the road, Day & Night.
All 180 LED's function as Running Lights, Brake Lights & Turn Signals.
The LED's used are designed specifically for the cut-outs in these flaps. They are waterproof, & have extra durable wiring, tubing & sealing.
Sold as a Pair. Comes with all needed hardware & easy step-by-step instructions. Included Posi-Lock connectors mean NO cutting, splicing, or soldering of wires. It's never been easier to get Bright LED Rear Lighting!
FITMENT:
2009 - Up Tri-Glides & FLHXXX Street Glide Trikes
If you already have Kury Mud Flaps and want the LED Kit to retrofit your Flaps, click HERE.
A Mod that Makes a BIG Difference!
"I'm not very much into chrome or bling, but the extra lighting (safety) these give is amazing, plus the chrome/black/red contrast really looks good." -Kevin
Product Tags
Use spaces to separate tags. Use single quotes (') for phrases.