Home

/

Black SGS Primo Deluxe Foot Pegs For Harley-Davidson
SGS PRIMO DELUXE RIDER FOOT PEGS

FITS
Sportsters-Dynas-Softails-V-Rod's
CAN BE USED AS HIGHWAY PEGS & PASSENGER FOOT RESTS TOO!


Hand-Crafted In The USA!
By
DK Custom Products


FEATURES & SPECS:
Fold-Up Primo Deluxe Pegs fit all stock HD and most custom control set-ups
American Cold Rolled Steel Axle and Clevis mount
Spin freely or fixed in place, or anywhere in between!
Adjustable set screw for different lateral angles
Super Gripper Series w/ Traction Pins
Solid Aluminum Body-Black Finish


Platform 3.5" x 3.75"

Sold in Pairs

E-Z INSTALL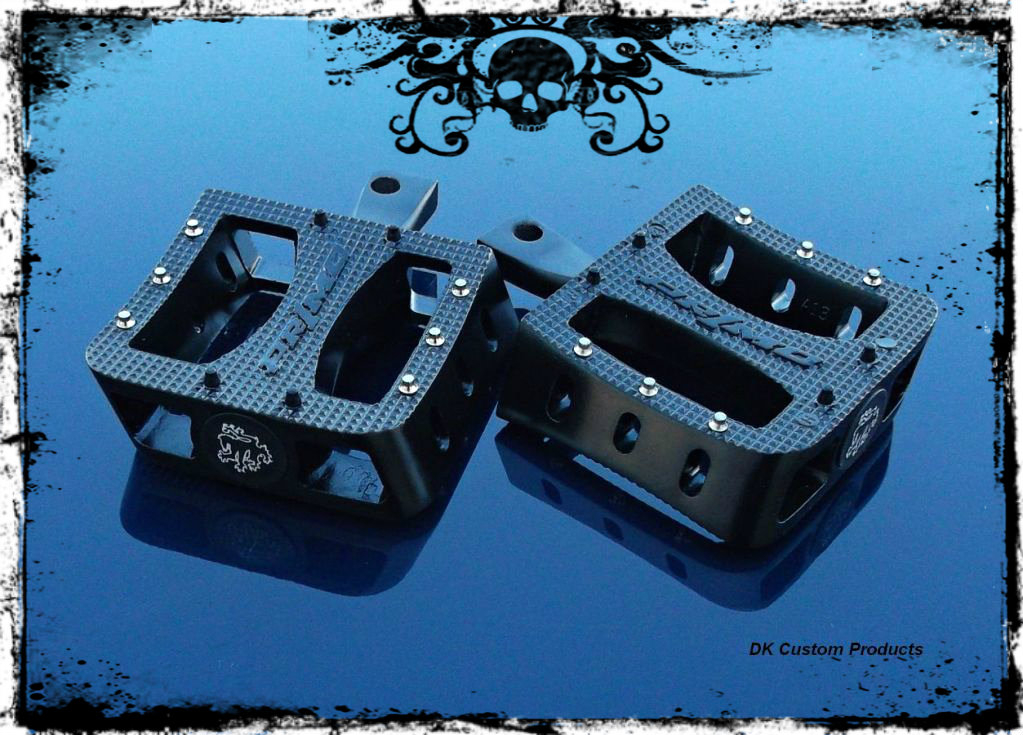 These Versatile Primo Deluxe Foot Pegs get lots of comments!
The platform measures 3.5" x 3.75", they fit all Harleys, including the new style peg mount found on the 48's, 72's and some other newer Models.
YOU will be amazed at how comfortable they are!
They can be adjusted to spin freely, adjusted to move only with firm pressure, or locked into the position you want.
Being able to move your feet around on a secure platform, and change the angle of the platform (while riding) is especially useful on those long rides!
Additionally, there is a grade 8 set screw that adjusts the lateral (angle from the ground) angle to what suits you best!
Between the textured design on the solid aluminum body, and the Traction Pins, there are no worries of your shoe slipping.
If you are running forward controls, no more fatigue from holding your feet on the pegs.
They work equally well as Forwards, Mids, Passenger Mini-Floorboards & Highway Pegs.
Black Finish. They are also available in Aluminum finish.
These pegs started out as bicycle pedals and have some components that are made Outside the USA. The main structure of the peg, the axle and mounting tab, are made right here, by DK, with USA Steel. Each pedal is disassembled and then converted to a motorcycle peg with DK Custom parts.
Fitment Note: Will fit the M8 Softail when used with the Footpeg Adapter at this LINK



Make your ride Different AND more comfortable!!!
"Fast delivery of a superb product. I really like the traction pins. Thank you." -Cochise
Customer Reviews
Bought a Dyna with these pegs. Ordering them for my springer.

Review by [email protected]
Bought a 2016 Dyna with these pegs. Ordering them for my 06 springer. Love that the pivot too and I don't mean just up and down. (Posted on 12/7/2020)

Anything is better than OEM

Review by

Coy Coleman


These make the best 1/2 boards for a small bike like the Sportster. Even better for the Roadster with mid controls so I can ride at the ankle angle I want. No more cramping knees and hips. Plus they look cool! 2 minute install. (Posted on 8/7/2020)

SGS Primos

Review by

Nate


I like these a lot. Easy to adjust ( I locked mine when I decided on the spot). Instructions are clear. My feet and legs are much more relaxed than with the old pegs. Didn't have any trouble getting a socket to fit. Pins keep your boots stable, no slipping. Nice product. Glad I got them. And I love doing business with these guys. Fast shipping and really helpful whenever I call or text/email. 2010 Fat Bob. (Posted on 7/20/2020)

Great!

Review by

Rhino


Quick shipping, exactly what I wanted! (Posted on 2/20/2020)

Great forward controls

Review by

Paulie Walnuts


I rode these Primo pedals exlusively for 10+ years as a kid, so theyre getting extra nostalgia points from me. I put them on as forward controls and i fn LOVE these, instantly felt right at home on them. Reccomending them to everyone in my club and beyond.

I was planning on locking them in place, but out of the box the rotation is a lot tighter than a typical BMX pedal so they stay put when you take your foot off but still give that freedom to move around.

(Posted on 3/22/2019)

Primo pegs

Review by

Chris


High quality pegs easy install have on both my sportster and night train get lots of people looking at them and they are super comfy! (Posted on 1/11/2019)

Primo pegs 07 street bob

Review by

Jim s


These were easy to install. I had no problem with the pitch or rotation. These pegs are very comfortable and look bad ass! (Posted on 12/13/2018)

Nice alternative for a Dyna

Review by

Erik R


I put these on my 2016 Street Bob and while they look great and do improve comfort quite a bit, I had the same experience as the previous reviewer. The instructions are clear, but a 15mm or 17mm deep socket won't fit into the opening on the pegs so I'm still unable to adjust the tightness of the rotation. I was able to get the outer nut out with, I believe it was a 9/16, but can't reach the inner nut. I also did have to bend the spring washer a bit to get the pegs tight.

Note from DK: Give us a call or an email and we will help you out. When building these we loosen and tighten each one of them, so we know how to easily and quickly do it. (Posted on 8/28/2018)

Pretty comfy

Review by

Robert


Nice pegs, comfortable but good luck getting them to not rotate. Says you can use a 15mm to lock it in but its a 17mm and its too small of an opening to tighten them. Looks like im stuck with the rotation...

Robert, there is no need to be stuck with rotation. If, upon re-reading the instructions, you are still having problems, give us a call or an email. We'll walk you thru it. (Posted on 3/16/2018)
Product Tags
Use spaces to separate tags. Use single quotes (') for phrases.