Home

/

F-16 Headlight Relocation Bracket Fits -Sportster - Dyna - Softail
FLEX-16 HEADLIGHT
RELOCATION BRACKET

Fits Stock Headlights and Many Aftermarkets Lights
Up to 16 Mounting Options - Sportsters, Dynas & Softails

MADE IN THE USA!
By
DK Custom Products

FEATURES & SPECS:
Made from 7 Gauge American Cold Rolled Steel
Durable Black POWDER COAT Finish
E-Z BOLT-ON INSTALL
16 Different Mounting Locations
Eliminates Headlight Brow
Step-by-Step Instructions Included
Lifetime Warranty

You can change the look of your bike big time with this simple relocation!
This easy-to-install kit, relocates your stock (& many aftermarket) Headlight.



The design is the strongest on the market, backed by a Lifetime Warranty

.
Flex-16 design gives up to 16 different mounting options-
Forward, Rearward, off Top OR Bottom of the upper triple tree, bracket angled up or down,
headlight above or below bracket.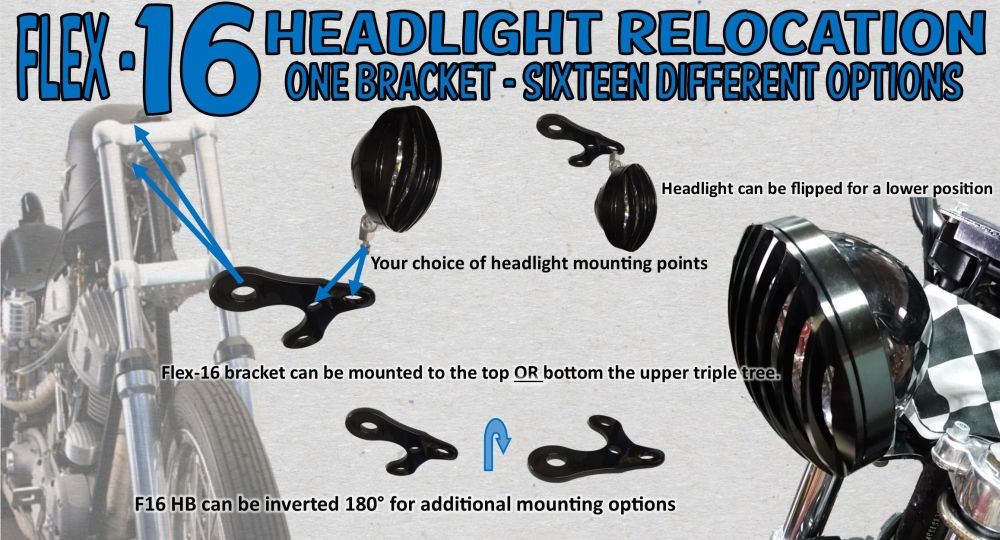 The F-16 mounts to the Top or Bottom of the Upper Triple Tree. It is secured by the two OEM bolts that go thru the tree into the handlebar risers.
The F-16 can be oriented with the "head" angled Up or Down. The "head" has a forward and rearward mounting hole for the headlight.
The headlight can be mounted on top of, or below, the F-16.
This has not been test fitted with any fairings....For fairings, to be safe, we have an infinitely adjustable Modular Design that allows for high, center or low mount. Tucked in, way out front, or anywhere inbetween. Click

HERE

to see it. We also have a low mount bracket for the 48, and other bikes with non-standard handlebar risers, Click

HERE

to see it.
Does Fit All Sportsters, Dynas and Softails that have handlebar riser bolts going thru the top tree.
Does Not fit the M8 Softail, 48 Sportster.
"This F-16 is perfect, gives me lots of options on how to mount my headlight." -James

Customer Reviews
No more eyebrow

Review by

Peewee


Very easy to install gets rid of the eyebrow can mount like numerous ways I chose to mount it high looks amazing quality is amazing and Dk customs ships fast and easy very pleased with my purchase (Posted on 2/11/2023)

eyebrow removed

Review by

George


Great piece that helped me mount my headlight without the eyebrow. Thick solid and well made, fits under the risers and allowed me to use a modified bullet style headlight. (Posted on 7/8/2020)

Install part on 2014 iron 883 sportster

Review by

Billy


The relocation bracket fit great on my 2014 HD iron 883 sportster. It gives the bike a better look without the headlight eyebrow. This is a must have part for your bike! Saves you alot of money to buy this part instead of buying an entire headlight relocator setup. (Posted on 4/14/2020)
Product Tags
Use spaces to separate tags. Use single quotes (') for phrases.