Home

/

FL-ViED Fuel Enrichment for Harley EFI Plug-n-Play..More Details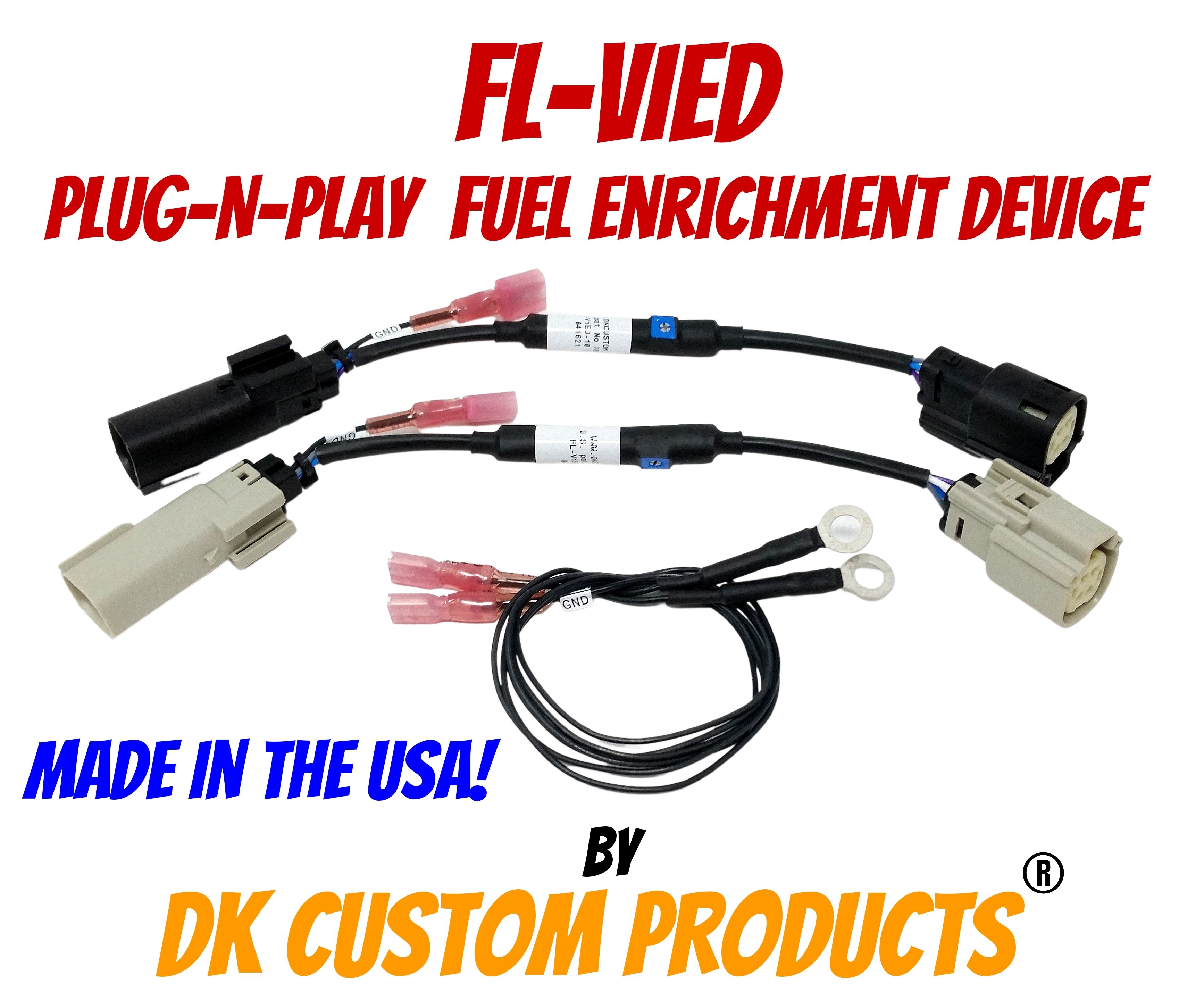 Dynamic Tuning For Harley-Davidson Motorcycles
Variable Inline Enrichment Device
(FL-ViED)
A Cost Effective Alternative to an Aftermarket Tuner & Dyno Runs.
This Patented Device Dynamically Adjusts to Changes Made to Your Bike!
FL-ViED-10's will Cool Your Bike Down & Make it Run Better!

The Patented Plug-n-Play FL-ViED-10 richens the Air Fuel Ratio from14.6:1 to a range of 14.3-13.9:1 in closed loop mode.
This Variable Fuel management upgrade allows you to fine-tune the air fuel mixture with a small screwdriver.
Immediate Benefits:
Lower Engine Temperature

Lower Exhaust Temperature

Improved Throttle Response

Reduced Surging

Reduced Pinging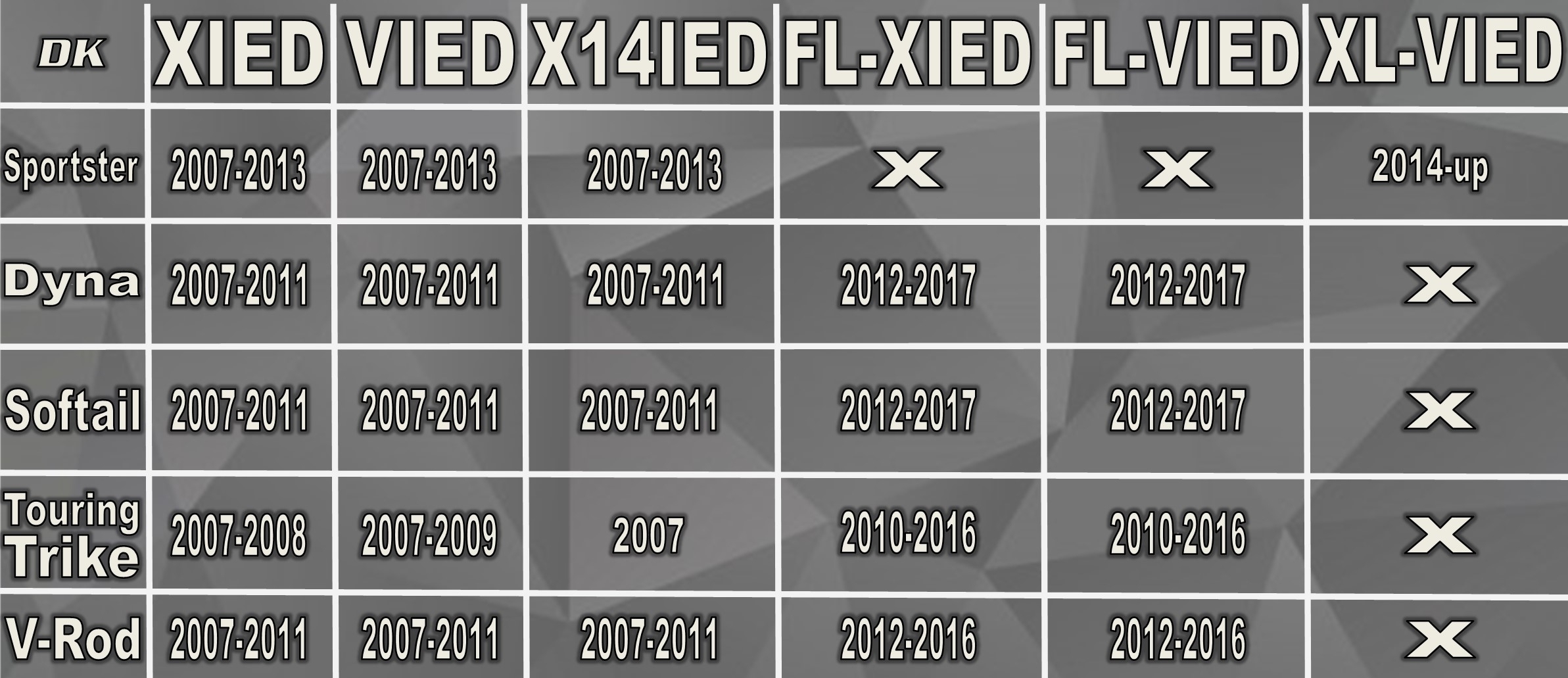 Fitment:
Touring/Trikes 2010-2016 (including the Twin-Cooled Models)

Softail 2012-2017
Dyna 2012-2017
V-Rod

2012-2016
Recommended for: Stock Bikes, & Stage I Bikes (High Flow Intake & Exhaust) Will NOT Work with Stage II, III, or IV.
Note: It is recommended that bikes that have full exhaust system upgrades, or those with the catalytic converter removed, use this FL-ViED-10 product. Fine tuning of the O2 sensor signals may be required to optimize the fuel mixture when the catalytic converter is not in place.
Simple install-comes with instructions. No tools required, installs in a few minutes.
They work inline with the smaller H-D Delphi heated narrow band 02 sensors and Delphi ECM to richen the fuel mixtures, adding up to 6% more fuel to the engine in closed loop mode.
There is an indirect richening of the open loop fuel mixtures through the learning mode, or adaptive fuel value action built into your ECM. This ensures the richer 13.8-12.5:1 AFR's are ALSO adjusted in heavy/full throttle operation.
LINK to All Dynamic Tuners
"The 'too lean' hesitation at start off was gone. Also gone was the decal popping. Using my highly calibrated dyno-ass I could feel a tad more pull at low end.
Overall I'm happy. So happy that I'll be ordering another set for wife's '14 Tri-Glide" -Screwball
"409" ignition wires provide continuous heat protection up to 600-degrees Fahrenheit
Customer Reviews
Great product with great results

Review by

Roadglider


I purchased the FL- ViED to great a richer running and cooler running bike. It took about 20 minutes to install and was easy plug and play. The bike is running great and alot cooler than stock settings. I noticed a definite power increase and throttle response. Now to see how long she'll last. Very satisfied! (Posted on 10/11/2021)

FL VIED's do what they say

Review by

Daniel


I was familiar with the night rider products from being a former BMW owner. I knew that they were a good solution for lean running machines. They work great on my FLHCTU to lessen the heat output and reduce the decel popping. I could tell a difference on the first start up as it idled a bit faster. The first ride did show an improvement in throttle response and power. Definitely satisfied, as they did exactly what I was expecting. (Posted on 9/21/2021)

Awesomeness!!

Review by

Dave U.


First of all should say I am very new owner of a 15 TriGlide. After I bought the trike I started reading about how to maintain and what to check and look for as I wanted to be prepared for common concerns. Once I started reading about how lean these run I wanted to find a solution. After hours and hours of reading and research I decided to give these a try. Coming from the car world I know the problems running lean can do. I had several questions called them directly and got all of them answered. I love the fact that I was talked to like a person and not just another sale. I was not looking for more power just a properly running machine. My trike runs awesome and is definitely more responsive. I am beyond thrilled with the results. I also love all the videos that are online to watch and learn. All in all it was the honest videos and no BS proof with the results provided. Thanks again for awesome service and products. (Posted on 8/20/2021)

5 star

Review by

Widetrack


Added just enough power to be noticed. Fuel mileage has gone up also. Idles smother (Posted on 7/27/2021)

Good stuff all around

Review by

Sly


It works (Posted on 7/14/2021)

Great product

Review by

Tj


Noticeable difference bike runs better and seems to run cooler would recommend (Posted on 6/29/2021)

Perfect!

Review by

Lance G


'10 Ultra Limited, completely stock except for 4" RCX slip-ons and de-catted header pipe. It didn't run right after de-catting...idled rough, laggy low-end power, and surged/lagged at mid-throttle. After installing DK's FL-VIED-10 and dialing to about 35%, it runs beautifully now. Idle is perfect, no more low-end lag, and no more mid-throttle surge/lag. Feels like it's pulling a little harder too. 10 minutes to install, and 100% satisfied with results! Thanks DK! (Posted on 6/17/2021)

A+ product

Review by

Trikerster


I have used Night Rider in the past, good quality, and product does what it says it does. Would recommend. (Posted on 2/25/2021)

DK-FLVIED-10-NR

Review by

Al Corr


Very easy to install, just Plug-n-Play. Enrichment for Fuel Injected Harley-Davidsons. Lowers Engine Temps. Improves Throttle Response. (Posted on 10/31/2020)

FL-ViED-10

Review by

Pastor


First installed on our 15 FLHR and noticed incredible improvement first time ridden. Gone was the low end surging in first gear and the exhaust was much cooler on the highway. Then we ordered a kit for our 16 FLSTC that has always run hot enough to make the freeway ride uncomfortable. Same result, no surging, and the heat was gone. The engine on both machines just seems happier now. Very happy with the product, I only question why the manufacture only offers a 30 day warranty on this kit. (Posted on 9/9/2020)

$$ well spent

Review by

PJ


Super easy install. Cleaned up all the lean hesitation, and engine just seems generally happier, as well as pulling harder.
Have the same unit on my BMW R1200GSA, with similar results. (Posted on 7/17/2020)

Well worth the money

Review by

Rod


I put this on my 2016 Electra Glide, the only mods i have are slip on mufflers. This definitely improved the low rpm lean stumble. i also think it runs better over all. doesn't make it a race bike and that's not what i was after, but i do think it is well worth the money unless you want to spend big bucks getting a dyno tune. (Posted on 5/20/2020)

Product/customer service review

Review by

Joe


This product is an easy plug and play, it does what it advertises that it will do, DK customer service is some of the best I have dealt with, we had a small issue that was dealt with expeditiously and with courtesy, I would recommend both (Posted on 7/25/2019)

Product review

Review by

Joe Joe


The FL-VIED wires that I bought are too easy to install, the improvement that I have really noticed is the increase in my take off torque, (I have the wires set at 50% or half), I will set it to 60% just to see what or how it responds, I would recommend this product. Price is reasonable for what it does (Posted on 7/22/2019)

Well worth the reasonable cost

Review by

T103


Easy install. Very good instructions for installation and use. I've used them on other bikes and they definitely smooth the throttle operation and help enrich the fuel mixture. (Posted on 6/12/2019)
Product Tags
Use spaces to separate tags. Use single quotes (') for phrases.