Home

/

Relocation kit for Tour-Pak Harley Baggers 09-13 Touring Baggers
TOUR-PAK RELOCATION KIT

FITS 09-13 HARLEY-DAVIDSON RIGID & DETACHABLE TOUR-PAKS*!

MADE IN THE USA!
By
DK Custom Products




FEATURES & SPECS:
Made from American Brushed Stainless Steel
The Stainless Steel Relocation Plate is delivered to you with a protective film which you can remove

Includes ALL Stainless Steel Hardware
Moves Tour-Pak back approximately 2.5 inches making things much more comfortable for the passenger!
E-Z INSTALL (requires drilling two holes)

Step-by-Step Instruction Sheet & Template Included
Patent Pending
* Does not fit Tour Paks that have Amplifier attached to bottom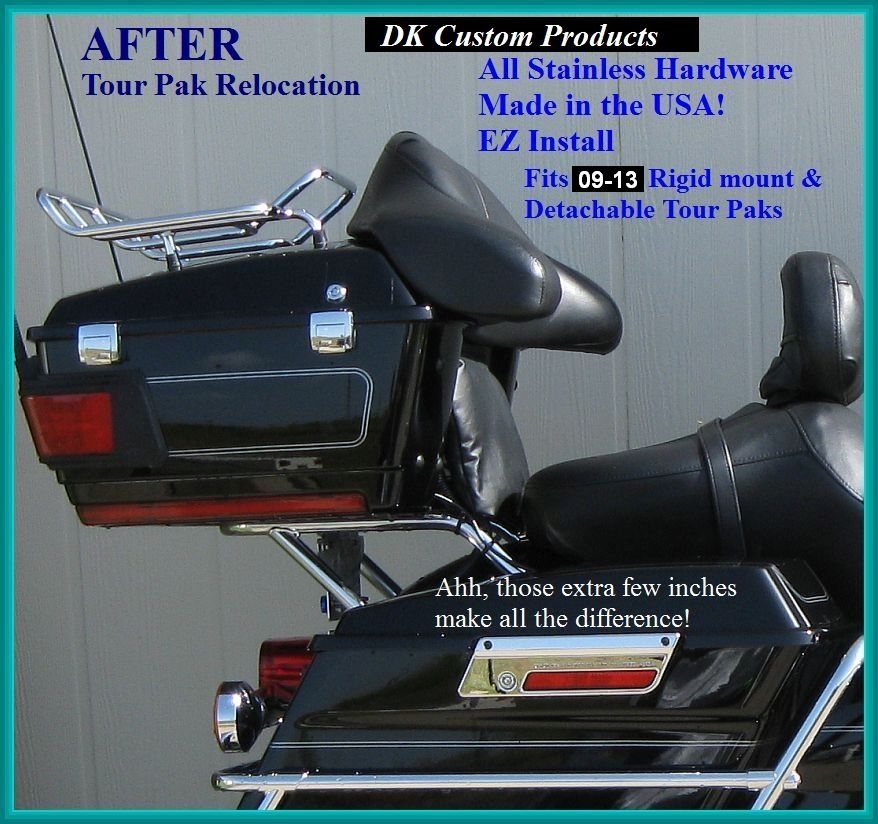 Get More Comfortable Miles with those extra few inches...it makes All the Difference in your Passengers Comfort!
Makes it much easier for the passenger to climb on & off the bike, especially if there is a drivers backrest!
This works with the Rigid Mount Tour-Pak. Rated at over 70,000 PSI, this simple low profile relocation plate greatly enhances the stability and durability of your rack and your Tour-Pak.
If you have a Road King, Road Glide, Street Glide, or any Model of the Electra-Glides w/ a Tour-Pak....Your Passenger WILL Thank YOU for the Comfort these extra few inches gives them!!!
Fitment: This amazingly simple Relocation kit works with Harley 2009-2013 Tour-Pak mounting architecture. Requires drilling two holes in bottom of Tour-Pak, Template included.
Does not fit Tour Paks that have an amplifier attached to the bottom, such as the CVO's.
Quick-Release detachable racks do not require a relocation kit, you can relocate just using the rack on 09-up.
Tri-Glides do NOT require relocation kits, simply move the Tour-Pak back the desired distance and bolt it down in the new location.
IMPORTANT NOTE: If you are looking for a kit with "Bling", or something that is overly complicated, this is NOT the kit for you. This Relocation is amazingly simple in design, and once installed it is not visible.

There are other kits on the market that put the Tour-Pak up higher on the rack, moving the Center of Gravity Higher, they also are quite visible and cost more.

With this kit, there is no chrome, it simply relocates the Tour-Pak back for Passenger Comfort. It gets the job done, and the only person who will know it is there is your passenger.

This is an EASY install - 30-45 minutes!


If Mama's happy, everybody's happy!
"Great kit. easy to put on. thanks alot."

-BikerBill
Customer Reviews
Tour Pak relocator

Review by

Red Dog Leader


Very good product. Easy installation, Wife is much more comfortable now. (Posted on 2/8/2022)

Momma likes

Review by

Shakeyleg


Gives passenger plenty of room . (Posted on 6/29/2018)
Product Tags
Use spaces to separate tags. Use single quotes (') for phrases.