Home

/

Sano Black Aluminum Gripper Grip Tape Foot Pegs Harley-Davidson
SANO BLACK

GRIPPER
FOOTPEGS

Fits:
Harley-Davidson Sportsters-Dynas-Softails-V-Rod's & More

Can also be used as a Highway Pegs And Passenger Pegs Also
SUPER GRIPPER SERIES
HAND-MADE IN THE USA!

DK Custom Products
FEATURES & SPECS:
6061 Hand-Cut Sano Black Aluminum Footpegs (Sold in Pairs)


Comes with two styles of Grip Tape for a Great Grip & Look

4" Long & 1 1/8 Diameter

Durable Sano Black Powder Finish


Fits all stock HD and most custom Control set-ups*

Compliments DK Custom Sano Black Aluminum Gripper Gear Shift Peg

Works well as Rider Peg, Passenger Peg or Highway Peg

Hollow End for a Different Look

Hand-Made in the USA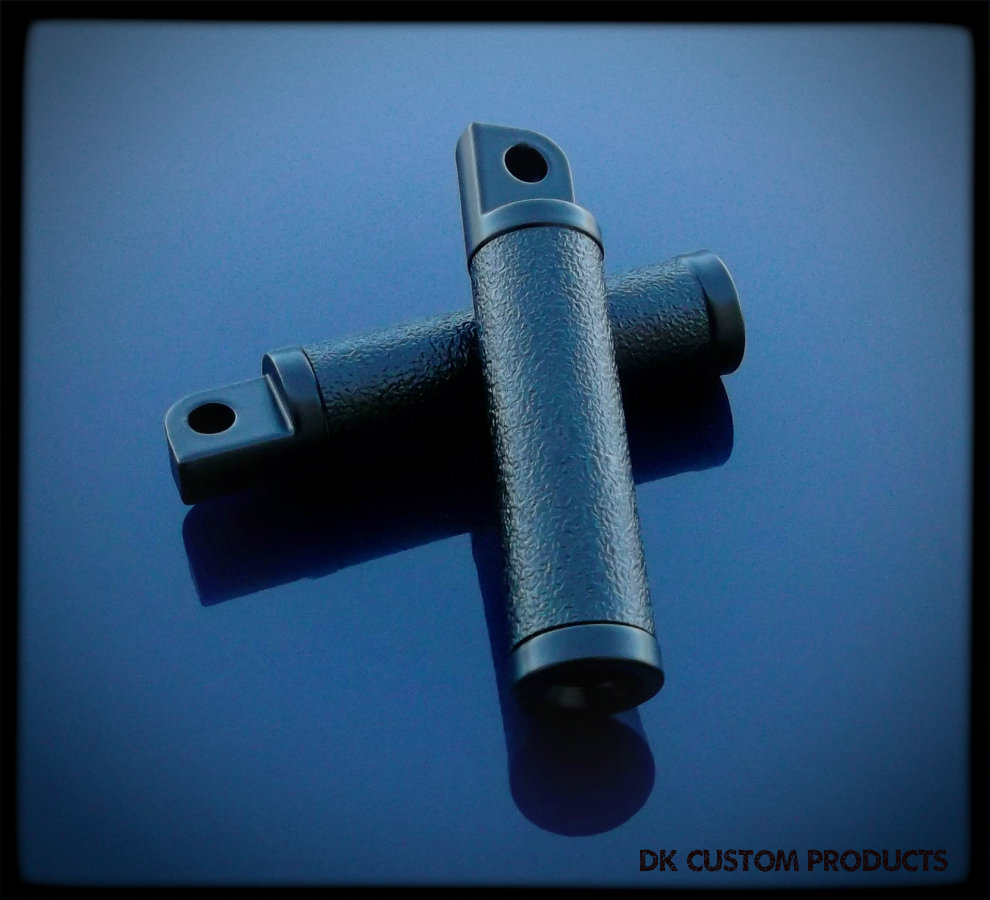 A Cross between a Classic Looking peg, combined with either one of the Grip Tape Inserts for a Great Look & Grip. Can also be run with No Insert.
Each pair of pegs comes with two different styles of Grip Tape, you get both, then choose which one you like, then peel the protective sheet off and stick it on. Takes 1 minute.
SCROLL UP FOR MORE PICTURES!
(some of the pictures show the Gripper Shift Peg which is availabe separately)

These are available in Polished Aluminum and Raw Aluminum also, you can see them HERE.
These Sano Black 6061 Aluminum footpegs have a hollowed out end for a Unique Look.
They install quickly, and are one of those small changes that make a Big Difference.

They work equally well as highway pegs & passenger pegs. (Sold in Pairs)

The space for the feet is 4", with an overall length of (including the male clevis) of 5". You can see the matching Gear Shift Peg HERE.

* Does not fit the off-set clevis found on the 48 and some other HD Models

Fitment Note: Will fit the M8 Softail when used with the Footpeg Adapter at this LINK
When you receive these pegs, you will see one set of the grip tape is coarse, like on a skateboard, the other set is mottled and will not mar your shoes at all. Use whichever one you like!

This is an EASY install!

Make your ride Different!!!
"I Love These! Classic look with a twist, & a Great Grip to go with it." -Jason
Product Tags
Use spaces to separate tags. Use single quotes (') for phrases.