Why we're changing our Annual Big Rides & Ride Reports-
Almost every year Mary and I go on a long ride, usually somewhere between 8,000 and 12,000 miles. Most of the time we are gone 40-50 days.

In the last 9 years we've been documenting them in our "Ride Reports". Below are links to a few of them-

Alaska

Bella Coola

40 days following the Front Wheel

Top Roads Out West

This last year we sat down and analyzed how we've been going about seeing some of the most beautiful scenery and best riding roads that North America has to offer.


We were a bit surprised by some of what we "discovered", other things we knew already.

Typical costs per day:

Motel- $85

Gas- $30

Food- $30

Misc.- $10 Ferries, tolls, tours, etc.

Total- $155 a day

$6200 to $7750 for one trip.

There are variations, but this is pretty close to the average. This does not count wear & tear on the bike...maintenance, tires, etc.


Typical logistical time spent per day: (this is the one that was most surprising)

Locating a place to stay- 15 minutes

Riding to motel- 10 minutes

Check-in at motel- 15-45 minutes (average 30 minutes)

Unloading bike into room- 15 minutes (multiple trips back & forth)

Getting room set up- 15 minutes (charging devices, computer set up, unpacking)

Going to store for food- 1 hour (finding store, riding there, shopping, riding back)

Packing everything up &

Loading up the bike in morning- 30 minutes

Total Time- 2 hours 40 minutes PER DAY


This is time that we could be riding, relaxing, enjoying sights, but instead the time is being eaten up by the daily logistics of food and a place to sleep..

When we added up the time over a 40 day trip, it is a full 4.5 (24 hour) days of the trip, or over 10% being spent on the logistics of food and finding a place to sleep.

It's been decades since we've felt young enough to sleep under a picnic table on the side of the road.


Besides the monetary costs (which are always a factor), as we get older, we realize our time is more valuable than anything else...and we've been spending a HUGE amount of our time on the logistics.


Other things we discussed:

We have chickens, fish, cats and a greenhouse at home. Being away for a 40-50 day chunk of time is not the greatest for all those, especially the greenhouse. It is also quite a load on the person we pay to take care of it all while we're gone.

Even though I work from the road every night, it is still a stress on the shop for me to be gone for that long.

Doing two trips, and being gone for 20-25 days at one time would be much easier for everyone.

BUT, the places we want to ride are usually 2-4 days riding away from where we live. So that is 4-8 days round trip just to get to where we want to go.

(Yes, riding to get there is fun...we both love to ride, but we both much prefer riding in the woods, mountains, curves, along rivers, etc. than the interstate it takes to get to these places)

SO, we are trying something new. Something that will:

Allow for multiple short trips (20-25 days instead of 40-50 days) & just as satisfying

Higher quality riding

See More

Lower Cost

We'll be able spend our time riding in the most scenic areas and most exciting roads.

We'll have an extra 2.5 hours a day to ride, enjoy the sights, explore new areas. This will give us an average of an extra 6 days riding time on a 25 day trip!

We'll be saving an average of $80 a day in expenses, plus eating better!

Starting this year we are carrying our home with us.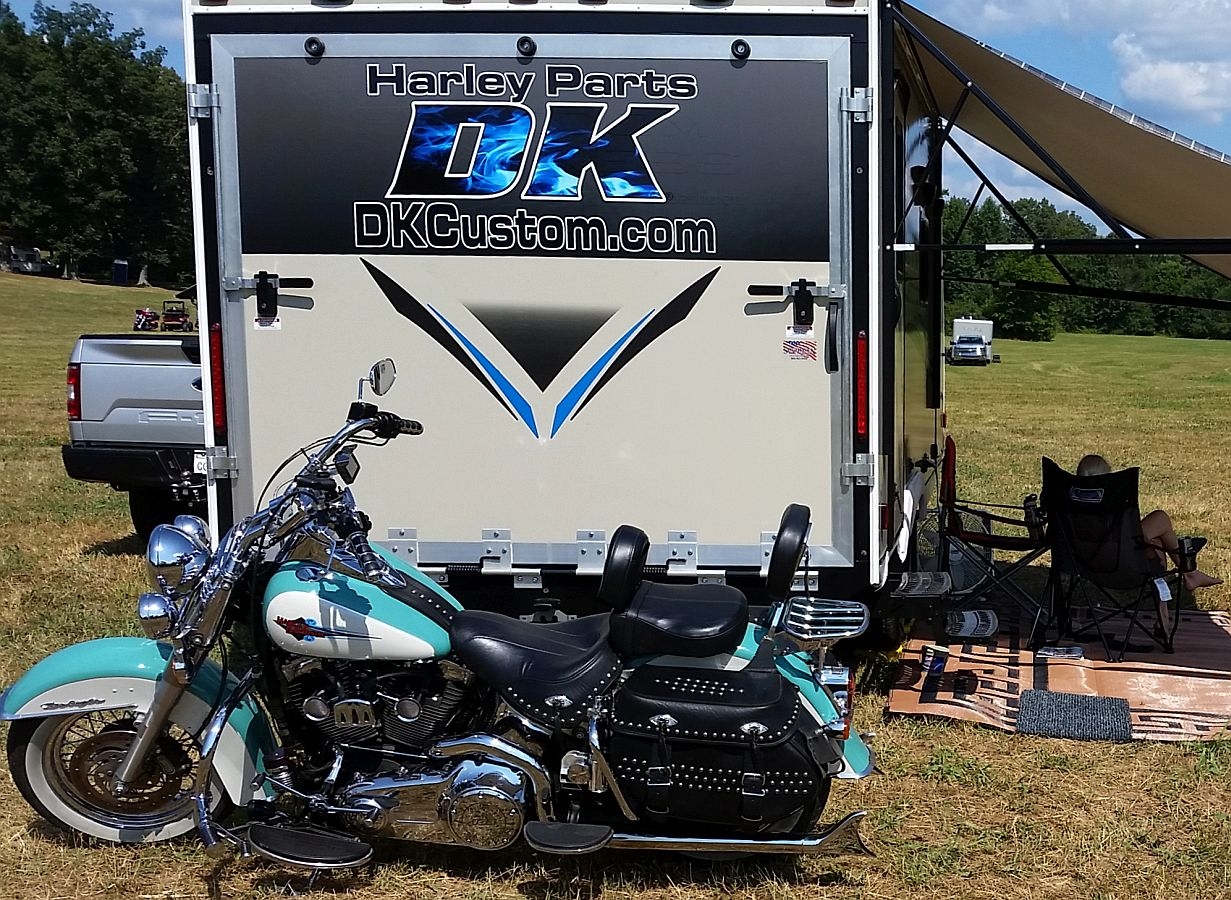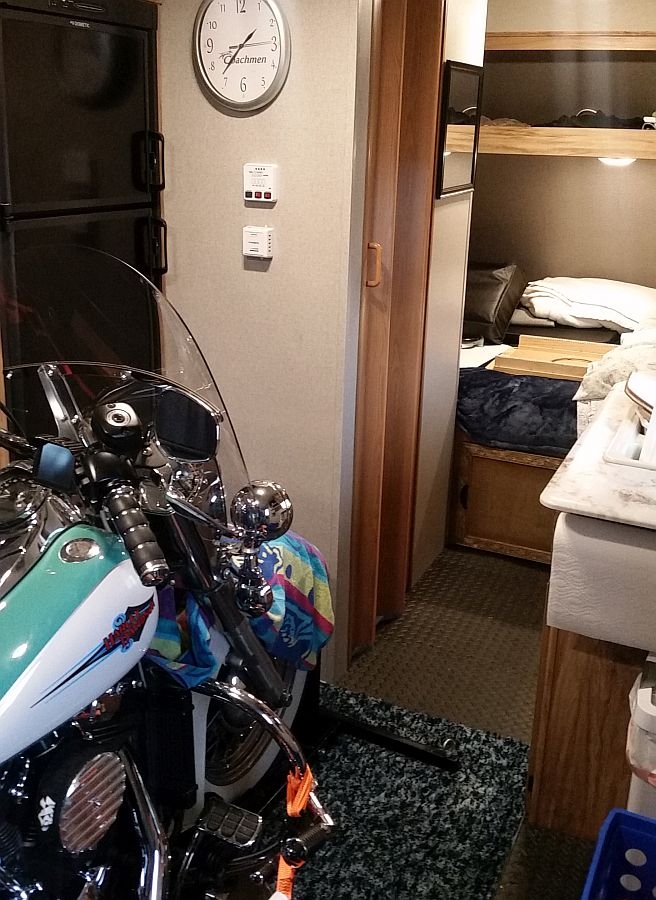 Yes, it's a trailer. Full kitchen, Fridge w/ freezer, shower, toilet, bed, work area, and a place for the bike or trike!

This gets us to where we want to ride faster and less expensively. It is also a home base when we get to good riding areas.

No more motels, daily unpacking and packing back up, daily grocery store runs, etc.

There will be times where we are gone from the base camp for a few days, staying in motels, but the bulk of our time will be rides out from base and back the same day.

The big time & $ savings are:

When booking it to a location, we can just pull into a rest stop and eat, shower, sleep, everything is self-contained.

When we get to where the riding is good. Make base camp and ride out from there.

We've already traveled quite a bit in it (with and without a bike) and have it pretty well wired.

But this summer will be the first Big Rides that we're using it.

You'll be able to see how it works out in our Ride Report coming up, which is going to cover the Black Hills area and the Grand Teton Mountain Range.

Kevin