Home

/

Slip Stream Trap Foot Pegs Fits Harley Sportster Dyna Softail +
SLIP STREAM FOOT PEGS
For
Sportsters-Dynas-Softails-V-Rod's & More

CAN BE USED AS HIGHWAY PEGS & PASSENGER PEGS ALSO!
SUPER GRIPPER SERIES

HAND-CRAFTED IN THE USA!
By
DK Custom Products

SCROLL UP PAGE FOR MORE PICTURES!
FEATURES & SPECS:
Fold UP SLIP STREAM Pegs fit all stock HD and most custom Control set-ups (including 48's)

American Cold Rolled Steel Axle & Clevis mount
One-Piece Aluminum Body

Spin freely or fixed in place, or anywhere in between!
Adjustable set screw for different lateral angles
E-Z INSTALL

Optional NDW Gear Shift Peg
Super Gripper Series


Platform 3.5" x 2.5" - Better Lean Angle

Sold in Pairs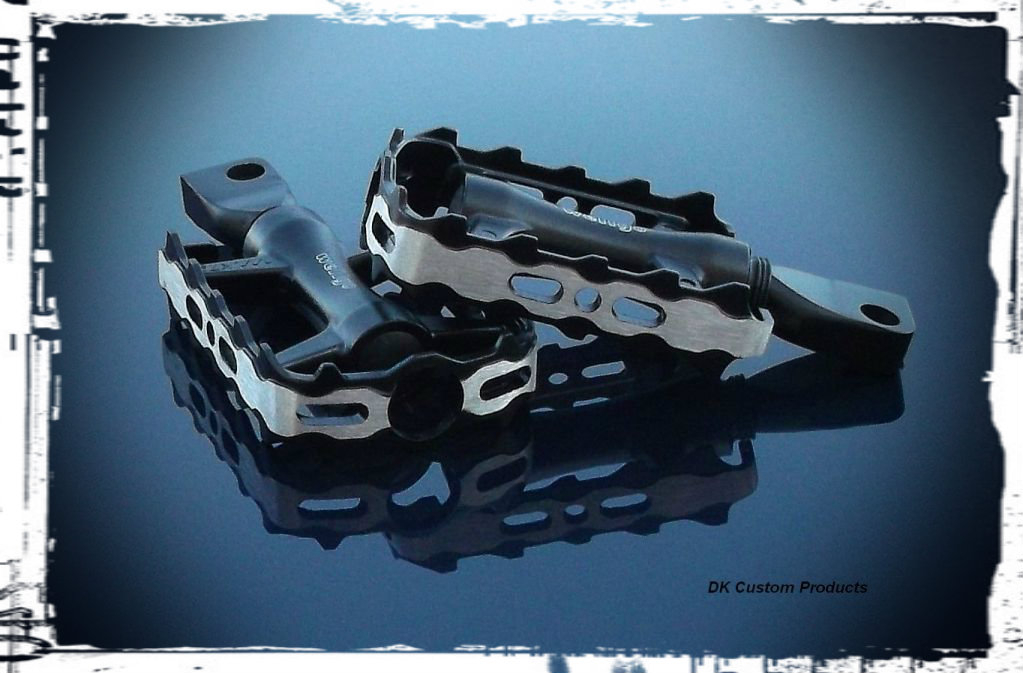 The SGS SLIP STREAM Trap Style pegs have a Low Profile, One Piece Aluminum Body, that is Super Comfortable AND gives Improved Clearance in the Corners.
Measuring 3.5" by 2.5" and less than an inch tall, they fit all Harley's, including the new peg mount that HD is using on the 48's, 72's and other newer Models.
They can be adjusted to spin freely, adjusted to move only with firm pressure, or locked into any position you want.
Being able to move your feet around on a secure platform, and change the angle of the platform (while riding) is especially comfortable on those longer rides.
Additionally, there is a grade 8 set screw that is used to adjust the lateral angle (angle from the ground) to what suits you best.
The work equally well as Forwards, Mids, Passenger Mini-Floorboards, or Highway Pegs.
The NDW Gear Shift Pegs goes great with these Foot Pegs. See Details on it

HERE

.

These pegs started out as bicycle pedals and have some components that are made Outside the USA. The main structure of the peg, the axle and mounting tab, are made right here, by DK, with USA Steel. Each pedal is disassembled and then converted to a motorcycle peg with DK Custom parts.
Fitment Note: Will fit the M8 Softail when used with the Footpeg Adapter at this LINK
This is an EASY install - 5 minutes!

Don't settle for boring looking, or uncomfortable foot pegs one day longer!
"Jammin! These are perfect on my 72." -Slim

Product Tags
Use spaces to separate tags. Use single quotes (') for phrases.