Home

/

Thunder Torque Inserts 118 For Increased HP & Torque
THUNDER TORQUE INSERTS™

Increases Low & Mid Range Torque
Adjustable Sound Volume & Tone

For Your Exhaust
MADE in The USA!
by
DK Custom Products

FEATURES & SPECS:
High-Temp Powder Coat Finish
Stainless Steel Studs (5/16" diameter)

Includes All Hardware

FITS 1.5" diameter & larger Slip-ons (other sizes available)
Increases Low & Mid Range Torque
Increased Exhaust Gas Velocity

Increased Inertial Scavenging

Adjustable Sound Volume & Tone
Option for only 1 TTI for 2-1 exhaust systems
E-Z Installation Bolts into the end of the slip-on muffler (using the baffle bolt hole)

Patented Technology
Made in The USA!
Long Thread Option for Larger Diameter Exhaust SEE FITMENT NOTES Below
Watch these videos on how to get a better sound AND increase torque!
Take a listen to the following sound clips of 5 Different Bikes that all have an increased amount of Power from Thunder Torque Inserts™ Being Installed.
***The Video Below shows how to Remove Baffles from stock OEM Mufflers that do NOT have a Catalytic Converter in them. This process does NOT work on Mufflers that have Catalytic Converters in them.***
Do you want Louder Exhaust?
Quieter Exhaust?
A Deeper Tone?
A More Aggressive Bark?
Do you want More Torque?
FITMENT NOTES:

When ordering you have an option of getting just ONE TTI if you have a 2-1 exhaust system that has only One slip-on, or to choose TWO TTI's for exhausts that have Two Slip-ons.

There is an LT (long thread) Option for larger diameter pipes. Click this LINK to Order them and WATCH the Video to determine if the LT Option is appropriate for your application.
Click this LINK to see Pictures and Fitment Information, to choose the Correct Size TTI for your Exhaust
The Video Below shows how to Remove Baffles from stock OEM Mufflers that DO have a Catalytic Converter in them.

Another Video showing how good the stock exhaust can sound, and how much power they can have, with the baffles removed and replaced by Thunder Torque Inserts™.
All the Vance & Hines Systems and Slip-ons we've tested produce more power, and a bit deeper tone with TTI's Installed. The V&H's respond particularly well to TTI's, with or without the baffles!
Without getting too technical, we've spent thousands of hours testing shape, size, thickness, & surface coatings to find the optimum combination that increases power across a wide RPM band, AND gives maximum flexibility to deliver different sounds.
The Increase in Torque is accomplished by reducing engine pumping losses, increasing exhaust gas velocity and increasing inertial scavenging.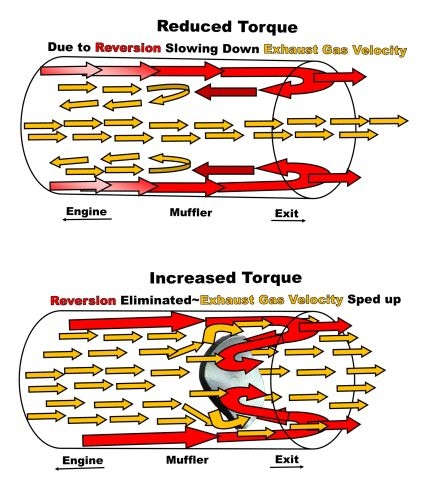 More about how exhaust works at this LINK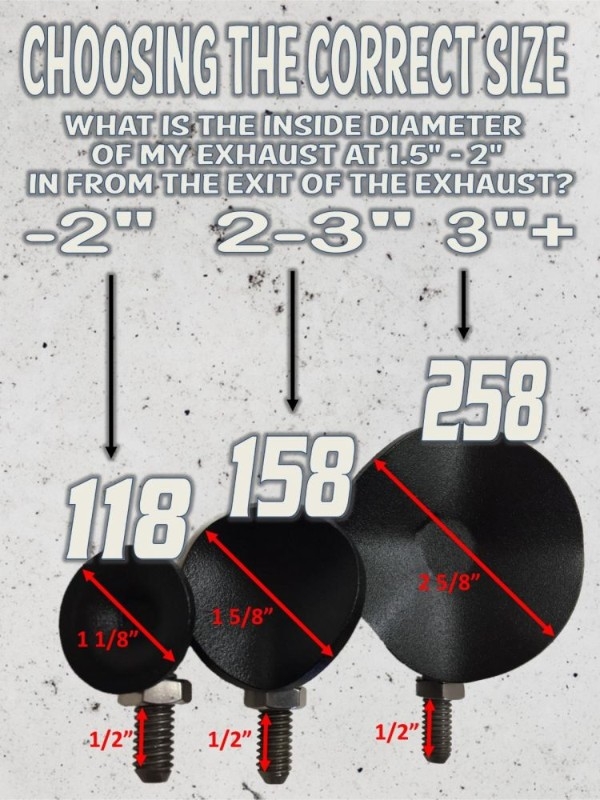 Thunder Torque Inserts™ are designed to perform well when used on slip-ons with and without baffles, drag pipes, shortys & 2 into 1 Systems.
The Patented design will produce a bit deeper sound/rumble all the way through the RPM and Throttle range.

If you feel that your current exhaust is too loud, the Thunder Torque Inserts™ will noticeably reduce the decibel levels.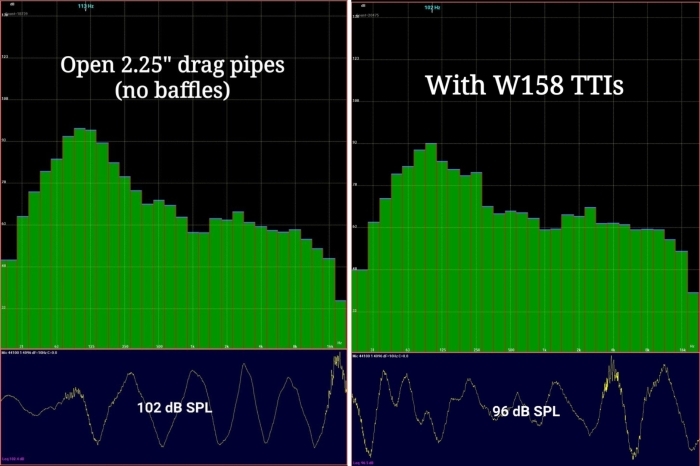 The comparison may seem subtle but decibel measurements are not linear.
For Example, 90 decibels is four times as loud as 70 decibels and 110 decibels is about 16 times as loud.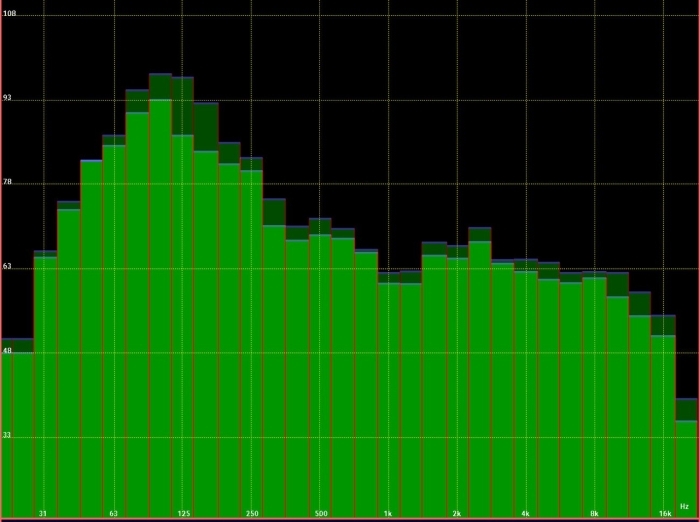 These particular results belong to a customer that had this to say...
"My impression of the sound is that it lost some higher pitched bark at roll-on and there was a reduction in low pitch reversion "echo" (kind of a flabby chuffing sound). To my ear, with these pipes, the tone isn't significantly lower but it is a bit cleaner or more refined sounding"
(Twin Cam at Full operating temp, mixture corrected, and idling at 1000 RPM.)
FITMENT NOTES:

When ordering you have an option of getting just ONE TTI if you have a 2-1 exhaust system that has only One slip-on, or to choose TWO TTI's for exhausts that have Two Slip-ons.

There is an LT (long thread) Option for larger diameter pipes. Click this LINK to see them and WATCH the Video to determine if the LT Option is appropriate for your application.
Click this LINK to see Pictures and Fitment Information, to choose the Correct Size TTI for your Exhaust

A small change can make a BIG Difference!!!
THE MOST TORQUE & HORSEPOWER GAIN PER DOLLAR SPENT!!!
YOU CAN'T DO BETTER
Check out the Dyno Charts Above!
"I have a sportster 48 with a stage IV and VH Short Shots and feel compelled to comment as these are one of the best purchases I've made for the bike.
I took out the baffles and put in the TTI which took all of 30 minutes.

They make the bike better, full stop.

There's no other way to put it. I don't understand the physics of it and don't want to know.
These things cost next to nothing and have been one of the best mods I've done to the bike. -tellawcaster"
"Just wanted to give you a heads up. I received my Thunder Torque inserts (W118)a couple of days ago, put them in and finally was able to ride today. Great product.
It toned down the idle and low rpms on my Vance and Hines Shortshots. The increase in the mid range is awesome. I was expecting to buy new pipes, but not now. The Shortshots have become a performance pipe with great sound." -John
"I do not usually thank people, but I just got the W118 installed...so much better pulling out...Big Improvement...Anyway thanks, another satisfied customer. Bike is a 2012 FLHTK with Stage IV Harley kit, dresser duals and street cannons.
It did change the exhaust note as well, a bit crisper is the only way I can explain, that's also a win in my book! -Eric
"Just wanted to take a minute and let you guys know how pleased I am with the W258 TTIs.
I'll be honest, when I first read about these things I figured it was somewhat gimicky so I didn't expect much. But, after removing the baffles from my Wild Pig slip ons and installing the W258's I was blown away by both sound and performance!
It has the potato potato sound at idle (noticeably louder than before) and also sounds great at cruising RPMs. It actually reminds me of the way my old shovel head sounded.
What really surprised me though was the very nice torque gain that you can really feel. After installing true duels and the wild pigs, I noticed a loss in torque. The TTIs brought all of that back, and maybe then some!
Best money I've spent on my exhaust system for sure. Thanks!" -Dewayne
Save
Save
Save
Longer Thread Variation - Do You Need Them? See Video.
Dyno Charts of 8 Different Bikes Running Thunder Torque Inserts™ HERE
More Dyno Charts w/ TTI HERE
Customer Reviews
tti-118 installed in the baffles Rineharts

Review by

FRANK


Hi, DK folks are very pleasant to deal with and response is good I ordered the TTI 118s and installed on my Rinehart 4" set up on 08 road king. I was mainly to hopefully tone down the Dbs on the long road trips. Well that worked but after looking at my install I am going to order the 158s for hopefully even better outcome of both sound and performance. always experimenting.That's whait I call it when i screw up on the first go...lol (Posted on 8/27/2023)

thunder torque

Review by

sammy


excellent product highly recommended increase power and improved sound. (Posted on 7/6/2023)

It's the little things

Review by

SMALLS


Bought these for my wife's softail after installing a set in my Electra Glide. They add a nice deeper tone to it and it seems to have more power. (Posted on 7/6/2023)

Buy Them. You will be surprised.

Review by

Kjoy


I own three Harleys and run these Thunder Torques in all three bikes. i love the extra low end torque and sound they provide. My opinion it is money well spent. (Posted on 3/20/2023)

Really works!

Review by

Dougrad


I was skeptical, but for the money I thought I would give these a try. I had Tab slip ons I liked but the torque fell off when I installed them. However, I installed the TTI and the torque is back, and maybe a little better. And the bonus is that I think the slip-ons sound a little better! (Posted on 1/19/2023)

Amazing product

Review by

Don Mc


I have tried other products to improve exhaust performance and nothing worked very well. I came across the Thunder Torque Inserts and for the price I thought I would give them a try. They surpassed my expectations, performance and sound of exhaust right on point. (Posted on 10/20/2022)

Improvement.

Review by

Rich


Improved my lower end torque and did deepen the rumble a bit. Like them a lot. (Posted on 9/21/2022)

Lowered ET. Easier on engine.

Review by

Mike B.


107 m8, I put on the Jackpot 2-1-2 exhaust. Lost a little torque. So, I installed the 118s into the baffles of the S&S MK45s. Got the bottom end back. Unexpectedly, seems the bike doesn't work as hard @ 70-90 mph, so I got top end also. According to my PV, lowered overall ET by 5-10°. They work. Didn't change the sound. (Posted on 8/17/2022)

Noticeable difference

Review by

Matt H


I purchased the Thunder Torque Inserts for my 88 softail with an 80" evo with drag pipes. It was lacking torque due to the exhaust I have the TTI's made a noticeable difference. I'm very pleased with this product and will definitely be purchasing more for.my other bikes. (Posted on 8/1/2022)

Sound and install

Review by

Rich


The sound is incredible but I had to pull the baffles and all insulation. The only reason I gave them 4 stars is the installation is a pain. I had new Vance and Hines 300s and I had to drill new holes in the mufflers to fit and trips to hardware store to fab the bolts to work. (Posted on 6/20/2022)

They WORK!

Review by

Herb


I didn't really think these were going to make a difference but for the price I figured I'd give them a shot. Boy was I WRONG! I put a set of RCX slip ons on, didn't do anything to the stock intake and had a big dead spot from about 1/4 to 1/2 throttle. The thunder torque inserts TOTALLY got rid of the dead spot. There wasn't any noticeable change in the sound, which was awesome. I got the middle size for a 3" exhaust which tapers down to 2 1/2 at the tip. Put the inserts 1 1/2 in from the end using the holes for end caps. Had to drill out the end cap hole larger but the hole in the exhaust was large enough to leave alone. So about a half hour job. HIGHLY recommend if you want to leave your system stock except for slip ons. I can't speak to any other set up (Posted on 4/14/2022)

Finally installed the 118 TTIs-Hell yeah!

Review by

Stevo


This is my first Harley, 2002 Sportster 1200 Custom with one and three-quarter inch straight pipes. Very loud, and what I thought was fast. TTIs were easy to install, definitely calmed down the rumble, bit of a deeper controlled rumble, and the most impressive thing to me was the torque difference. It's been cold here, I finally got a chance to get out to ride and I had to hold on tight. The performance difference was very obvious to me-seemed more powerful in the lower gears. The TTIs are a great inexpensive mod that really work. (Posted on 2/13/2022)

The best for your money

Review by

Tig


I just installed the thunder torque inserts and was surprised at the throttle response, torque and sound. there is no way you'll get more performance dollar for dollar. If you're worried about the sound of your open pipes this will just make the sound smoother while still having the open pipe sound. I am very pleased and will tell everyone I know that rides about this product. I have a 2001 sportster 1200 with custom (I made them myself) very Short two into two pipes. (Posted on 1/23/2022)

Thunder Torque Inserts

Review by

John


I have removed baffles and catalysts and installed Thunder Torque inserts, with an appropriate tuner in numerous bikes in my area, all with fantastic results. I love these things.
(Posted on 12/14/2021)

118 Thunder Torque Inserts - Amazing change

Review by

Iron Chuck


I ride an 09 Iron with unwrapped Rineharts. I've upgraded it to "Stage One" with a DK Customs 828 air cleaner, ViED fuel management devices, and changed out my pulleys to a 32/66 setup. I ride freeways fairly often. I lost some low end get-up-and-go doing that. These little inserts, installed in the baffles themselves, have changed the game. I got all my low end torque back, and the sound is really nice. It took the harsh tones and mellowed them, yes, but the added low end power is where my smile is coming from. Customer support was awesome. Their advice made the project simple, easy, and... simple?? Let's go with painless. The hardest part of this operation was getting the baffles out. (smiley face here) Thank you DK Customs for your help, once again. (Posted on 12/6/2021)

Use Thunder Torque Inserts if you Lose a Baffle

Review by

coolmellowdude


Purchased 2003 883 Hugger with missing baffles in the 2" Vance Hines staggered pipes. Very loud, low power, with back fire and coughing. Researched Thunder Torque Inserts and carburetor adjustments. Ordered the 118, installed in hole nearest the ends, had to drill available hole slightly larger for insert to fit. After install, already noticed a difference bile sounding nice and strong. Used an angle cordless drill/driver to drill out and removed air/fuel mixer screw cap to slightly adjust the mixer to decrease the lean condition (small change-big difference). Backfire is gone, no coughing, bike runs and sounds great. My son is happy and can feel the increased power. (Posted on 10/3/2021)

Great product!

Review by

Dave


I ride a 2012 Dyna Switchback and this is the best $30 I ever spent on my bike.
The best part for me is it has almost did away with decel pop! Also has a much deeper tone. (Posted on 8/27/2021)

Good Stuff

Review by

YZR


These were pretty simple to install but I did need to shorten the threaded rod and purchase some coupling nuts and threaded rod, which was no big deal.
They have given the Corba slip-ons on my 08 Heritage a deeper note. Low end torque seems much better too!
DK always ships fast and has quality parts! (Posted on 7/30/2021)

Thunder torque inserts

Review by

David Kay


I cant believe how fast i get items from DKCustoms here in Western Australia, having ordered various items over the years.
Great product and super fast delivery.
Bike sounds way better.
Well done (Posted on 7/22/2021)

Best sound and power

Review by

Sportyone


I have tried many different baffles on my 1-3/4" drag pipes ( even some home made) but these give the best sound and power.
My Sporty is "snorty" and I love to ride around letting the pipes give off a low roar. (Posted on 6/3/2021)

great!

Review by

Sparky


They tune better than my homemade lollipops, put at a 45* angle for best all around performance at all rpm and speeds. L84' Ironhead 1000. .410 cams/10:1/.020 over/Final drive 23/51, S&S Super "E" W/.060 air bleeder/295/70 jets with 30" drag pipes This is the combo people for the above it works best for me with DKs 118's. (Posted on 5/5/2021)

Worked as described!

Review by

Nabil


I had a more complicated setup on my z900rs but I was able to take out the baffle, drill into it, install the TTI, and noticed an immediate recovery in my low end torque.
I had a 4-2-1 exhaust and switched to a 4-1, which killed some of my low end torque and "streetability". The TTI fixed the issue. I would highly suggest them to anyone looking for a low cost, high quality solution to their problem. (Posted on 5/3/2021)

Fast shipping as usual

Review by

Old Dude


Product was shipped quickly as usual for DK.
Installing them on V&H Eliminator 300's was straight forward. Just remove the baffles and decide where to drill the hole.
Can't really say how the product performs as it was part of a complete stage 1 upgrade for my 2018 Heritage Softtail Classic.
I did have a chance to go for a quick test ride and can say that the bike performs and sounds beautifully. (Posted on 4/14/2021)

Restored low end torque!

Review by

Anthony


I changed my 2003 1200 XLC stock exhaust to a set of drag pipes until I get a DIY kit to build an exhaust I want. The exhaust was a bit too loud for my liking and I lost power, the TTI's restored low end torque and made my exhaust a much more likeable tone. If you're thinking of buying them, just do it. I will put these on my exhaust I build in a few months. (Posted on 3/16/2021)

Works as advertised

Review by

Jay


I installed these on some Lowbrow Customs shotgun pipes. Definitely can feel the difference in low end performance. (Posted on 12/29/2020)

satisfied

Review by

1999 flstf


everything looks to be quality, i won't be able to install these until spring 2021. sorry i can't say more about them right now. hopefully i can update my review in the spring. very fast shipping, i will say they are smaller than i was somehow expecting. (Posted on 11/12/2020)

Quite Satisfied!

Review by

rantinron


I installed some Python 2.5" slip-ons on my '19 Iron 1200. They are "loud" and I too noticed a drop in low-end torque as some others have said. Also brought on some decel pop(which I don't mind too much). I saw some people recommending these TTI's from DK and thought I try it out before dropping money on a tuner and such. Glad I did. They have cut down on the decel pop and have helped with my low-end torque loss. Plus they have somehow made the exhaust sound better. Not quieter but maybe a deeper sound. Excellent product. (Posted on 10/28/2020)

Nice upgrade

Review by

Galt1 Harley


Not an overbore with carburetor and cams, but nice, easy, inexpensive upgrade for 2012 Dyna 103. Improved low-tone sound without significant change in volume. No negative impact on performance at idle or acceleration.
Fit as described. Enjoy your ride! (Posted on 10/27/2020)

Interesting approach

Review by

Keith


So I have a highly modified Triumph Speedmaster from 2005, it has been Bored and Stroked and has a set of Custom Drag pipes, the noise from these was too high pitched and the motor lost some of its power - fitted the 118's over the week end and the power is back plus the pitch of the exhaust note is much more to my liking - need to see if the bike will pass it's MoT next year (Posted on 10/27/2020)

Absolutely Amazed

Review by

Lee


Riding my 2006 CVO Fat Boy is even more fun now with the 118 Thunder Torque Inserts. They make the bike sound vintage like I'm on an older scoot of yester year.

Taking off from stop lights is easier too with the added torque and horse power. The TTs are everything everyone says they are! Hope all this stays good forever.

I currently have baffles in my V&A Big Radius pipes. I may remove them and upgrade to the 158s for the sweetest sound! Next stop, Lord willing, is to order the lifetime oil filter. :-) (Posted on 10/5/2020)

Very Satisfied

Review by

03Deuce


I have purchased these for every Harley exhaust I have ever installed. I absolutely love how they improve the sound. Most recent install on Bassani Radial Sweepers. Still loud but not annoyingly so. Very happy! (Posted on 9/8/2020)

Best bang for the buck ever

Review by

Jim


I installed these in V & H Eliminator 300s on an M8 Softail. I was able to install these to the baffles for a very clean installation. I removed the fiberglass packing in the mufflers and the performance increase with the Thunder Torque inserts is impressive. (Posted on 7/23/2020)

What a difference

Review by

jaeson


Used the 118 inserts a big difference in exhaust note & low end torque. So much so I want to try the 158s! Haha great job again DK! (Posted on 6/11/2020)

WOW! ADDED POWER to my HD48!

Review by

BLINDGIANT


I own a 2016 HD 48. Everything is STOCK but the pipes (V&H SS's). I kept the baffles in and installed. WOW! Noticeable increase in POWER. I was shifting into 4th gear around 40-45 mph.... Now Im comfortably shifting into 4th gear at 55-60. I know removing the baffles will give even more POWER. Doing that tomorrow. Thank you DK, for a well made product and especially the information on your site about WHY YOU NEED TTi's. Convinced me to purchase TTi's and IM SO GLAD I DID! (Posted on 5/29/2020)

Oddly effective

Review by

Aaron M


So I'll be honest, it took a good deal of internal coercion to drop almost $40 (after shipping) on a couple small pieces and steel and associated nuts/washers. I really didn't think they would work, I was sort of rooting against them. I was wrong, completely. These are the real deal. The dead spot that I had in my midrange has now come alive, and it's great. The front wheel on my XL1200C gets nice and light every time I crack on the throttle. And the drag pipes I have, which were borderline obnoxiously loud, are still plenty vocal, with a bit less overall volume. It's a really nice soundtrack. (Posted on 5/7/2020)

Unbelievably effective!!!!!!!!!!!!!!!!!!!

Review by

Belal


I will try to keep it short lol! On my 2020 Softail Street Bob I'm running a stage 1 with a extreme flow air cleaner from screaming eagle and a 2into1 pipe from Cobra(El Diablo). So far so good, after tuning it and everything dialed in. There was still a little lag or it took an effort to come out the 3000 rpm. So I decided to give the TTI's a shot. Believe it or not this bike pulls now from 1800 till 3000 in such an effortless manners that I was shocked. I am a little bit exaggerating but it felt like adding a low end torque cam. Now the bike is a complete Stage 1 in my opinion. Pulls hard from 0-120. Any gear, any speed and any time. This is the best bang for the buck ever!!! I'm not exaggerating!. Most importantly the rideabilitiy improved, I'm barely twisting the throttle to move around during cruising. I highly recommend it to everyone who's missing that little uumph and get going. It's been a long review but I wanna to make it clear!
Ps. Installation was super easy. No rocket science. (Posted on 4/21/2020)

Works good sounds good

Review by

Dave


These are easy to install. Great way to make straight pipes perform better. (Posted on 4/14/2020)

TTI's worth a try

Review by

Andy G.


Bought a pair of TTI 118's, the small ones, to put in Vance & Hines Straight Shots on a 1995 Fatboy. My initial impression is around town I can't really tell any difference but out on the highway my bike feels like acceleration and speeds are more effortless. The build quality of the inserts is excellent, was worth the money to me not to make them myself. Now for the con: For my application the threaded stud wasn't long enough. Tech support was readily available and the solution was to omit the inner nut and install the inserts so the circle was tight against the inner wall of the pipe, no longer centered in the exhaust flow. This way the stud protruded enough to the outside to get a nut on it. A great product would be even better if it had a longer stud available. (Posted on 3/31/2020)

Lightning fast shipping

Review by

CK


Took less than 48 hours from clicking order to being on my doorstep. Awesome shipping! Now to mount em up and see how it goes. (Posted on 3/31/2020)

Thunder torque inserts 118

Review by

Hitch


As always my order arrived fast and the inserts i will be able to test soon . installing a set of cams . will give a full review later. (Posted on 3/10/2020)

The kind of lollipop my bike likes...

Review by

Terry


After installing Cobra Drag Pipes and removing the baffles.... I installed the Thunder Torque's and it does everything it's suppose to do... Thanks DK Customs for a great product.... (Posted on 9/10/2019)

Smokin Hot Torque

Review by

Rocket Ride


Installed in Short Shot Exhaust on 2019 FXDR.
Love the sound and this bike is like the title, 0-60 in 3 seconds. Thank you. (Posted on 7/24/2019)

Awsome

Review by

Jason turner


I purchased a set of 1inch and 3/4 paucho drag pipes and installed them the sound just wasnt there until I installed the w118 tti ON MY 1999 1200 SKIRSTER all I can SAY IS WOW WOW WOW AND THANK YOU TO DK CUSTOMS FOR THE BADASS PRODUCT FOR SURE A SATISFIED CUSROMER (Posted on 4/23/2019)

A GREAT UPGRADE

Review by

Sam R


improved exhaust tone. you feel the increase in torque and power. (Posted on 4/17/2019)

Very surprised!

Review by

Bill


Installed a pair on my '03 Night Train running Vance and Hines Original Short Shots with baffles removed.
Improved exhaust tone to a deeper rumble, noticeably increased torque and power throughout all RPM range, and almost completely eliminated decel popping (exhaust backfire).
I was skeptical of DK's claims and several YouTube reviews but decided to try them out before spending big bucks on a new set of pipes and was both pleased and surprised with the results.
Definitely recommend this product. Make sure you contact DK to get the right inserts for your application.
LOUD PIPES SAVE LIVES!
(Posted on 4/15/2019)

Woke my bike up

Review by

Canonball


Had some cheap emgo slip-ons for my bobber along with a dynojet kit but still left the bike kinda slug-ish in low RPM but now the bike rips! best bang for your buck performance mod I have ever gotten. 10/10 would recommend! (Posted on 2/18/2019)

TTI in LAF exhaust

Review by

Chouille


hello from Belgium. I bought LAF drag pipes for my 2015 48 to avoid torque loss i put 118 TTI in them...It works great.

(Posted on 7/25/2018)
Product Tags
Use spaces to separate tags. Use single quotes (') for phrases.