Home

/

Complete HiFlow 587 Air Cleaner Sano Black for Sportsters Harley
Outlaw HiFlow 587
Air Cleaner System
For

Harley-Davidson
Sportster Models 1991-UP
~Complete High Performance System~
~Your Choice of Face Plate Emblem~
~Fits EFI & Carbureted~

MADE in The USA!
DK Custom Products

FEATURES & SPECS:
HiFlow 5 7/8" Genuine K&N Air Filter

Low Profile - best leg clearance



Support & Backplate Black Powder Coat Finish


Powder Black Face Plate Cover



Outlaw Breathers

(NO Hoses, NO dirty air in motor)

All Hardware needed, including Stainless AND Brass Acorn




E-Z Step-by-Instructions Included




Made in The USA!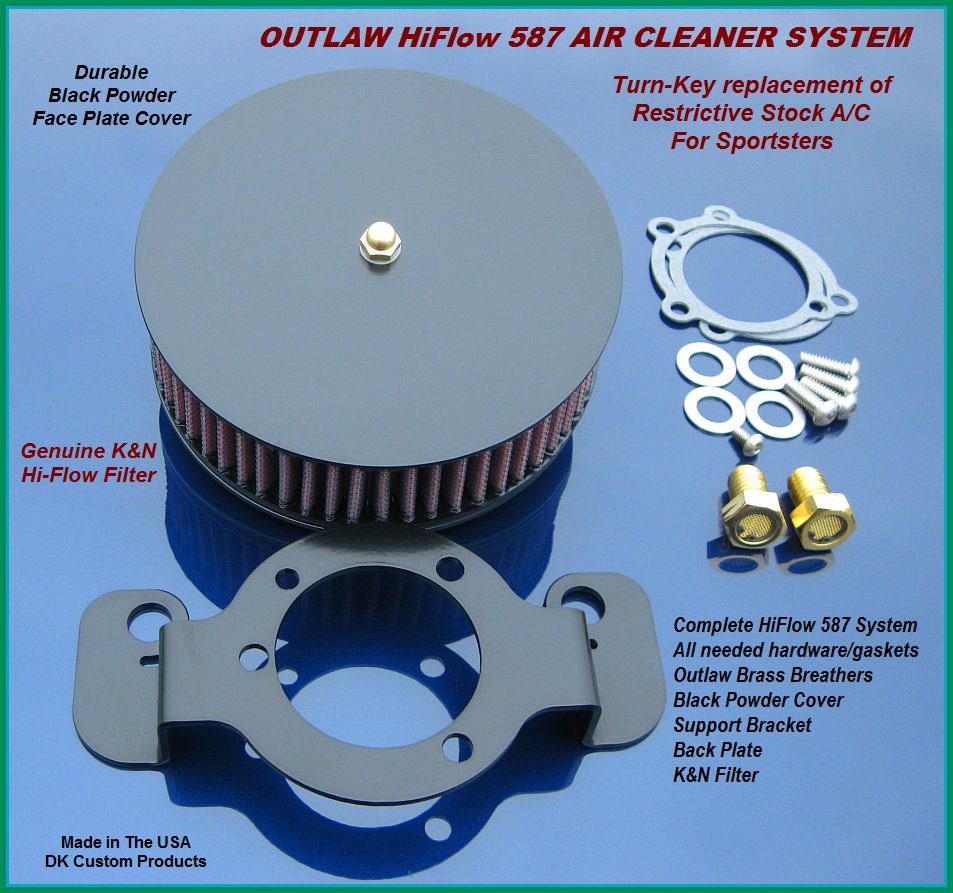 The Outlaw HiFlow 587 System will give your Sportster the Air it needs to Produce Maximum Power. CLEAN AIR - No dirty air routed back in!
This system is TURN-KEY. It comes with everything needed to replace the restrictive stock air cleaner.
E-Z Installation with Step-by-Step Instructions.
Genuine K&N Filter with Million Mile Warranty.
Filter is re-usable. Simply wash, let dry, & apply oil.
Fits Carbureted & EFI Sportsters 1991-Up.
This is a must for at Stage 1 Upgrade.
Included: Your Choice of Brass, Black or Polished Aluminum Breathers. Or you can choose one of the Hose & filter Breather Systems for venting - The Traditional, the Discrete, or the Premium Discrete To see full details on All these choices Click HERE.
When choosing between the 6 Breather systems, it is helpful to know-
1. All three Breather Bolt function the same, it is just a matter of which color you prefer.
2. All three of the Hose and Filter Breathers function the same with the Outlaw Air Cleaners, it is a matter of which system you like the looks of the best.
The Transformer™ is the Ultimate External Breather System, that Doubles as a Support Bracket and can be Transformed into an EPA (Emissions) Compliant System. It fits all Outlaw Air Cleaners.
This System comes with a Black Powder Face Plate Cover.
We also have Systems with your Choice of Mirrored or Black Powder Designs.

You can upgrade to the Outlaw HiFlow 587 Air Cleaner System without doing any dyno work or adding tuners IF you leave the stock exhaust in place.
The Sano Cover is the perfect canvas for you customize with paint or a decal, and you can just turn it around if you ever want just the plain black.
This kit comes with both a Stainless and a Brass Acorn Fastener for the Cover.
There are Optional A/C Cover Fasteners that you can add to your order below.
44 Magnum, The Gripper, Tri-Speed, Speed, Tri-Shield and Mini-Tri-Shield. Any of these will add to your Air Cleaners Look.
he EPA has required Harley to route dirty, oily crankcase air back into the air cleaner compromising the performance of your engine. The Outlaw Breathers vents it without compromising the performance or longevity of your motor.
Caution: Motorcycles modified with this DK Custom Products High-Performance part may not be legal for public highway use in some areas. The user shall determine suitability of this product for his or her use.

Check out the Dyno Chart! 11% increase! When combined with the Thunder Torques an even BIGGER Increase- Click HERE for more Dyno Charts.

"I dig your air cleaners cause it's such a great platform to personalize your bike. And you can do something different on either side and just flip from one side to the other for a different look." -Bart

Customer Reviews
Clean Look

Review by

Tim


I think that this Air cleaner adds a look to my Bike, kind of an old school look. Sure at first, I wanted to go with a high-tech looking Air cleaner. But after considering what those high-tech Air cleaners cost, I'm glad that, I chose the
Complete HiFlow 587 Air Cleaner! Nice product! (Posted on 3/13/2023)

Easy to Install

Review by

Anthony


As someone who is not very mechanically inclined, this was very easy to install on my 2015 sportster. Old box came off easy, then onto dry fitting before throwing on the thread lock. The most difficult part of the whole installation for me was figuring where to run the breather hose, and that wasn't that hard.

I've only ridden it a couple of times since installing this, but I have noticed a bit of a difference from the stock air cleaner. First off on startup, you can hear the engine taking in the air. Second, the bike seems to go through gear better. Still a bit of a beginner with bikes so it's a bit hard for me to describe. Third, I've also noticed a little bit of a power boost. My ride to work has a couple of good hills and my bike definitely took them better than before. I'm not a skinny guy so any help is great. On top of the additional leg room, I'm 5'10", I am very satisfied with this product. (Posted on 8/2/2021)

Had to buy two

Review by

Shane


I had one of these on my first Sportster but that one got run over by a Peterbilt with me on it. So once I got a new Sportster I got a new one of these first thing. The air goes in, the oil goes somewhere else, and your knees don't hit it. I can't imagine running any other air cleaner but I'm sure DK's other offerings are just fine as well. The blank black cover makes a good little canvas for painting. If I knew how to paint I'd do mine like a Copenhagen can lol. (Posted on 3/29/2021)
Product Tags
Use spaces to separate tags. Use single quotes (') for phrases.
What's Your Take on Harley's Fully Electric Future?
590 (65.49%)

No, not for me.. :

31 (3.44%)

Maybe if there were no other Harley's:

35 (3.88%)

I'm warming up to the idea.:

245 (27.19%)

Makes me no difference, I'm riding my gas-powered Harley until it quits!: