Home

/

Contrast Cut Finned HiFlow 606 Air Cleaner System Harley M8
Outlaw HiFlow 606
Air Cleaner System
For

Harley-Davidson
Milwaukee-Eight
~Complete High Performance System~

MADE in The USA!
DK Custom Products

FEATURES & SPECS:
Tapered HiFlow Genuine K&N Air Filter
6 1/4" Base & 5 1/2" Face Diameters

Designed Specifically for the M8 Engine

Billet Aluminum Contrast Cut FINNED Cover

Optional Matching Points Cover
Your Choice of External Breathers (NO dirty air in engine)
All A True Stage l Air Cleaner

Optional Rain Sock
E-Z Step-by-Instructions Included

Made in The USA!
The Outlaw HiFlow 606 System will give your M8 the Air it needs to Produce Maximum Power. CLEAN AIR - No dirty air routed back in!
This system is TURN-KEY. It comes with everything needed to replace the restrictive stock air cleaner.
E-Z Installation with Step-by-Step Instructions.
Genuine K&N Filter with Million Mile Warranty.
Filter is re-usable. Simply wash, let dry, & apply oil.
Fits Milwaukee-Eight Models.
This is a must for at Stage 1 Upgrade.
Included: Your Choice of Brass, Black or Polished Aluminum Breathers. Or you can choose one of the Hose & filter Breather Systems for venting - The Traditional, the Discrete, or the Premium Discrete To see full details on All these choices Click HERE.
When choosing between the Breather systems, it is helpful to know-
1. All the Breather Bolts function the same, it is just a matter of which color you prefer.
2. All the Hose and Filter Breathers function the same with the Outlaw Air Cleaners, it is a matter of which system you like the looks of the best.

The Transformer™ is the Ultimate External Breather System, that Doubles as a Support Bracket and can be Transformed into an EPA (Emissions) Compliant System. It fits all Outlaw Air Cleaners.
This System comes with a Billet Aluminum Contrast Cut Finned Cover, and there is an Optional Matching Points Cover, see pics of it HERE.
These are also available with a variety of other covers, including Black & Polished.
You can upgrade to the Outlaw HiFlow 606 Air Cleaner System without doing any dyno work or adding tuners IF you leave the stock exhaust in place. To see Why the M8 Does Not Need a Tune when Running Free Flowing Intake & Exhaust CLICK HERE.

Fitment:
This Air Cleaner fits OEM Milwaukee-Eight Throttle Body
NOTE: With This Air Cleaner the OEM support bracket must be used. It is pictured below. If you don't have one, the HD Part # is 16400049 (it has a retail price of $17.09)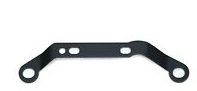 Harley routes dirty, oily crankcase air back into the air cleaner compromising the performance of your engine. The Outlaw Breathers vents it without compromising the performance or longevity of your motor.
Caution: Motorcycles modified with this DK Custom Products High-Performance part may not be legal for public highway use in some areas. The user shall determine suitability of this product for his or her use.

"Thank you for a great quality, top performing Air Cleaner!" -Kyle
Customer Reviews
Awesome

Review by

Lefty


Bought the 606 air cleaner with contrast cut cover and the external breather kit for my 17 Street Glide to replace my Arlen ness setup. Very happy with my decision. Quality parts, easy installation and great customer support. And I get my parts fast (Posted on 3/9/2023)

What a difference

Review by

John K


I purchased the air cleaner and breather system after doing a lot of research. I had the stock air cleaner, the only modification I made to my roadglide was slip ons. After installing the air cleaner and external breather system I could not believe the increase in power. The acceleration was noticeably better and my passing power was more responsive. This is definitely worth the price. (Posted on 11/15/2022)

Great product

Review by

Vman


The bike is breathing so much better. Nice and compact. Looks great and easy to install. (Posted on 8/17/2022)

Very positive

Review by

Mike


After speaking with Dwayne about my 2017 Road King with stage 1&2 up grades, we talked about the carryover problems I was experiencing. I purchased the 606 breather with contrast cut and a premium 4stage black catch can external breather. The installation was easy and I routed the external breather to the right side cover and placed it behind the cover. Since installing these items the carryover is solved. My bike runs better than before smoother and quicker throttle response a seat of the pants increase in horsepower and torque. There is absolutely no pinging and the engine is running cooler.
Thanks to DK Customs my bike is performing at optimum conditions (Posted on 5/11/2021)
Product Tags
Use spaces to separate tags. Use single quotes (') for phrases.