Home

/

External Breather System w/ Catch Can Harley Sportster
Vented 4 Stage Catch Can
External Breather System
For

Harley-Davidson
Sportster Models 1991- UP
&
Big Twin Evo's

DK Custom Products
Made in The USA!
FEATURES & SPECS:
Fits almost All Air Cleaner Systems that use the stock breather bolts
Your Choice of a Aluminum or

Black Finish -

Vented Screw Top Catch Can
Includes 6 feet of hose for maximum flexibility in Catch Can placement

All needed hardware
Turn-Key System
Uses Your OEM Breather Bolts with Nipples (not included)
E-Z Installation, Instructions included
Made in The USA!
An external Breather System (EBS) is preferred with any Air Cleaner System. This allows for only clean cool air to go into the air cleaner and engine, increasing performance and engine longevity.
This kit will work with the OUTLAW HiFlow 425, 606, 636v Air Cleaners and many other aftermarket Stage 1 Air Cleaners*. It can even be used with the stock air cleaner.
The EPA has required Harley to route hot, dirty, oily crankcase air back into the air cleaner compromising the performance of your engine. This vents it without compromising the performance and longevity of your motor.
With this breather system you will experience a slight performance increase. This is because engines like Cold, Dry, Oxygen Rich air!
When ordering, Choose a Machine Cut Aluminum Finish or a Black Powder Coat Finish.
The Machine Cut Billet Aluminum Finish that can be polished to a Mirror Finish.
The top of the Catch Can is attached to the hose by a zip tie or hose clamp (both supplied w/ the kit). The bottom of the Catch Can threads to the top.
Anytime you want, you can un-screw the can portion, empty out all the gunk, and then thread it back together.
The top of the Catch Can is vented, letting the air escape, while the 4 Stage Filtration catches and holds the oil.
The Catch Can is 1 1/2" in diameter and 2 5/8" tall. For more details on the Catch Cans, click HERE
E-Z Install
Fits Most Sportsters 1991 & Up (except XR1200)
Fits Big Twin Evo's
FITMENT:
*If your air cleaner system will accept the Stock OEM breather bolts that have a 3/8" diameter nipple, then this breather kit will allow you to route the hot oily air to the supplied Catch Can that you can place anywhere you like. The OEM breather bolts are not supplied, must use the ones that came with your bike when stock.
This kit does Not work with air cleaners that have thick stand-offs, like the AN BS and others of similar design. For those style air cleaners, use the EBS kits seen at this LINK.
Caution: Motorcycles modified with this DK Custom Products High-Performance part may not be legal for public highway use in some areas. The user shall determine suitability of this product for his or her use.

Larry's Discrete Head Breather System on 2015 Tri-Glide with Rushmore A/C with the Stock Cover
Hope this will help someone else with their installation.
The pictures are as follows:
#1 - K&N air filter with nylon plug in hole where stock hose was.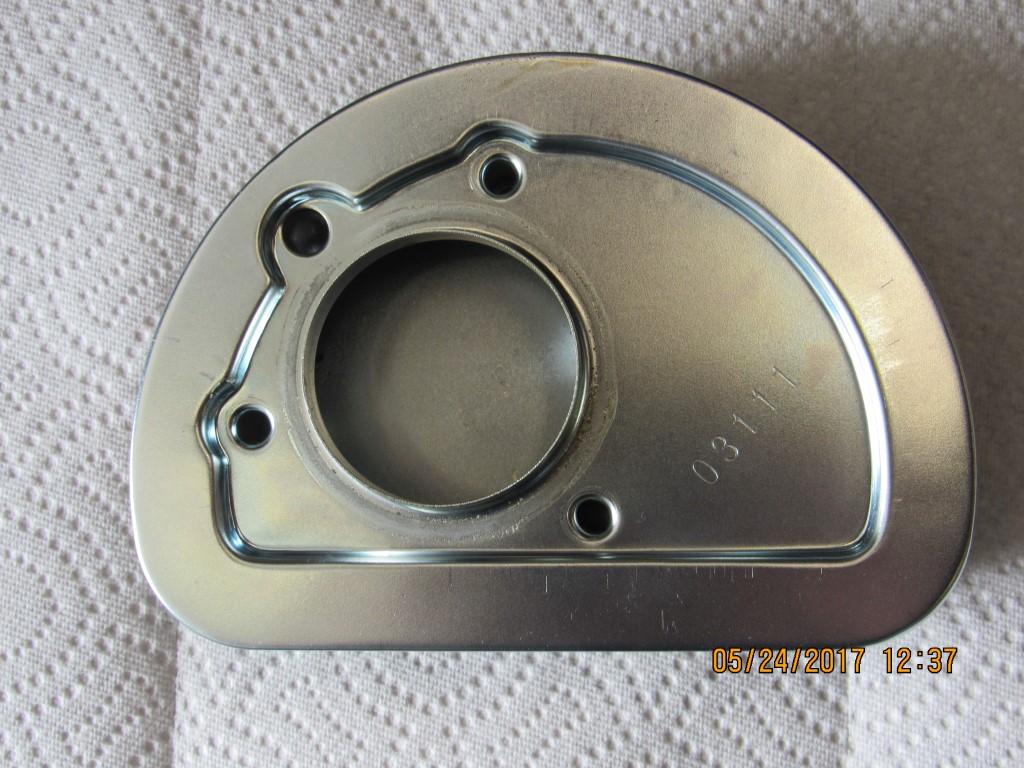 #2 - Stock hoses connected to hoses in kit, and exiting bottom of air filter housing through hole I had to drill.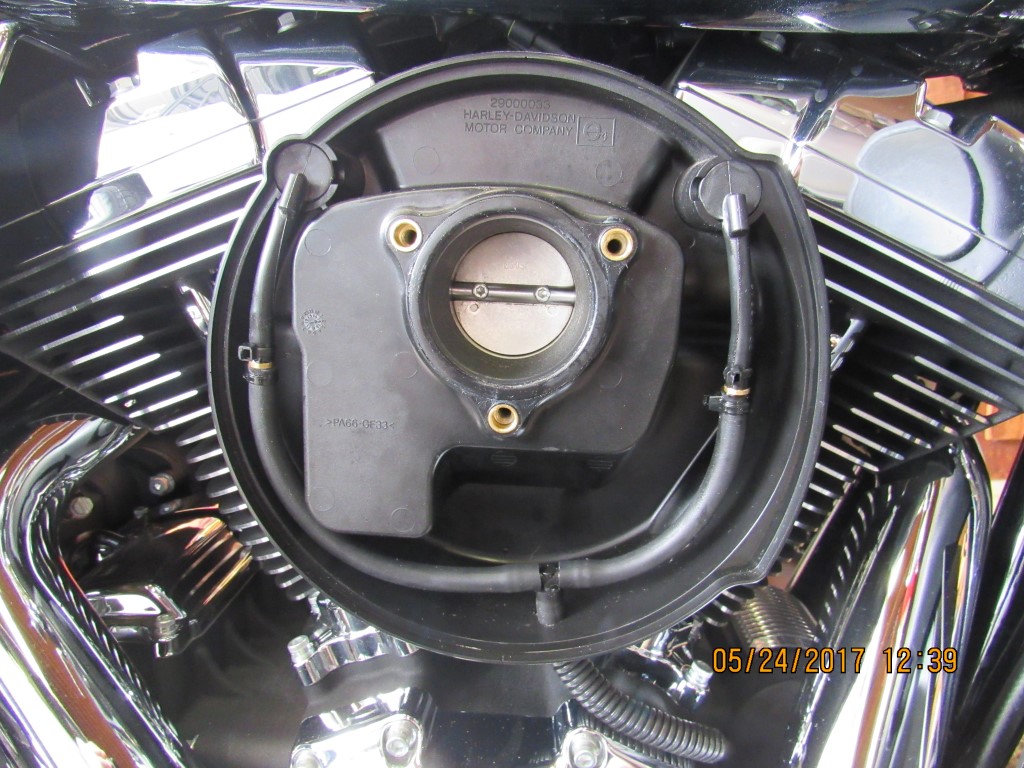 #3 - Hose running on top of cam cover. ( I put a piece of split nylon wire wrap over rubber hose to protect it from heat and rubbing )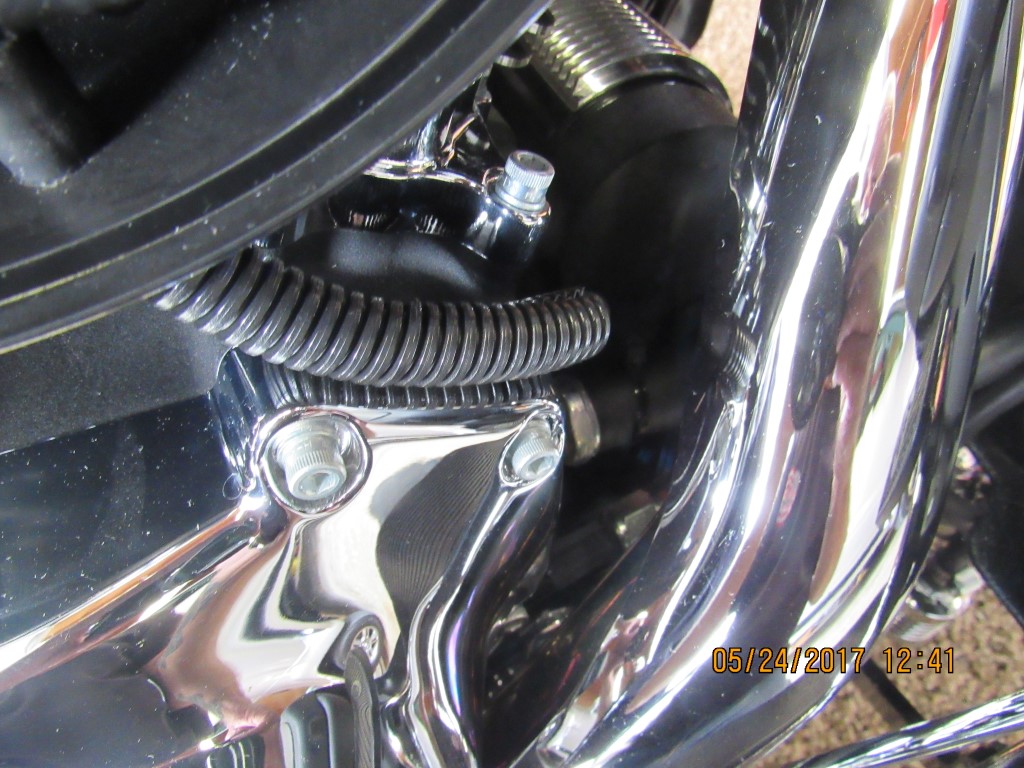 #4 - Hose routed on left side of oil pressure switch.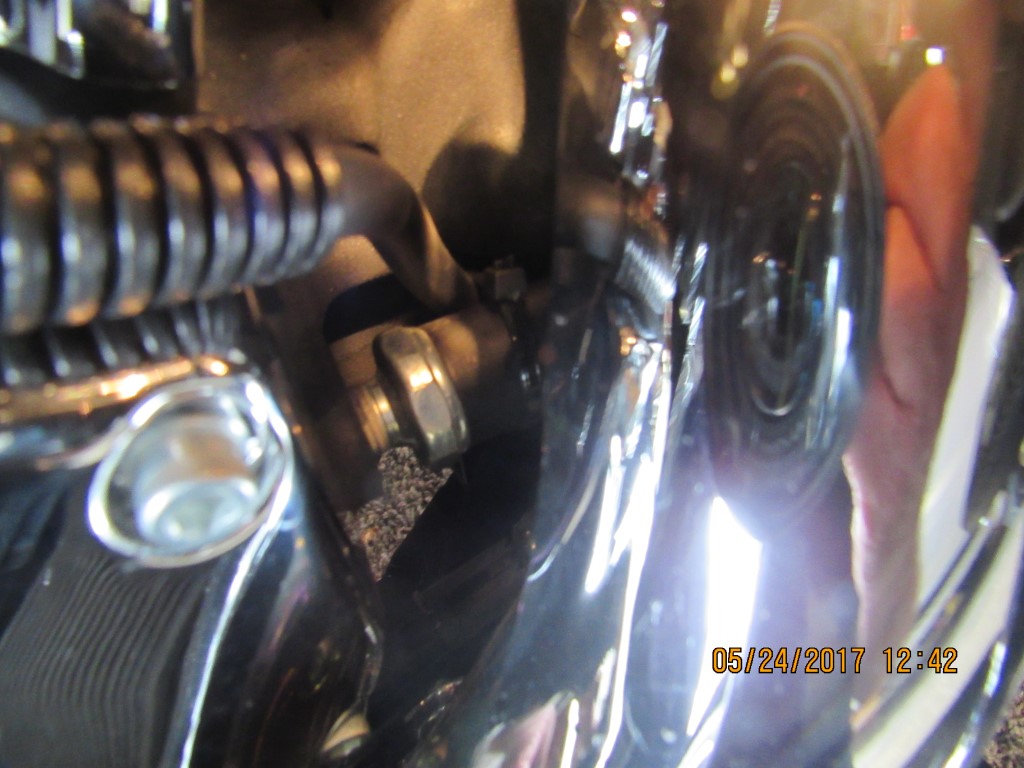 #5 - Hose routed on left side of rear brake control cylinder.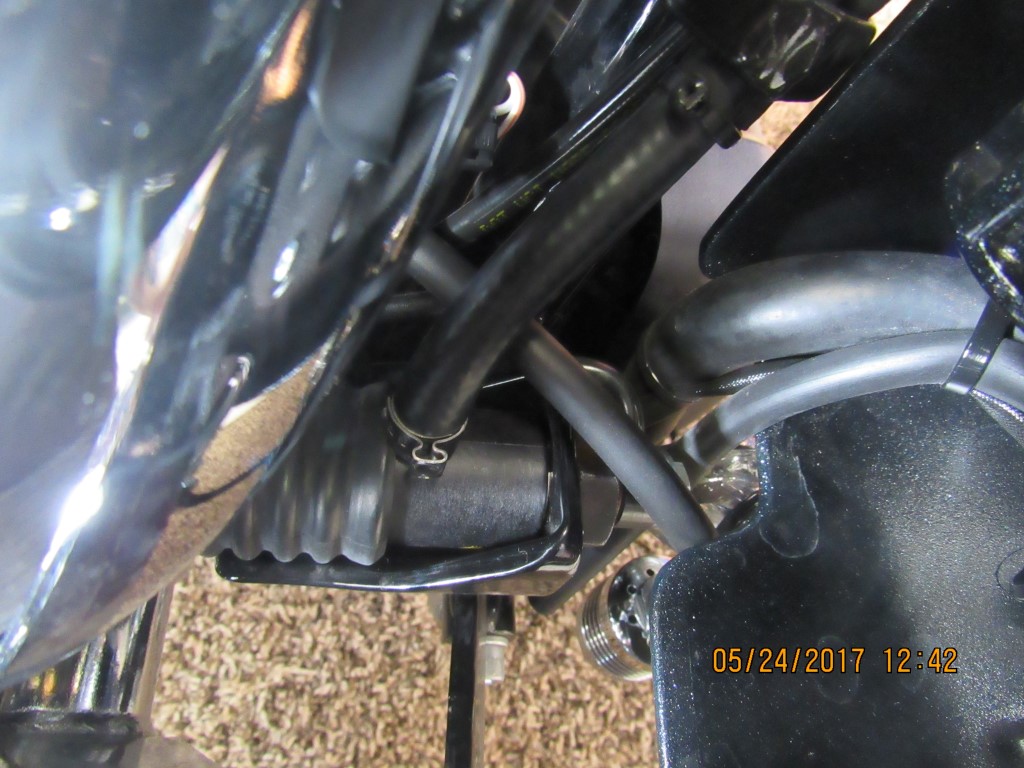 #6 - Hose coming straight down and secured with wire tie. Catch can is very secure and easy to access.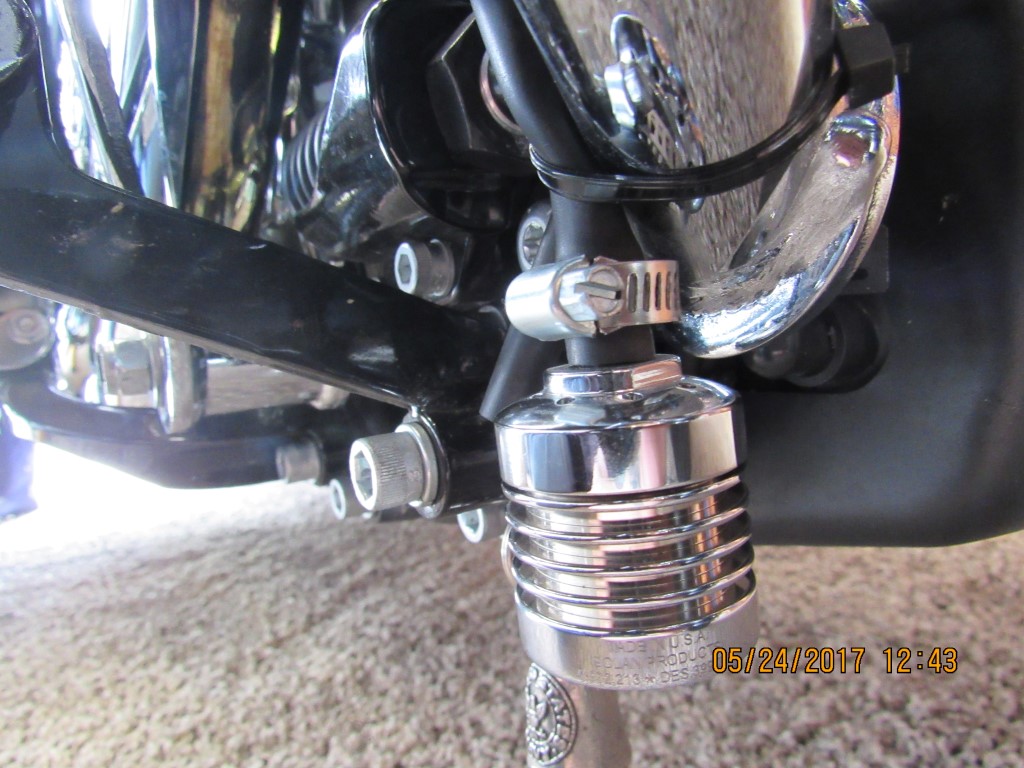 #7 Air filter installed. There is plenty of room for it and the breather hoses. Works great, and I think it looks fairly good.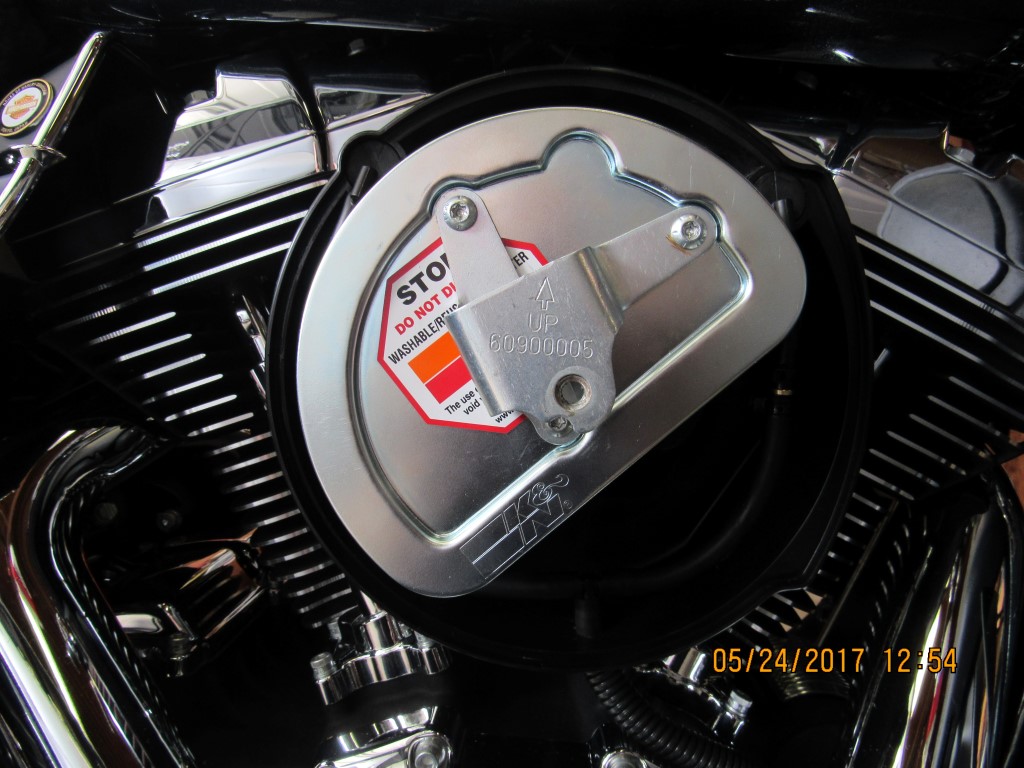 Customer Reviews
Liked the product

Review by

JD


Good product decided I didn't like the look and returned the product a month ago and I am still waiting to hear back from dk (Posted on 1/16/2022)

Nicely Made!

Review by

Rick


I liked the idea of this product and it looks awesome. Easy to install and it's well made. You receive enough hose to mount it anywhere . Very pleased with it! (Posted on 7/21/2020)

Good Stuff

Review by

Chad


Seems to be well made.Hand polishing turned out good. Polishing helped smooth out edges off of fins. (Posted on 6/23/2020)

I like it

Review by

Billy


shipping was freaky fast.
the catch can is well made quality all around.
be VERY careful the machined fins on mine was sharp enough to give me a good cut on thumb when first trying to open the can, I guess I donated a lil DNA to this project. Now to put some mile on it,or in it....peace (Posted on 5/29/2020)
Product Tags
Use spaces to separate tags. Use single quotes (') for phrases.