Home

/

External Breather System w/ Catch Can Harley Twin Cam & M8
Vented 4 Stage Catch Can
External Breather System
For

Harley-Davidson
FITS ALL TWIN CAM & MILWAUKEE-EIGHT MODELS

DK Custom Products
Made in The USA!
FEATURES & SPECS:
Fits almost All Air Cleaner Systems that use the stock breather bolts
Your Choice of

Aluminum

or Black Finish
Includes 6 feet of hose for maximum flexibility in Catch Can placement
All needed hardware
Uses Your OEM Breather Bolts with Nipples (not included)
Turn-Key System
E-Z Installation, Instructions included
Made in The USA!
An external Breather System (EBS) is preferred with any Air Cleaner System. This allows for only clean cool, oxygen rich air to go into the air cleaner and engine, increasing performance and engine longevity.
This kit will work with the All the OUTLAW HiFlow Air Cleaners, and most other aftermarket Stage 1 Air Cleaners*. It can even be used with the stock air cleaner if it uses the OEM breather bolts with nipples.
The EPA has required Harley to route hot, dirty, oily crankcase air back into the air cleaner compromising the performance of your engine. This vents it without compromising the performance and longevity of your motor.
With this breather system you will experience a slight performance increase. This is because engines like Cold, Dry, Oxygen Rich air!
When ordering, Choose a Machine Cut Aluminum Finish or a Black Powder Coat Finish.
The Machine Cut Billet Aluminum Finish that can be polished to a Mirror Finish.
The top of the Catch Can is attached to the hose by a zip tie or hose clamp (both supplied w/ the kit). The bottom of the Catch Can threads to the top.
Anytime you want, you can un-screw the can portion, empty out all the gunk, and then thread it back together.
The top of the Catch Can is vented, letting the air escape, while the 4 Stage Filtration catches and holds the oil.
The Catch Can is 1 1/2" in diameter and 2 5/8" tall. For more details on the 4 Stage Catch Cans, Click HERE.
E-Z Install
Fits All Twin Cam & Milwaukee-Eight Models - 2000-Up Touring & Softail, 1999-Up Dyna
*If your air cleaner system will accept the Stock OEM breather bolts with nipples, then this breather kit will allow you to route the hot oily air to the supplied Catch Can that you can place anywhere you like.

Caution: Motorcycles modified with this DK Custom Products High-Performance part may not be legal for public highway use in some areas. The user shall determine suitability of this product for his or her use.

Larry's Discrete Head Breather System on 2015 Tri-Glide with Rushmore A/C with the Stock Cover
(also used a Vented Chrome Catch-Can, which you can see HERE)
Hope this will help someone else with their installation.
The pictures are as follows:
#1 - K&N air filter with nylon plug in hole where stock hose was.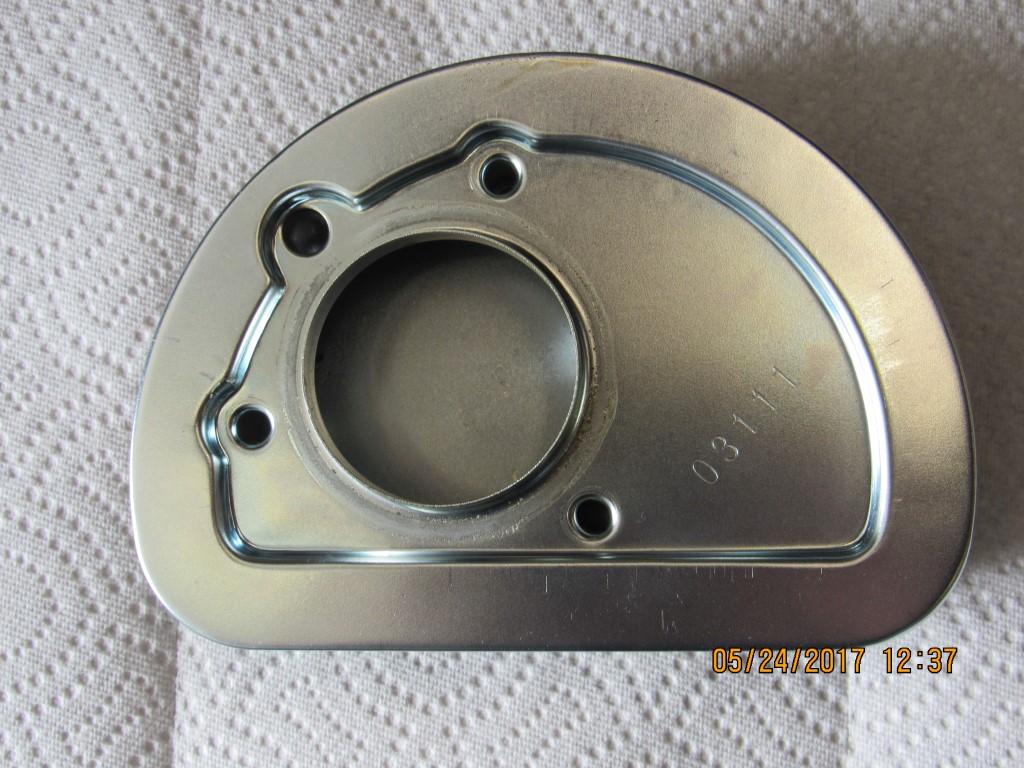 #2 - Stock hoses connected to hoses in kit, and exiting bottom of air filter housing through hole I had to drill.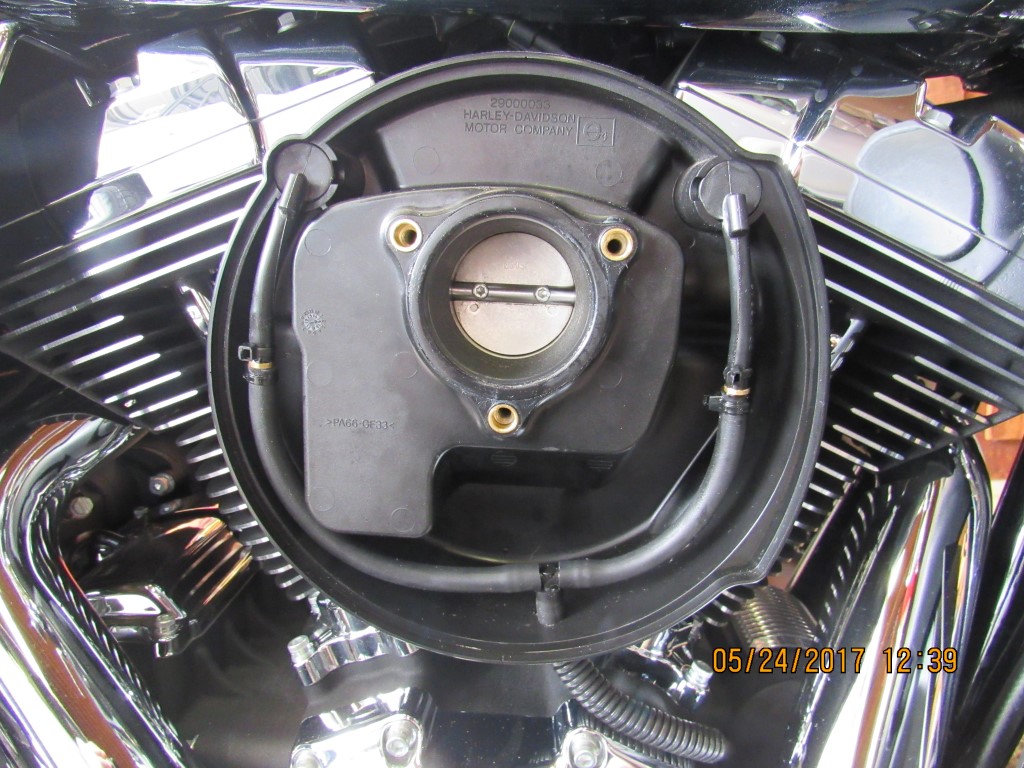 #3 - Hose running on top of cam cover. ( I put a piece of split nylon wire wrap over rubber hose to protect it from heat and rubbing )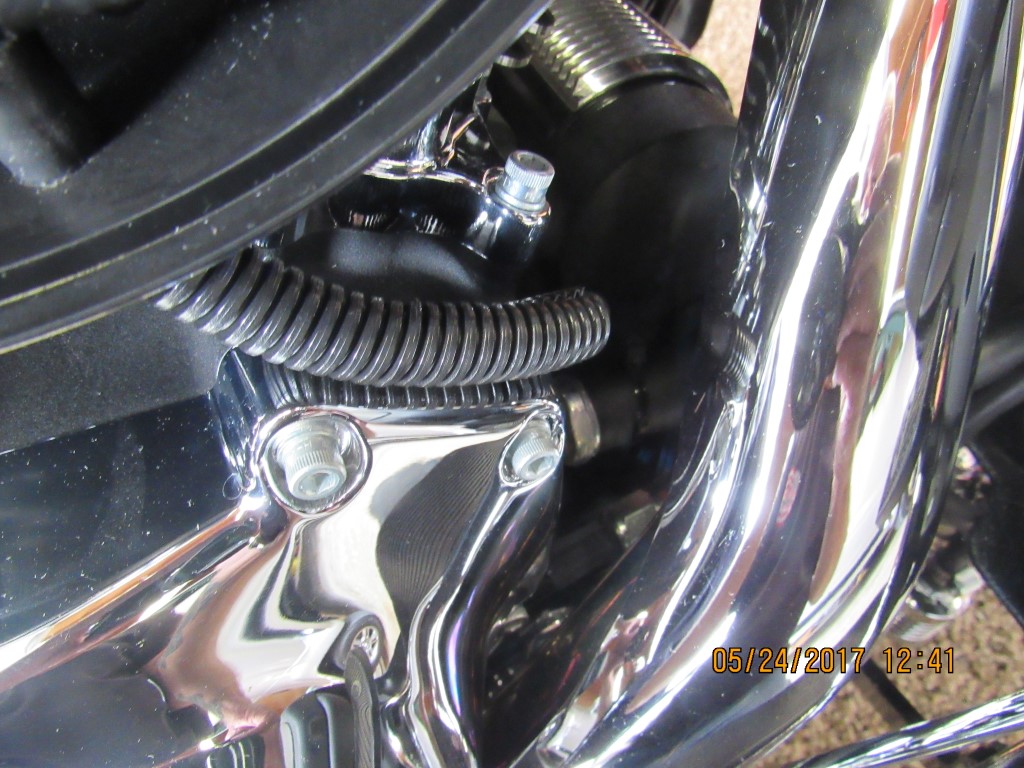 #4 - Hose routed on left side of oil pressure switch.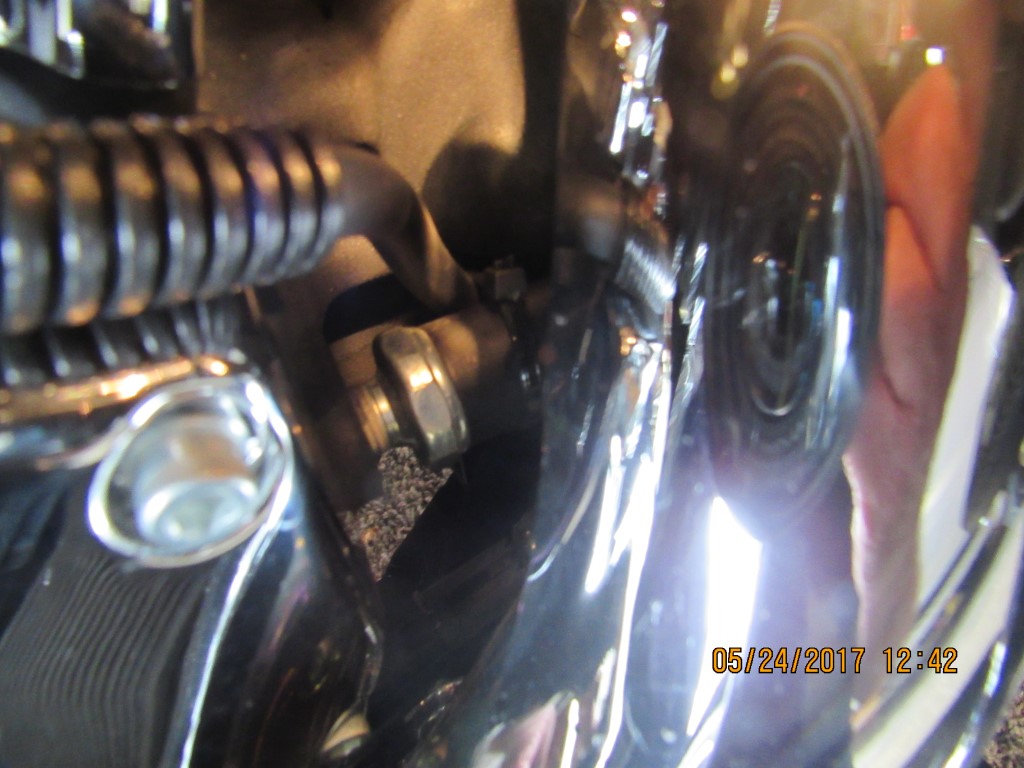 #5 - Hose routed on left side of rear brake control cylinder.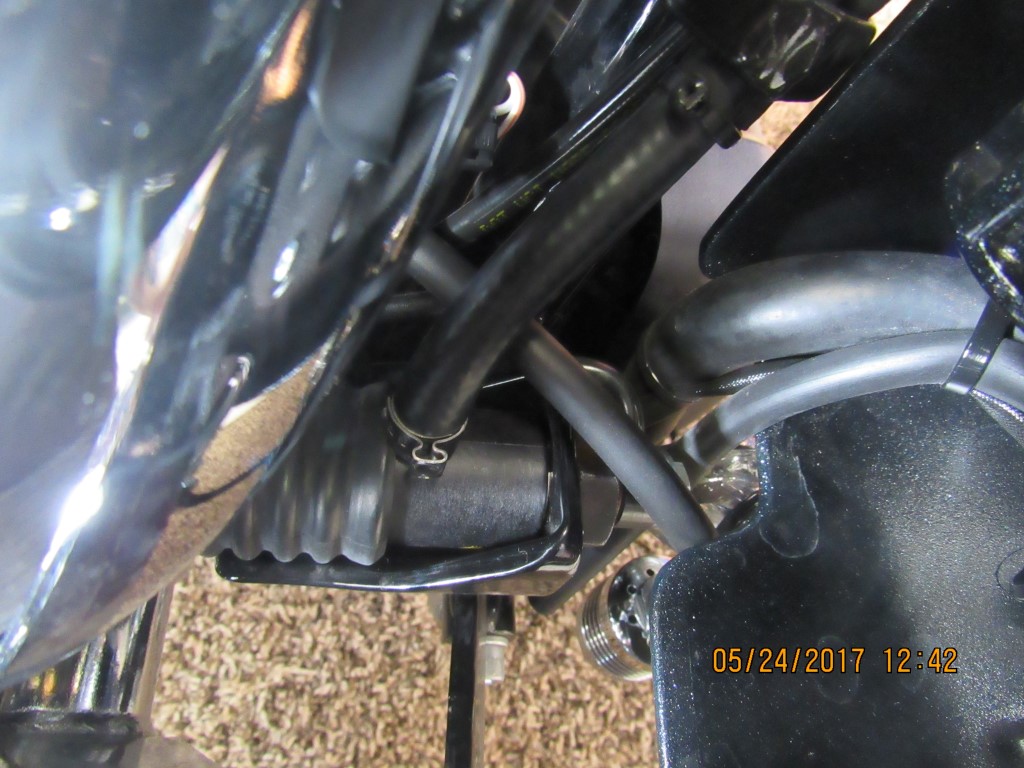 #6 - Hose coming straight down and secured with wire tie. Catch can is very secure and easy to access.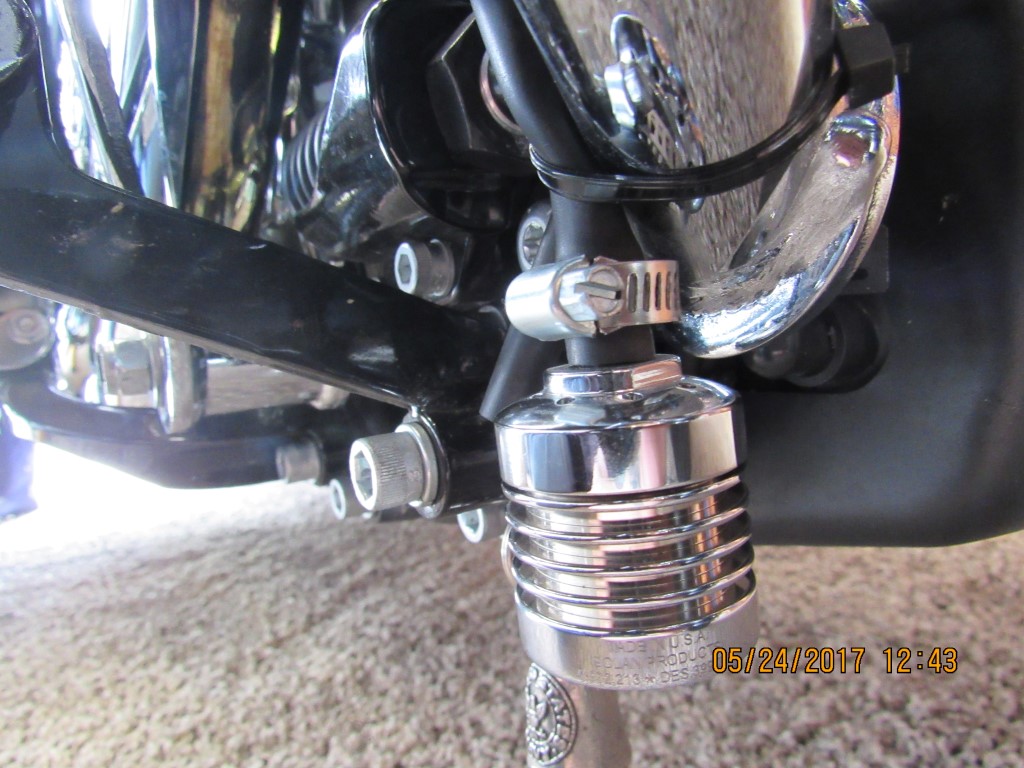 #7 Air filter installed. There is plenty of room for it and the breather hoses. Works great, and I think it looks fairly good.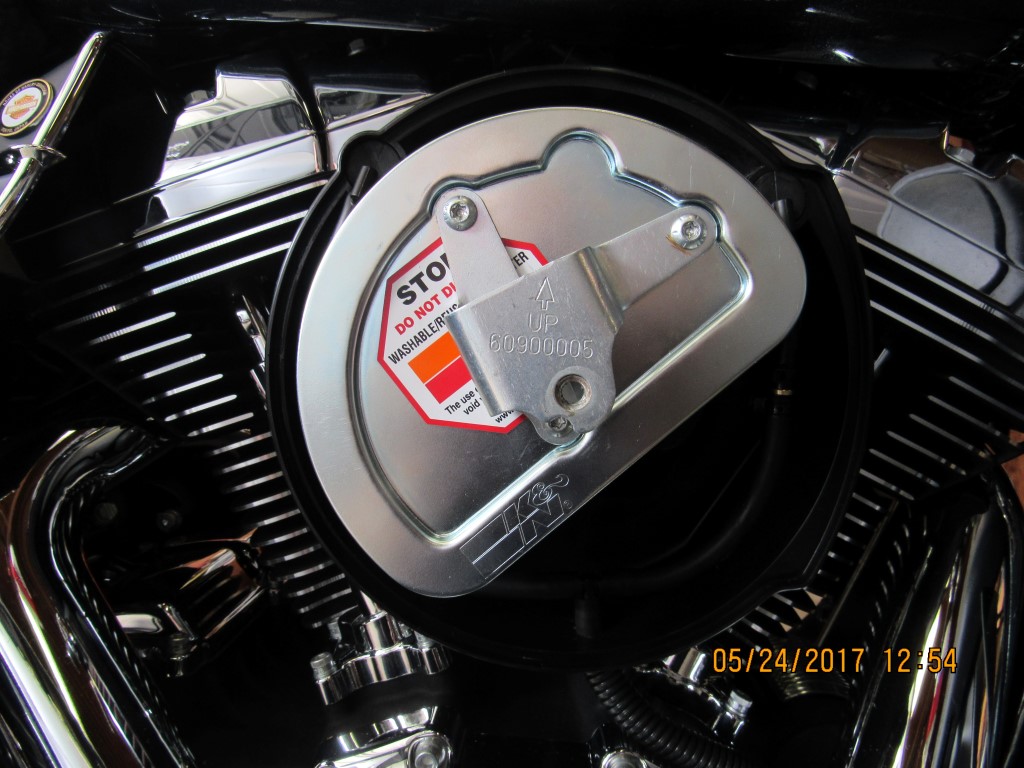 Customer Reviews
Excellent

Review by

Diablo Bill Shaw.


I continue to be a happy customer of DK Customs. Every product I've ordered has been more than I've expected. Even when calling in and speaking to them they are awesome with their customer service and guidance. Thank you DK Customs. (Posted on 3/16/2023)

DK Custom Products catch can.

Review by

Robert G


I ordered this catch can system for my 2009 HD Electra Glide after reading reviews online regarding the oil blowback and the moisture condensation that's going into my engine. After careful consideration and evaluating all the products on the market, I found this one to be the best and I am very happy with this product! Easy installation, and very successful in catching oil coming out of the breather box plus moisture condensation.

Thanks for the great product!! (Posted on 3/9/2023)

Great product and quick shipping, works as it is advertised.

Review by

Red


Great product and quick shipping, works as is advertised. (Posted on 3/3/2023)

Easy install

Review by

Tom


Purchased the kit for my 2022 Tri Glide, with only 2300 miles on it. I didn't like the idea of hot oily air being fed into the intake. the install was straightforward , and the included instructions were good. With no baseline temps, I won't be able to tell if there is a change. But, at least there won't be oily, hot air being sucked into the cylinders. (Posted on 2/17/2023)

Good product

Review by

Quinn


Easy to install and gets that oil out of the intake. (Posted on 1/9/2023)

Immediate Difference

Review by

Elvis


Quick easy install wish I would have done this a couple months ago .. I noticed immediately that the bike was idling smoother and the Throttle response was a little more dynamic ... must be something to that "CleanAir" after all ha ha ha ... (Posted on 12/7/2022)

Love it. Great Value. Good for the bike

Review by

Steve G


Just installed a catch can External Breather System on my new 2022 Heritage FLHCS. Only have about 400 miles on the bike, but I wanted to take advantage of the benefits of the EBS system (reduce carbon build up and put clean, cool air into intake). This is my second EBS install. Put one on my 2018 Heritage when the 2-year warranty expired in 2020. Didn't want to wait to get the benefits of the EBS on my new ride. THANKS DK Custom Products. (Posted on 11/30/2022)

Great product

Review by

Butters


This hit is great I was able to install and did not need any additional parts. The catch can looks and feels like quality. (Posted on 11/4/2022)

Great company

Review by

Blacksheep


I ordered the catch can kit for my 21 Freewheeler and the fit and finish was perfect. Absolutely great customer service. Kit included everything needed and I was very happy with it. (Posted on 8/26/2022)

Quick service works as advertised

Review by

Si


Ordered their kit and came within days. Install was a breeze and works as advertised. You can tell they put some thought into their catch can itself...very well made.

Great product! (Posted on 6/19/2022)

excellent

Review by

Tim


It took me longer to decide where i wanted the hose run thru than it did to actually install. very good quality for sure. love the ease of this system (Posted on 6/3/2022)

External Breather System w/ Catch Can Harley Twin Cam & M8

Review by

BigJM


This is installed on my 2022 Road Glide special. Takes about 10 minutes to install. Would be shorter time but I had to drill a couple holes and apply some Silicone. Attached to billet catch can this vent to atmosphere system looks and functions like factory works. Love it! (Posted on 6/2/2022)

Perfect

Review by

Vince


Nice product, fit nicely on my Roadglide, my install was easy, routed the hoses so you would have to look hard to find it.
(Posted on 5/31/2022)

External breather can

Review by

Rick


Product looks great and is doing exactly what it was supposed to do, keeping oil and moisture out of the carburetor intake. Very easy install on 2018 Road Glide even with Screamin Eagle intake. (Posted on 5/2/2022)

Excellent product

Review by

2021 RGS


Installed this on my 2021 FLTRXS and the install was pretty easy. It's a well thought out design that seems to work great! No more dirty oil going in my intake. Verified this after riding for a week and then wiping out intake to check for dirty oil. It was clean. Thank you DK customs. (Posted on 4/22/2022)

Excellent

Review by

Jersey


A good quality well made kit. The kit should come with a grommet for the hole that is drilled. (Posted on 4/15/2022)

Great product

Review by

RG-Chris


This product is of great quality. The catch can is of extremely high quality and the kit was complete and very easy to install. Once I decided on how I wanted to route the kit and catch can, installation was around 90 minutes from start to finish. I highly recommend. (Posted on 4/12/2022)

Great piece

Review by

Jon


Easy install ! Wish they came with rubber garments for hose running through the back plate! Other than that great (Posted on 4/6/2022)

Catch can and kit

Review by

Shovelhead


Good people good price good people deal with (Posted on 3/14/2022)

Easy worthwhile mod.

Review by

Milner


The kit with the billet catch can had everything necessary to install it. Now I actually feel like my throttle response is a little snappier and bike feels a tad stronger. DK service was excellent. (Posted on 3/9/2022)

Catch can and external breather

Review by

Jim


I so happy knowing that all that crap isn't being sucked back into my engine. I never realized how much blow by some of my engines had until I went stage one. Stage 2 even worse. Install was easy and the kit provided everything, no unnecessary trips to hardware stores or auto stores. Service and staff were excellent. U won't even know I've installed one. Can't c it, get creative and you'll be all giddy every time u look at your work. Ride safe everyone..enjoy every second of each ride. (Posted on 3/8/2022)

High quality, competitively priced

Review by

GEORGE


Works great with their external breather system. I ordered some black spring clamps in lieu of the supplied hose clamps. The black clamps are less noticeable and were purchased from amazon. (Posted on 3/2/2022)

Great, easy install

Review by

Buc


Easy to install. I like buying a kit instead of having to piece the materials separately. (Posted on 3/2/2022)

Just what I needed

Review by

BinaryM


Good quality parts. Just what I needed to complete my external breather upgrade to my 2019 SGS. (Posted on 3/1/2022)

Catch can system

Review by

Johnny


So glad I found this product! I installed the breather system with no problems on my 2020 SGS. Took it for about a 100 mile ride soon after. When returned home I checked the catch can being curious. The can contained about two tea spoons of an oily water substance. Also the bike felt much stronger and no oil under my breather ! If you are considering installing this product GO FOR IT !! Well worth the $ !! Wish I had done this sooner ! I have now ordered one for my dad's 2017 SGS as well !! I spent good money upgrading to a stage II and having dyno work done glad I'm not building carbon on the pistons and killing my tune !! Thanks DK Custom Products!!! (Posted on 2/24/2022)

A Must Have

Review by

Oneway


Harley should partner with DK customs and these catch can kits should come with every new bike purchased instead of running the tubes back into the air filter. Bike runs harder, cooler, and cleaner. Thank you (Posted on 1/15/2022)

Catch can is top quality

Review by

Spike


This entire system is great! The install is straight forward and pretty simple but I am a career mechanic. I ordered the black catch can to match my motorcycle accessories and it's perfect. Best part of this is the engine still breathes but Not into the intake system. (Posted on 12/29/2021)

Sounds healthier

Review by

Temeculamark


Much better throttle response, gets back to the throttle much smoother. Much easier to maneuver at low speed. Even sounds healthier.
Neighbor even said it sounded better when I came around the corner. Very happy. (Posted on 12/16/2021)

A great product for the M8

Review by

Bob


I bought the Catch Can and after 2000 mile I cleaned it out. I'll check it out next time after 500 miles. All the sludge that didn't go into the engine amazed me. I showed the harley tec a picture of what it got and he said that was his next project on his Road King. (Posted on 11/17/2021)

Almost the perfect kit

Review by

DJMAD


A quality product at a fair price. Excellent communication from DK and super fast international delivery.
The kit is missing a couple of simple inclusions. I know where to mount the can is a very personal choice, but a 35 mm P clamp fits the can perfectly and should be included as part of the mounting hardware.
Also a simple grommet to plug the standard air cleaner hole left by removing the snot pipe would also be easy to include.
Overall a fantastic product. (Posted on 10/25/2021)

Well machined parts that work

Review by

Head Man


Good stuff dose what it is supposed to do. (Posted on 10/5/2021)

I'm a Viet Nam Vet; I work as a Program Manager for MHEP and VP of Latin American Rider's Association

Review by

DREAD


This kit does exactly what it is advertised to do; excellent quality and craftsmanship. Outstanding follow-up and communication from DK in responding to any questions. I have a Screaming Eagle Air Cleaner and the modification was easy to figure out where I wanted to place my catch cam and route the hose. DK makes it simple to adjust whatever you ride to create a perfect fit. AND IT WORKS! (Posted on 9/17/2021)

Excellent

Review by

Bobber


Installed catch can. Rode less than 50 miles. Table spoon on water in can. Wish I would have done this 20,000 ago. (Posted on 9/8/2021)

Great

Review by

18Streetglide


Easy install looks like it will do what is designed to do. (Posted on 8/18/2021)

Engine Life Saver

Review by

Scott


One size fits all with a little imagination. Very simple kit to solve the issue hot oily mess being routed back into your engine. Very happy I bought this kit! (Posted on 8/9/2021)

Top bit of kit

Review by

TJ


Not the first time I've ordered off DK and this time was just as easy and quick.
Really good quality and easy to fit (Posted on 8/4/2021)

One little change

Review by

Ed


I bought the M8 black catch can kit. The can itself is great, but I also went online after receiving the kit to search out a tee that was 1/4 - 1/4 - 3/8 to eliminate the need for the reducer going into the can. Everyone likes a clean look to the mods on their bikes and I think it would be a great upgrade to your kits in the future. No disrespect, just my opinion. I found the tee online in black plastic and stainless steel through soda companies as odd as that is. (Posted on 7/30/2021)

Completed install was easy

Review by

Bud


Product was of good quality and install was easy. When I was doing the install I noticed the amount of oil that was being drawn into the throttle body. Not anymore! (Posted on 7/26/2021)

high quality catch can. Super easy install.

Review by

Sarge


I ordered the wrong can on line. The next day I called and a very pleasant lady took care of me and stopped the shipment and changed the can for me, saving me the hassle of a return. The catch can is of high quality and the install was super easy. I spent an enjoyable afternoon working on my Road King. highly recommended. (Posted on 7/22/2021)

EZ install

Review by

Kooch


Excellent product! VERY easy to install. Hid mine in my fairing lowers. Recommend this to everyone wanting to eliminate an oily throttle body (Posted on 7/22/2021)

Excellent

Review by

Eric


Super easy to install and eliminates the EPA induced misery of oil in the air cleaner. Taped mine up and painted the grooves black and polished the fins now it matches the jugs and looks great. (Posted on 7/12/2021)

Fool proof

Review by

Will


No need to fumble around the hardware store looking for parts and hoses. This kit is complete! If you can drill a hole through sheet metal, you qualify:-). Save your M8 from oil vapor sludge. Get this kit. The catch can is great quality, too!! (Posted on 6/22/2021)

Great product

Review by

Bill


Does what it's supposed to - keeps the hot oil mist from coating the intake. My bikes now seems to idle much better & runs well. I'd definitely recommend it. (Posted on 6/19/2021)

Recently Installed

Review by

Jakal


Received my kit today and installed it. Up to this point I really thought my decel popping was due to an overly rich mixture. As soon as I installed the can, poof all my poping was gone my idle sounds more stable and overall it just seems like the breathing was just instantly better. Great product easy install, exactly what I was looking for. (Posted on 6/15/2021)

DK Custom

Review by

Bud


The first one I order got lost in the mail DK asked for a review a month later and I told them that I didn't receive it yet without hesitation they put another one in the mail . Put it on my 2018 Ultra bike run's smoother and inside of pipe is not so black, Highly recommend. GREAT SERVICE & GREAT PRODUCT !!! GOOD JOB DK Custom !!!! (Posted on 5/14/2021)

Ventilator and Catch Can Install

Review by

eforman48


Installed the DK breather and catch can. Easy to install and of high quality. Took my 2019 FLHCS on several long rides. Bikes runs smoother and cooler and mileage has definitely improved. Highly recommend you purchase the DK breather and catch can. Thank you. (Posted on 5/6/2021)

Bought the catch can and kit

Review by

Charles


Great product and quality no doubt this product will save my fatbob on down the road if you have a m8 and haven't done this upgrade don't wait (Posted on 5/5/2021)

great quality

Review by

redneckmedic


The quality was obvious as soon as I opened the package. Easy install and my bike definitely runs better. (Posted on 3/31/2021)

It works!

Review by

Douglas


I installed this on my 07 FLHTCU, all went well. Thank you. (Posted on 3/30/2021)

Would Highly Recommend

Review by

DougE


Easy install does exactly what it is advertised to do, Looks custom with high quality in mind. (Posted on 3/21/2021)

Excellent product

Review by

David


Easy to install and quality built. Only issue is the reducer could be a right angle, especially for the M*, so that the catch can can be placed right below the air cleaner. (Posted on 1/28/2021)

EBS w/black powder coated catch can

Review by

PeaceMaker


Installed on my '17 SGS, utilizing stock air box with K&N filter since I rather like the look of stock. Got tired of oil fouling air filter & seeping out of casing, no matter where I had adjusted the oil levels. Now, no more oil bypass into intake; just fresh/clean air. I'm mechanically incline & always taken longer than recommended when doin' maintenance since I'm particular & think of other ways than standard instructions. I opted to install a grommet in stock air box for the exit hose to pass through & route down just behind rear brake reservoir underneath foot pad & ziptied to aft mounting bracket of reservoir. Also have DK's Thunder Torque Inserts within my gutted megaphone slip-ons. Combined with my crankcase vented dip-stick. All n' all, excellent product & customer service. (Posted on 1/25/2021)

Excellent Mod!

Review by

Rico


Installed with my OEM set-up. 30 minute super easy install. Looks good and functions as stated. I replaced the supplied plastic fittings with brass, but overall I would recommend for anyone who doesn't want hot oil fed back into their intake.
(Posted on 1/23/2021)

Easy Install, Great Value EBS

Review by

Steve


Installed with OEM Stage I air cleaner. Drilled 1 hole, followed instructions and, though I am left handed managed with great support from Dwayne at DK. Can't wait for some nice weather to get out and collect some dirty oil!

Steve (Posted on 1/18/2021)

4 stage Catch Can

Review by

DF


Great product that works well with the stock breather bolts. (Posted on 1/9/2021)

Great product

Review by

Windsurfed


Quality made product. Everything went together well. Easy install. (Posted on 1/8/2021)

EBS on my 2019 Softail FXDR 114

Review by

Eini


Easy to Install. Istalled yesterday so have not tried it out too much yet. Not too good weather here in Norway (Posted on 9/27/2020)

External Breather System w/ Catch Can Harley Twin Cam

Review by

Phil


I used the kit on my Milwaukee 8 stock air cleaner. It works great i never realised how much actually came out of the breathers until after 2 weeks 800 miles of riding when I emptied the catch can. (Posted on 9/21/2020)

Awesome product

Review by

Mark


still using the stock breather for warranty purposes but loved the idea of not pumping hot oily air back into the engine. (Posted on 9/14/2020)

Great customer service

Review by

Soo


Easy install, customer support was great! (Posted on 1/14/2019)
Product Tags
Use spaces to separate tags. Use single quotes (') for phrases.