Home

/

Harley-Davidson 2004-2017 Softail Coil Relocation Kit Plug-N-Play For EFI Models
NEW PREMIUM COIL RELOCATION KIT
PLUG-N-PLAY

FITS SOFTAIL'S 2004-2017
That have EFI

MADE IN THE USA!
By
DK Custom Products

FEATURES & SPECS:
Made from American Cold Rolled Steel
Includes Plug-N-Play Coil Wire Extension
No Cutting of Wires or Soldering
Durable Black POWDER COAT Finish
E-Z BOLT-ON INSTALL
Step-by-Step Instructions Included
Optional Coil Covers
Purpose-Made & Patented

You can get rid of that clutter behind the rear cylinder!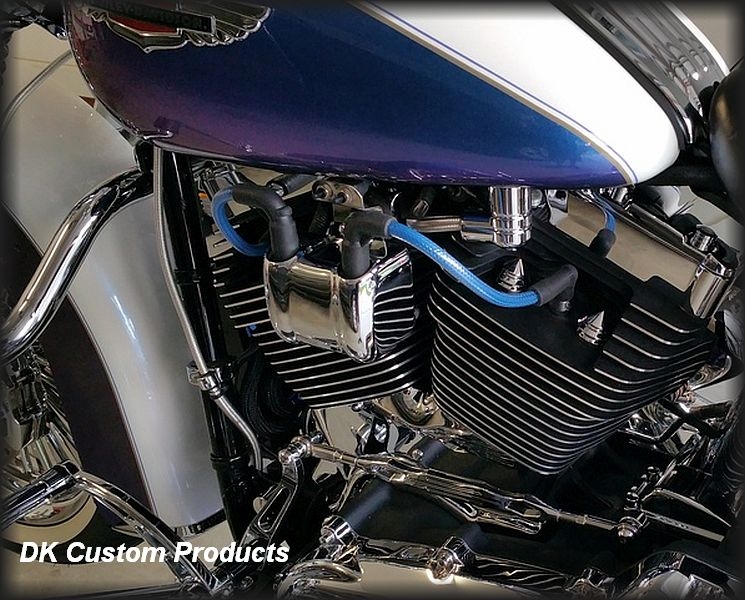 With this Relocation, the coil is no longer blocking air flow around the rear cylinder. This will cool down the rear jug by 10-15 degrees at cruising speeds.

This simple to install kit, relocates your coil to the left side of your engine, opening up the space behind your engine!




Look at all the pictures...you will be very pleased with how this cleans up the look.

BETTER LOOK ~ BETTER AIR-FLOW


Fits All 2004-2017 Twin Cam Softail's that have Electronic Fuel Injection (EFI)
(except Rocker & Blackline)


FITMENT NOTES:
Does NOT fit bikes with a Carburetor. If you have a carbureted Twin Cam, we now have Plug-n-Play Kits for them too. Click HERE to see them.
Because the coil is now sitting between the spark plugs, you will want to modify the length of your existing plug wires OR Check our Screamin' Eagle & PRO RACE Plug Wires HERE!
Because you have put the Coil where the stock horn is, we recommend one of these Horn Kits.
***We finally found some plugs that fit the Delphi coil. No more need to solder or assemble an extension. Simple Plug-N-Play installation. Fits EFI Twin Cams.***
"Received my coil relocation kit yesterday and installed it last night. This is the easiest mod I've done to my 2009 Crossbones and the looks are absolutely killer. Thanks" -Ed
U.S. Patent D685,686 S

Customer Reviews
Must Get For Your Twin Cam Softail

Review by

Denny


This kit is awesome on my 2011 Heritage Classic, it makes it so you can get that clunky horn out of the way and put your coil there, looks slick. Get the 409 wires with the kit, they are just plain better (much better than the Screamin Eagle carbon core crap wires) because of the stranded wire core. This kit also makes it so you can remove that crappy "seat post", making way more room around the oil tank which gives you much easier access to clean things and reach in for any O2 sensor on the rear exhaust pipe, etc., also makes the oil cooler because more air can hit it the oil tank. This kit is a must.

Rated 4 for quality because I had to polish out some light markings on the powder coated pieces to make it look totally fresh. That's just me being a psycho though. (Posted on 1/10/2023)

Coil relocation

Review by

Flex


I have a 2010 fatboy, just did coil relocation and wow,how much better dose it look.. easy to install, good quality, great price.
I would highly recommend this to anyone interested.. (Posted on 1/4/2023)

Took longer to remove the fake seat post

Review by

Mln103


Definitely everything you need. Really makes the bike look custom next to stock. (Posted on 10/15/2022)

Dang that looks good!

Review by

Cool heat removal


immediate heat removal, added heat deflector to right side like touring to flow air around rear cylinder. (Posted on 5/9/2022)

Looks great!

Review by

2013 Fatboy


Easy to install, and looks awesome.
Removing the old coil bracket was a bit hard but got it out in the end, glad I did! (Posted on 4/24/2022)

Coil Relocation Kit

Review by

Kirk (Colorado Kid)


I have a 2012 Heritage. Did the coil relocation kit and love it. I also got the Black Pro Race cables and the horn relocation kit with this. Everything worked out great. Only issue that I had was here my Hwy bars under the neck the horn would not mount correctly so I had to make a extension piece to bring the horn down about a 1/2 inch. Other than that it was awesome. (Posted on 9/29/2021)

wow

Review by

Mike


This kit is awesome, it really cleaned up the look of my bike, I've also noticed a pick up in performance with the added cooling of the rear cylinder. I 100% recommend buying this kit!! (Posted on 7/26/2021)

Excellent

Review by

Eric


This is probably the single best cosmetic upgrade for the softails. Getting rid of the clutter around the oil tank with the centally located coil and 2 equal length wires goes a long way. The fact that air can actually circulate and reduce rear cylinder temps is a bonus. (Posted on 7/12/2021)

Looks way better!

Review by

Fatboy G


Horn and coil wires not running in front of jugs cleans up the look. Delete of seat post add a little custom touch. In my case, had to remove rear cylinder exhaust to remove post, 2011 fatboy lo. (Posted on 5/14/2021)

Simple install

Review by

Slick slim


It was straight forward and easy to install. I decided to remove the gas tank to tuck wires in the factory channel. Not hard by any means. Plus the clean look is great. I needed it moved for my hockey shift I installed but the coil was in the way. (Posted on 4/2/2021)

Great Experience

Review by

Bill


Ordered the coil relocation kit and tank lift for my wife's Heritage. Dealing with DK was a positive experience for sure. Parts quality was great and these guys have some great product install videos on You Tube if you need them. (Posted on 12/22/2020)

2017 Slim S SE 110

Review by

Manchild


I did this mod for 2 reasons. 1. to get more air to the rear cylinder. 2. Shorter plug wires = faster traveling spark with less OHMS resistance Which = more efficient power delivery. Install was very easy. Just follow the directions carefully. Took about 45 minutes and that included removing the coil bracket from the oil tank. I have noticed cooler engine temps by about 8* but I am still testing. This mod was one of my plans to cool down this 110 SE motor. Next is a Temp controlled Oil Cooler that DK carries. (Posted on 8/27/2020)

Perfect Upgrade & Easy Install

Review by

SS1


The install took about 30 minutes total. Cleans up the overall look and was an inexpensive upgrade. I reused the stock coil and I already had a cover so my purchase was just for the bracket which came powder coated in black. Very well made, solid construction and clear instructions. I have a Fatboy Lo and while the instructions were clear on how to remove the coil mounting bar that attached to the top of the transmission, I found it to be a struggle and not as easy as I thought. That does not affect the relocation time or the quality.
Excellent purchase for me and i am very happy. (Posted on 8/26/2020)

awesome product

Review by

Ed


Installed on my 16 Fatboy S. Wire extensions made it one of the easiest mods I've done. (Posted on 6/23/2020)

Coil relocation kit

Review by

Harleyjoe


I received the kit within a few days of ordering quality parts and good instructions. Installed relocation kit and the horn kit and plug wires. All went together well I would like to see the bolts for the coil a few threds longer but otherwise nice products and I will be ordering more from you. Also great customer service thanks Joe (Posted on 6/10/2020)

Easy install

Review by

Dustin D


I had seen the coil relocation kits awhile back, but finally decided that rather than just replace my plug wires, it was time to try this too. I found the install incredibly easy. Did not need to unhook the shift linkage at all to get the coil bracket out from behind the rear cylinder. After Install, The bike even seemed to start stronger. I'll attribute that to the old wires being 10 years old. Only thing I didn't get with mine was a new coil cover. I'm very happy with the way things have turned out and hoping to get the footage from the install uploaded to my youtube channel soon. (Posted on 5/30/2020)

Easy Install worth the effort to move

Review by

Craig


This is a nice kit, easy to install. If you don't like china made parts on your bike I suggest not buying the horn kit. Find a way to install something else, horn sounds like a rice burners horn.
I took a suggestion off this site for the plug wires and went with the Pro-wires defiantly the way to go with those. (Posted on 5/20/2020)

Looks Great

Review by

Sparky


Great craftsmanship, simple install, and really cleans the up my Springer..

I highly recommend installing it on any Softail, the oil tank just looks great lot of room, for the engine to circulate air around it. (Posted on 4/29/2020)

Coil kit relocation

Review by

Freddy


I like the look of the coil relocation, definitely happy about that, BUT! Not worth getting the horn! It's a poor quality horn. You can barely hear it and it sounds awful, kind of pointless to have & I'm actually embarrassed to use it. So save your money and get a different horn. (Posted on 4/29/2020)

Cool relocation kit

Review by

GMAN


Superior craftsmanship, simple install, and really cleans the Slim s line up..Looks like it was supposed to be that way from the motor company.. (Posted on 10/15/2019)

Coil relocation kit

Review by

Fonzi


I'm super impressed with DK custom, this coil relocation kit was very well made and included everything needed. Two thumbs up!! (Posted on 9/23/2019)

Great service after the sale!

Review by

ST


Somewhat of a challenge trying to use the Screamin' Eagle wires on an EFI FatBoy relocation. The wires were stretched TIGHT and the boots were under enough strain to bend them. DK swapped out the SE wires for 409 Race Pros which alleviated the stress. The 409s are only slightly longer but they have closer to a 90 degree boot whereas the SE's have a 45. Avoid the SE wires! (Posted on 8/26/2019)

Quality stuff!

Review by

Damagecase


Nice heavy steel bracket. Great powder coat. All hardware included. Wire harness extension is top notch. Definitely would recommend to anyone wanting to do coil relocation. (Posted on 8/9/2019)

Great service and a great product

Review by

Yrjan


After ordering the kit and new spark plugs, I recieved it within a few days. Easy to mount, and it looks great on the bike!
Recommend the coil relocation kit - and dkcustoms. Great product and a great company service! (Posted on 8/8/2019)

Easy to do .

Review by

Chief


Five star all day long (Posted on 7/13/2019)

Quality and quick

Review by

Gary


After ordering the coil relocation kit it came in the mail within a few days. Install took about 30 minutes because I suck at this kind of stuff. I think I'm good, but in reality I suck. At any rate, the install went well and removing the old coil mount bar really opened up the rear engine area. I LOVE THIS product and really do like the dk customs parts and the prices too. Keep up the good work DK custom people :) (Posted on 5/20/2019)

Great product

Review by

Sean


Removed seat post on Softail Springer classic, bought coil relocation kit and also horn kit, quick and easy, looks great!!! (Posted on 4/17/2019)

Great product

Review by

James


Great product also on my recent trip to a HD dealer they have coils installed this way now (Posted on 4/3/2019)
Product Tags
Use spaces to separate tags. Use single quotes (') for phrases.