Home

/

Passenger Comfort Foot Peg Extensions 1" Sportster ...More
PASSENGER COMFORT
FOOT PEG EXTENSIONS

For

Harley-Davidson Sportster Models

A Small Change Can
Make
A BIG Difference!


MADE in The USA!
by
DK Custom Products

FEATURES & SPECS:
Durable Black Powder Coat Finish
4 Cold Rolled DOM Steel Extensions

Includes 4 Grade 8 Bolts

FITS most Sportsters (incl. Nightsters, Irons, 48's)

Made in The USA!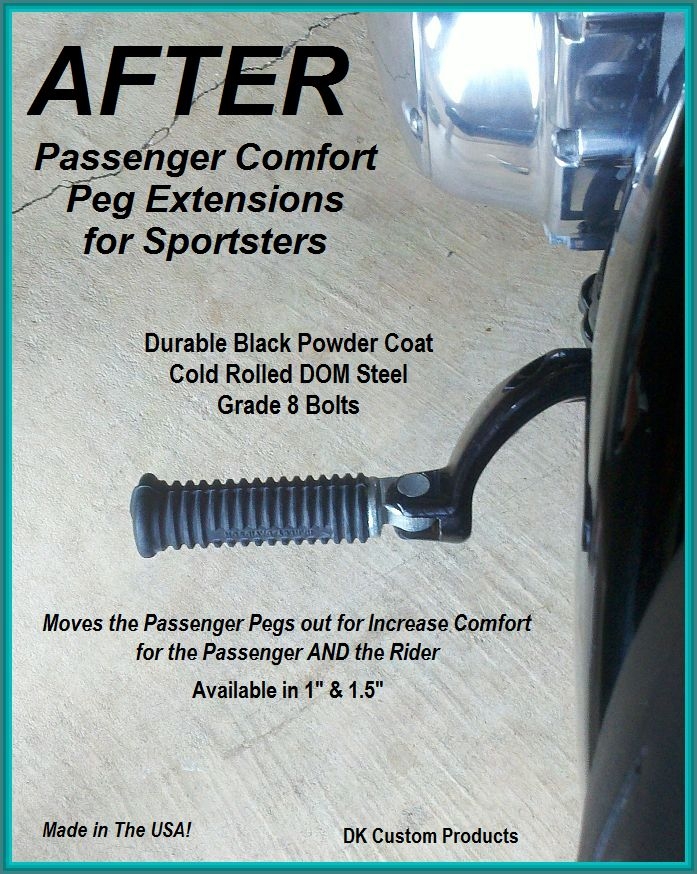 The stock foot peg position is uncomfortable for many passengers. These PC Peg Extensions give that little extra room that can make all the difference!
Riders end up much more comfortable also...when the passenger quits moving around looking for a comfortable position!
These Passenger Comfort Foot Peg extensions add an additional 1 Inch. Look at the BEFORE & AFTER Pics below.


Also will give the passenger peg extra room if running with a swingarm bag.


The Passenger Comfort Peg Extensions are also available in 1.5" width.

FITMENT NOTES:
Will NOT fit 2014 - Up Sportster on the right side.
The 1" Peg Extensions will fit almost every Sportster Model from the last 2 decades. Check the picture below to make sure your older Sportster is using the same passenger foot peg mount.
We also have 1.5" Peg Extensions. They will NOT fit on the right side on many Sportsters because it will push the foot peg mount into to the rear exhaust header. HOWEVER, it WILL fit most Sportsters that have after-market headers.

A small change can make a BIG Difference!!!
"Thank you! She's not constantly moving around bumping into me while we're riding." -Terry
Customer Reviews
Worked for what they are intended

Review by

Michael


Pushed my passenger foot pegs out farther so my wife can sit comfortably with a swingarm bag on my 2011 iron 883. Shipping was fast. (Posted on 11/3/2021)
Product Tags
Use spaces to separate tags. Use single quotes (') for phrases.