Home

/

Passenger Footpeg Support Kit for M8 Harley Softail Models
STEALTH PASSENGER PEG
MOUNTING KIT

SANO BLACK POWDER FINISH

Fits Milwaukee-Eight Softail Models

(2018-Up)
Now You Can Add Passenger Pegs, ANY Pegs You Like!

Made in The USA
by
DK Custom Products
FEATURES & SPECS:
Allows Use of Traditional HD Pegs for Your Passenger
Mounts made from American Cold Rolled Steel


3 7/8" long

Durable Black Powder Coat Finish

Fits Milwaukee-Eight Softail Models (2018-UP)

Includes needed Grade 8 Bolts & Peg Mounting Hardware

Compatible with all DK Custom Footpegs and most other footpegs that fit a Harley


E-Z INSTALL - E-Z to Adjust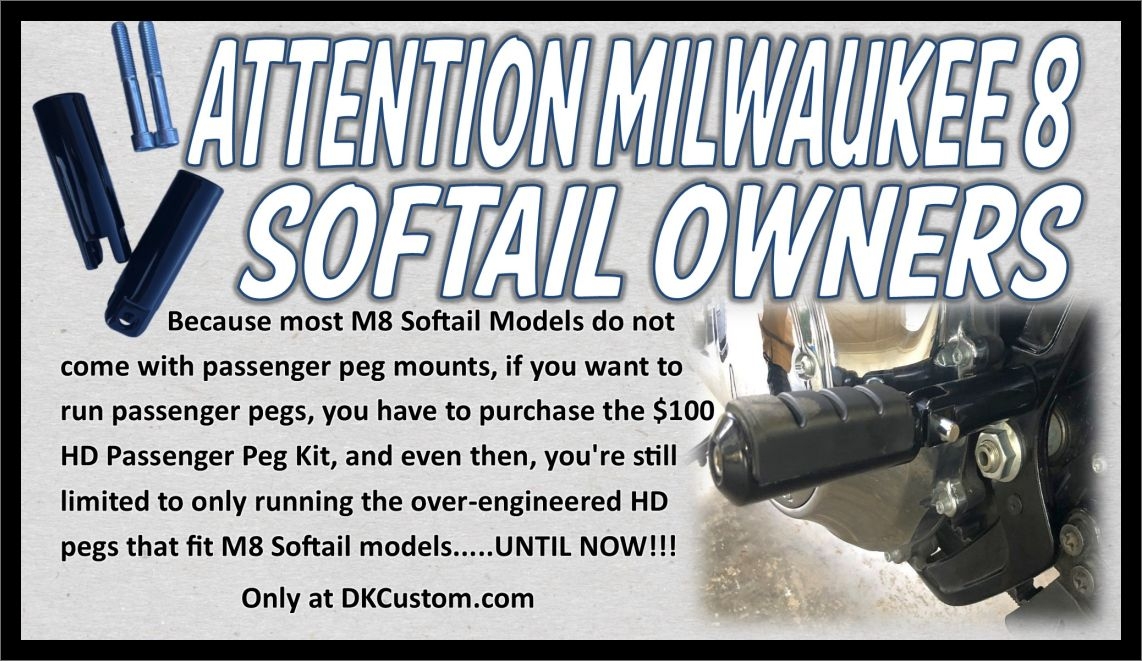 Because most M8 Softail Models do not come with passenger peg mounts, if you want to run passenger pegs, you have to purchase the $100 HD Passenger Peg Kit, and even then, you're still limited to only running the over-engineered HD pegs that fit M8 Softail models.....UNTIL NOW!!!
Want to add passenger pegs, and have Nearly Unlimited peg options on your M8 Softail? This is Your Answer!
These are sold in pairs of two.
Allows fitment of any traditional HD pegs you choose to use as passenger pegs!

These bolt right up to your frame, standing out 3 7/8" from the frame.
Fitment:
Fits 2018 up Softail Models (M8)
Works with traditional HD style footpegs, does Not work with M8 style footpegs.
No pegs are included with this kit. LINK to some pegs that will fit.


Now You Have Options!!!
"Thanks to this kit, the options for passenger pegs are now endless!" -Dustin
Customer Reviews
Exactly what a I needed.

Review by

RatFink


This support kit is perfect for mounting aftermarket passenger pegs on a Sport Glide. Harley made the stock mounts wider which requires you to buy HD products. The DK mount quality is as good or better than what came stock and the powder coating matched the frame perfectly. Thanks to DK for making such inovative products. Priced right and quick shipping. Outstanding! (Posted on 8/18/2021)

Great product

Review by

Pete


There are not many options for my 2018 Streetbob but with these I was able to use the pegs I wanted. Shipping is amazingly fast, I live on the opposite coast and these got here before 3 other things I ordered from other companies that are on my coast. Thanks DK (Posted on 12/28/2019)
Product Tags
Use spaces to separate tags. Use single quotes (') for phrases.