Home

/

TRIPLE TRAP CUSTOM FOOT PEGS ~ Black & Silver ...More Details
NEW TRIPLE TRAP RIDER FOOT PEGS
For

Sportsters-Dynas-Softails-V-Rod's
CAN BE USED AS HIGHWAY PEGS & PASSENGER FOOT RESTS TOO!

HAND-CRAFTED IN THE USA!
By
DK Custom Products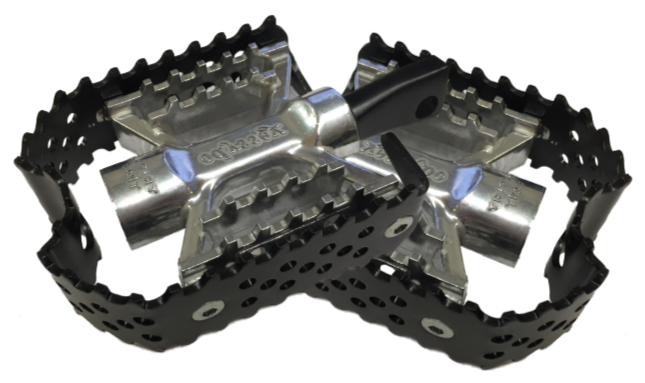 FEATURES & SPECS:
Fold-Up TRIPLE TRAP Pegs fit all stock Harley-Davidson and most custom control set-ups
American Cold Rolled Steel Clevis
Spin freely or fixed in place, or anywhere in between!
Adjustable set screw for different lateral angles
Black & Silver
Platform 4.5" x 3.5"
E-Z INSTALL
Optional NDW Style Gear Shift Peg
You can't get more comfortable Foot Pegs!
Also work perfectly as Highway Pegs & Passenger Pegs!
FITS ALL HARLEY-DAVIDSONS THAT USE A FEMALE CLEVIS MOUNTING POINT.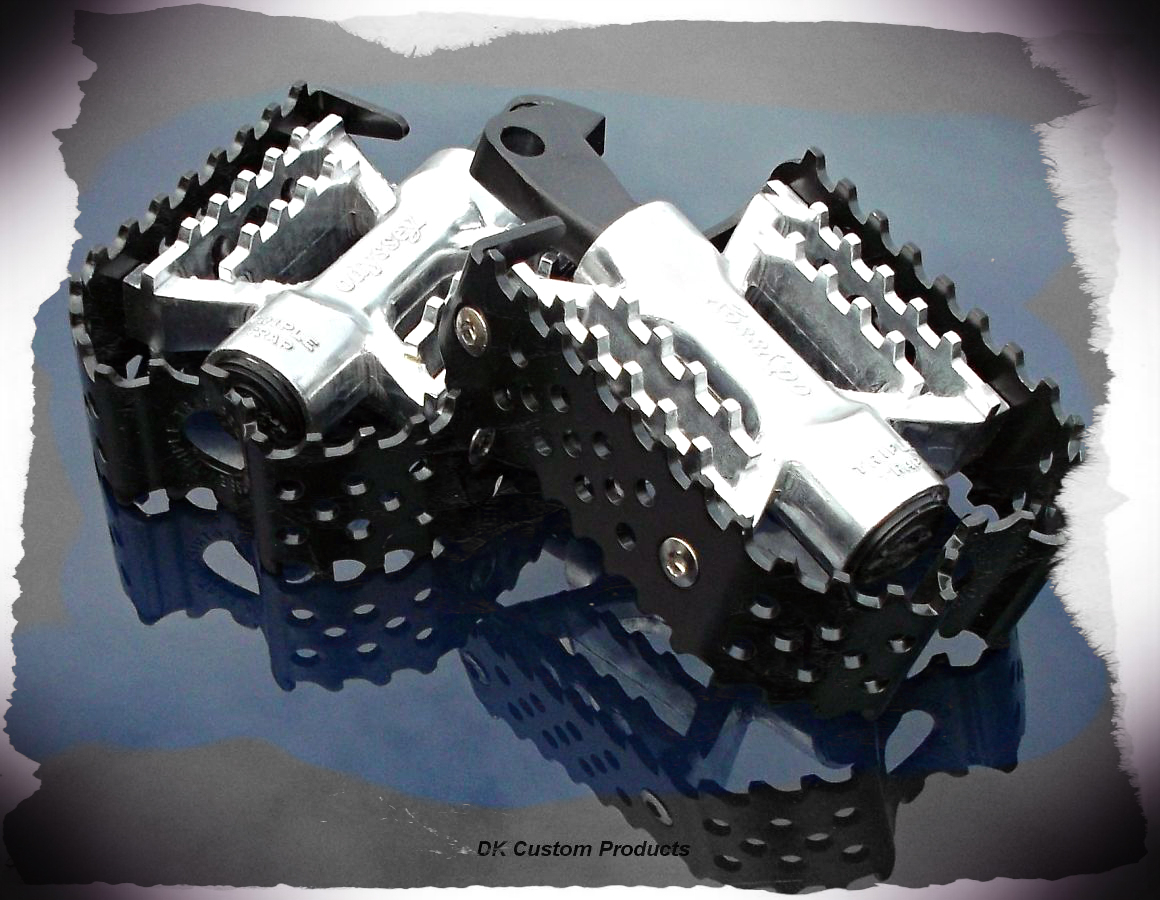 These TRIPLE TRAP Foot Pegs are going to Change the Look of Your Ride!

YOU will be amazed at how comfortable they are!

They can be adjusted to spin freely, adjusted to move only with firm pressure, or locked into the position you want.

Being able to move your feet around on a solid platform, and change the angle of the platform (while riding) is especially useful on those long rides!

Additionally, there is a grade 8 set screw that adjusts the lateral (angle from the ground) angle to what suits you best!

Look at all the pictures...you will be very pleased with how this alters the attitude of your ride!

Works equally well as rider mini-floorboards, highway mini-floorboards and passenger mini-floorboards!
These pegs started out as bicycle pedals and have some components that are made Outside the USA. The main structure of the peg, the axle and mounting tab, are made right here, by DK, with USA Steel. Each pedal is disassembled and then converted to a motorcycle peg with DK Custom parts.
Fitment Note: Will fit the M8 Softail when used with the Footpeg Adapter at this LINK
The NDW Gear Shift Peg is a great compliment to these pegs. You can see full details on the NDW Shift Peg HERE.
This is an EASY install - 5-10 minutes!

Make your ride Different AND more comfortable!!!
"Awesome pegs- even better than expected! No more slipping off the pegs @ 100 mph" -SilverBob22
Customer Reviews
Good shit!!!

Review by

Raul


Bought these for my wife's 48 sporty, she loves them, comfy as hell but I highly suggest you leave them a little loose so your foot can roll forward and back to shift easier. (Posted on 7/24/2019)

Great Pegs

Review by

Krazy


The Triple Trap Custom Foot Pegs are what I was lookin for due to a injury to my left foot & these make it easier for me to shift by just rockin my foot back & I miss 2nd a lot less now & makes it easier to keep my feet on them when ridin in the rain at highway speeds!!! (Posted on 6/5/2018)

The Pegs I was looking for!

Review by

Krazy


Well after trying a couple different sets of pegs I have found these to be what I was looking for due to a injury to my left foot I can now just rock my foot back to shift & miss 2nd gear a little less now & also helps me keep my feet on the pegs when it's raining! (Posted on 5/27/2018)

Good product

Review by

Anthony


Just installed the triple traps and they look good and feel good. Only thing for me personally is if they had an optional offset to move the peg forward another 1/2 to 3/4" it would fit perfect. Still a good product either way and I'll get used to them, just an initial thought. (Posted on 9/27/2017)
Product Tags
Use spaces to separate tags. Use single quotes (') for phrases.