Home

/

Black Heel Rest Bracket & Arm Kit - More Comfortable Foot Pegs Highway Peg
HEEL REST KIT
BLACK FINISH

Fits Forward Controls & Highway Pegs


DK Custom Products
FEATURES & SPECS:
Allows an extra set of pegs to be used on forward controls or highway pegs

Arms are 5 1/4" long


Wrinkle Black Powder Finish

One side is splined for 360 degree adjustability, other side is threaded 5/16-24

Includes all needed hardware

These have a silver Finish on bolts & nuts

(unlike in the photos that are back)



E-Z INSTALL- Adjustable angle for optimum comfort

Fits HARLEY-DAVIDSONS and other motorcycle that use male clevis pegs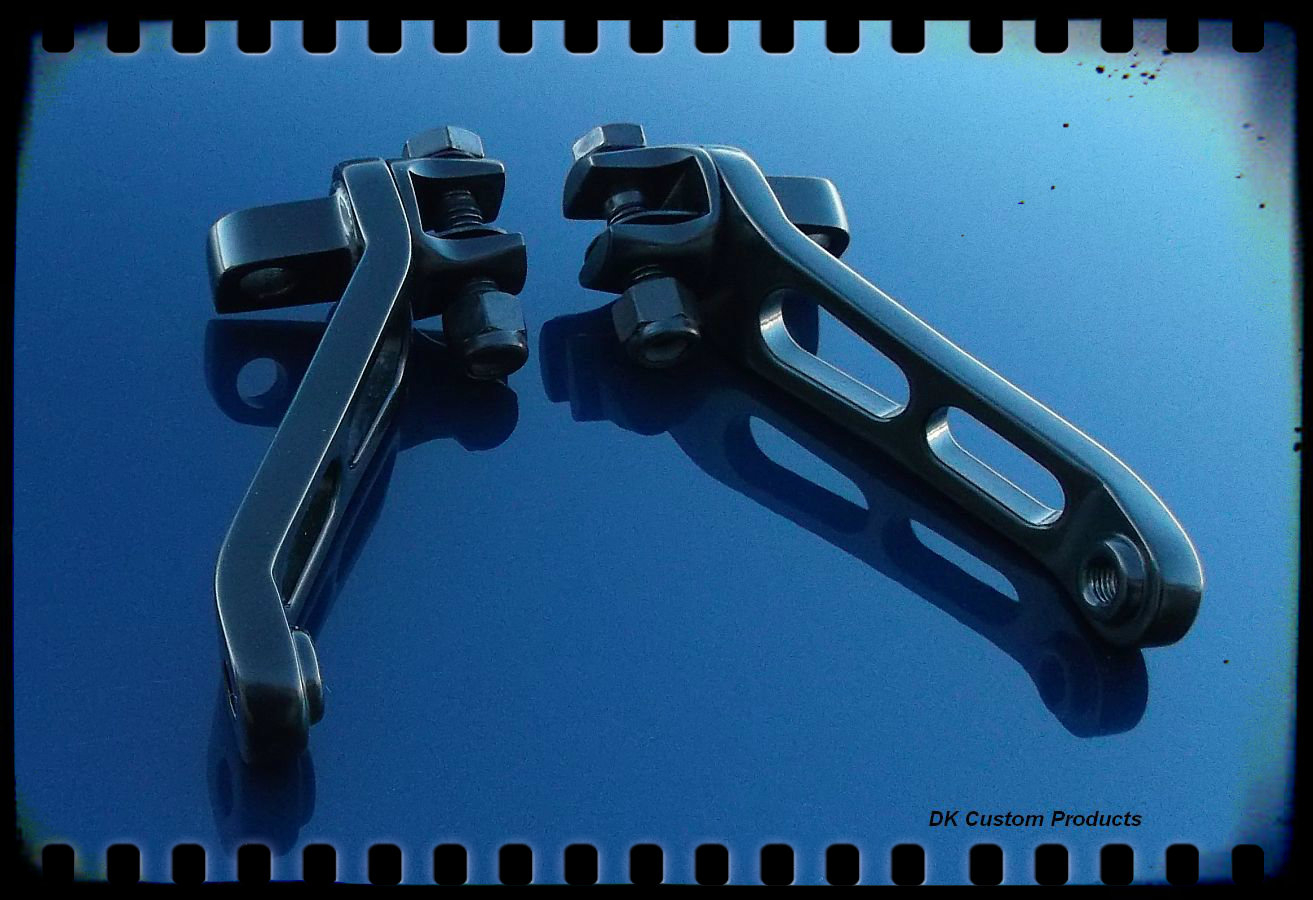 These are sold in pairs of two, left and right side.
The Heel Rest Bracket and Arm kit installs onto your existing foot peg mount, allowing you to continue using the foot peg you already have AND Add a second peg for a heel rest.
You can also rotate the arm 180 degrees and use your main peg for your heel and the second peg for your toes.
The second peg can be something as simple as a shifter peg, or any other peg that is mounted via a bolt. The arm is threaded in 5/16-24, which is the same thread as found on shifter pegs and most threaded foot pegs.
Works with forward controls and highway pegs. See pictures below for various possible configurations. (some are in chrome just to give an idea of possible configurations)

Also available in Chrome finish. Click HERE to see the Chrome Kit.

No pegs are included with this Kit.

These will Not fit the new style offset clevis that HD is using on 48's, 72's and some other newer models.

Make your ride Different AND more comfortable!!!
"Just wanted to pass along how much I liked your heel rests that I recently purchased. I wanted a heel rest, but did not want to have to change out my pegs.
Found yours on Google and ordered. Installed right away and they are perfect, a big improvement for comfort." -Chris
Product Tags
Use spaces to separate tags. Use single quotes (') for phrases.