Home

/

Premium Discrete Breather System Harley Sportster & Big Twin Evo
PREMIUM DISCRETE
& Flexible Breather System
For

Harley-Davidson

Sportster Models 1991- UP
Big Twin Evo's

DK Custom Products
FEATURES & SPECS:
Fits All Outlaw & Many Other Air Cleaner Systems
Banjo Fittings at Heads for a Clean Look
Allows Discrete Placement of the supplied filter
Chrome Washable Reuseable Filter - flexible placement

Includes 6 feet of hose for maximum flexibility in filter placement

All needed hardware (including a Brass & Black T-Connector ... use whichever one matches your Bike Best
Turn-Key System
Optional Stainless Steel Braided Hose
Optional Chrome Hose Clamp Covers
E-Z Install ~ Step-by-Step Instructions Included
In the picture below you can see one of many different places you can affix the filter. Please look at the additional pictures at the bottom to see how discrete this external breather system is.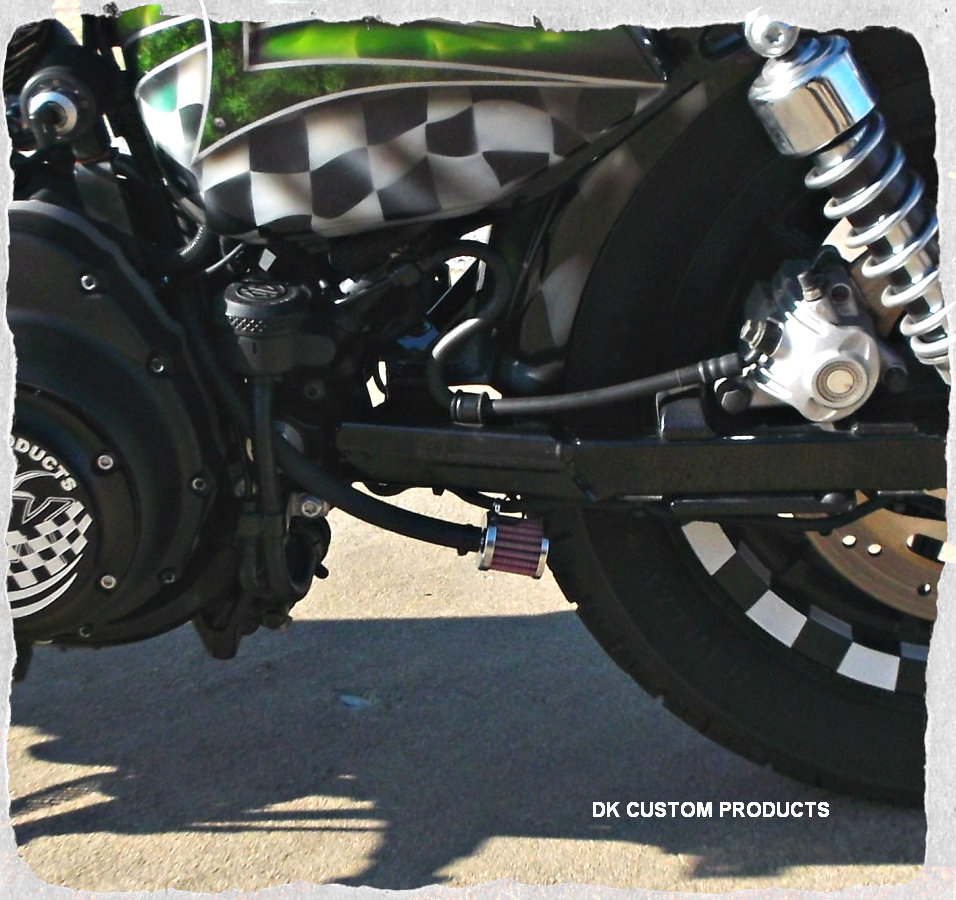 An external Breather Kit is preferred with any Air Cleaner System. This allows for only clean cool air to go into the air cleaner and engine, increasing performance and engine longevity. This kit will work with ALL OUTLAW HiFlow Air Cleaners and many other aftermarket Stage 1 Air Cleaners*.

The EPA has required Harley to route hot, dirty, oily crankcase air back into the air cleaner compromising the performance of your engine. This vents it without compromising the performance and longevity of your motor.
With this breather system you will experience a slight performance increase. This is because engines like Cold Dry air!
E-Z Install
Fits Most Sportsters 1991 & Up (except XR1200)
Fits Big Twin Evo's
FITMENT:
*Fits ALL Outlaw Air Cleaners. For aftermarket A/C's, If your air cleaner system utilzes a support bracket that is no thicker than 1/4", this will fit. If you A/C uses a backplate that bolts into the heads, this will not fit. You will need to use the Breather Bolts or standard Discrete System to allow you to route the hot oily air outside your combustion chambers.
Does not work with OEM, Screamin Eagle, most S&S, Arlen Ness, Roland Sands , etc... If you have questions about fitment, please email with a photo, link, or part number of the air cleaner on your bike.
There are Optional Stainless Steel Braided Hose (more details HERE) & Chrome Hose Clamp Covers (more details HERE) if you prefer that look to the Black Hose and plain hose clamps or zip ties.
In some of the pictures below the Optional SS Braided Hose is pictured, as well as the Chrome Hose Clamp Covers. These are not included in the kit unless you opt to include them when ordering.
Filter may, or may not, have a small loop in it. This does not affect the aesthetics or installation choices. The filter may also vary in size, color and shape.
Caution: Motorcycles modified with this DK Custom Products High-Performance part may not be legal for public highway use in some areas. The user shall determine suitability of this product for his or her use.

Customer Reviews
Glad I upgraded

Review by

Jeff R


I upgraded to the Premium Discrete Breather system and I am glad I did. It makes sense to put clean air into the motor. I was running a HD Heavy Breather and I swear that thing was siphoning oil out of the motor and into the intake. Unreal. I also went with an Outlaw 828 air filter. Running the stock ham can at least the front part of it. Very happy with the results. (Posted on 12/30/2020)

Money well spend

Review by

Greg


I previously had open breather bolts which looked good but allowed oil to blow out and onto the outside of my engine and bike. This kit with the banjo bolts and washable filter are sure to keep blow by oil contained. I routed the tubing around to left side of bike and secured under swingarm. It's quite unnoticeable with swingarm bag above it. (Posted on 4/3/2020)
Product Tags
Use spaces to separate tags. Use single quotes (') for phrases.