Home

/

XiED Fuel Enrichment for EFI Harley's Plug-n-Play..More Details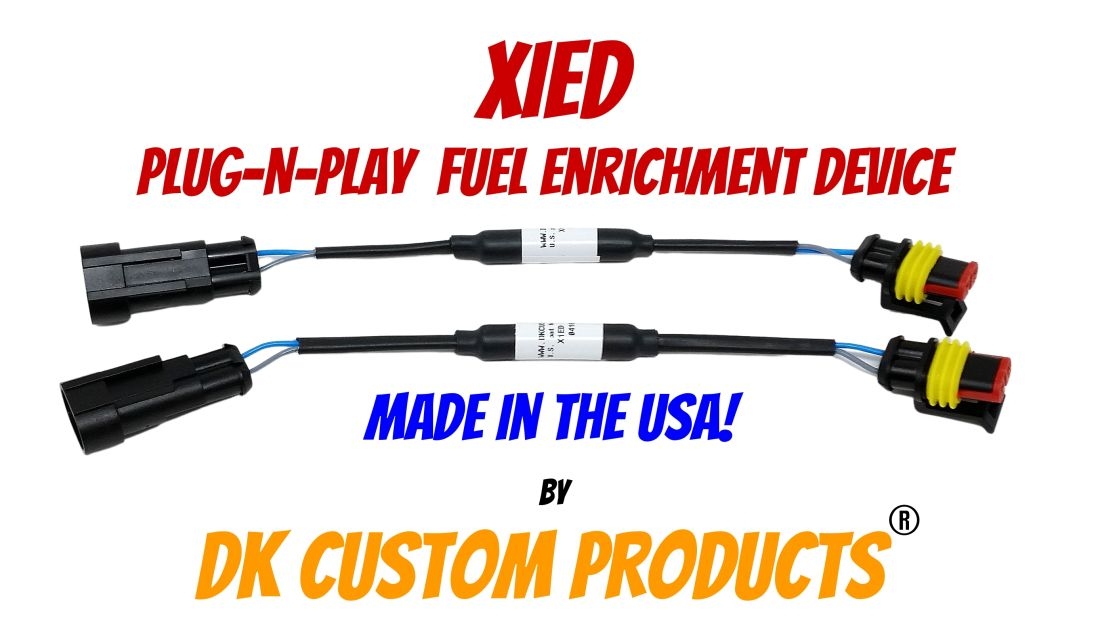 Dynamic Tuning For Harley-Davidson Motorcycles
Xtreme Inline Enrichment Device
(XiED)
A Cost Effective Alternative to an Aftermarket Tuner & Dyno Runs.
This Patented Device Dynamically Adjusts to Changes Made to Your Bike!
XiED's Will Cool Your Bike Down & Make it Run Better!
The Patented Plug-n-Play XiED richens the Air Fuel Ratio from 14.6:1 to 13.8:1 in closed loop mode.
Immediate Benefits:
Lower Engine Temperature

Lower Exhaust Temperature

Improved Throttle Response

Reduced Surging

Reduced Pinging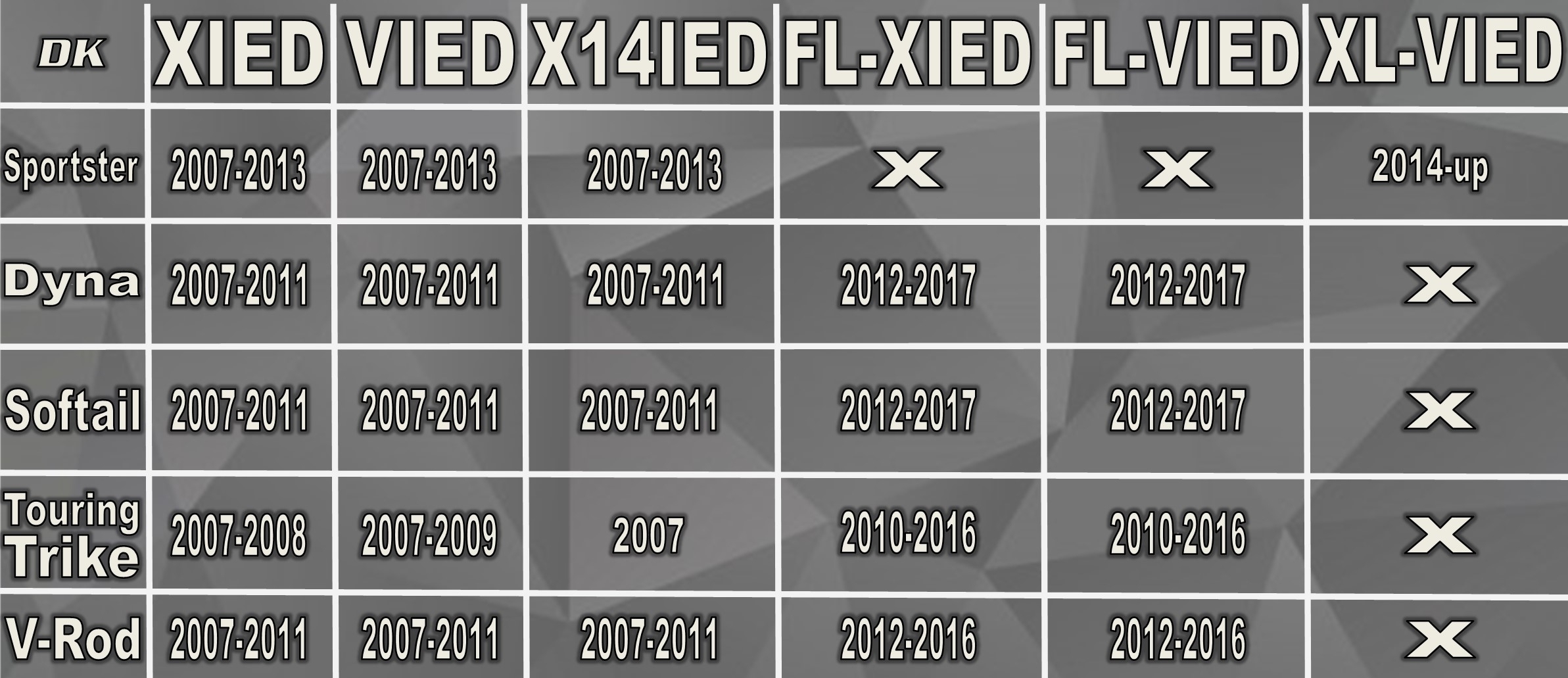 Fitment:
Touring 2007-2008
Softail 2007-2011
Dyna 2007-2011
Sportster 2007-2013

V-Rod 2007-2011
Recommended for: Stock Bikes, & Stage I Bikes (High Flow Intake & Exhaust) Will NOT Work with Stage II, III, or IV.
Simple install-comes with instructions. No tools required, installs in a few minutes.
2014-16/17 Model Note:
The FL-ViED-10 is the best product for all 2014-16 Twin Cam models.
2014-17 Sportsters use the XL-ViED-14.
They work inline with your existing H-D Bosch narrow band 02 sensors and Delphi ECM to richen the fuel mixtures, adding approximately 8% more fuel to the engine in closed loop mode.
There is an indirect richening of the open loop fuel mixtures through the learning mode, or adaptive fuel value action built into your ECM. This ensures the richer 13.8-12.5:1 AFR's are ALSO adjusted in heavy/full throttle operation.
LINK to All Dynamic Tuners
I installed Stage 1 slip-ons and air cleaner and then the XiED's. The low speed hesitation is gone and it is running 20-30 degrees cooler. Talk about a simple install-best $100 I've spent on my 2011 Fatboy! -Roger

"409" ignition wires provide continuous heat protection up to 600-degrees Fahrenheit
Customer Reviews
ZiED 2007 Sportster

Review by

Roger


07 Sportster 883, after market mufflers, stock air filter but slightly modified air intake delivery system. This is the second XiEd i've installed on two different Sporty's no problems. A little more power, spark plugs burn just the way they should. Like it.

(Posted on 12/30/2021)

Great Product

Review by

James


I put exhaust and a high-flow a/c on my 2008 xl200C. It was running very lean and popped even after a slight rev. After installing the XIED's, the bike is better than before, No pop, great throttle and the sound seems a little deeper. Cheaper than a tuner for a simple stage 1 upgrade. (Posted on 11/9/2021)

Instant fix

Review by

Steve


So as many out there, i got bigger louder pipes and after 30 min of riding the check engine appears and bike runs rough , starting the bike was also difficult, felt like the timing was off on an old car.
Did some research and stumbled onto these co2 adapters and figured i would give it a try since its rather inexpensive solution…Guess what? It worked like a charm.
I own a 2008 Electraglide. (Posted on 9/29/2021)

Works

Review by

Nick


I installed these on a 2010 FLSTN 96 cube Twin Cam. The difference is worth it, definitely have smoother power in low revs and the bike runs cooler. I don't think it 'pop's less on decelaration, but that's not why I got them. The only improvement would be sturdier heat resistant wrapping like on the stock O2 sensors. There's a small section of unshielded wire at the plug that is a weak spot. (Posted on 9/15/2021)

Well worth it

Review by

Total353


Fxdwg now running as it should,
Noticable improvement, recommended (Posted on 9/14/2021)

Excellent product

Review by

Oldman071192


08 sportster 1200 was running like crap without a tune, purchased these and the bike runs beautifully! Best money I've spent! They work as advertised. Buy them today I'd you have modified your exhaust and air systems. (Posted on 5/23/2021)

Instant Change!

Review by

edwin


After stage one breather with slip-ons I couldn't do a proper dyno tune with Cats, figured I would try these to enrichen fuel.
Instant difference: could even smell some fuel at startup, runs much cooler, breathes better, pulls stronger, and really can use 6th gear at 60 MPH! And no codes thrown.
Best $100.00 I have spent on 08 Road King. Highly reccomend. (Posted on 5/3/2021)

Easy install

Review by

Knightster


Great product, fast shipping and easy to install. I haven't noticed a difference yet but I read it takes a tank or two for the computer to recognize it. (Posted on 3/31/2021)

Fantastic

Review by

John


2009 Street Bob. W/out a doubt, instant difference in temperature. Much cooler, even in stop and go. Slight increase in throttle response. You'd be a fool not to use these. I'm very impressed. (Posted on 9/8/2020)

Runs Cooler and More Responsive!

Review by

Mitch


Installed on my 2009 Super Glide Custom. The bike runs much cooler and the acceleration is much smoother. I lost the decel. pop that I was getting in 3rd gear. I have the Arlen Ness Big Sucker and the Vance & Hines Slip On's. The bikes exhaust even sounds better too.It took about 2 gas tanks for the computer to recognize the change. (Posted on 8/21/2020)

Just what I needed for my Road King

Review by

Mac


I have a 2007 Road King 96" with a K&N A/C kit, Screamin' Eagle 3.5" Street Cannon slip ons. I have a 1.75" louvered baffle in the left and 2" louvered baffle in the right. After reading a lot about this I was skeptical but I must say install was super easy. Bike runs 30Deg cooler. Throttle response is improved. Low end torque is strong and smooth. I can climb a hill in 6th gear. I can still make the bike pop on decel but I have to be trying to do it, won't happen otherwise. Be patient. I had no noticable change for about 300mi, but now it seems to have caught up. Love my bike even more now. (Posted on 6/26/2020)

Way cheaper than a tuner.

Review by

Clint


So I bought these for my 07 roadking and they were just the magical zing my bike needed. Bought the bike with aftermarket exhaust already installed but still have stock air filter. Once bike was at operating temperature it was almost to hot to ride, a common harley problem. When I installed these I also installed an Arlen Ness big sucker intake kit, between these two items my bike really came alive and doesn't run nearly as hot as before. Throttle response is crisp and smooth, no chugging at low speeds and can actually ride in 6th gear now without having to down shift all the time. After 200 miles so far my brand new plugs have a good tan and not snow white from running lean. Thank you for these, they really helped and changed my bike for the better, best of all they didn't cost me $800($400 for a tuner and $400 for dyno time to tune it). These fit the bill perfectly for an all stock bike. Super fast shipping to boot, what more could you ask for? (Posted on 1/22/2020)

XIED

Review by

Coconutnotwell


I put this on my 2008 96"road king all stock 5000k miles, I only rode for 8 miles and could feel the defense much better more response ,more fun to ride, thank you (Posted on 9/5/2019)

Cooler, smoother on lower octane

Review by

08FLHTC


Very pleased with this upgrade! My 96ci Twin Cam is running cooler and I have switched to regular (87) octane without significant popping during deceleration. Little change in fuel economy and noticeably smoother running engine. If you have a 6 speed like me, increased responsiveness is really noticeable in sixth gear at lower RPM. What a simple improvement! (Posted on 7/24/2019)

No decel pop

Review by

Renzo


Have stage 1 on 07 nightster. Deceleration pop mostly gone. Acceleration has noticable improvement. Plug and play and saved me $300 over Fuel Pack. Highly recommend. (Posted on 7/22/2019)

Quick plug and play

Review by

BradX


Plugged directly in. Wires were short enough to hide excess. Only have 100 miles on them since I put them in. Almost no decel pop. (Posted on 5/7/2019)

XIEDs do what they're supposed to do

Review by

Roy


The XIEDs were really easy to install and made a big difference to the way the bike runs. It's noticeably cooler, smoother and the low speed surging is completely gone once the bike is warmed up. I wasn't looking for a "race tune", just something to make my bike run like it should've from the factory and the XIEDs do pretty much exactly that. (Posted on 4/15/2019)
Product Tags
Use spaces to separate tags. Use single quotes (') for phrases.