Home

/

Polished Aluminum Breather Bolts Harley Sportster & Evo
POLISHED ALUMINUM
BREATHER BOLTS

For

Harley-Davidson
Sportster Models 1991- UP
Big Twin Evo's

MADE in The USA!
DK Custom Products/Meadows Moto

FEATURES & SPECS:
Machined & Then Polished

Dual Screens with Filter

Set of Two
THREE SIZES TO FIT MOST ANY Air Cleaner Set-Up

No More Hoses

Made in The USA!
Mfg. Exclusively for DK Custom Products by Meadows Moto & Machine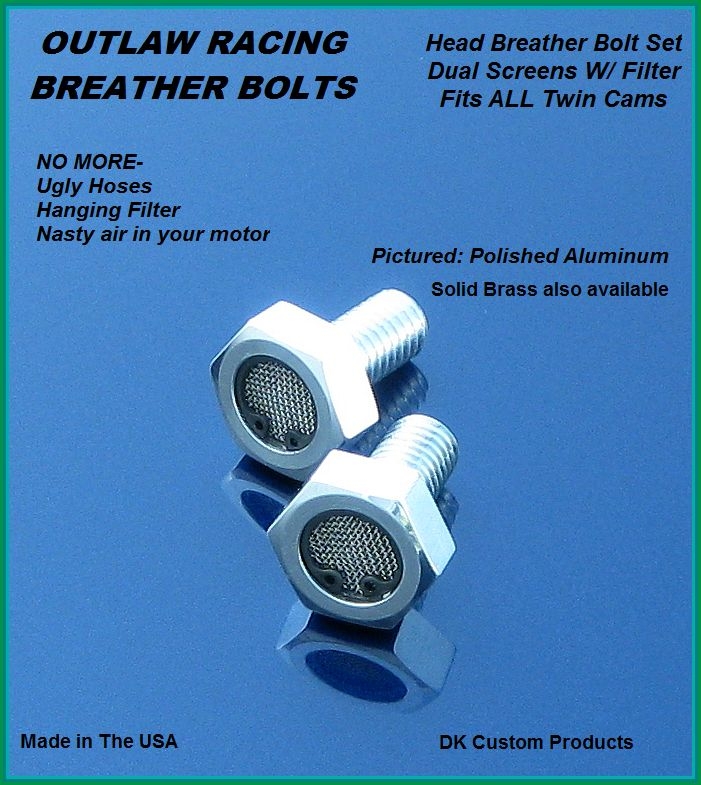 This pair of Polished Aluminum Breather Bolts will really clean up your ride! No more hoses or filter. The filter is built into the bolt.
The EPA has required Harley to route dirty, oily crankcase air back into the air cleaner compromising the performance of your engine. This vents it without compromising the performance or longevity of your motor.
Caution: Motorcycles modified with this DK Custom Products High-Performance part may not be legal for public highway use in some areas. The user shall determine suitability of this product for his or her use.

With the Outlaw Racing Breather Bolts you will experience a slight performance increase. This is because engines like Cold Dry air!

Also available in Brass and Anodized Black. These are a must-have when doing your Stage 1 upgrade.
E-Z Install
Fits All Sportsters 1991 & Up (except XR1200)
Fits Big Twin Evo's

Fitment Notes:
These Breathers come in 3 sizes-
3/4" thread length
1 3/8" thread length
2" thread length
The most popular size after-market support brackets are about 1/8" thick. The standard 3/4" Breather Bolt is used in this instance.
Other after-market air cleaners use support brackets/backplates that have more depth for the bolt to go through. (SE, Big Sucker, Joker) Depending on how deep the backplate is you will need either the 1 3/8" or the 2" Breather Bolts.
When ordering below you will be given an option on which length you want.

"These things are fantastic! Clean, simple & effective." -Brad

Customer Reviews
Excellent Product

Review by

AZMOTO883


Theses 2" breather bolts were exactly what my 2005 Sporty 883 needed. No mess, no clean up and no extra cost for a clean look. My engine even breathes a little better now. Another quality part and money well spent from the guys at DK Customs. - M.A. (Posted on 10/28/2022)

Outstanding

Review by

Carmen


Great looking. Easy install. Work great. Fit perfect. Fast delivery. Problem solved. Great website, easy to use.
(Posted on 8/19/2022)

Great Product

Review by

NEPfan


Excellent quality. Fit as advertised. Fast shipping. Helpful support. I wish every business I engage in was as good as these guys. Will continue to buy from DK first. (Posted on 11/14/2020)

Awesome product and service

Review by

Andy B


These are a brilliant piece of kit and take seconds to fit, the knowledge that my bike is now inhaling clean cool air and in turn performing better is invaluable.
Well done DK you guys are on another level (Posted on 3/25/2019)
Product Tags
Use spaces to separate tags. Use single quotes (') for phrases.