Home

/

Stealth Air Cleaner Support Bracket Harley-Davidson Sportster
STEALTH AIR CLEANER
SUPPORT BRACKET

For

Harley-Davidson
Sportster Models 1991-UP

MADE in The USA!
by
DK Custom Products
FEATURES & SPECS:
Durable Black Powder Coat Finish
Cold Rolled Steel

Precision CNC Cut & Formed

Includes Gasket
Made in The USA!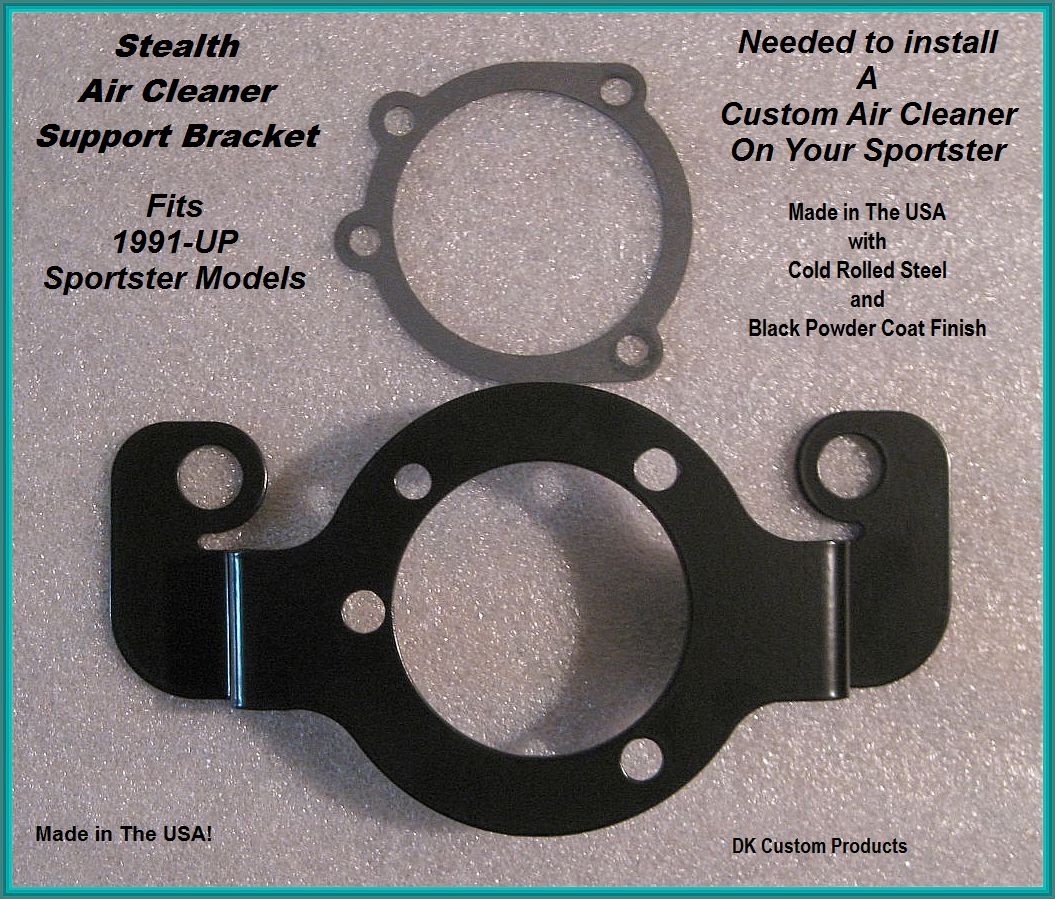 The Stealth Air Cleaner Support Bracket allows a custom air cleaner to be mounted on your Sportster.
The EPA has required Harley to route dirty, oily crankcase air back into the air cleaner compromising the performance of your engine.
With the Stealth Air Cleaner Support Bracket, not only can you install a custom air cleaner, you can improve the performance of your motor by venting the crankcase outside of the air cleaner.


"The black really makes my brass breathers pop, and I love that it is made in the USA!" -Lyle

Customer Reviews
Great Product

Review by

Tim


Was looking for an external breather and A/C system for my Sportster. I wasn't having much luck finding a complete system anywhere else. Thanks DK Custom for a great product!
(Posted on 3/13/2023)

Filter bracket! The base of operation!

Review by

Skip


I purchased the bracket so I could 'do my own' thing. None of the DK air filter kits grabbed my attention. So I ordered up the bracket, the filter and the breather bolts so I could build my own. The bracket is the hardest part to fabricate, so I grabbed a DK custom and it is perfect. The time and effort to fab would be more than the purchase price! Just get it! (Posted on 1/1/2023)

Usual DK quality

Review by

Shawn


Great product (Posted on 11/6/2022)

Easy

Review by

Dan


Simple and straight forward. Good quality. I received my order in two days. (Posted on 4/19/2021)

Can't complain

Review by

George


This thing has one job and one job only. It does that job. Bolts right on like nothing, even a monkey can do it. I know because I am a monkey and I done it. (Posted on 3/29/2021)

Good Bracket

Review by

Jeff R.


This is a fine bracket. I used the stock bracket that came with my 883. It worked. This bracket would work great. (Posted on 12/30/2020)

Great product

Review by

Wrench


Bolted up really easily as expected and the gloss black finish goes great with my OEM Gloss black tins (Posted on 9/15/2020)

Great Products

Review by

Ian G


I bought this along with the premium external breather system and a Four Stage Billet Catch Can

It was shipped to Scotland and arrived ahead of schedule.

Great service all round.

Thanks to all
(Posted on 8/20/2020)

Solid

Review by

Co


Reviewing a piece of metal is a bit odd but the solidness of this bracket gives me a piece of mind of placing DK customs air filter. remember to use those washers! (Posted on 5/22/2020)

Heavy Duty

Review by

Paul


Appears to be a very well made and sturdy bracket. Like others, the spacing between the bracket and head needed a washer. However, I also purchased the catch can kit and just used two of the washers from the new breather bolts between the bracket and head, Problem solved. Went on perfectly, Looks awesome also as its visible behind the 636v air cleaner. (Posted on 4/26/2020)

Work of art

Review by

Fergie


Second one I have bought, my first one broke I believe because I have a mikuni carb with spacer plate and I had made spacer washers and they needed to be slightly thicker to let the carb move about a bit. Probably put too much stress on the bracket ear. Live to learn (Posted on 10/7/2019)

USA made!!

Review by

Zeke


Well made sturdy bracket. It took a thick washer between bracket and head to mate up correctly, luckily I had a couple in my stash. (Posted on 7/24/2019)

Good product

Review by

Ted


The bracket is well build & sturdy , hope the paint stay on longer

It's powdercoat, so it will last! - DK Team (Posted on 6/25/2019)

Nice bracket

Review by

Nick


Worked good. Just needed washers for back spacing. (Posted on 4/30/2019)

Very cleanly built

Review by

Fergus


A very nicely built and finished component that does its job well. I paired mine with the oil catch can kit. When I bolted it up there was a 3/16th gap behind the bracket and head breather bolt contact point. I looked around the net for a fix but could find nothing. I whipped up a couple of thick aluminum washers on my lathe and all was good. (Posted on 10/8/2018)
Product Tags
Use spaces to separate tags. Use single quotes (') for phrases.