Home

/

2 Inch Handlebar Riser Extensions Harley-Davidson ..More Details
ONE PAIR of 2 inch

STEALTH RISER EXTENSIONS

For

Harley-Davidson

Increase the Height of your Handlebars by 2 inches
~ Increase Comfort ~ Improved Look ~

MADE in The USA!
by
DK Custom Products

FEATURES & SPECS:
Durable Black Powder Coat Finish
Cold Rolled DOM Steel Risers

Includes Grade 8 Bolts 4.5" x 1/2" (other lengths available-see below)

FITS most Sportster, many Dyna and Softail Models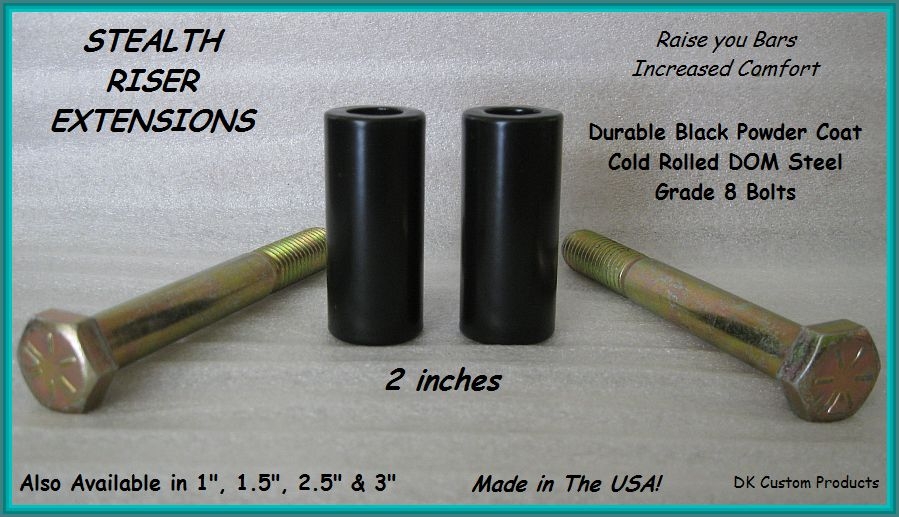 Raising your bars and tilting them back slightly can relieve the strain in your shoulders and back from the forward leaning position.
Whether you're wanting a taller look, needing more clearance, or wanting more comfort in the shoulders and back, these Stealth Riser Extensions are Easy & Economical!
These STEALTH RISER EXTENSIONS will raise your handlebars up an additional 2 Inches.


They are .890 in diameter, so they will fit most Sportsters & Many Dyna's and Softail's.


Simply measure the outside diameter of the riser below your handlebar clamp, if it is 7/8" (or a fraction larger) these will fit.
The Stealth Riser Extensions are also available in 1", 1.5", 2.5" and 3" heights.
FITMENT NOTES:

The 2" Stealth Riser Extensions come with 4.5" long Grade 8 Bolts
NOTE: If you have a 2016-Up Roadster, it has zero rise risers and will need shorter bolts. This is something you will need to get at your local hardware store.
Most stock bikes can be raised at least 1.5" without needing to replace cables, brake lines & wiring...HOWEVER some can go higher. Check how much slack you have.


A small change can make a BIG Difference!!!
Customer Reviews
Perfect fit.

Review by

Alex


Easy install. (Posted on 4/8/2023)

Perfect fit

Review by

Alex


Easy install, comes with strong bolts that will make sure it won't break off. (Posted on 4/8/2023)

good item

Review by

yaad


the riser was great and is very simple to install.
(Posted on 12/12/2022)

Great Quality

Review by

Iron883Rider


Put the 2" risers on my 2016 Harley Iron 883.....made a huge difference in my riding position....not leaned over as much now....back feels better. Would recommend the 2 " risers as I had to take the front brake cable to its final end point in order to fit the risers properly. I think the 3" risers would entail changing at least the front brake cable. The quality of the risers and the included Bolts were genuine. (Posted on 4/17/2022)

It works

Review by

Blue Belt Vic


I just put on 2-inch risers by DK Customs.
It comes with bolts but need shorter ones for my HD Roadster. Home Depot $2 bucks. Pick up some extra washers too.
Also needed to reroute the front brake cable.
Everything else fit just fine and the risers create a more comfortable ride. Good deal! (Posted on 11/3/2021)

Just right for '20 Roadster

Review by

Ian


I didn't like the forward lean. I wanted a long distance riding standard upright position. The 2" extension and using bars from a 48 was the ticket. You will need. 3 1/2" bolts with two washers under each bolt head.
I also needed 4" longer brake lines, clutch and throttle cables . Could only get the clutch and throttle cable specially made by Barnett clutches cuz no one made it after market. (Posted on 5/10/2021)

Quality

Review by

Pablo


I thought id give them a try before I changed out my bars and im glad i did they gave me just the right hight and make the bike look good also the ride is awesome I don't feel like im leaning over definitely would recommend this product they are very easy to install (Posted on 4/20/2021)

Awesome

Review by

TeamX


Added these more so I could raise my Paughco Custom Fat Bob tank to run along the frame rail....

Amazed at the quality and 2" rise required 0 wire/cable extensions....

Added 1.5" Tank lifts and under mounted mirrors, rewire and now have a clean motor area. (Posted on 9/6/2020)

2 inch riser extensions

Review by

Lee


Perfect rise! I don't have to lean as far forward on my bike! Did not have to replace any cables or brake lines! Excellent product, good price, Great customer service! Will be shopping there again! (Posted on 5/27/2020)

Just what I needed

Review by

Justin


I was running biltwell H bars on my sporty. I'm 6'3 and found they had me leaned over to much for comfort. I had these tossed in with another order I placed. Once they were on the bars finally fit me. My back was straitened up and I was able to get a good extra hour or so before I needed a brake. Now I only stopped when my butt was sore instead of having to stop to stretch my back. (Posted on 10/7/2017)
Product Tags
Use spaces to separate tags. Use single quotes (') for phrases.