Home

/

2 Inch Stealth Handlebar Riser Extensions For Harley Sportster Forty Eight 48
ONE PAIR of 2 Inch

STEALTH RISER EXTENSIONS

For

Harley-Davidson
Sportster 48

Increase the Height of your Handlebars by 2 inches
~ Increase Comfort ~ Improved Look ~

MADE in The USA!
by
DK Custom Products

FEATURES & SPECS:
Durable Black Powder Coat Finish
Option for machined Aluminum Finish (no powder coat)
CNC-Machined Billet Aluminum

Risers are 2" Tall (1" Risers also available)

Includes Grade 8 Bolts

FITS Sportster 48 Models with Integral Top Tree

Factory 1" Diameter Clamping Area
Sold in Pairs
Easy Installation
Made in The USA!
Raising your bars also angles them back slightly & can relieve the strain in your shoulders and back from the forward leaning position.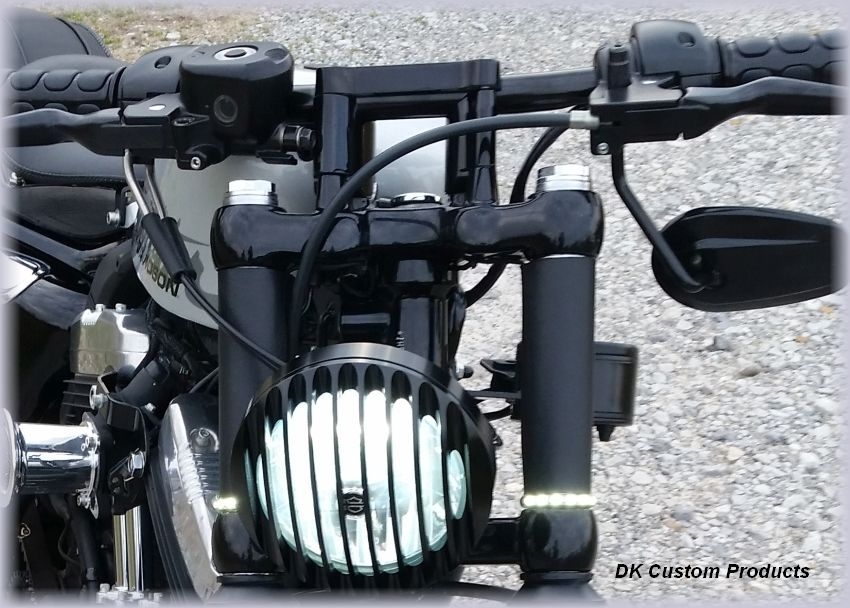 Whether you're wanting a taller look, needing more clearance, or wanting more comfort in the shoulders and back, these Stealth Riser Extensions are Easy & Economical!
These STEALTH RISER EXTENSIONS will raise your handlebars up an additional 2 Inches.

Click HERE for the 1" Riser Extensions for the 48
Click HERE for Riser Extensions for other Harley Models
They are CNC Machined, by DK Custom Products, from 6061 Billet Aluminum. They are then Powder Coated Black.
You can also get them in an Aluminum machine finish. With a bit of polishing you can have a mirror finish.
FITMENT NOTES:

Fits All Sportster Forty-Eight Models
Works with factory Top Clamp AND aftermarket Top Clamp when doing a Speedometer Relocation.
Most bikes will NOT need to change any cables or wires to install these Risers with the factory bars. Please check the slack that you have in your cables and wires before ordering!

A small change can make a BIG Difference!!!
"I needed something to raise my cafe bars so they would clear my fuel tank. These were easy to install and did the job. Thank you." -Drew
Customer Reviews
Great machine work

Review by

Longplay


These met the description to a TEE...
I got the machined aluminum finished version for my bike. The only thing about them that takes them from a 5 to a 4 is that if you do not want them powder coated, they also do NOT de-burr the part. An easy fix with a little 600 grit paper, but since they do seem to de-burr these for the power coated pieces it appears from the photos, they should also de-burr these before going out.

DK customs is top of class to deal with. Must say, I have been trying to source these ODD fitting items for quite some time. The twisted angle these sit with on these specific model bikes makes it such that NO other risers will fit. Thanks DK for your pointing me in this direction!! Much appreciated. (Posted on 5/5/2020)

Perfect Fit

Review by

Chris


Perfect fit for my 48. Just what I needed to bring the bars up a bit. Paired with the DK speedo relocation. (Posted on 4/28/2020)

Perfect

Review by

Trent


Wanted to move my drag bars up a bit on my Sportster 48. These were perfect!

(Posted on 3/3/2020)
Product Tags
Use spaces to separate tags. Use single quotes (') for phrases.