Home

/

Complete Breather System Harley Sportster & Big Twin Evo
Complete Breather System
For

Harley-Davidson

Sportster Models 1991- UP
Big Twin Evo's

DK Custom Products
FEATURES & SPECS:
Chrome Breather Bolts and Banjo Fittings
Washable Reuseable Filter
All needed hardware
Turn-Key System
A Breather Kit is needed to mount many aftermarket Intakes & Air Cleaners. This kit will work with the OUTLAW HiFlow 587 Air Cleaner and many other aftermarket Stage 1 Air Cleaners*.
The EPA has required Harley to route hot, dirty, oily crankcase air back into the air cleaner compromising the performance of your engine. This vents it without compromising the performance and longevity of your motor.
With this breather system you will experience a slight performance increase. This is because engines like Cold Dry air!
E-Z Install
Fits All Sportsters 1991 & Up (except XR1200)
Fits Big Twin Evo's
*Will work with the standard 1/8" thick support bracket, and some others that are up to 3/8" thick.
These can be routed for the filter to be above or below the air cleaner (above is better so that the oil will drain back into the engine). You can also use a hose to route directly to the ground.
Caution: Motorcycles modified with this DK Custom Products High-Performance part may not be legal for public highway use in some areas. The user shall determine suitability of this product for his or her use.

Technical Info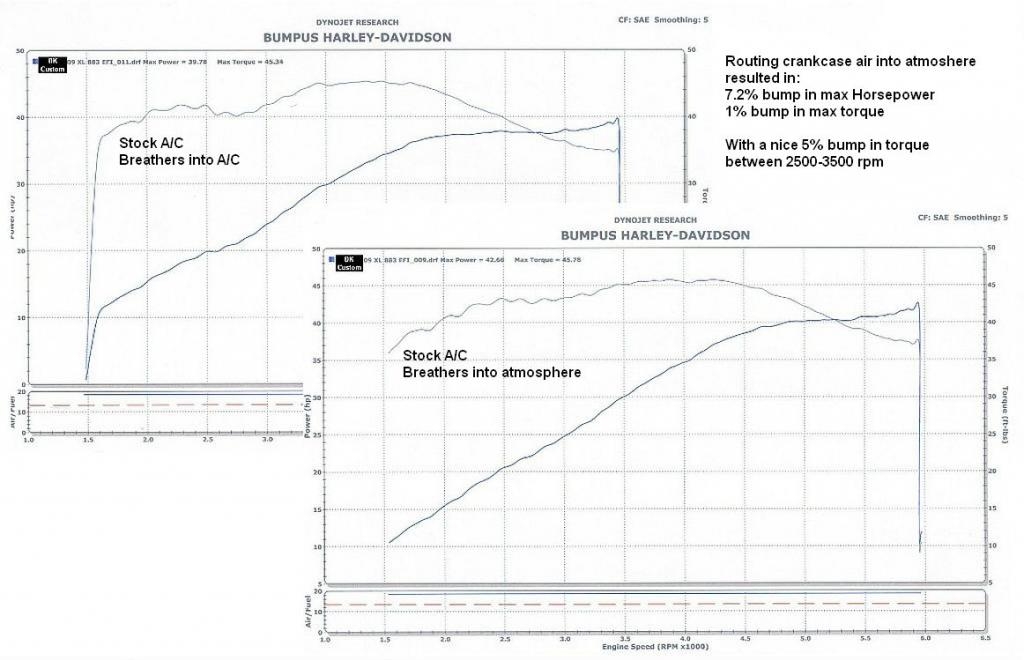 Customer Reviews
Great mod for 15 min wrenching

Review by

Artem


Easy install. I didn't want to drill any holes with DIY EBS so I've just swapped my AN Big Sucker with a backing plate from DK 606 AC and installed this kit. Easy and works as it should (Posted on 4/25/2021)

Great Breather System!!

Review by

CoopDAWg


I love this breather system! It looks awesome & does exactly what it's made to do! Before I had the bolts with the screen & filter in the head of them and they put a mist of oil on my engine and my air cleaner. This system looks so good and I don't have to wipe the engine off after every few hours of riding. Thank you very much DK Custom for the great products, fast shipping, and great customer service. I will continue to be a loyal customer! I would post pictures of it here if I could, I will see if I can share them to your Facebook page. (Posted on 1/5/2021)

Great product!

Review by

Artur Candeias


Great quality product! Bike run smoothly and fits great on my 2018 Iron 883! I definitely recommend it!!! (Posted on 7/14/2020)

Works great

Review by

SportsterKurt


Easy install. Looks great and works great also. Currently on an 02 XL1200C (Posted on 7/8/2020)

Fit & finish is great

Review by

Zeke


Works great on my 06 1200L, tight fit on the backing plate tho so you have to watch for that. (Posted on 8/6/2019)

Good concept, could improve quality and options

Review by

Jesus


I bought my external breeding system about 200 miles ago and after being exposed to water once the metal around the filter started to rust. Also wished they had the hoses in more colors like red to further customize my Harley Forty Eight. I use the internal breeding system with the Rolands Sand Design clear intake so I had to figure out how to space the breeding system and how to cover the holes in the intake that were meant to receive the hot air back which I was able to cover with some rubber tape I had around. I do recommend this product of keeping your engine clean and making your bike look more custom is important to you. (Posted on 7/21/2019)

Clean that engine up! It's worth it!

Review by

Otto


The science behind this product makes sense to me. I have had my Iron 883 when it had only 5 miles on the odometer and I have put the other 8K on it in a few months. When I removed my A/C to clean out the supposd build up of oil spewing from the motor back into the A/C I was skeptical to find anything at all. But alas, there was a ton of oil slick all over the A/C parts and in the throttle body. I couldn't believe it. The install was a breeze and it looks pretty slick installed. Could I feel the difference? Not really… but I'm more than sure it is improving the driving conditions of the motor having only cold clean air rushing through instead of regurgitated oil dookie fumes clogging things up. But that's just like, my opinion, man. (Posted on 12/9/2017)
Product Tags
Use spaces to separate tags. Use single quotes (') for phrases.