Interview with Brad Lingenfelter
Brad
Information:
Hometown: Memphis TN
Bike: 09 Nightster 16 Road King

How long have you been riding motorcycles?
Ever since I can remember I've been riding anything with two wheels. I grew up on the dirt with dreams of becoming the next Jeremy McGrath, but that was obviously not my calling. I dappled in motocross into my late 20's when it became apparent that wasting a weekend at a track for a few 5-lap motos with hopes of getting a plastic trophy wasn't worth the risk. My job is predicated on passing a medical evaluation every year so I decided to get out of motocross. However, I needed something to do with my time off, and that's when it came to me! I remembered my first Harley experience in which I blame my Aunt Tammy for. At the age of 14 she gave me the keys to her Sportster 883 for an afternoon joyride. I didn't realize it then, but that exhaust burn I proudly wear on my right calf would be the inspiration of how I got to where I am today.

Where are you from and where do you currently reside?
I've been EVERYWHERE man but have made Memphis, TN home


What Bike(s) do you ride currently?
09 Nightster
16 Road King
2 Chinese pit bikes (Apollo RFZ 125's) to piss off the neighbors
What occupation supports your motorcycle habit?
Airline Pilot – Boeing 757 Captain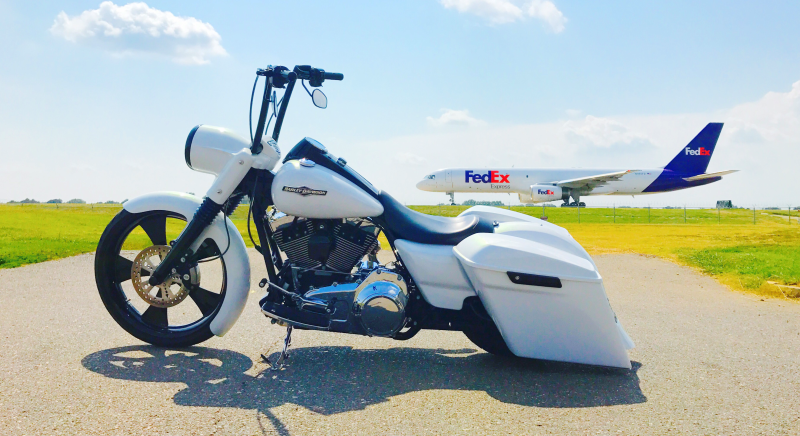 All-time favorite bike you have owned?
I'm not a parent (yet) but feel that's like asking one who their favorite child is. I'm going to go on the record of saying I love them all and each one is special in their own way

What was your first bike?
Dirt: Yamaha IT-200
Street: 09 Nightster that I will NEVER sell
How many bikes have you owned?
12
Do you name your motorcycles?
LOL NO!!! My fiancé thinks I should since she names her vehicles. She currently drives "Dale" so I think I'll pass on naming my rides.
How has your life changed from motorcycles?
I have a lot of free time and need something to do with it. When the weather sucks, I like to build them for when the weather is nice so I can ride them! Both are a form of therapy where I can just get lost in the moment.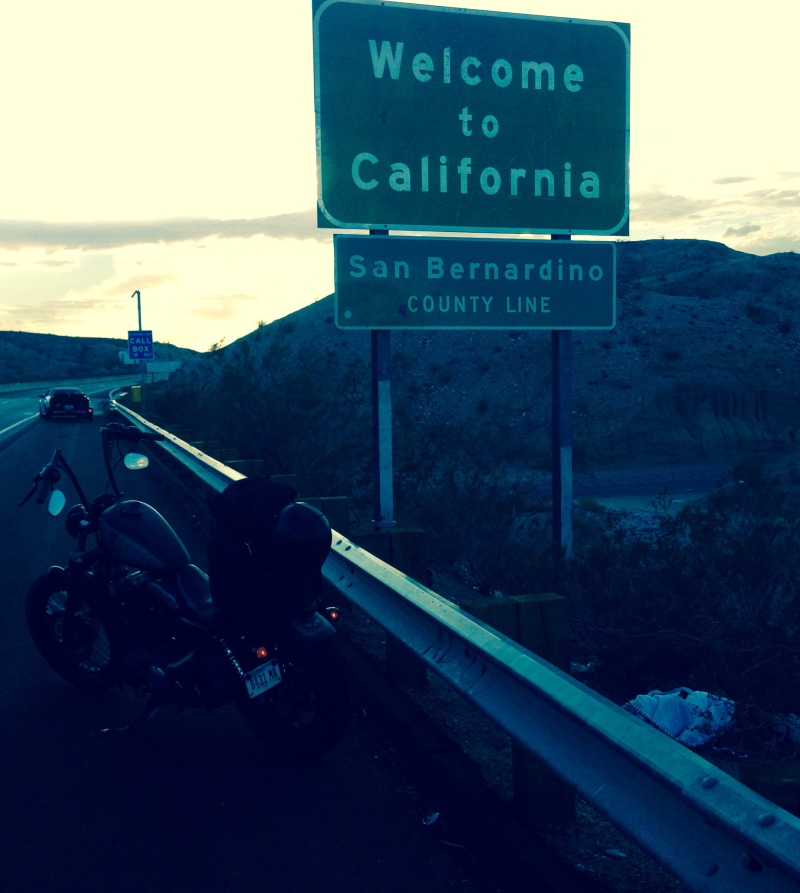 Where/what is your dream motorcycle adventure?
It doesn't matter if I'm headed to the gym in shorts and a tank or loaded up and headed to the Left Coast, it's always an adventure.
What is your best memory ever regarding Motorcycles? Worst?
BEST: My Dad and I rode out to the black hills summer of 2011. On our way back we stopped for gas in Greely Colorado along with a group of "Bikers" on their Geezer Glides. One of them said "Hey, nice Sportster! My sister has one." I was like "Oh yeah? How far has your badass gone today? Oh only 100 miles…. Yeah we are pushing 500 and counting. I don't have a windshield, I don't have a radio, I don't even have bags! AND I don't have to go to the dealership to get my oil changed BECAUSE I BUILT THIS BIKE! AND I don't even claim to be a biker badass so have a nice day!" The look on that guys face was PRICELESS! Now my dad was like "Brad SHUT UP" the entire time but my instincts told me this guy was just a poser.
WORST: Leaving Huntsville, AL on my brand new Road King build and looking down to my right seeing my freshly painted saddlebag sliding off into the median at 80 mph…. Being the optimist that I am, this was the opportunity that lead me to take up painting. Apparently Harley updated their mounting hardware the following year… I can see why
What do you like about riding a motorcycle?
There's nothing like it! There is no better way to experience the world in which we live.
How many miles do you typically ride in a year?
5000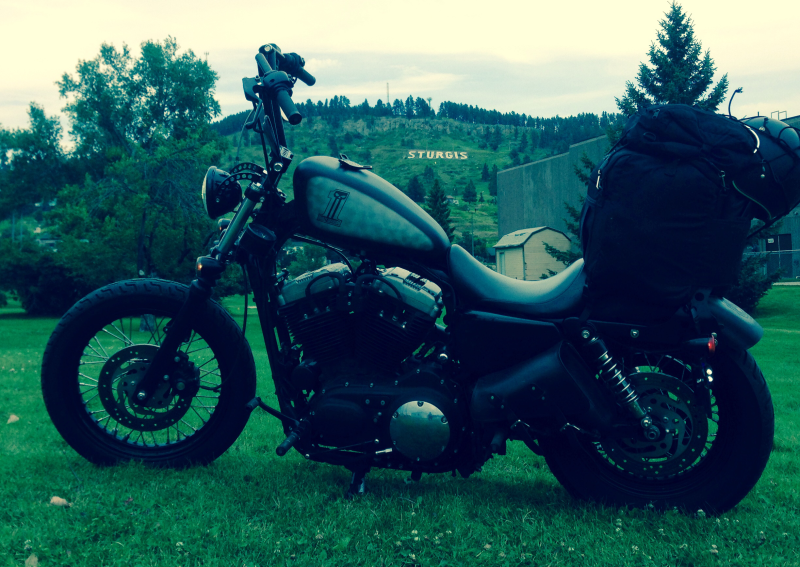 Do you prefer riding by yourself or in a group?
I tend to think of myself as a one-man wolf pack when it comes to riding. I'm just not into the whole group ride or even waving to other bikes in passing. However, if you're my Dad or one of my best friends, then I'm up for a group ride. In fact, my Nightster has become a loaner bike for my out of town friends who are typically pilots from other airlines who find themselves on a Memphis layover. That bike has seen countless transformations over the years…. When I built my Road King, I chopped it up and made it a hard tail thanks to DK Customs, but I ended up having to transform it into a chopped but rideable rendition of my vision just incase I get the "hey I'm in town" call. I even have a way of mounting a sissy bar and strapping a bag to it incase we end leaving town for a few days.
Then there's the "fiancé configuration" for my Road King when My girl Cynthia wants to go for a ride.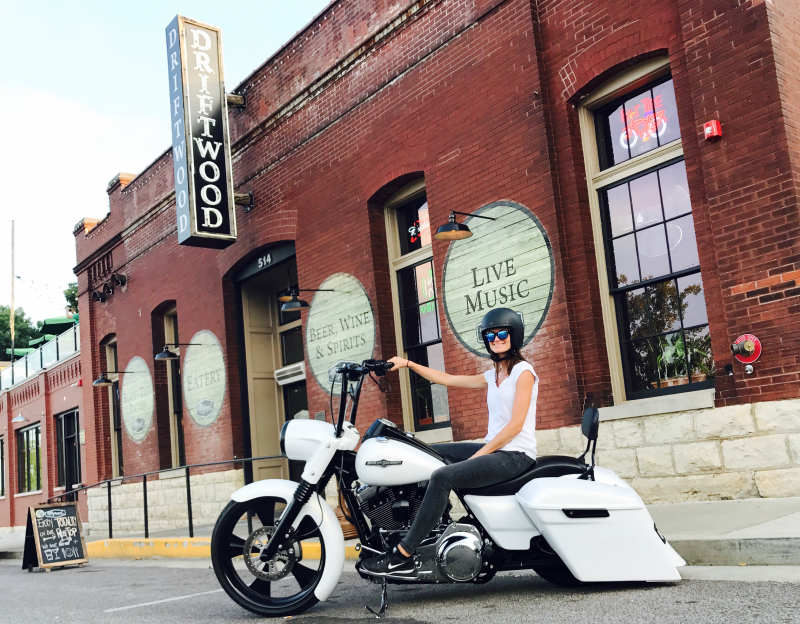 Favorite road you've ridden?
Cherohala Skyway into the Tail of the Dragon last year with one of my best friends Jeff. I had to modify my chopped Nightster with a sissy bar which was quite challenging for this trip, but it worked out quite well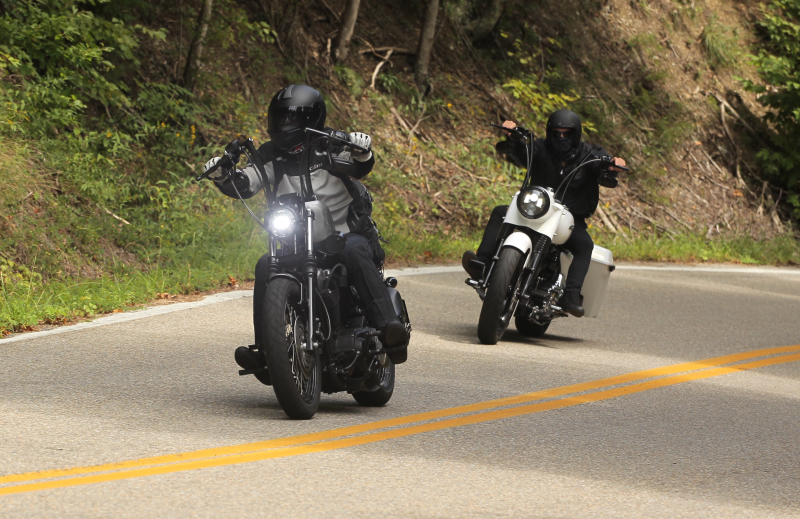 How would you describe your riding style?
Lucky to be alive… That being said I've decided to back it off a bit. I guess I'm cautiously aggressive if that makes any sense?
Why do you ride?
Because there is no better way to get around when it's above 70 and sunny
What are some of the best upgrades that you have done to your bikes?
I have no idea where to start? Pretty much every bike I have owned has been rebuilt from the ground up. For example, My 16 Road King was trailered home brand new from the dealership and stripped down to the frame within 3 hrs of ownership. I never even took it for a ride because I couldn't see myself on a stock Road King. It's not me… What you see now is me!

My Nightster has seen COUNTLESS transformations over the last 10 years of ownership. One Night in 2013 I decided to do a DK Custom tank lift, speedo relo and wire tuck. A 12 pack later, I had the engine out of the frame and wound up completely rebuilding a perfectly good bike for no reason. I just can't help myself sometimes…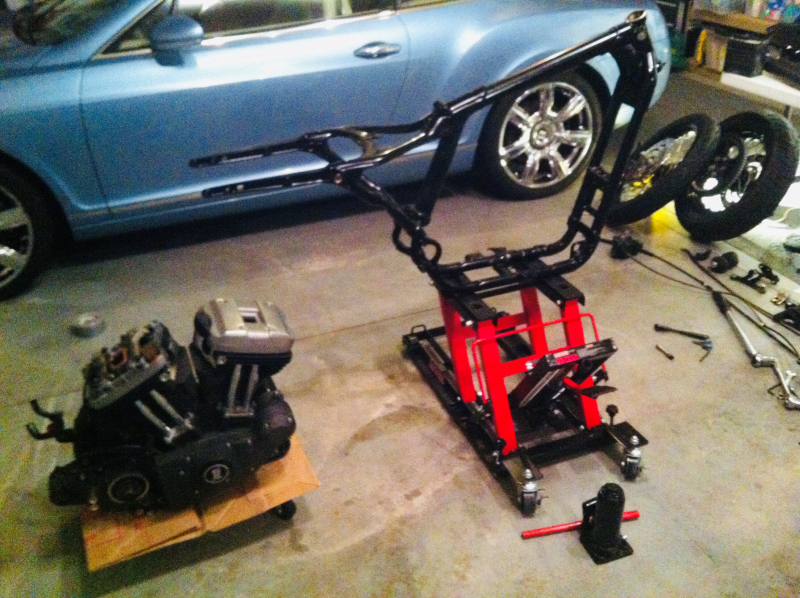 When I moved to Memphis 2 years ago I was jumping for joy when I found out DK Custom was just down the street. So whenever I find myself in an "Oh s**t I need something ASAP" I call Dawn or Dwayne direct and they have it ready for me at the warehouse for immediate pick up! They have saved my rear on multiple occasions!
Any last words?
You should only visit your local dealer for two reasons. To buy a bike and pick up OEM parts. Outside of that they are not your friend. These bikes are not difficult to work on and are meant for YOU to make them YOU! That being said don't be afraid to tear into your bike and get to know it during the process. Its more rewarding in the end.