An interview with John Homberg
John Homberg
Hometown:
Chandler, Arizona
How long have you been riding motorcycles:
Three years.
What do you ride:
2015 TriGlide Ultra
When and how did you get your bike:
We bought our trike from Chandler Harley Davidson Dealership in July of 2015.
Why did you get the one you have:
I was getting ready to retire and I told my wife that I wanted to get a Harley Davidson touring bike. My wife had not been on a motorcycle before. She said she wouldn't ride on a motorcycle, because she was worried about leaning when turning. I had started looking at the motorcycles that Chandler Harley had for sell and noticed the Triglides. So, I took her to the dealership to check them out. I liked what I saw and so did my wife. I went home and started looking online to get more information about them.

I found a few forums for trikes that I started following some of the threads to get information on trikes, because I didn't remember seeing too many of them. I thought the ones that I did see were 2-wheel conversions. I didn't know Harley-Davidson made trike touring bikes.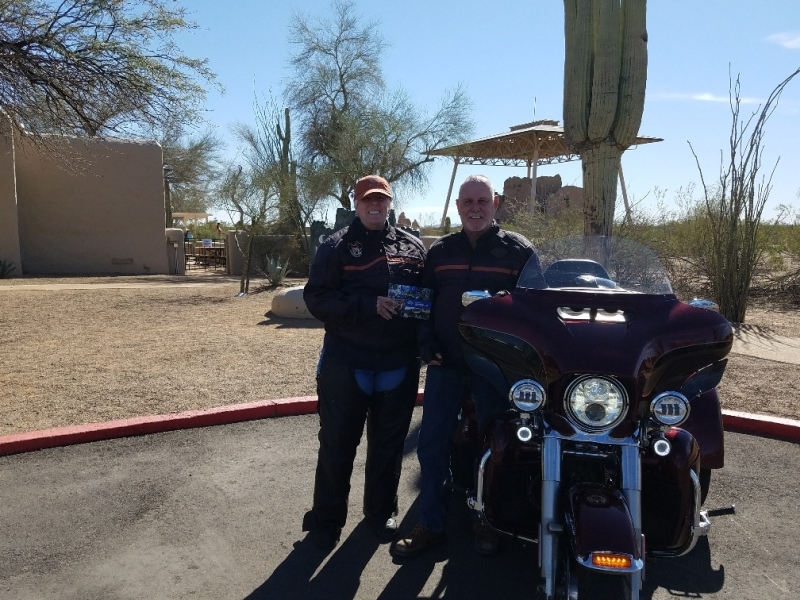 Have you made any upgrades or changes:
We have made a few changes to our trike.

Harley Davidson upgrades
Wanted to try and get rid of as much engine heat and exhaust heat that we could. Stage one was done before we took delivery of the TG.
Visibility is a big concern for us. Had all the turn signals converted to LED lights. Luggage rack and fender rails with LED lights and Heated handle bar grips.
DK Custom Products
Touring tank lift kit, for engine cooling and for looks. Mud flaps with LED lights for visibility. Thunder Torque Inserts, for performance. Rider floorboard extensions and Pro-Action 14" shocks for comfort.
The OME seat was not comfortable for me but the wife liked it. So, I bought an air ride cushion for me, which was great for me. I could ride longer without being uncomfortable. The problem was it raised me up, so the wife could no longer see over me. She had to lean to the right, so as not to block the left mirror. She rode that way all summer for about 19, 232 miles. When we got home, she spent two months in physical therapy to fix her neck and shoulder. I decided it would be cheaper to get a different seat. I was able find a used Road Zeppelin air ride seat. I like it but my wife liked the OME seat better. My wife can see over me now, which is a good thing, but we need to stop more often so she can get off and move around.

What are some of your non-motorcycle related hobbies:
Owning a business doesn't give one much spare time for hobbies.
What kind of work do you do:
I had a Portable welding business. My wife and I are retired now.
How would you describe the motorcycle community in your area:
We are active in our local HOG chapter. We ride 12 months out the year in Arizona.
What do you like about riding a motorcycle:
I just like riding the TG. I was very happy to find out my wife likes to ride on it about as much as I do. She rides behind me with her cell phone and camera taking pictures. The camera pictures I use for our blog and the cell phone pictures she posts on her facebook page.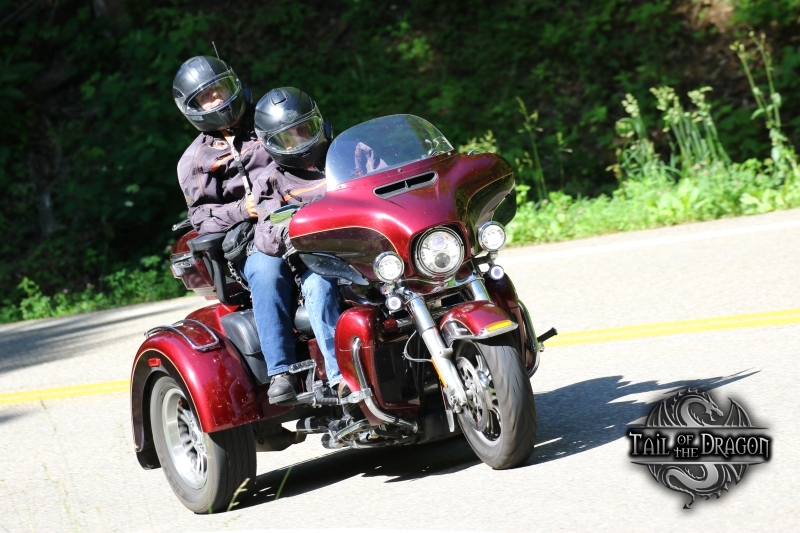 How many miles have you put on your bike in this year:
A little over 21,00 miles. One ride this past summer, 2018, we put 17,588 miles on the trike on a 126-day ride.
I understand that you spend a fair amount of time on the road when you take a trip, you must have seen some amazing things... What is the most memorable?
We decided, soon after we bought the TG, that we wanted to get out of the Arizona heat during the summer months. We took delivery of the TG the first week in July. And getting the thousand miles on it for the fluids changed was brutal, in 112-degree heat. As it turned out, in 2015, we weren't able to take the TG back to Wisconsin, as we had planned, because we took my daughter and granddaughter back with us in the car.
In 2016 we set a goal for ourselves, to try to go to a dealership in each of the 48 continental states and buy a poker chip and to also ride to each of the Canadian Provinces that touch the United States and to also buy a poker chip at a Harley dealership.
Our summer of 2016 we traveled thru several states, we walked across the head of the Mississippi River and we rode around Lake Superior, clock wise.

Favorite road you've ridden:
That's hard to say. We are HOG members and we get a guide book every year. In the guide book are maps for each state and they show the best motorcycle ride in each state. When my wife plans our rides she uses those recommended rides to plan our routes when we travel.
Do you prefer riding by yourself or in a group:
We ride often with our local HOG chapter, mostly day rides. We are busy most Sundays at our church, so we are not able to go on overnight ride on weekends. Our HOG chapter is fairly active, I think. I don't have anything to compare them to. They ride most weekends. I like the structure of the chapter rides, with road captains and planned routes. We have been on a few benefit rides in Wisconsin that were not very structured. Had to leave one ride because we thought it was getting out of control. Smaller groups are the best for us. The wife started a small group with some of our chapter friends. We call ourselves RARE (Retired and Riding Everywhere). We like to do day rides in the middle of the week.
How would you describe your riding style:
Our style is slow and easy. Taking the secondary roads is what we like to do. Staying off the interstates as much as possible. Depending on how many stops we make we may only go 300 miles, before stopping for the night. I like riding thru the small towns and seeing the yard art people display in their yards. Some people really take pride in their part of the world, others not so much.
We were fortunate enough that we were able to have the money to buy our TG with most of the bell and whistles on it to start with. And we were able to buy all the riding gear we thought we would need. It worked out pretty much the way we thought it would, except for the rain gear. Don't know what we could have done to make that work out better. I would suggest taking a riding course.
Tell us about your blogsite:
Our blogsite is called triglideseniors.com. It's about two senior citizens, and their adventures, traveling North America. I had a couple of goals when I started the blog.

Goal #1 was to let family and friends know where we were and not worry about us and to share some pictures with them.
Goal #2 I was hoping to connect with others out there touring the country and get some feed back from them. That didn't work out the way I wanted. During the three years that I have been blogging I have had only 2 bikers reply to the blog.
When I was looking at some of the trike forum sites, I followed Kevin and Mary as they went to Alaska. When Minnie and I took our first long trip I had a heck of a time getting things packed every morning and unpacked every night. One of the pictures Kevin and Mary posted showed how they used pull string bags. I bought some pull string bags from Walmart. They were different sizes and colors. I ended up buying 4 sets of those bags. It made it so much easier to keep things organizes on the TG. Each bag was labelled with the contents. Two of them were used for laundry bags. When my wife did laundry, she could carry the clothes to and from the laundry room without everyone seeing our clothes.