Interview with Moto Zen (Trish)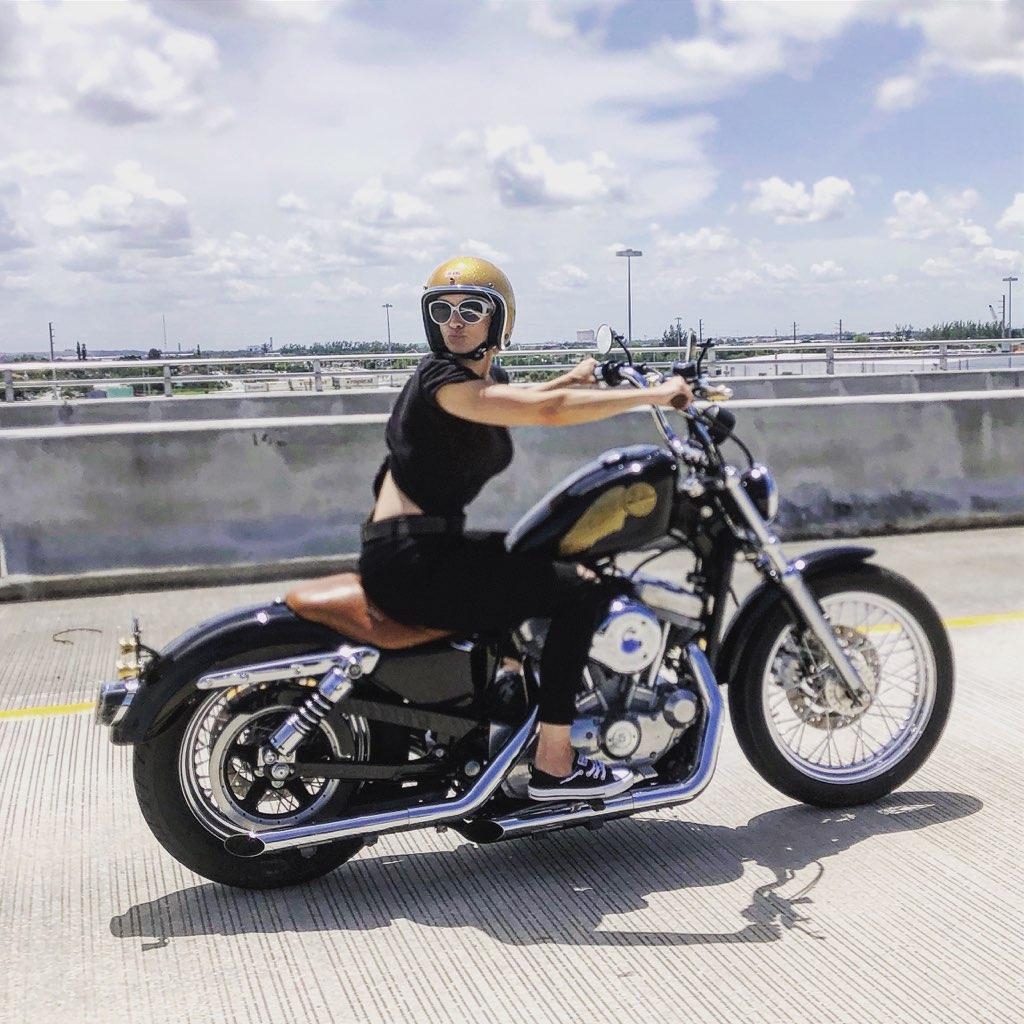 Trish Bertoni aka Moto_Zen
Information:
Hometown: Sault Ste. Marie, Ontario Canada currently living in Jupiter, Florida
Bike Model(s): 2007 Harley Sportster 883
Handle: @moto_zen
How long have you been riding motorcycles?
Since July 2017
What do you ride?
Just my Sportster.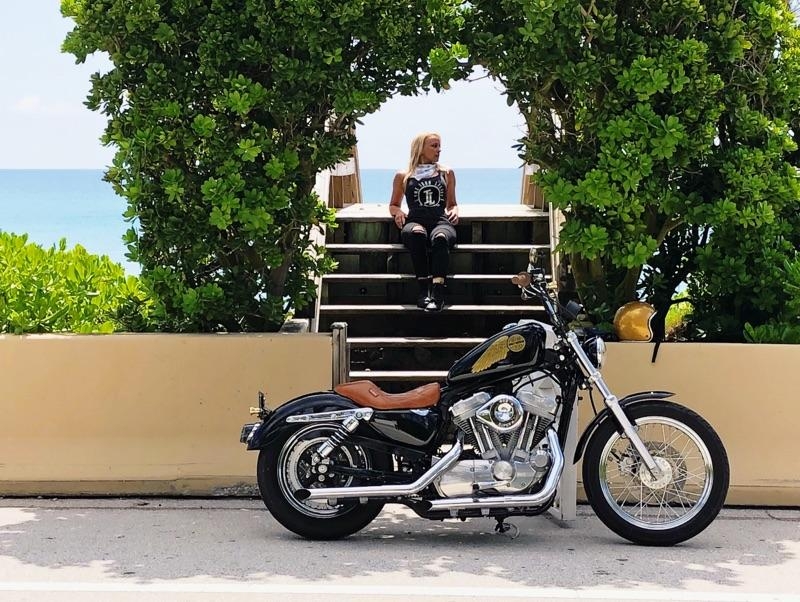 When and how did you get your bike?
I had been riding with my husband on his Harley for the last 6 years and considering getting my own for the past 2. We were at the Palm Beach Harley Bike Night in June 2017 and THE perfect bike was there.
Why did you get the one you have?
It was in the perfect condition to ride right away and gave me a lot of opportunities to make the modifications I wanted, which were a few but I really wanted the look I had in mind and that came to life fairly quickly and easily.
Have you made any upgrades or changes?
I'm so proud of my upgrades!
I started with the DK Custom Coil & ignition relocation kit. Swapped out the standard bars to TC Bros. 1" lane splitters, upgraded to a beautiful animal friendly faux leather diamond quilt LePera seat. From there we had South Florida Choppers pull it all together by adding my custom decal and finishing the tank, and wiring the gorgeous copper lights custom made by After Hours Choppers that we had bought years ago and were so excited to finally have installed.
Oh, and of course my progressive suspension.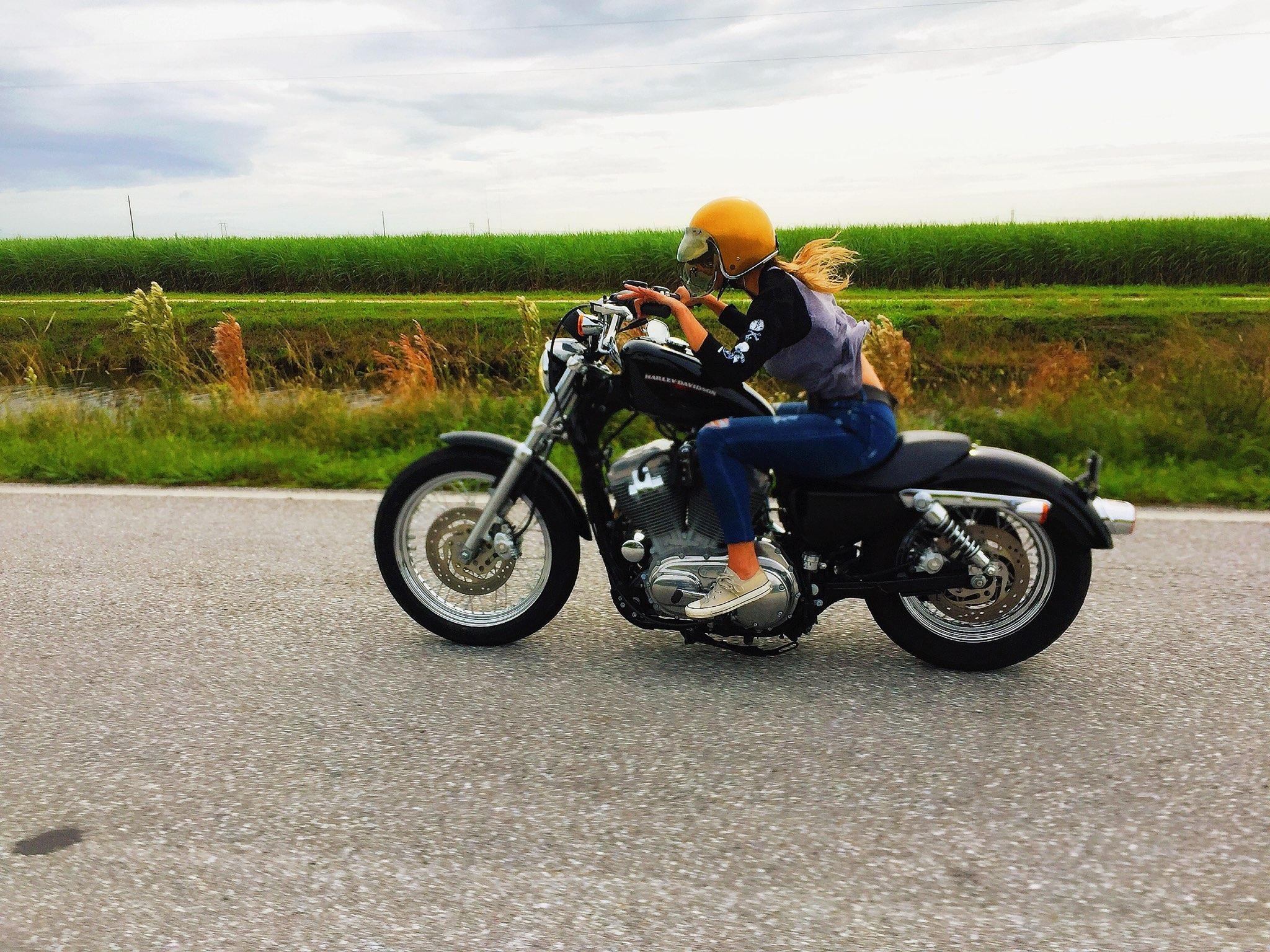 What has been your biggest regret to date?
Waiting! Putting things I want to experience off until a "better time". When I lost my 33 year old brother in law Shawn to colon cancer in August 2017, he told me in our last conversation that he regretted not traveling more and making it down to Florida to show Paul (my husband) and I how to weld. From that point on, everything started to make sense and I have learned to both live in the moment as well as follow my passion.
What or who inspires you?
Hard work and compassion.
I am forever inspired by the people I meet every day who work their ass off for what they have and dig deep to give back.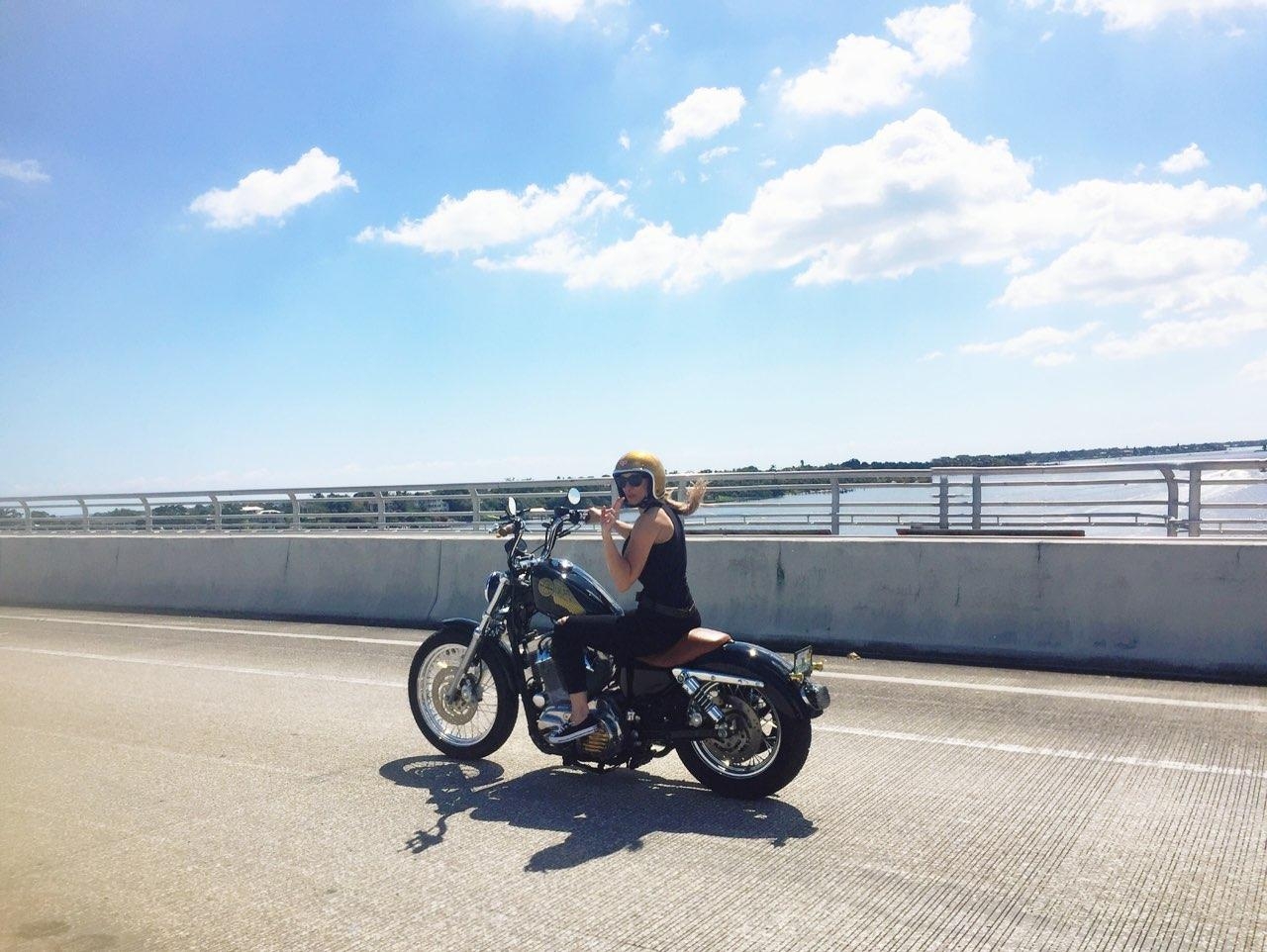 How would you describe the womens motorcycle community in your area?
The majority of girls riding are north in Orlando and south in Ft. Lauderdale and Miami so I reached out to the Iron Lillie's to make some friendships there. I'm hoping to get out to their events shortly. It was amazing how many great girls reached out to me that I wouldn't otherwise have known of or run into if they hadn't extended their welcome. The Burn Up Company in West Palm has some great coffee and bike events that have been a great way to meet some amazing local girls and we hope establish a central riding group.
How has your life changed from motorcycles?
I see the world through new eyes! I feel more in touch with reality and people when I'm riding and that's definitely spilled over to my every day. I'm far more patient with myself and others which is a huge benefit. I've always been a people person and riding has brought me back to reality talking to folks I meet here and there. We're all out there working our asses off week to week and it's great to let your bike be a conversation starter that always leads into amazing riding stories and a glimpse into people's lives.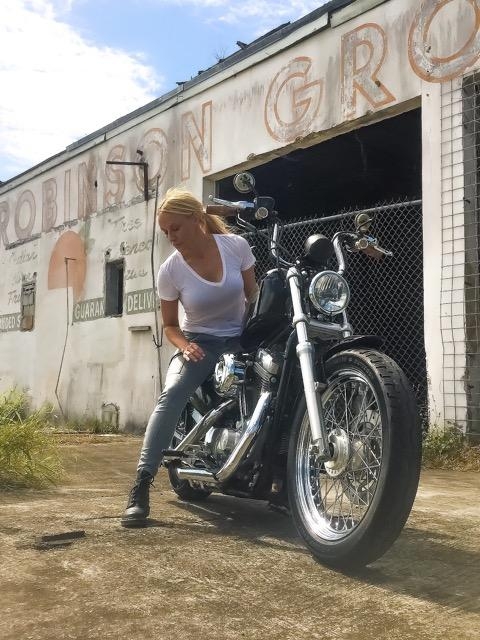 Where/what is your dream motorcycle adventure?
I'm taking my bike to Canada this summer to ride around the Muskokas and Wasaga area for 2 weeks in July. It's going to be gorgeous scenery. We are still planning our trip to ride the PCH and explore the West Coast, hopefully next summer
What do you like about riding a motorcycle?
Knowing I can. This sounds crazy but I always said if in the event of a zombie apocalypse, or worse, alien invasion ( War of the Worlds) I don't want to be stuck not knowing how to drive my ass out of there. I grew up spending summer with my grandfather and drove the boat fishing, later working construction for my father in the summers I drove equipment, learned to drive a stick when I moved to Florida because it was the only car I could afford, now my bike. Next, I'm going into the air!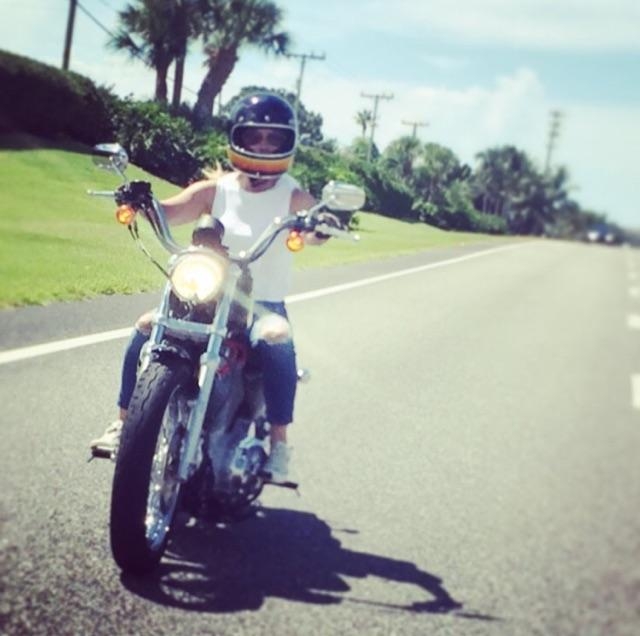 Do you prefer riding by yourself or in a group?
I love the feeling of riding along with others but I need to know and feel comfortable with them all. My sister and brother in law trailer their bikes from Canada over Spring Break every year to escape the cold. This year they brought some friends. There's no better way to see Florida than on a bike and leading that ride is my favorite. It's like giving adults Christmas morning.
How would you describe your riding style?
I adjust to my surroundings but I'm zen. I love the open country roads of Indiantown but love to punch it when I can. Who doesn't?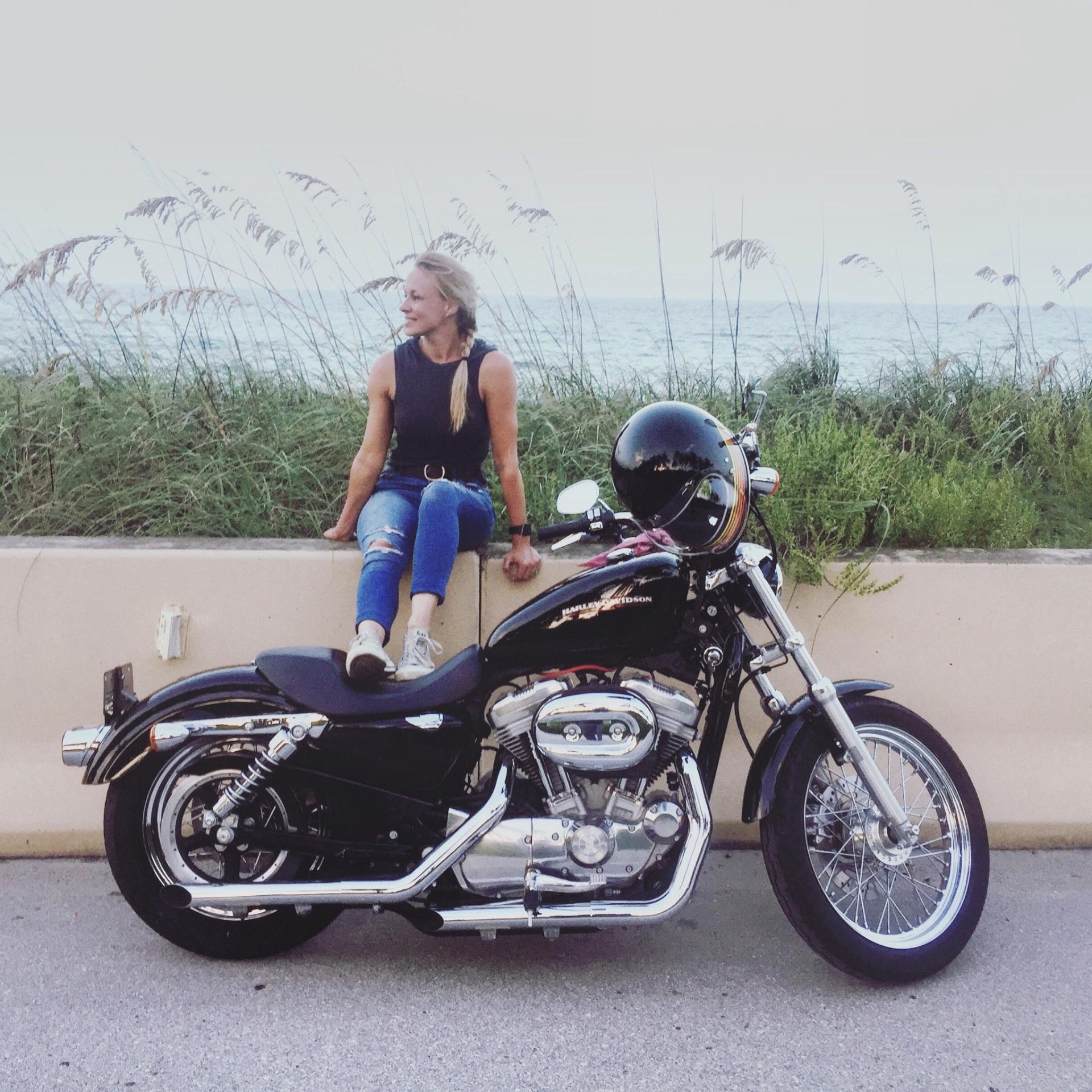 Why do you ride?
To restore myself. I always do my best thinking when I'm riding. I'm
able to sort a lot of stuff out and get back to me. I feel balanced and like everything makes sense when I get home.
Do you have any advice for others that are thinking about getting a bike and learning to ride?
Do it! If it's on your mind, go for it! This is not a regret you want to have. Sign up for the bike course and go after!
5 things you can't live without
Alone time
Animals
Yoga
The love of a good man
Wine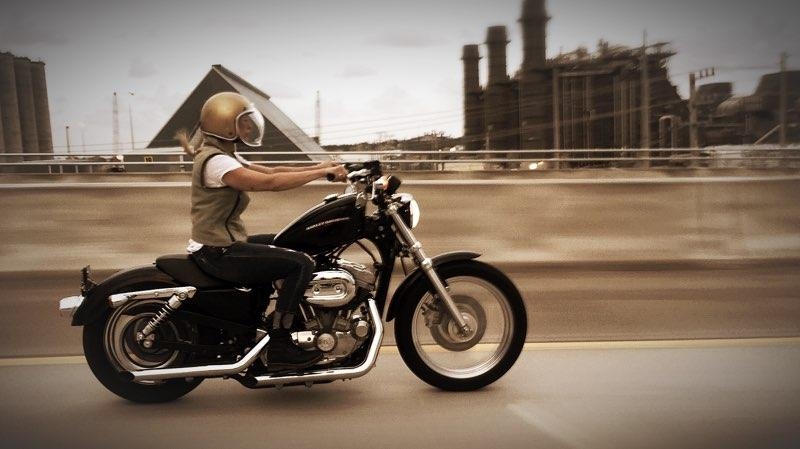 Why do you think there are more women than ever riding motorcycles?
I don't think there is one answer for that. I think the reason a woman rides is personal but probably closely tied to a few things. I believe there is a feeling of taking some power back that quickly translates to confidence and that builds character. I also think that the duality of a women is to be recognized as both strong/independent/capable while also attractive/beautiful/sexy and riding seems to marry those two needs quite well. Social media has played a huge roll in inspiring new riders and the founders of women's riding groups like The Iron Lilies and The Lita's have a huge influence on the newest market and the welcoming nature is what women crave, the world needs, and what any lifestyle survives on.
Any last words?
Stay Gold!