Zeroing In... A Biker Interview with Paul Hedges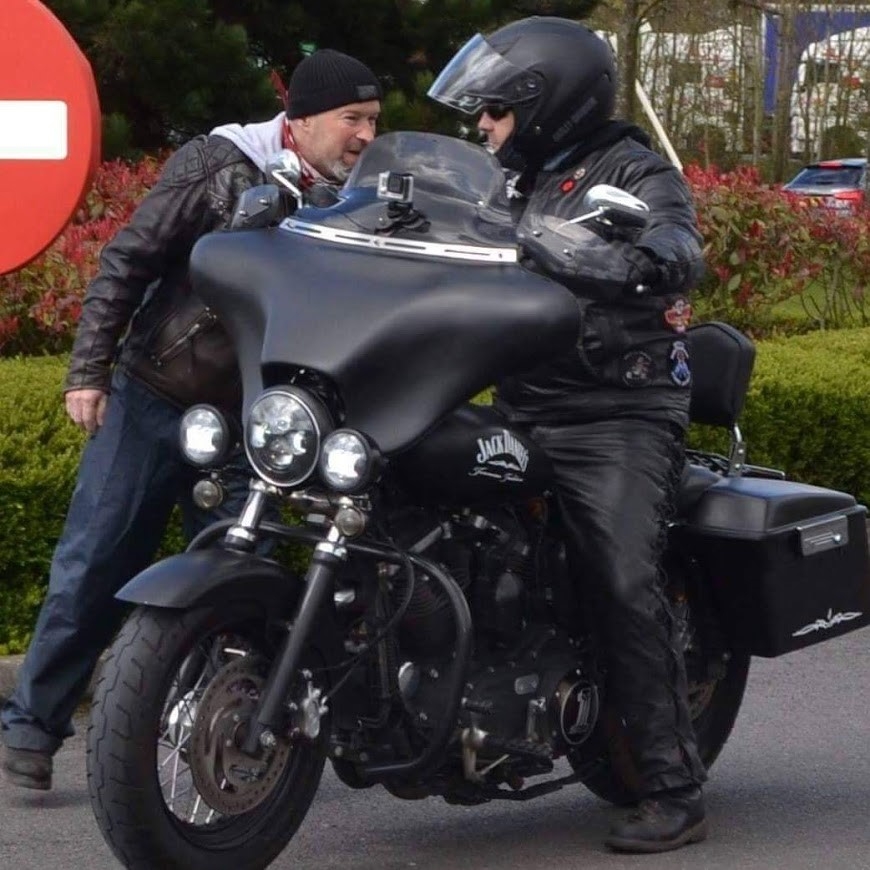 Paul Hedges
Information
Hometown: Penzance, Cornwall, UK
Bike: Sportster XL1200 Custom CB
Handle: Benson
Describe yourself in 3 words
Grumpy Old Git
How long have you been riding motorcycles?
Started when I was 16 as needed my own for of transport. Then joined the Army and life sort of got in the way. Then came family, cars, horses and now back on bikes seriously for the last 3 ½ years
What do you ride currently?
Harley Davidson Sportster Custom CB
What was your first bike?
my first 'bike' was a Puch Maxi 2 speed. Top speed 30 mph with a twist grip gear change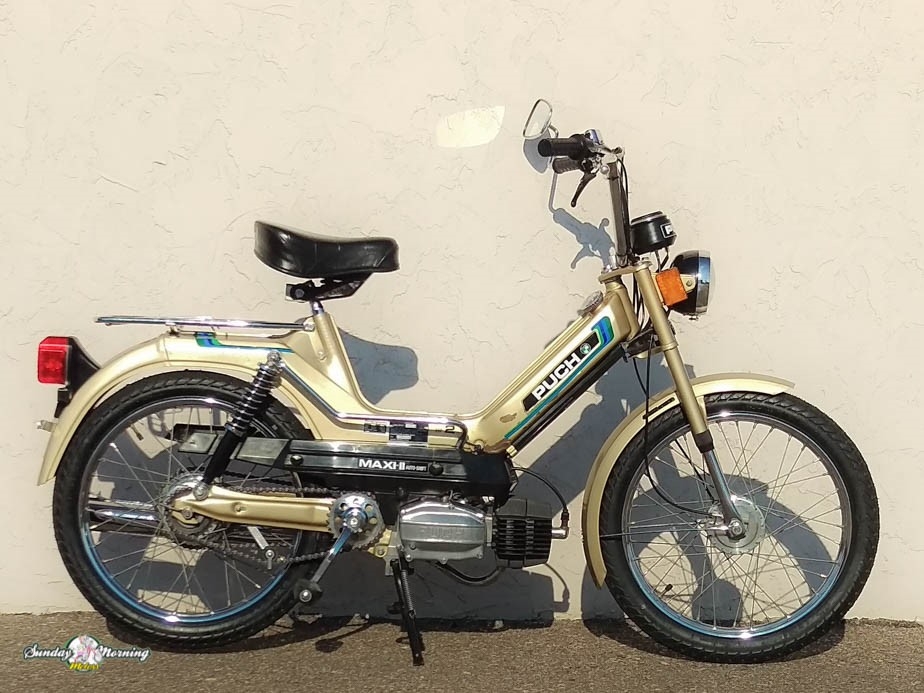 How many bikes have you owned?
3 in total, 2 mopeds and now my Sportster
What is your all time favorite bike?
Growing up it was the Suzuki 650 Katana. It was the boyhood dream
Do you name your motorcycles?
Other people have named mine but never thought about naming it
Why did you get the one you have?
I hadn't touched a bike for 30 years. I had decided, after talking about a holiday to the US that it would be pretty cool to ride a bike across the US. Well that hasn't happened yet, but it is there in the background. The thing was in the UK we have to go through several steps to be able to ride a big bike legally. Due to being one of the older generation for myself it was an easier step. But what bike to look for?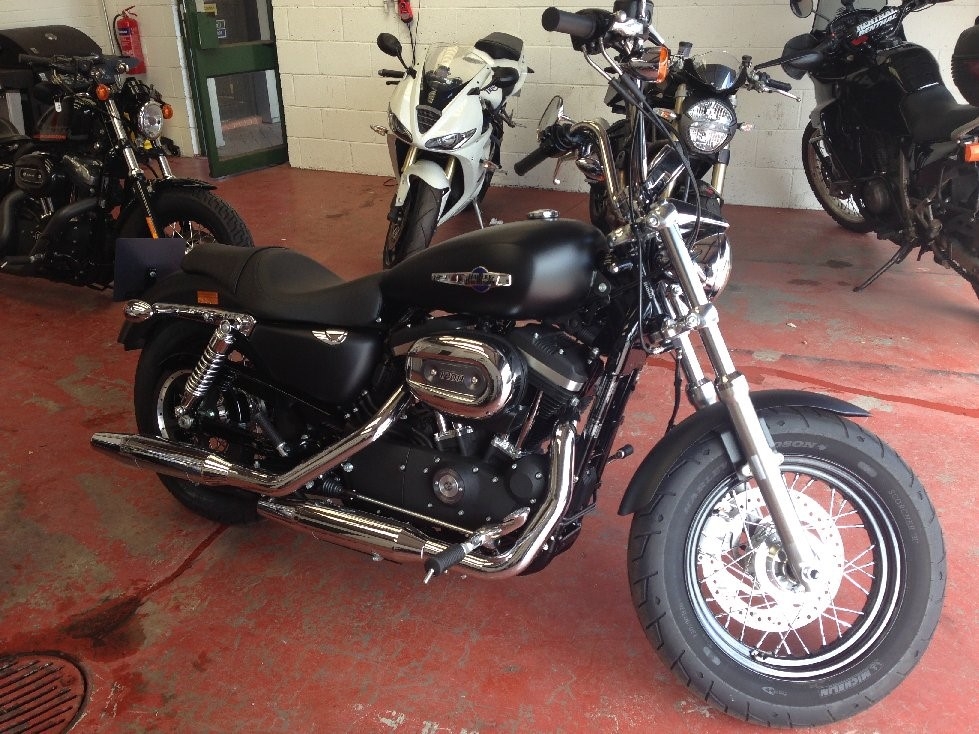 The Triumph Tiger jumped out at me to start with but then saw a few Harleys and the first decision was made. But now which model, so many to choose from. Touring bikes were off the list as I was going to be starting from fresh, the 883 Iron looked so cool and then I saw the Custom CB, big fat front tyre that I liked from the 48, mini apes and a decent sized tank. I was sold. Found one online that ticked my boxes and before I knew it I had put a deposit down. Now to tell my better half as well as pass my test. The bike arrived the week before I successfully passed and haven't looked back
Have you made any upgrades or changes?
A few :) Vance and Hines Slip ons, Air Filter and FuelPak3. Swapped out the speedo to an older style so that the Batwing could be fitted.
Hard bags went on to match the Batwing, 5 ¾ Headlight didn't look right so that got changed for a Fatboy 7 inch bucket. LED units in the Headlight and added Aux lights. Turn signals are now of a US Sportster so now wired in to be on all the time, not how they work in the UK. Font fender changed to a Sumax Fatbob fender. Engine Bars, Foot Boards with DK mounting brackets to keep them nice and tight on the bike. Currently spend most of my time sitting on a Mustang Vintage Solo, but also have the Sundowner for touring. Rear lights have all been changed, turn signals in the hard backs, with extra brake lights fitted to the added lid wings.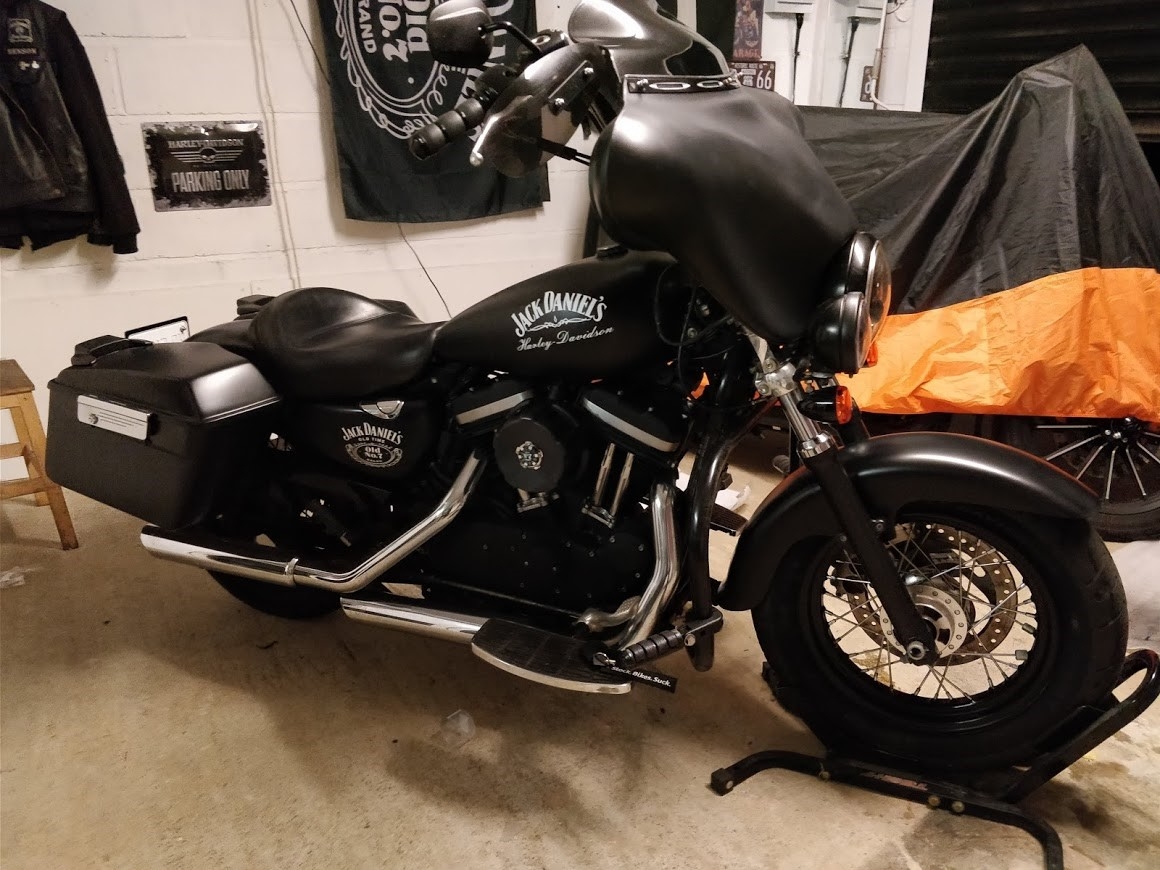 The Harley LED tail light went on me again so that has now been for another LED light that didn't cost the Earth to fit. Rear suspension swapped from Sportster Springs to Road King Air Shocks. The rest is cosmetic with gear change swapped for a JD branded to match the decals on the tank. Number plate is a bit naughty here in the UK. wrong size, it is a US style plate with a nice JD surround
How has your life changed from motorcycles?
My life is so different that what it was 4 years ago. 4 years ago we have 3 horses and bikes weren't even on the radar. It was mucking out, and riding my horse. But once I had sat on a bike again I was hooked. There was no going back. Socially we have met so many great people, some are now lifelong friends, closer to family than friends. But it has even been the interaction with strangers. Stood outside the Ryman Auditorium and 11pm chatting to someone about bikes when we have only just met.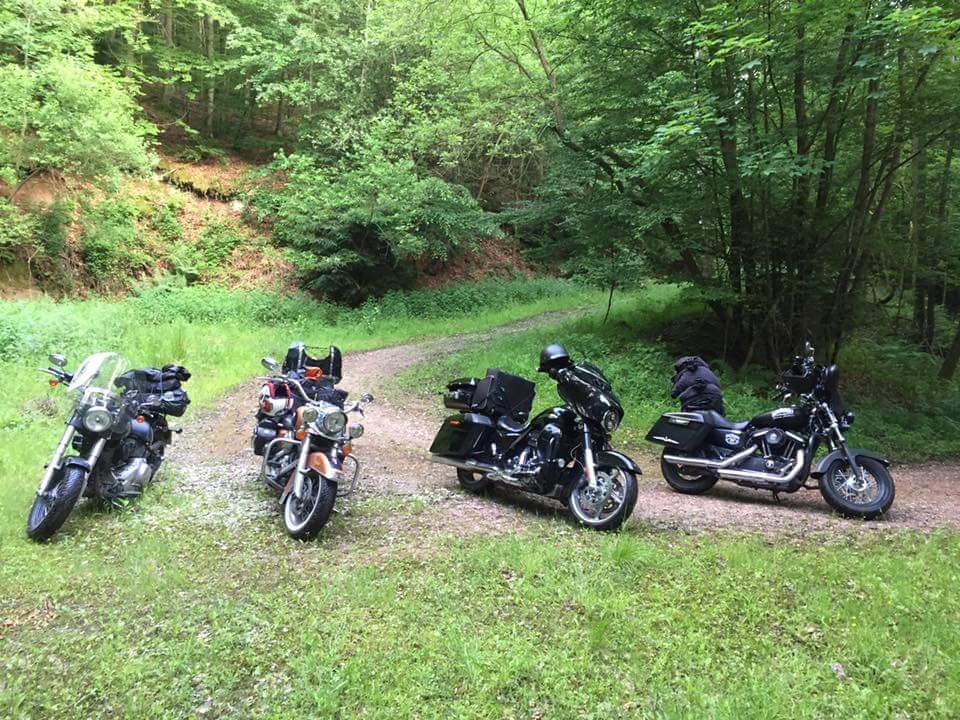 Standing outside Jack Daniels in Lynchburg chatting to some guys from Canada who had ridden down. Holidays with friends across the UK and Europe, with the next trip being planned before we have even gone on the first of the year. My girlfriend, who had sold her bike years before, even made her dreams true and got her Iron 883, a bike she had been advised against 20 years previously. So now there is 2 Sportsters in our garage. It is true when they say that biking is a way of life. It is that catalyst that just brings people together. You can be anything in your day to day life but being on the road with friends is just a binding experience that has to be experienced to be understood.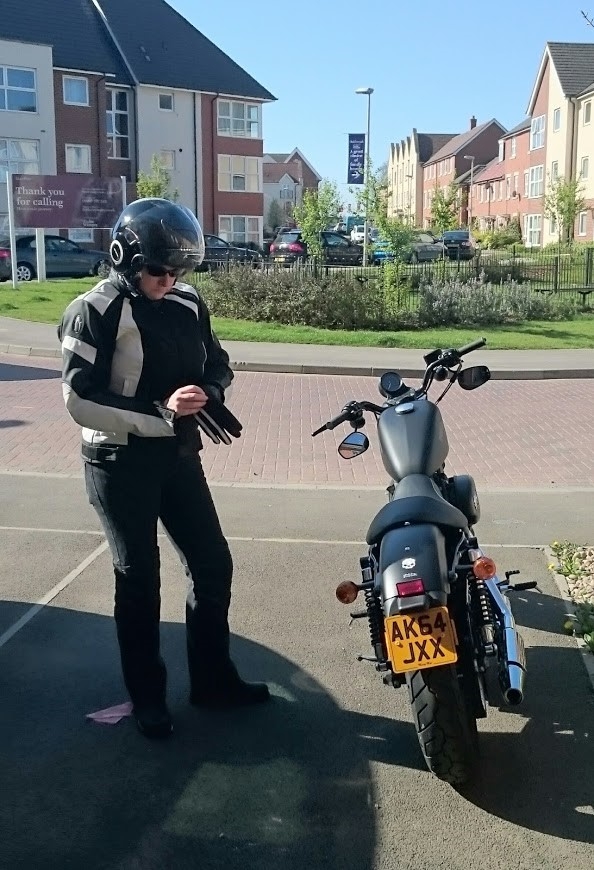 Where/what is your dream motorcycle adventure?
I have been fortunate enough to date to have ridden some amazing roads. Around the coast line of Scotland, The Castle Road in Germany. Furka Pass in Switzerland, Stevilo Pass in Italy, Tail of The Dragon NC and the Moonshiner 28 each adventure has just been about what's around the next corner. September 2018 will be another big step as myself and 4 friends are flying over the Boston for 6 days of riding around the New England States.
Our biggest plan to date is for myself and some friends to fly to the US, pick up a bike in Florida and ride to California taking in the sights on the way
What is your best memory ever regarding Motorcycles. Worst?
2 best memories, 2 days after the bike arrived, had been taking lessons on a Ducati Monster. But as there was a quiet rod right next to our house I just had to take my new bike out. It was so different to what I had been riding on. Bars, seat, feet nothing was the same. But as I turned a corner and twisted the throttle the smile on my face just grew and grew. I knew I had the right bike for me.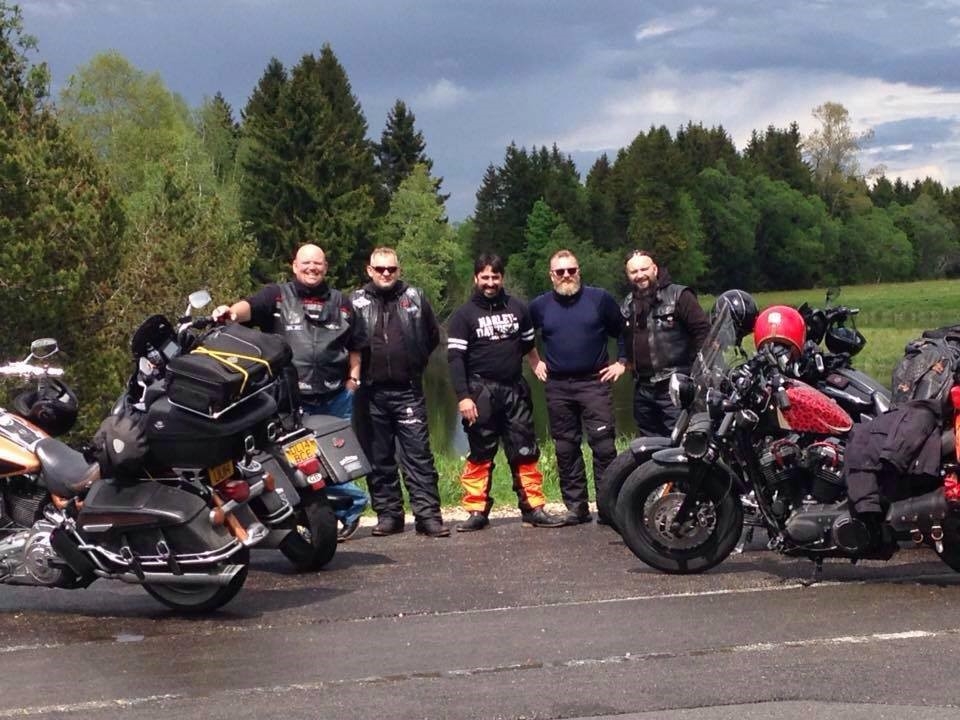 The next was just riding back from a local bike night on a Friday night in the Summer, it was warm, the sun was setting and I was on the road on my own. At that point there was no other place I wanted to be. Pure Zen, me my bike and that was all that mattered in that moment.
Worst moment has to be losing a friend. He had a bad spill on the Saturday and passed on the Monday, rode The Dragon the following day with my rear pegs down hoping he enjoyed it as much as I did. It is strange, I only met the guy a handful of times and I am not sure still how this death effects me the way it did. RIP John Waller
What do you like about riding a motorcycle?
What is not to like? The friends I have made, the places I have visited, the memories that have been made, the adventures that have happened. I have been lucky in life to have done and seen so much. But on 2 wheels you get to experience it all over again with a rush of heightened senses…
How many miles do you typically ride in a year?
I average about 10000 a year, 99% of those are social miles with the odd commute to work on the bike
How would you describe the motorcycle community in your area?
When I got the bike I joined the Harley Davidson Riders Club of Great Britain, a club that has been around since 1949 and a club that Willie G experienced before setting up HOG. Such a welcoming group that re-introduced me to sleeping under canvass as well as the art of collecting t-shirts
Tell us about Sportster Sickness UK
The Sickness, where to start? I had been invited to a Facebook group for Sportster owners. It was quite a busy group with new members from all over the world linking together. It turned out that some of the UK guys didn't live far so it was suggested that 'Hey why don't we meet?' So one Sunday Oct 25th 2015 13 Sportsters were parked in Jacks Hills café just outside Towcester. The following weekend there were 20 riding around in Oxford and James decided that maybe the UK needed it's own Facebook group, and The Sportster Sickness was born.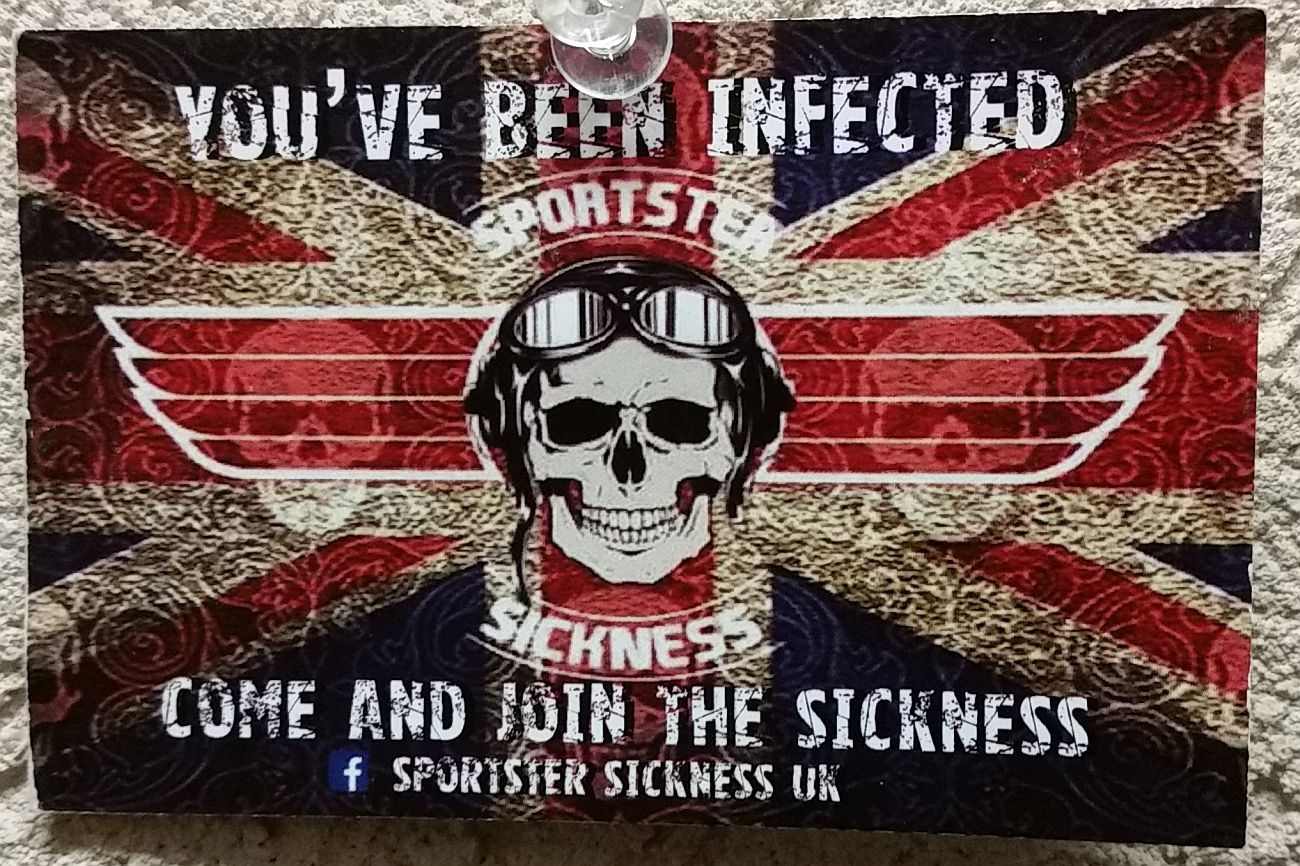 Here was a group where people were allowed to feel OK to ride, the girls bike, the starter bike. No one was told, you will grow out of it, when are you going to get a bigger bike? It was likeminded people all just loving their bike and proud to do so.
Up and down the country small groups were forming, locals meeting up and infecting others.
In the April 2016 the idea was put out there to have a National meet in Nottingham and even though there was snow and rain across the country when people woke up 111 Sportsters made it from all corners of the UK to join together. The Big One had happened!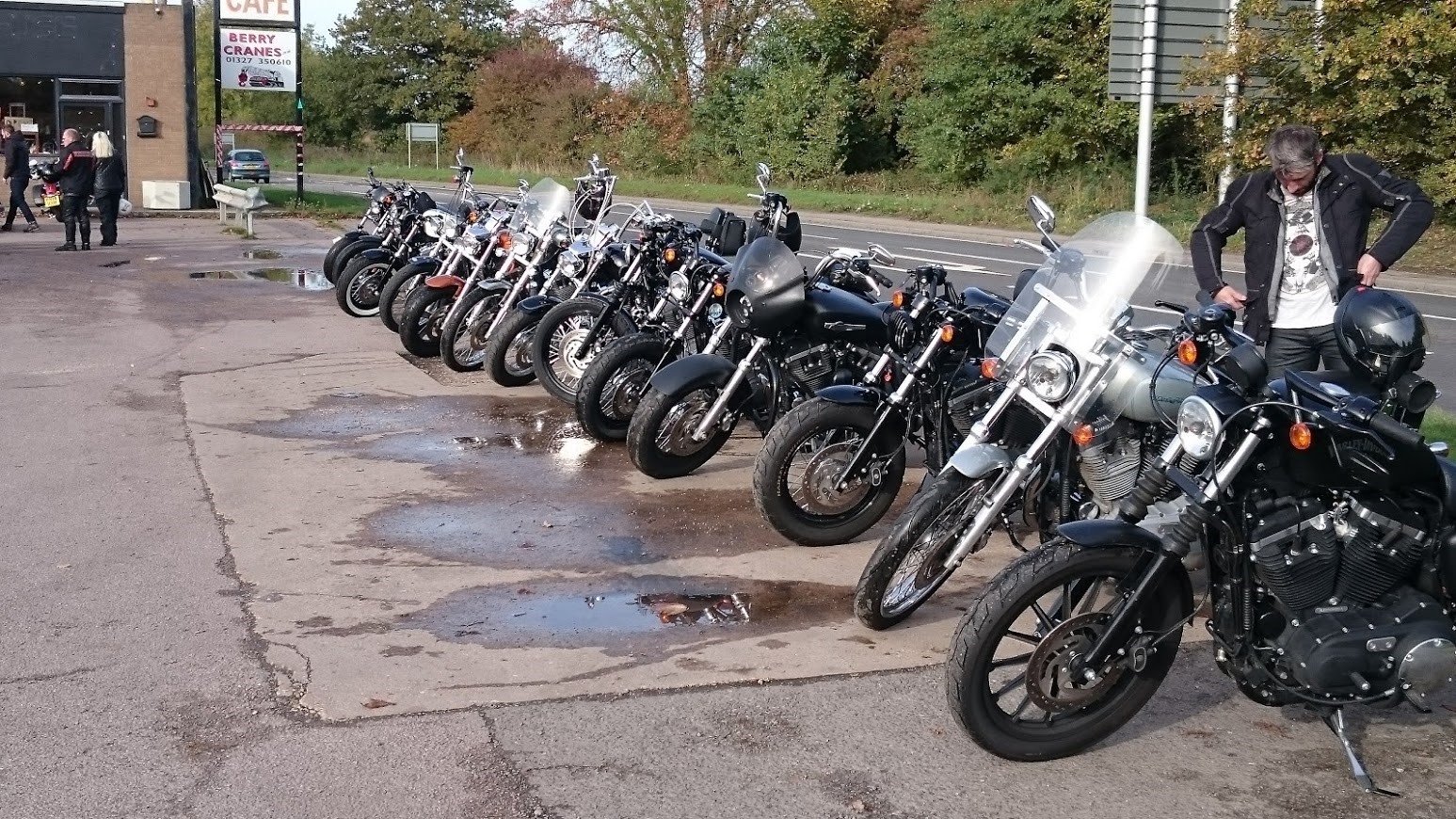 From there the snowball grew as friendships were made. One guy who had moved over 400 miles for work missed his bike and decided that we has going to ride from Edinburgh in Scotland down to Bristol. He had never ridden that far before and it was going to be a long ride. The Sickness ethos has always been 'No one has to ride alone' So within a few days a relay system had been setup and as he rode down the country riders went out of their way to ride with him. After day 1 he had ridden 50-60 miles in the pouring rain and arrived at the hotel like a drowned rat.
Sickness solution…take him to someone's house, give him some warm dry clothes and dry out everything he had been wearing. The next day as he headed down to London's Ace Café the 3 riders that started the day turned to 10 then 15 then more as there were Sportsters waiting to welcome him. He was just walking on air, he had never ridden with a group of bikes before let alone a group of Harleys.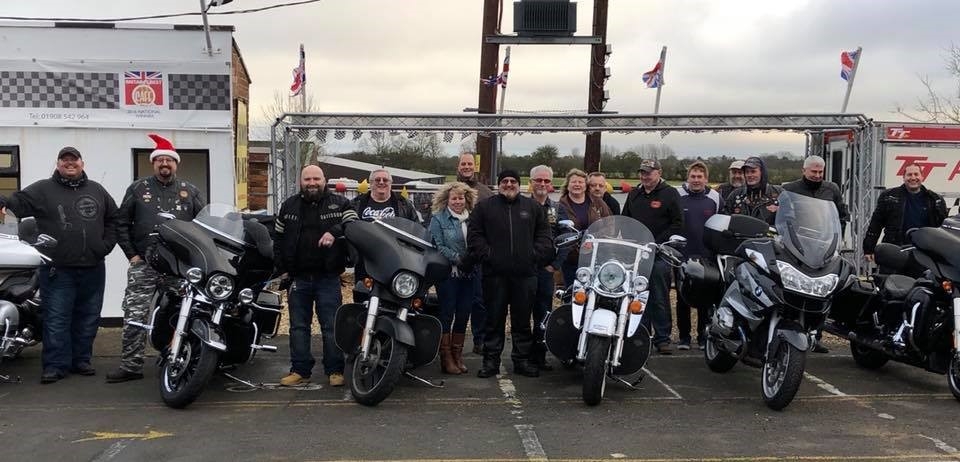 One of the Sickos lived in Guernsey in The Channel Iles, maybe the only Sportster owner there who had commented that he never got to meet anyone. Well it turned out he was headed to the mainland to have some work done on his bike. Facebook event created and Sea Sickness happened as riders rode across the country to spend the weekend together.
Our 1st Birthday saw over 200 Sportsters meet up at Jacks Hills Café again and now it wasn't just locals. It was Nov but people had got up in the dark and ridden miles together meeting up along the way to descend and arrive together in the place it all started.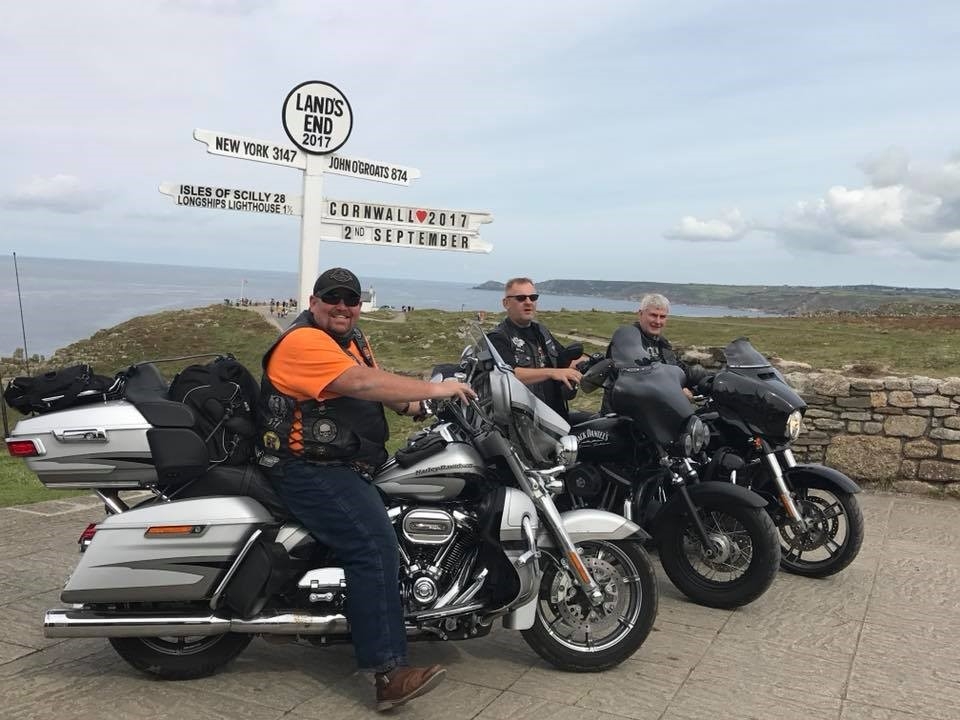 The Big One Take 2 saw 503 Sportsters all ride to Nottingham in April 2017, the infection continued to grow as did the energy of the group. Each month 100s were joining the group and the Facebook timelines was filled everyday with pictures and stories across the Country.
2nd Birthday Bash saw 300+ arrive where it all started and now we are into 2018 and The Big One Take 3 is about to happen, this year we are heading to Silverstone Circuit, home of Formula 1 to ride it en masse. The numbers on the day will be off the charts based on the excitement across the group.
It is such a diverse and inclusive group The Sick Sisters have even had their own weekend events as the group is made up of about 12% female riders. It is all about the bike, this single model has just brought so many of us together to enjoy and celebrate
Favorite road you've ridden:
That's like asking which of my children is my favourite!
I think Albula Pass in Switzerland for the scenery and road.
But for ticking all of the boxes, the A36 from Portlock to Linton along the North Devon Coast. Although the Cherola Skyway or Blue Ridge Parkway are pretty special too
Do you prefer riding by yourself or in a group?
I love the freedom of riding on my own, but the shared experience of riding with a few friends is such a great sharing experience. The moment when you all stop and take the helmets off to talk about where we have just been is so great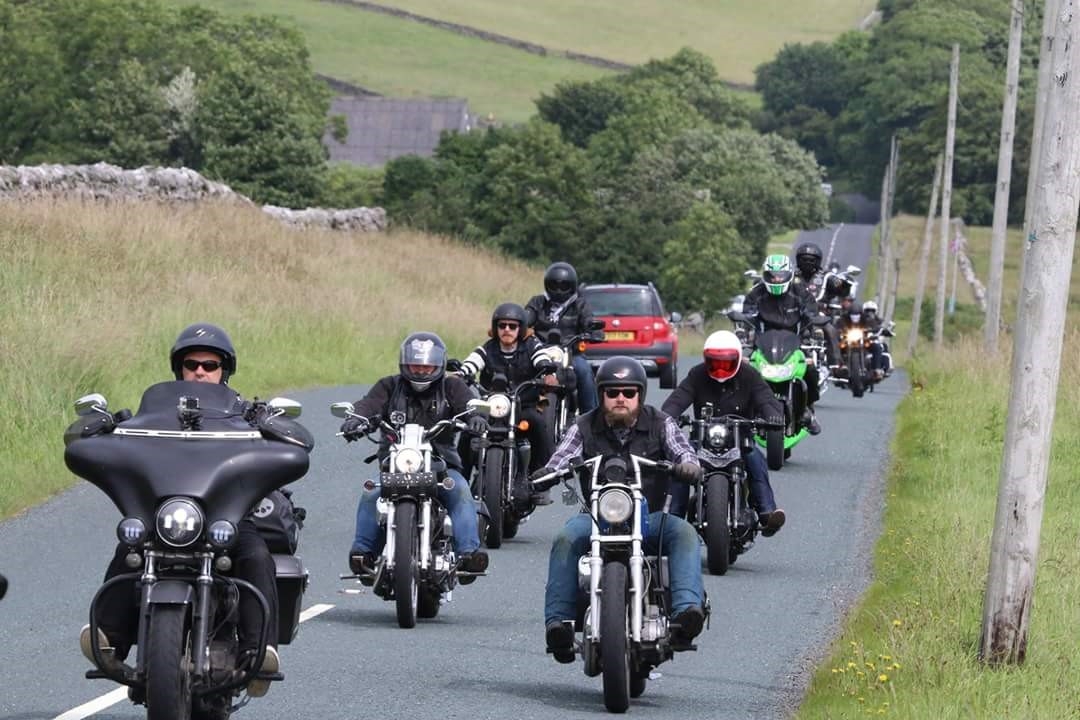 How would you describe your riding style?
My bike has been built for touring but without losing the fun part of being a Sportster, yes I could just buy a Road King but for what 200lbs of weight and 12bhp more and a 6th Gear. My Sportster goes everywhere a Glide does  So I guess and Touring Sportster Style is for me
Why do you ride?
Why do I breathe? It is an addiction, I can feel it in myself when I haven't ridden. But even the cold winter months means that I can then spend time in the garage tinkering and learning more about my bike.
Do you have any advice for others that are thinking about getting a bike and learning to ride?
In a way I wish I had passed my test earlier, but in another there would always have been something that life would put in my way to prevent me from spending time on my bike. Riding has opened my world to meet new people, to visit new and old places but with a different way of experiencing them.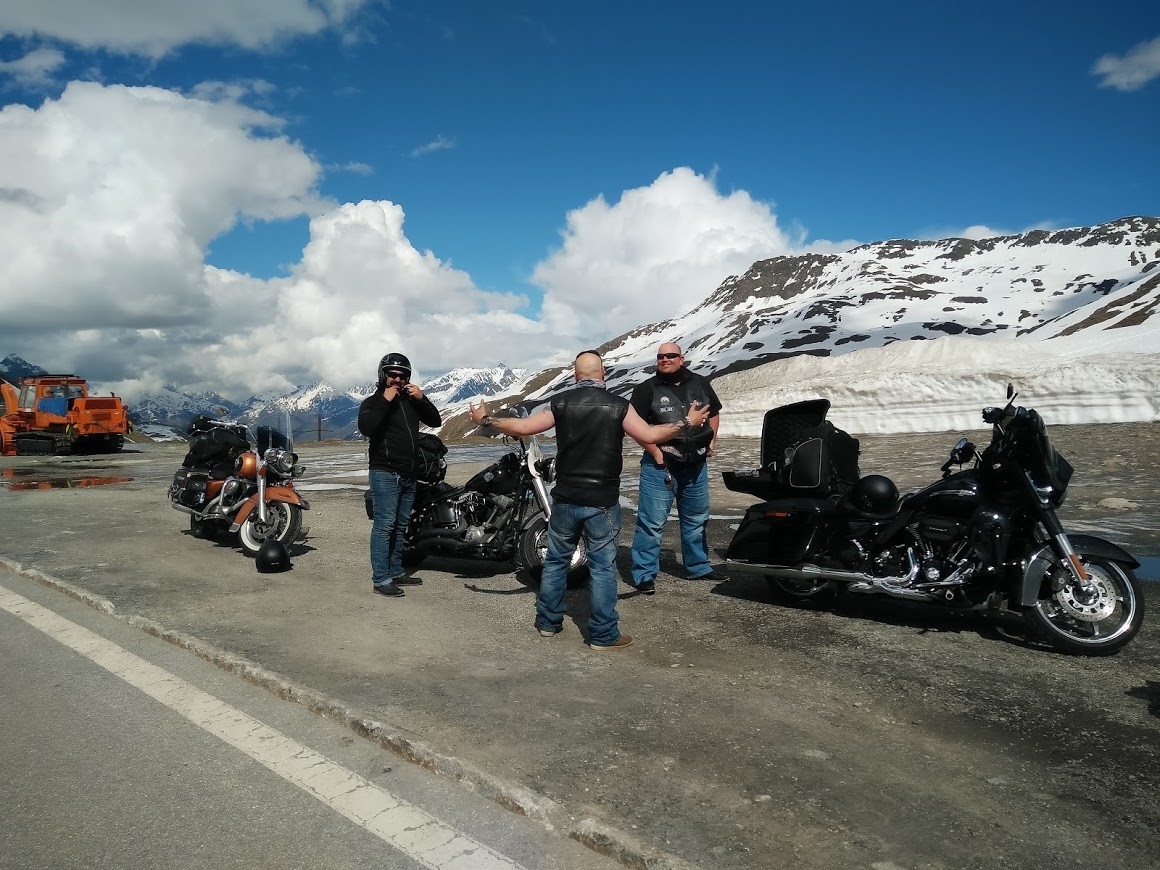 There is a bond with people because I balance on 2 wheels trying to avoid all the cars trying to kill us. We nod or wave as we pass each other in the road, we don't know them or might never meet them, but we know. The attitude within the biking fraternity seems to be 'How can I help?' so refreshing in a world where it is all about Me! Me! Me!
Any last words?
I guess I would like to thank DK Customs, I wanted to buy a part in 2017. As it turned out I was local to them being on holiday from the UK. I mentioned this and was invited to come visit. Even though it was a Saturday and they are normally closed they opened for us to visit. Dawn and Kevin welcomed us like family. Showing us their whole setup with pride, and deservedly so. I had bought a helmet while I was over there and they allowed me to have it delivered to them to pick up while we visited and Kevin even offered me his bike to test it out.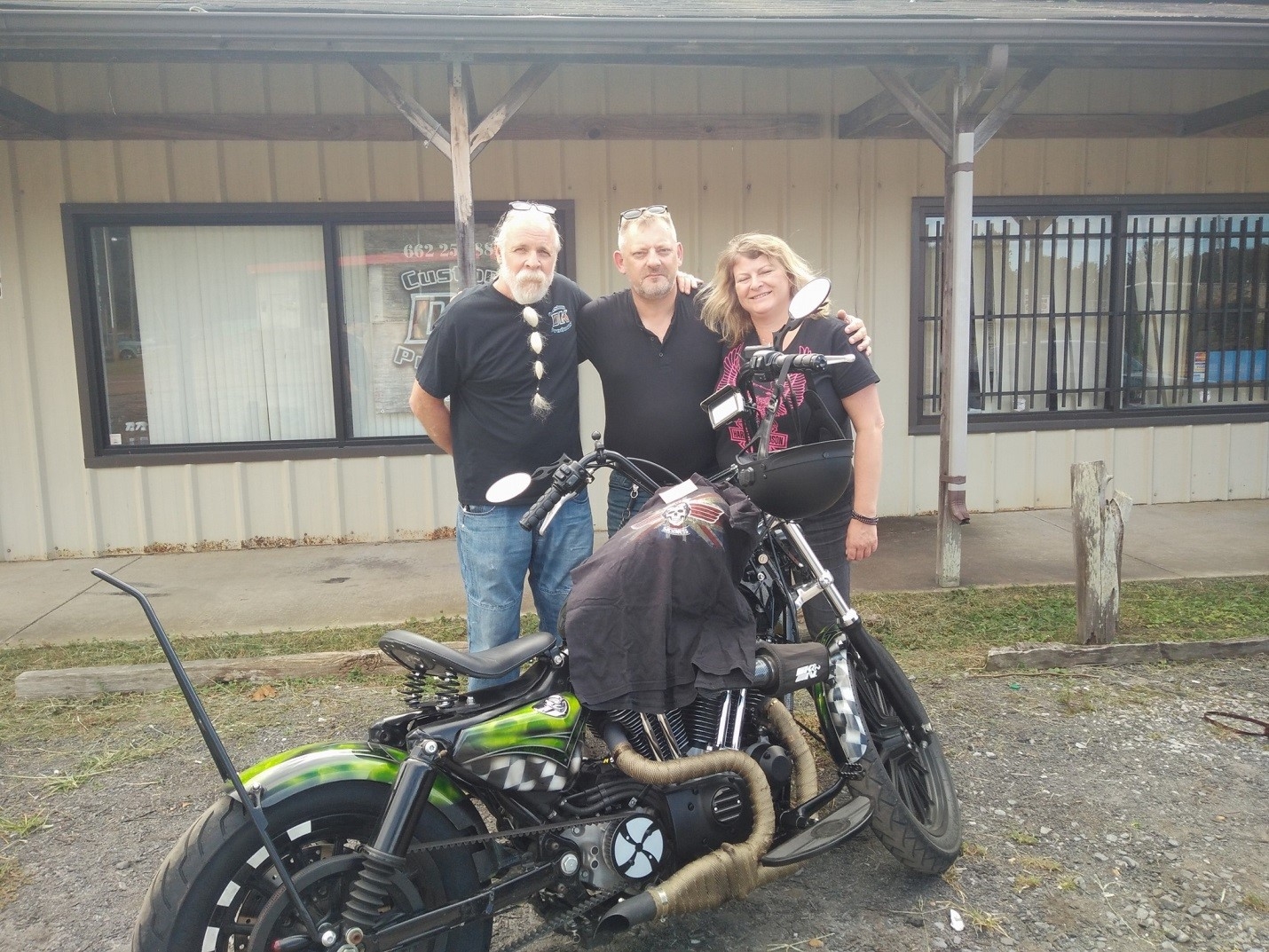 I had only been there 10 minutes as well. Dawn has been a constant communicator by email, just discussing the weather and life in general and now she is friends with my girlfriend Ellie. It was my turn to return the favour earlier this year and recommend a UK representative to market and sell DK Customs products. Something I happy to do and help out such a friendly bunch. Their email signature reads
A company is only as good as it's customers... and we have great customers!!!'
A company doesn't have customers if it's not that great!