Zeroing In... A Biker Interview with Jerry Rice
Zeroing In... A Biker Interview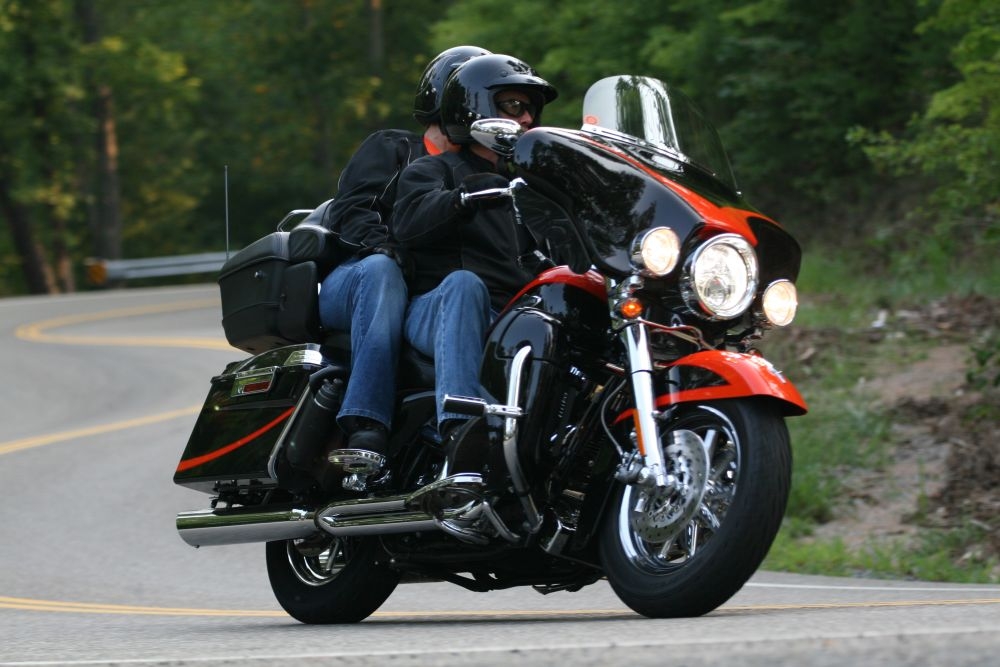 Jerry
Information:
HOMETOWN: Lakeland, TN
BIKE: Tri-Glide
HANDLE: ultrafxr

Describe yourself in 3 words
Adventurous, curious, fearless

How long have you been riding motorcycles?
Since I was fifteen. I'll be seventy three in a few months so I've got a few years in the saddle.

What do you ride currently?
2018 Harley-Davidson Tri-Glide in Twisted Cherry & Silver Fortune paint scheme.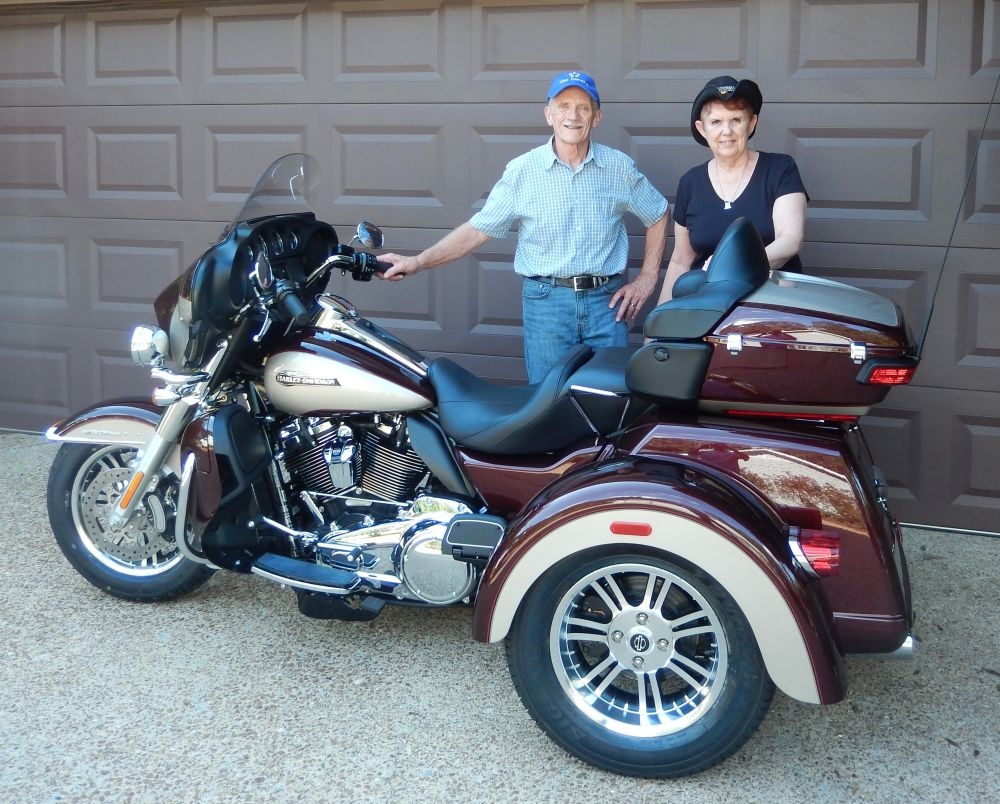 What was your first bike?
A Cushman Highlander was my first powered two wheeler. My first 'real' motorcycle was a 1967 Honda 350.

How many bikes have you owned?
Twelve as best I can recall.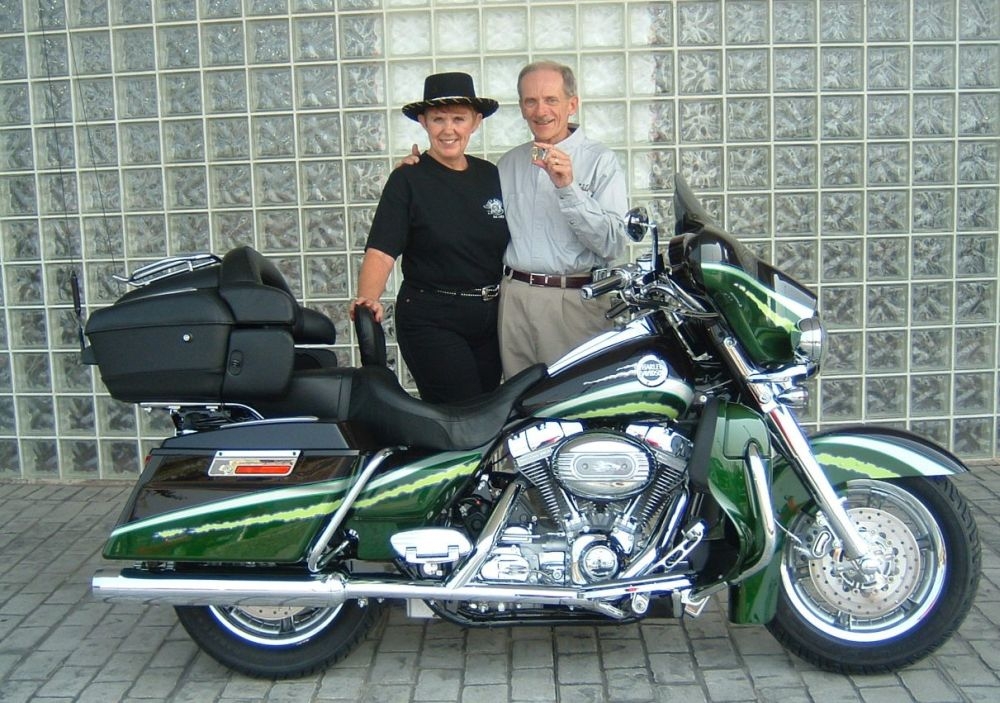 What is your all time favorite bike?
Whichever one I have currently!

Do you name your motorcycles?
Always. My 2018 Tri-Glide is named 'The General' after me as my wife says I can be a bit like General Patton at times.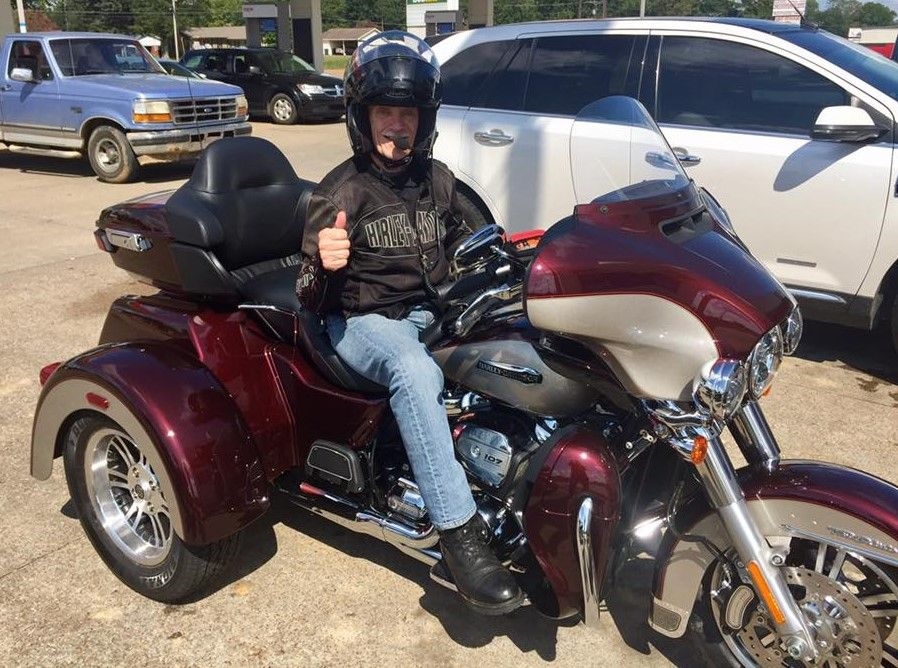 Why did you get the one you have?
I did not intend to get a trike but I had a severe foot injury in July, 2017, and did not feel comfortable riding two up and loaded on a two wheel bagger any longer so I traded for the trike. I'm so glad I did as it is a fantastic bike.

Have you made any upgrades or changes?
Oh yes. Comfort is foremost and the 'must haves' are Footboard Extensions, extended heel shifter, DK Customs 14" Pro-Action shocks with the Convertible Comfort Lift™ Kit along with their Cooling Deflector Wings and a Tour-Pak Relocation kit.
I recently changed the handlebars to the Wild Ones 579 bagger low bars along with heated grips and a heated Mustang saddle. For enjoyment on the road I've added a SiriusXM radio module and a Garmin Road Tech Zumo GPS. I doubt I'll make any performance upgrades as the power of this new M8 motor is quite good.

What or who inspires you
People who like Teddy Roosevelt said are 'in the arena.' They don't just talk the talk but they walk the walk whether in business or their personal life which includes how they integrate their motorcycling experience into their lives.

How would you describe the motorcycle community in your area?
It is probably typical of most - some 'hard core' who take it seriously and ride quite a bit and those who are occasional riders who are more concerned with the 'cool' factor than anything else.
How has your life changed from motorcycles?
Motorcycling has been a tonic that has strengthened an already iron clad bond with my wife and it's brought many wonderful new friends into our lives we would never have known except for motorcycling. You do meet the nicest people on any brand of motorcycle.

Where/what is your dream motorcycle adventure
To ride in Europe particularly the Alps and also the Mediterranean regions.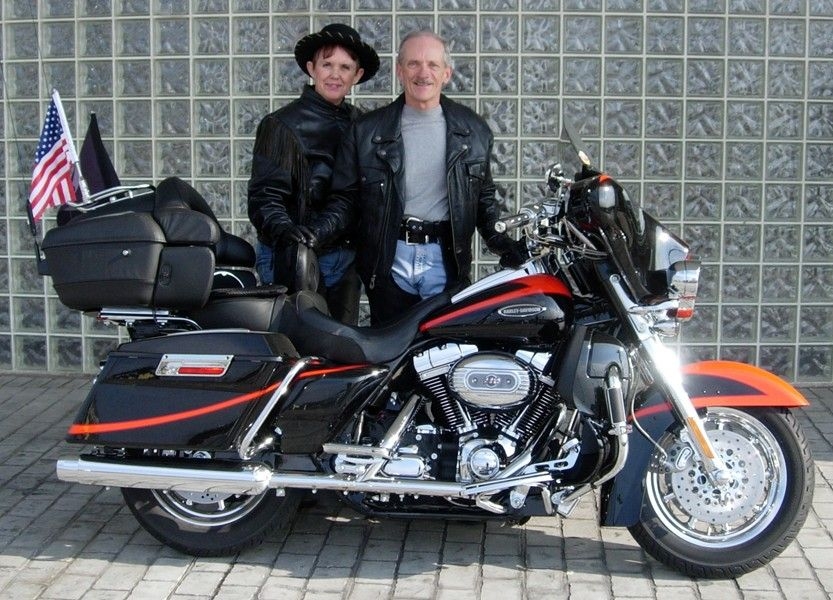 What's your first memory connected to a motorcycle?
Riding my Cushman Highlander on my paper route in the dead of winter.

What is your best memory ever regarding Motorcycles? Worst?
One of the best rides was the Icefields Parkway from Jasper to Banff in Canada. It was just spectacular. And as for motorcycling memories in general it is the fact that we've ridden our various Harleys from our driveway (never trailered) to all of the lower 48 states, 9 Canadian provinces and Mexico. We're quite proud of that.

What we thought was the worst at the time was riding over Bear Tooth Pass for the first time heading into Yellowstone. It was July 5th and raining. As we gained elevation the rain turned into sleet and then snow. This was in the 1980s and good cold weather gear was not as available as it is now and we were ill equipped to handle it.

What do you like about riding a motorcycle?
Honestly I can't think of much of anything I don't like that is associated with motorcycling. One of the best things about riding is that it challenges us to go places we most likely would not go in a car. It's all about the adventure and yes the romance of the open road.

How many miles have you put on motorcycles in your life?
As best I can figure I have well over 500,000 miles on motorcycles.

I saw the 300,000 HOG Miles Badge on your Tri-Glide, what's the most amount of miles you've ridden in 1 year, and what bike was it on?
About 25,000 miles on my 2007 Harley-Davidson CVO Ultra in 2007.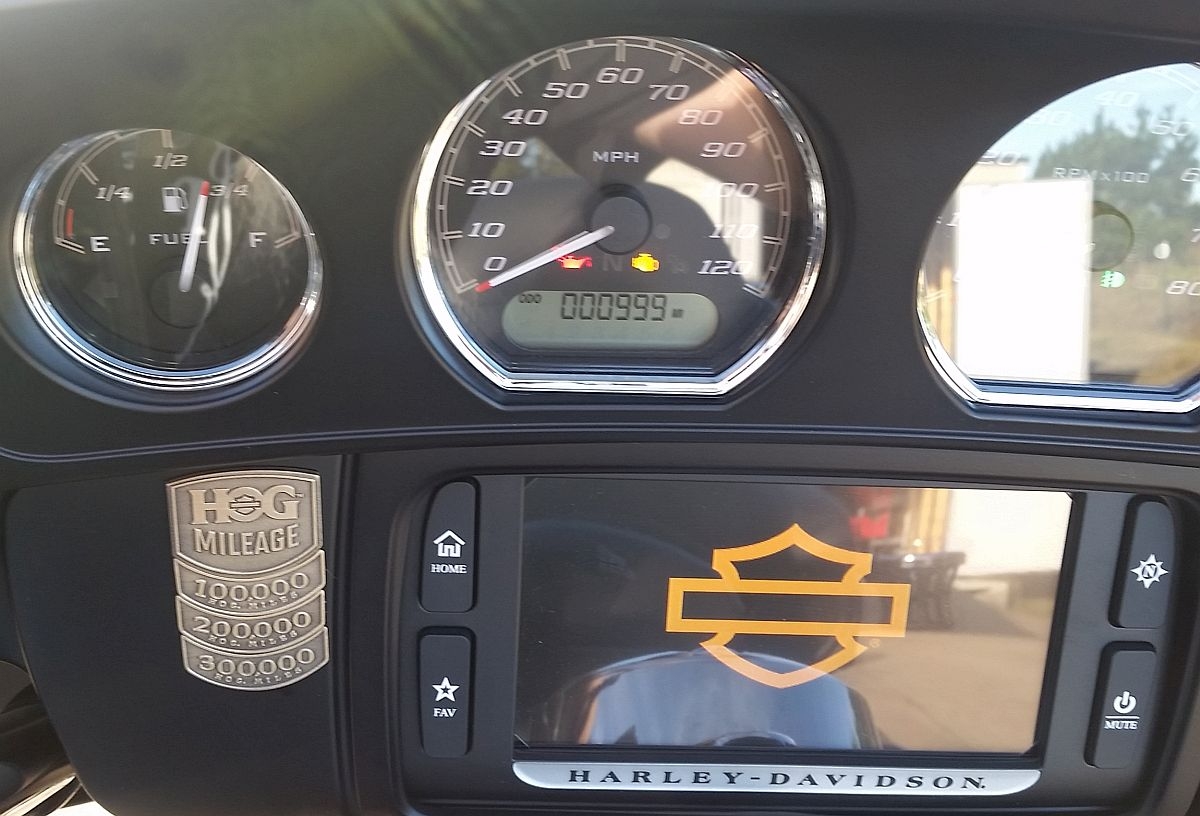 How many years did it take to earn your 300K badge, and was that all the miles you rode during that time, or are there other miles ridden in that time frame...related question, How does HOG Mileage work?
I joined H.O.G. in the summer of 1998 and their mileage program shortly thereafter. I currently have almost 325,000 documented miles on my various Harleys and I've only ridden Harleys since my first one in 1998.

The H.O.G. mileage program is a great way to memorialize your riding adventures. All you have to do is 1) be a national H.O.G. member and 2) have any dealer verify your beginning mileage and submit the form to enter you into the program. Then as you reach levels such as 10,000, 25,000, 50,000, etc., have your then current mileage verified and updated by submitting the form to H.O.G. You'll receive a pin and a patch and at the 100,000 mile increments you also receive a medallion to add to your bike.
Favorite road you've ridden
So very many - Icefields Parkway, Bear Tooth Pass, Going to the Sun Road, Trail Ridge Road, Mount Evans, Mount Washington Auto Road, Tail of the Dragon and Cherohala Skyway are all spectacular.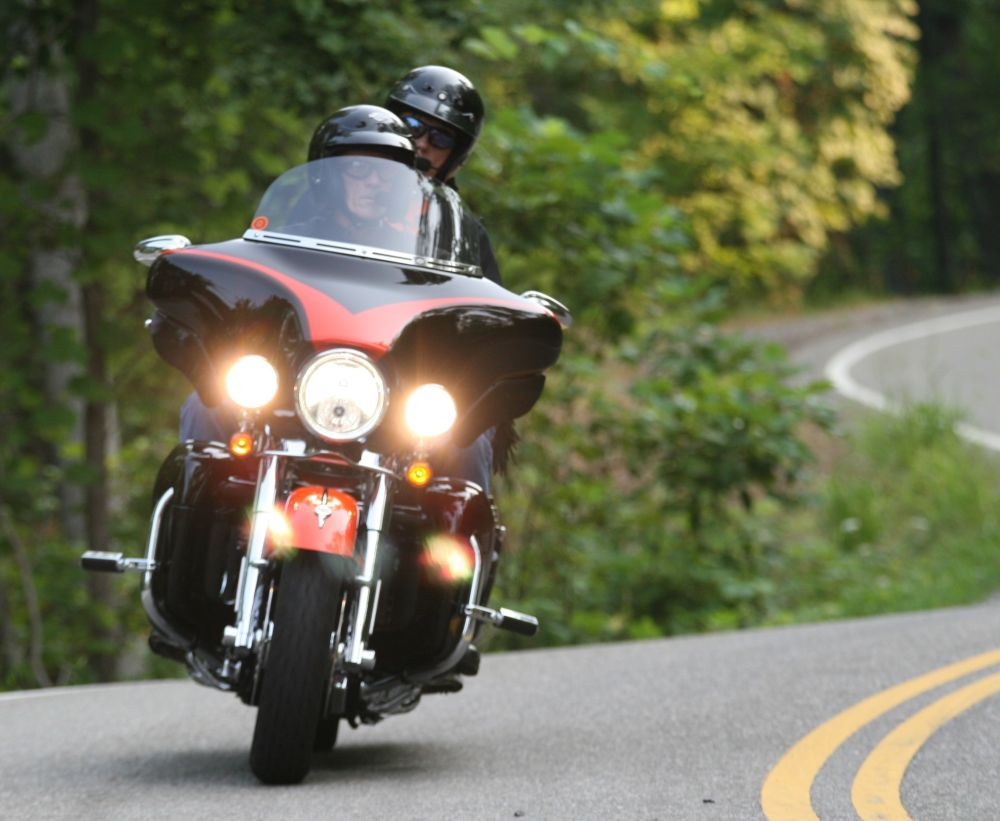 Do you prefer riding by yourself or in a group?
I don't mind riding in a group of folks I am acquainted with and who's riding style I know. These are occasional day rides and sometimes an overnighter. On longer tours we typically ride with just a few friends or by ourselves. I avoid groups of riders I am not acquainted with and who don't have a good grasp of the particularities of group riding. Riding in a large unstructured group in my opinion is a recipe for disaster.

How would you describe your riding style?
My wife and I like to tour. We don't ride slowly but we like to take our time riding secondary roads, enjoying the scenery and finding out of the way places to visit. We definitely do not enjoy mixing it up with eighteen wheelers on the interstate. It truly is all about the journey and not the destination.

Why do you ride?
Over the years I find that when riding my motorcycle I go places I would not in a car . . . and some places I wouldn't want to go again! But it's all in a spirit of fun and adventure. For my wife and me riding our motorcycle is therapeutic. It frees us from the constraints of daily pressures and transports us to new vistas.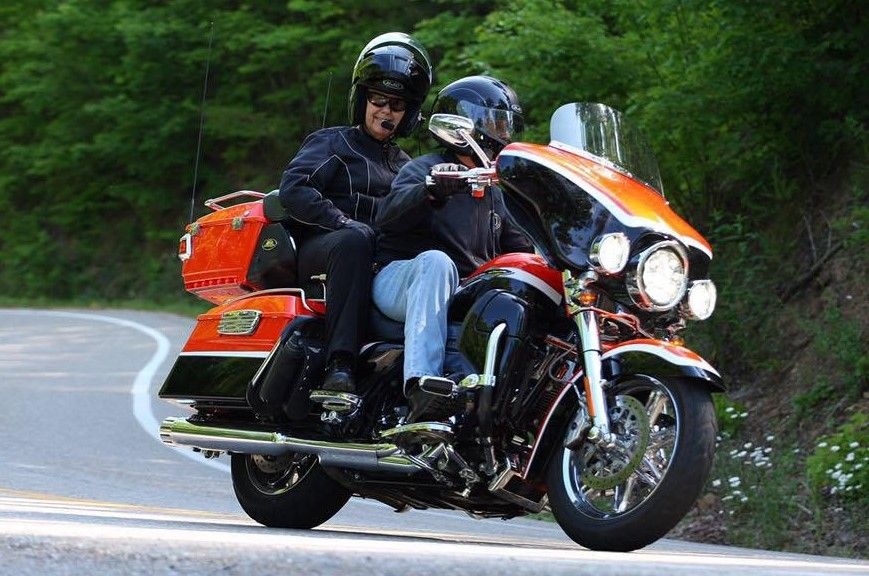 How many years did you work as a Motorcycle Safety Instructor?
I was a certified MSF Rider Coach for about ten years. I worked with my local Harley dealer as well as at the state sponsored site. I enjoyed working with new riders and helping them get started on the right foot so to speak. But after a while it was interfering with my freedom to ride and I decided to not continue coaching.

Do you have any advice for others that are thinking about getting a bike and learning to ride?
Don't bite off more than you can chew. It will take some time before you are comfortable and confident so take it easy but do keep challenging yourself to improve your skills. And never, ever get cocky and overconfident as that will surely lead you into trouble.

Any last words
Keep the shiny side up and ride and have fun!