Interview with Red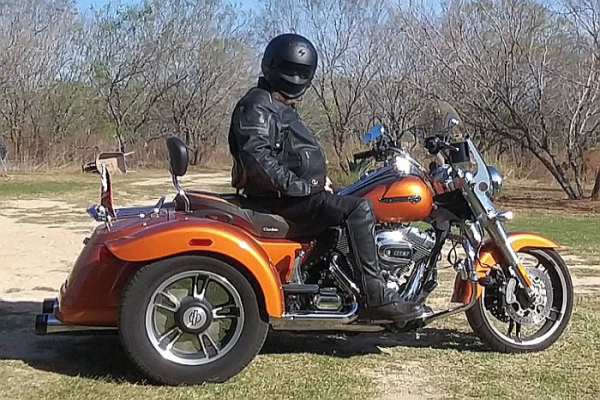 Red Lloyd
Information:
Hometown: "A state I'd rather not be associated with"
Handle: redoregon
Year/Model Bike: 2015 Freewheeler
Describe yourself in 3 words.
Busted-up old biker.
How long have you been riding motorcycles?
Little over 40 years.
Your handle on the forums is "redoregon". Can you give us a little backstory on the origin of that name?
Grew up in southern Oregon. Born in another state that I'd much rather not be associated with. Name was Tom... but when I got to Korea in the Air Force, I was on a flight working with about seven other Toms. My hair got me tagged "Red" real fast, and after a while, I liked it enough to change it legally. Red Oregon became a nickname in Korea, and it's unique enough to use as a handle.
What do you ride?
2015 Freewheeler. Lost an argument with a car fender on my Electraglide, which led to a pulverized tibial plateau and broken leg, which led to MRSA, which led to a titanium knee, which led to the trike... eventually.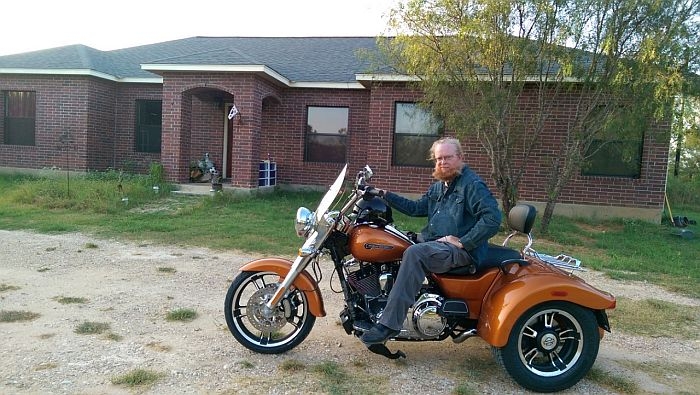 What was your first bike?
Yamaha 125 Enduro. Learning how to ride in the dirt taught me things that have saved my life. Coming around a corner down near Big Sur on highway 1, hot, saw a sign that said "BUMP". Blew it off, rolled on the throttle a little more... and saw a ridge about six inches high across the entire road where the road was trying to slide down into the sea. Stood up on the pegs from sheer dirt bike reflex, and the seat still came up and popped me in the ass, sent me about another foot in the air. If I'd still been sitting, I would have been jacked over the handlebars, and at that point, it's a couple hundred feet down to the rocks.
What is your favorite bike?
The Freewheeler, no doubt. I'm old enough to not give a rat's ass what anyone thinks, and I love that trike.
Have you named your motorcycle?
Second Wind. After the accident and knee replacement, I couldn't trust the leg to hold up 800 pounds any more and sold the Electraglide. After five years, we were visiting my daughter at Ellsworth Air Force Base... which just happens to be right close to Sturgis... and we just happened to be there during the Sturgis 75th... hehe. We were walking around and saw the Harley demo rides. Saw a Triglide, which I knew about, but I always considered that thing a Sherman tank and wasn't interested at all. Then we turned a corner and saw the Freewheeler... and my ol' lady saw my eyes light up. She said, "Ride it." I took it out for the demo ride, and when I pulled back in and pulled off the helmet, she took one look at me and said, "We're buying one." I started arguing, and she said, "Look. I married a biker, and I really don't like who you've been for the past five years. We're buying one." I hadn't realized how much I missed riding, and what NOT riding had done to me. That trike truly gave me a Second Wind.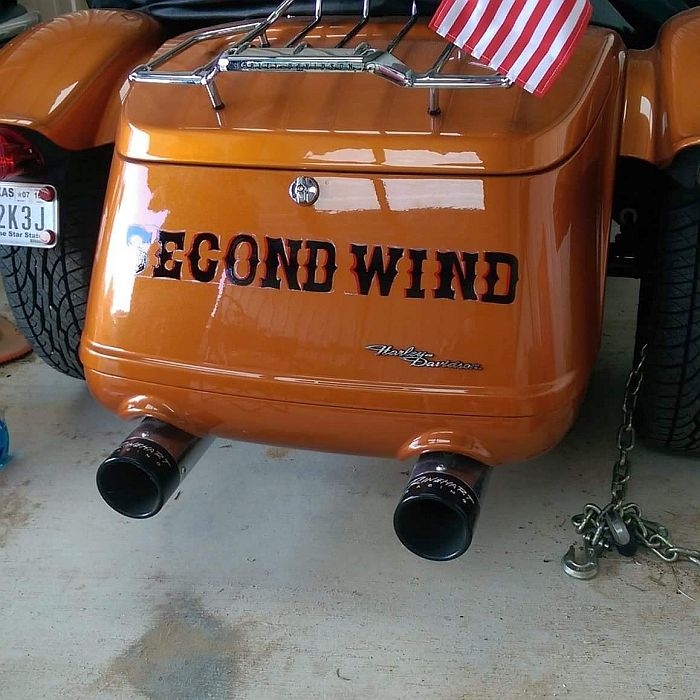 Do you get to ride a lot? (if not, why?)
As much as possible considering Texas weather... which is a lot, yes. The riding season is pretty decent!
What do you see in the future for the motorcycle industry in general?
Hard telling. There are plenty of old crusty farts like me still around, but the younger guys... I dunno. I will say that if these electric things take hold, they better find out a way to give them better range, or the motorcycle world will change pretty drastically. Ride for a hundred miles or so, then stop to recharge for hours? Uh, NO.
Have you made any upgrades or changes?
Haaaaaaa hahahahaha. Stock bikes suck. Hell yes.
--Stage one: Fullsac DX headers, V&H FP3, Rinehart pipes. That helps not only with power, but the damn heat issue too.
--HD Engine guard and highway pegs - both for the heat issue, and to let me change leg position often; the knee still gives me a lot of issues.
--Wolo air horn. "But I didn't even see him, officer" left turner got my leg.
--RJS heat deflectors for obvious reasons, and RJS stainless steel mirror discs on both back wheels; look great, and keep the brake dust off the wheels.
--DK 1.5" tank lift, Stealth LED driving lights, Cooling Deflector Wings, No More Mess Oil filter relocation kit, Comfort Lift, floorboard spacers, and HiFlow 587 Air Cleaner System. You'd think I favor DK or something, wouldn't you? hehe...
--Harley Sundowner seat. Used to have a Corbin, but it just never broke in.
--Custom Dynamics 21-led Knight Riderz bar across the rear of the luggage rack. Definitely gets the cagers' attention, it scrolls back and forth like Kip in KnightRider, and flashes BRIGHT red a few times then goes solid when I stop.
--Cardo Scala Q3 intercom - because yelling at the ol' lady just doesn't work on Texas 75mph freeways.
--Khrome Werks 2+2 wide sweepers - best handlebars I've ever run.
--Bunch of other stuff I've forgotten, or minor stuff for various reasons.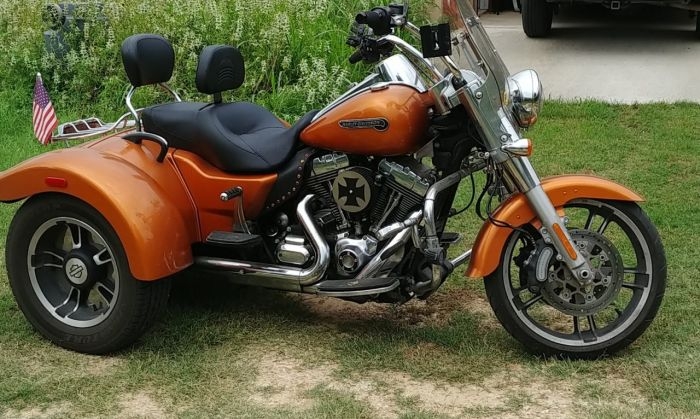 What is your greatest life achievement so far?
Surviving the MRSA that damn near killed me. Doc said I shouldn't be alive, and definitely shouldn't have two legs. Lot of prayer, and lot of people praying for me, made a big difference. Took 12 operations and damn near a year to get me back up again. You know it's bad when, after about operation three or four, the doctors started conversations with, "Okay, we have to go in again. *IF* you wake up this time...." Yeah, not *when* you wake up, but *IF* you wake up. Got into the habit of waking up after an operation, remembering where I was, and reaching down to see if I still had a right leg.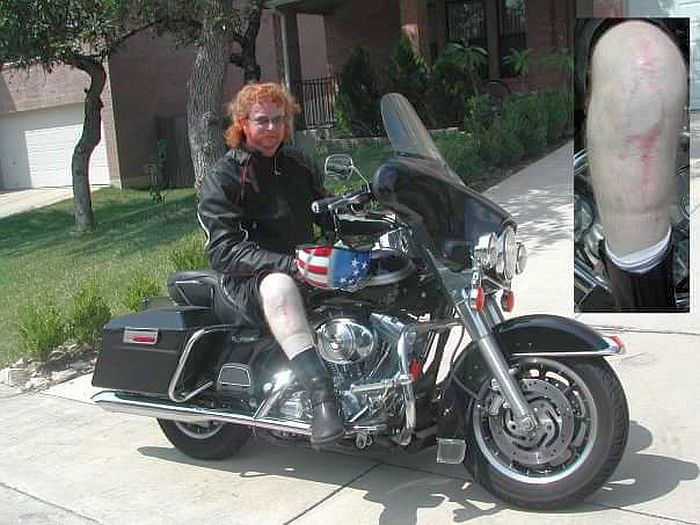 What has been your biggest regret to date?
Don't really have one. Everything happens for a reason.
What or who inspires you?
The guys still serving and who have served. I did my 20 in the Air Force, but the guys before me and after me did a hell of a lot more than I did.
How would you describe the motorcycle community in your area?
Pretty active, I live in central Texas. I'm not real involved, tend to be somewhat of a loner, and I've got 12 acres that keeps me busy, but there's lots going on if you like getting together with the crowd.
How has your life changed from motorcycles?
Always been a part of my life. My dad rode when he was a kid, grew up with some of his stories, and I started young too.
Where/what is your dream motorcycle adventure?
Riding the trike across a few states... on a regular basis. Maybe when I retire.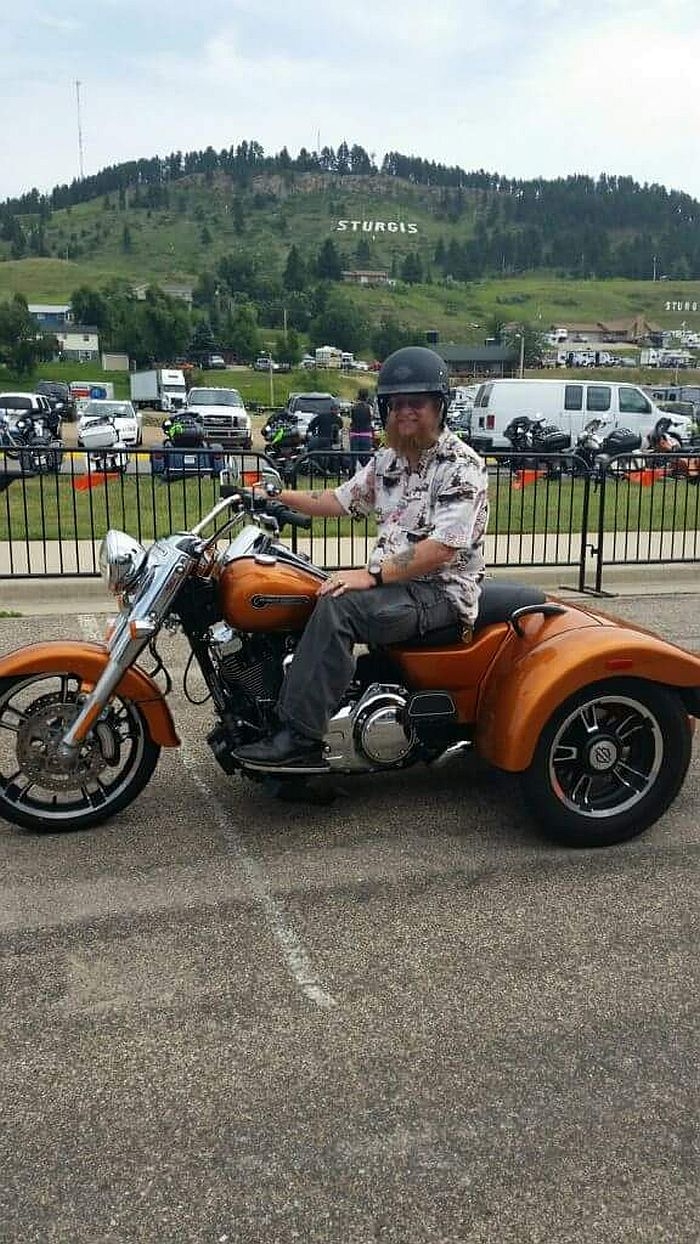 What's your first memory connected to a motorcycle?
Dad's stories when I was a kid. Strapping pipes to the bottom of his boots because they made neat rooster tails when he jammed them on the pavement down the middle of the street to piss off his local cops... hehehe...
What is your best memory ever regarding Motorcycles? Worst?
Best memories just keep on coming. Worst? Seeing the ..... forking.... left turner pulling out in front of me, and knowing my brakes just weren't gonna do it, he was too close...
What do you like about riding a motorcycle?
Freedom and being part of the world, not caged in behind glass. You can see, smell, hear, feel so much more. No comparison.
How many miles have you put on your bike in the last year?
No idea. Not enough. Don't pay much attention to the numbers except for maintenance.
Favorite road you've ridden?
Hahahahaha gimme a break! Highways winding along the North Umpqua river outside Roseburg, Oregon... Highway 1 down around Big Sur in california... Twisted Sisters in the Hill Country in Texas... any back road through the Hill Country in wildflower season... dozens, I could go on and on. There's too damn many.
Do you prefer riding by yourself or in a group?
Runs are fun, but I prefer not having to give a damn how fast or how slow someone else wants to go, or stop, or whatever.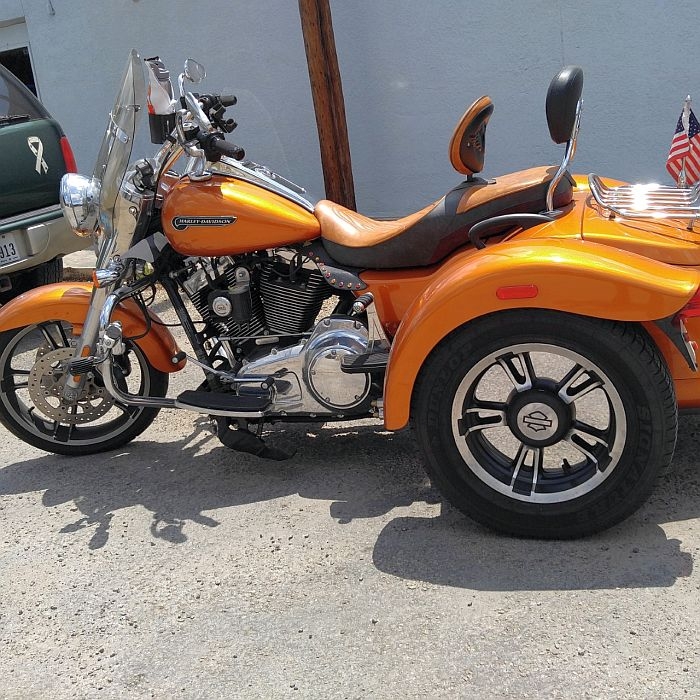 How would you describe your riding style?
Laid back most of the time, with the occasional front wheel lift on freeway onramps when I'm feeling froggy. Never have been much of the Ricky Roadracer type. But it's nice knowing Second Wind will stand up and bark when I want her to.
Why do you ride?
Why do I breathe?
Do you have any advice for others that are thinking about getting a bike and learning to ride?
Take the damn MSF course. Do it. After that... when you're driving, if you're smart, you think other drivers might be out to kill you. When you're riding... assume they *are* out to kill you. Always know where they are (around you), how they're driving, where they're moving. Always have a way to escape. Sounds like paranoia, but if you make it a way of thinking, it becomes reflex without you thinking about it.
5 things you can't live without?
You can live without anything but food and water. But without some things, you'll be pretty damn miserable. I guess riding, a good woman, good food, good whiskey, good weather. Used to be a pretty major beer guy, but I'm old and busted up now and can't put away mass quantities as well as I used to. And the weather... I used to ride through ANYTHING... rain in Oregon, cold and snow over ice in Korea, 110 degrees in Texas, but since I got busted up, I'm not quite as hardcore.
Any last words?
Gawd, don't ask something like that to old busted up guys like me! I do have to give a shoutout to my daughter. You guys know her, and she's always faithful... whenever a gifting day rolls around, birthday, Christmas, Fathers Day, whatever, it's always, "Ok, dad, what do you want from DK this time around?" hehe... You know you have a cool daughter when the guys at DK know her by name!