Day 36- Boulder City NV
Today we're headed for Boulder City, NV. My brother lives there and a bunch of the family will be there celebrating my folks both turning 80 this year.
We know it's gonna be warm, so we left out of Lee Vining early...turns out, not early enough. lol
On our way-
Here's the route we're taking today-
It is deceptively cool this morning...with the fog still not burnt off, and still being at a higher elevation-
We're tempted to take a left and go down to the lake for a look around....but continue forward, knowing that it will be hotter this afternoon and wanting to make time.
As you can see in the map above, there is a little section where the road goes thru some trees...we are still over 6,000 feet elevation and going thru these trees is nice!
As the road meanders thru, we're lulled into a false hope...
...It is very nice riding. The early morning fog still hanging in the air is much denser in person than it appears in these photos.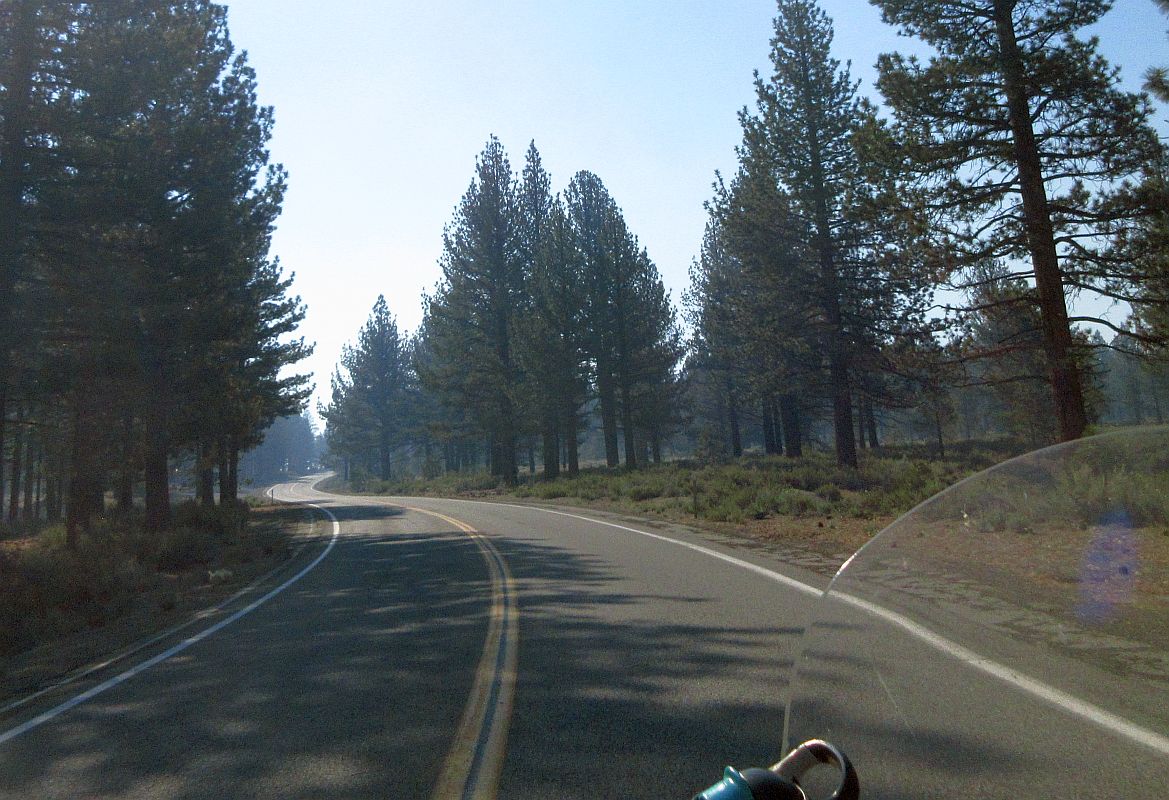 Boom! That's it. Looking back at the trees we just rode thru...
...we're still up high, still cool and foggy....
...but it's all scrub brush and starting to burn off.
We have a lot of...
...pretty desolate miles to eat up today.
Welcome to Nevada!
The road surface it a bit different, but the land is pretty much the same...
...a look back...
...and a look ahead...
...I have the cruise set at 72 mph, the fog is burning off, there are curves and we're still at a relatively high elevation. Climbing and descending a bit here and there.
Interesting how this road is routed...we pass back into California for a bit...
...and then back into Nevada!
Soon after crossing back into Nevada we hit this fresh road....I'm thinking too fresh, not sure I want to ride on it, but it's not like there is any other route to take now. lol
A look back gives an idea how fresh the oil is on this new road. I stayed away from the edges and avoided getting any splatter on the TG.
Still on this new stuff, and chomping down the miles at 72 mph.
A couple of hours out from Boulder City, and it's starting to get warm. 103*
We have never ridden thru Death Valley. When planning this trip we decided if the weather was cool enough we would do it...BUT, it is Not very cool today, so, no ride across Death Valley for us this trip.
Around about 98* Mary starts getting uncomfortably warm. Even with her cool vest, which helps, when it goes over 100*, she is not too happy. Before we even started out today she decided she wanted to experiment-when it got warm, get a 5 lb. bag of ice and set it on her lap...and that is what we did!
She poked some holes in the bottom of the bag, so that as it melted the cold water would cool her down.
With her cool vest AND her first (double-bagged so as not to lose it all) bag of ice.
She is a happy camper now...
...as we're back rolling at 70+ thru 105* temps.
The first bag of ice lasted around 2 hours. We came to this small town...
...and got another bag of ice.
Even at 107*, she's doing well with her cool vest and ice.
btw, all the cooling strategies we have, have the TG doing well in these temps also. At 107* the ET is 221, oil pressure is 31, mpg is not great at 23.9, but that is a function of mostly running at 72 mph into a headwind. Could not be more happy with how well it is running.
These temps don't bother me. I prefer cooler temps, but I do not begin feeling poorly when it gets this hot. I just drink a lot of water and go. But I definitely get more wind being the rider than the passenger gets.
Mary is flashing back to just 24 hours ago...
...when it was a perfect 75* and we stopped for lunch among the trees and a cool stream.
But we're getting close....
...and as we roll thru Vegas...
...the temperature spikes up to 113* and stays there...
...as we travel the last 30 minutes...
...to Boulder City.
This is the street my brother lives on, with a nice view of Lake Mead.
And here we are! He had a spot in his garage for us, right next two his two dirt bikes.
We're going to be here for a few days before heading out for some National Parks in Utah.