Day 40- Hatch UT
We're now on our way home. Going to visit a few National Parks in Utah, then make a dash back home to Mississippi.
The rest of the way home is going to be brutally hot. Starting today we're adjusting our schedule to be up when it is still dark, and leaving out soon after sunrise. Then we'll be able to stop early to mid afternoon and avoid the hottest part of the day.
Packing up and saying goodbyes to family (those that were up) we leave Greg and Marci's right after sunrise.
I believe this is our first ever shadow pic taken in the morning...normally they are in the afternoon. lol
This is the route we're taking to Hatch, Utah today. Not the fastest, but it winds around Lake Mead instead of going thru the city of Las Vegas. Then it clips a corner of Arizona and then cuts thru Mt. Zion National Park.
It is a bit strange for me...
...to be riding this early...
...in the morning. I normally am up late and am still sleeping at this time. But it is nice being cooler!
This road going around the lake is nice and winding, and a good surface...
...a look back. Desert scenery is different than the woods, mountains and coast, but it definitely has an appeal.
We're pretty much on the road alone this morning, and the views are great!
And there's a lot of road to cover. We're in a "National Recreation Area" with a slower speed limit, and we're enjoying this morning putt thru it.
As we were getting close to the 15, a whole group of riders (2 wheelers & trikes) went passed us, heading the opposite way...possible to the Grand Canyon?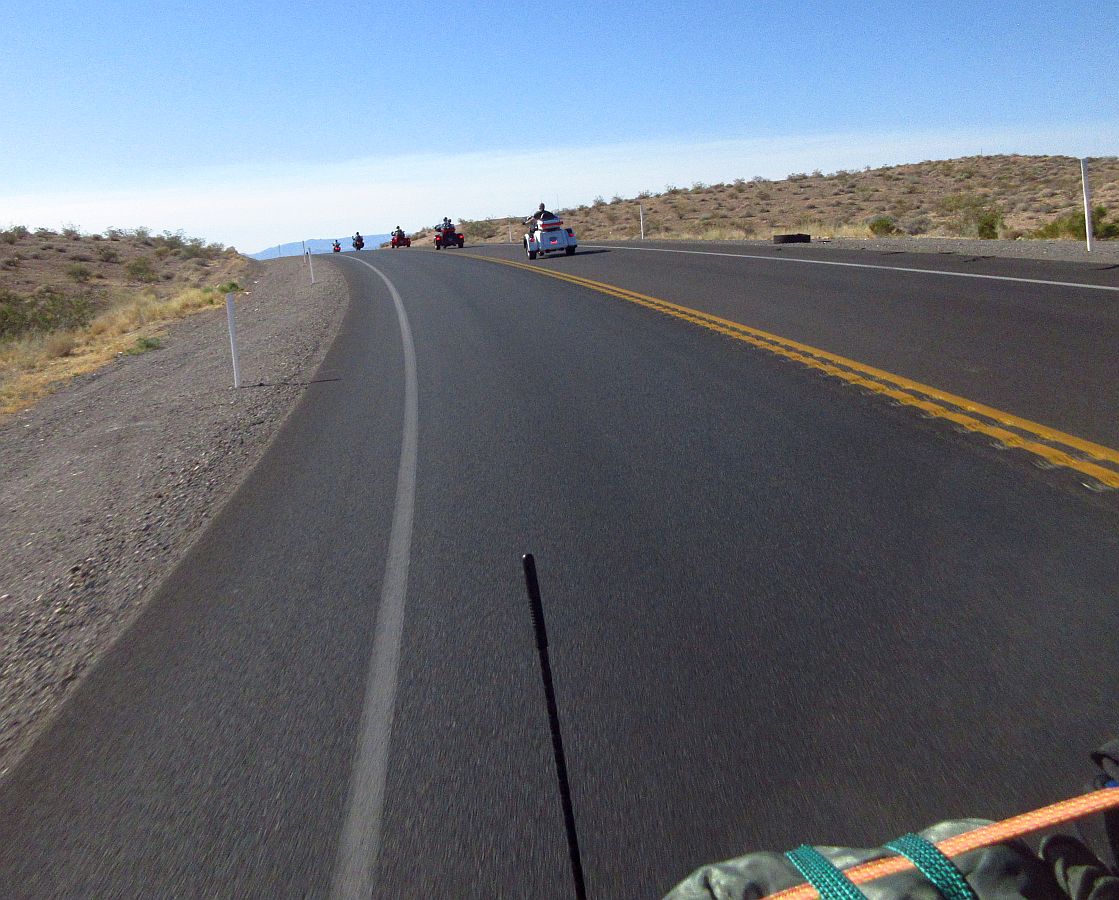 Time for us to jump on the 15 for a bit...
We have some miles to...
...chew up before we get to Mt. Zion National Park.
Gotta pass thru Arizona first...
...where there is some interesting road...
...to enjoy...
...before crossing into Utah, land of some amazing National Parks!
Chasing a couple of other motorcycles on our way to Zion.
Getting near the entrance...
...of Mt. Zion NP.
Here we go...
...there is so much to see in Zion...
I'm just going to post a few photos of the hundreds Mary took today. We did not take the shuttle down to the river walk. We did last time we were here and you can see those pics in one of our previous ride reports...or search google.
On the switchback ride up the hill to the tunnel, we pulled over in a nice scenic spot for lunch...
...right on that log is where we ate lunch, watching the folks pass by, and taking in the views!
After lunch we're back rolling, taking in the beauty of this amazing place.
This pic gives a tiny idea of how fun the road is, and how BIG this place is!
Headed into the tunnel. It is 1.1 miles long, and was built in 1927.
A look back as we go into the mountain!
Inside the tunnel there are "windows" cut in the rock to the outside...gives a nice view, fresh air, and if one is prone to claustrophobia, may help with that. lol
Continuing on thru the park...
...the views are phenomenal.
This is our 4th or 5th time thru Mt. Zion on a bike, and we do not stop much, just take it slow, soaking up all the amazing sights!
Leaving the park...
...headed toward Hatch!
Getting close to Hatch, Utah. That ridge off in the distance is the outside edge of Bryce Canyon National Park.
We like Hatch for a few reasons (this is the 3rd time we'll be staying here), it is nicely situated between Zion and Bryce, they have a "Biker Motel", it is a nice quiet little town in a beautiful setting.
Here we are, just a dot on the map, Hatch-
Just down the road from the C-Store is "The Galaxy".
All the rooms have a biker theme...
...and the place is biker friendly. Check out the Husky "dresser".
Mike, the biker that owns the C-Store, the restaurant, the motel near the C-Store, and "The Galaxy" is good people. We've enjoyed visiting with him over the years, and last time he helped me out with some parts I needed for a malfunctioning shifter rod.
This is our stop for the day. Early in the morning we head to Bryce Canyon!