Getting Ready to Hit The Road
Mary and I have been looking forward to this trip for over 5 months!

Tomorrow we leave for the Black Hills!!!


This year we're doing a lot of things different from previous years.

You can see many of our previous years Ride Reports at this LINK.

Here are a few of the changes we've made this year:

1. Instead of one 40-50 day trip, we're making two different 20-25 day trips.

2. More riding in less days. See how we're saving $ & time at this LINK.

3. The first trip this year we're splitting our time between riding and visiting with Family (sans motorcycle) in Idaho & Wyoming.


We'll be riding around the Black Hills...Needles Highway, Mt. Rushmore, Custer National Park, Badlands, Deadwood, Devils Tower, Spearfish Canyon and more.

Then we're headed over to The Grand Teton Mountains.

After that we'll be spending a week with family in Idaho and Wyoming.

Wrapping it up, on the way home we're planning on doing some riding in the Rocky Mountain National Park in Colorado.


Mary still has the same camera, we've replaced the Drift video camera with a GoPro, and we've added a drone to the mix.

We will be posting photos (and hopefully videos) regularly during the trip.


We've loaded up all our groceries, Bike, tools, etc. and we're chomping at the bit to get on the road.

A few pics-

Loading the bike into our "Home" away from home. It sits in the removable wheel chock...
...then gets strapped down in all 4 corners...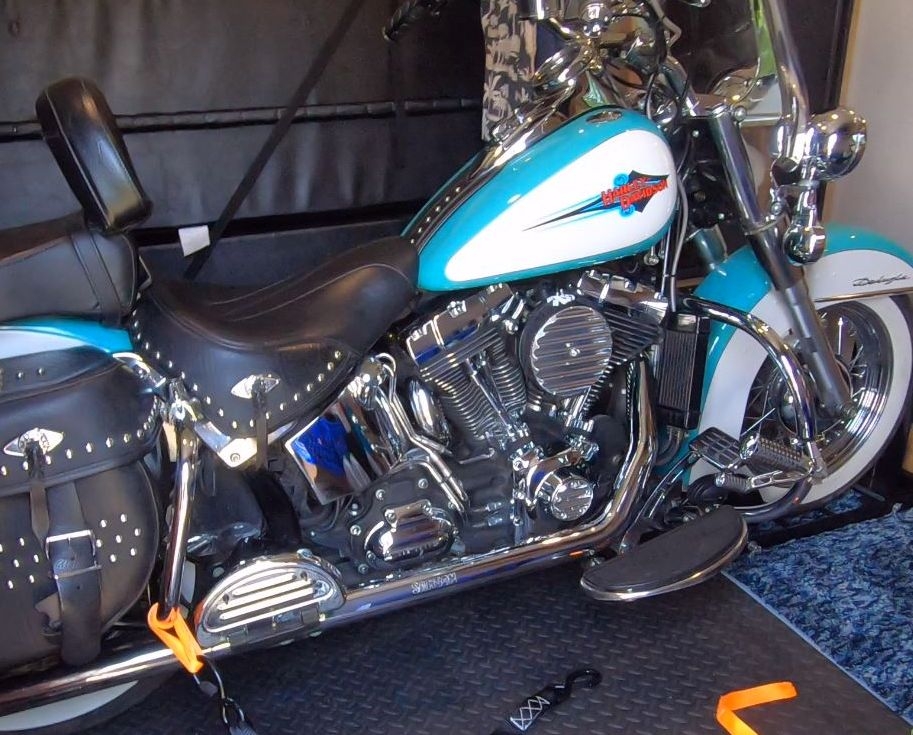 ...Ready to roll!
As you can see, even with the bike in this little trailer, we still have access to the fridge, bathroom, kitchen and bed.
This rig will get us to where we want to ride quickly, comfortably, & for less $.
Once there, the bike is off-loaded and we have better accommodations than a motel, for a fraction of the cost.
Day 1 HERE